The U.S. Supreme Court's ambiguous, split decisions on Ten Commandments displays has left everyone from community activists to lawyers grappling over what happens next.
One religious leader sees a legal opening to erect scores of new Ten Commandments monuments across the country while an atheist group says the rulings give it license to push for a monument at the Texas Capitol with "an anti-Bible passage."
In a nation with hundreds, if not thousands, of Ten Commandments displays, many agree the rulings give little specific guidance to communities wondering whether they are lawful or unlawful. Since the justices did not establish an overarching principle, battles are likely to persist on a case-by-case, community-by-community basis.
"It was never clear before [Monday] what you could and could not do with regard to the Ten Commandments and it's still not clear," said Francis Manion, senior counsel of the American Center for Law and Justice, a conservative Christian law firm.
On Monday, the high court permitted a decades-old granite monument to the Ten Commandments at the Texas Capitol but declared unconstitutional framed copies of the biblical laws in two Kentucky courthouses. On Tuesday, the high court made several rulings that did little to clarify.
The court decided to let lower court decisions stand in several cases involving Ten Commandments displays, including two in which the 6th U.S. Circuit Court of Appeals ruled that both an Ohio judge's courtroom poster and stone monuments placed outside several high schools in Adams County, Ohio, were unconstitutional.
More monuments
Despite the confusion, some community activists — religious and nonreligious — are taking steps to move ahead.
The Rev. Patrick Mahoney, director of the Washington-based Christian Defense Coalition, announced plans to try to place displays similar to the monument at the Texas Capitol in 100 cities and towns across the country within the next year. He made the announcement Monday in Boise, Idaho, where an interfaith community network's efforts to get a monument returned to public property have been boosted by the ruling.
Mahoney hopes to work with Christian lawyers to draft a resolution that can be used nationwide by local residents to request the return or the placement of monuments on public land.
"We felt all along that the public display of Ten Commandments unites communities," he said in an interview. "They don't divide. … The public realizes that communities are better off when we don't steal, when we don't lie, when we don't kill."
More than seven in 10 Americans polled in August 2004 expressed support for displaying the Ten Commandments, the Pew Forum on Religion and Public Life found. But that means there's still a minority of Americans who aren't thrilled with such monuments.
Annie Laurie Gaylor, co-president of the Wisconsin-based Freedom from Religion Foundation, will now work with local groups to seek permission to erect a monument in honor of freethinkers on the same Texas Capitol grounds where the Ten Commandments are displayed.
"We can stick our anti-Bible passage up," she said in an interview. "We will plan to fight fire with fire."
In other communities, reaction reflects the disparate decisions:
In the eastern Oklahoma town of Stigler, Haskell County commissioners said they have no intention of taking down an 8-foot-tall granite slab monument erected on the courthouse lawn in November. While some legal experts argue that the monument violates the First Amendment, county commissioner Henry Few pointed out that it has a copy of the Mayflower Compact written on the back. "To me, this is all historical," he said in an interview. "To me, I don't see where it has any effect on church or state or whatever they want to say. … Our forefathers founded this country on the Ten Commandments and the Mayflower Compact and things of this sort."
In Elkhart, Ind., a monument was moved from city land to private property on Main Street after the Supreme Court decided in 2001 to let stand a lower court ruling declaring it unconstitutional. "I don't see that this ruling has sufficiently pried open that door giving Elkhart license to move it back with impunity, and I don't wish to spend more taxpayer dollars to fund the likes of the ACLU," said Mayor David Miller in an interview.
John Giles, president of the Christian Coalition of Alabama, said his organization is taking a "wait and see" attitude about the possibility of future monuments in his state. But he thinks the Supreme Court rulings demonstrated that former Alabama Chief Justice Roy Moore correctly placed a monument — which was later relocated — on state property. "Based on (Monday's) ruling, certainly the monument was unjustly removed from the judicial building," he said in an interview.
Manion, whose American Center for Law and Justice is handling 10 cases involving the Ten Commandments, said he thinks it's doubtful that Mahoney's plans to add more monuments to the many that already exist will actually happen in a year's time.
"Seems optimistic to me," he said. "City attorneys and county attorneys and government attorneys are going to be reviewing the same opinions as I'm reviewing and scratching their heads."
Correspondents Nancy Glass, Bobby Ross, Heather Horiuchi and Dennis O'Connor contributed to this report.
Related Elsewhere:
Christianity Today's Weblog examined the Supreme Court rulings Monday.
Our past coverage of the Ten Commandments disputes includes editorials, news stories, and commentaries.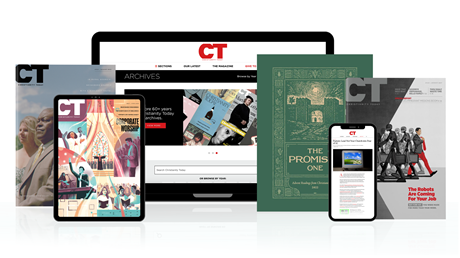 Subscribe to Christianity Today and get access to this article plus 65+ years of archives.
Home delivery of CT magazine
Complete access to articles on ChristianityToday.com
Over 120 years of magazine archives plus full access to all of CT's online archives
Subscribe Now
Supreme Court Rulings on Ten Commandments Leave Wake of Confusion
Supreme Court Rulings on Ten Commandments Leave Wake of Confusion