Billy Graham:
Graham didn't intend to endorse Clinton | Evangelist's praise for senator at crusade just that, son says (The Charlotte Observer, N.C.)
Clarification: Graham remark on Hillary Clinton was not an endorsement | Comments misunderstood, says Franklin (Religion News Service)
Earlier: Why I walked out on Billy Graham | Dr. Graham and his organization allowed the Clintons to take this holy moment, this sacred hour, and once again soil it (Rob Schenck, WorldNetDaily)
Also: Rev. Graham's Dem ties irk the right | What's really got fundamentalist politicos up in arms is not a secularist Supreme Court. It's the Rev. Billy Graham (John Nichols, The Capital Times, Madison, Wi.)
A lion in winter | Even those who do not share Graham's theology admire his powerful preaching and the passion he brought to the great commission (Editorial, Ft. Worth Star-Telegram, Tex.)
Pat Boone speaks! (and prays) | A Gospel Hall of Famer, and a big fan of Billy (New York Press)
Rattling the cage: God bless America | Graham Crusade attendees were not the power-mad, reactionary Republican leaders in Congress, or the fearsome lobbyists for Christian fundamentalist power, or the hate-mongers of radical Right media. No, those quarter-million congregants on the grass at Flushing Meadows were regular Americans with an emotional, spiritual need (Larry Derfner, The Jerusalem Post)
Missions & ministry:
Religious interns comfort seniors | Students learn by building relationships with elderly and being available for them (Chicago Tribune)
Emergency kit effort aims to enlist religious leaders | People who work to promote residents' spiritual health are being asked to also promote their safety -- by helping them prepare for the chaos that can come with winter storms, hurricanes, terrorist attacks and other disasters (The Washington Post)
Religion in the News: Leaving Boys Town | Val Peter, president and chief executive of Girls and Boys Town, is stepping down after 20 years (Associated Press)
Jesus hates you | Christians rationalize bigotry at "Love Won Out" (The Stranger, Seattle)
Program links team sports, Christianity | Churches in Orange, Lake and Seminole counties sponsor Upward Unlimited (The Orlando Sentinel)
Rehabilitation through religion | "I go to church in the afternoons and at night," Fuller told CBS News Correspondent Thalia Assuras. "And it helps me cope with being in prison." (CBS Evening News)
Church life:
Senior clergy move to block ordination of women bishops | In a last-ditch attempt by traditionalists to scupper a debate at the General Synod this month, 17 bishops have given warning that women bishops would be deeply divisive. The protesters include the Bishop of Durham, Dr Tom Wright, an evangelical theologian who is the fourth most senior bishop in the Church and whose views are widely respected (The Times, London)
Tampa Church is the nation's fastest grower | Without Walls International, a local congregation that began with five members in 1991 is the fastest- growing and second-largest Protestant church in the nation (The Tampa Tribune, Fla.)
A place to do 'God-sized things' | James Meeks' new $50 million state-of-the-art church rivals concert stadiums tailored for rock stars, making it, according to Meeks, the largest building in the country constructed for religious services (Chicago Sun-Times)
Archbishop Carey to serve U.S. parish | The retired archbishop of Canterbury will spend this fall and all of next year as a resident priest at an Episcopal parish in Chevy Chase while working on a research project at the Library of Congress (The Washington Times)
Episcopal Church in full battle | A battle is raging in Middle Tennessee Episcopal churches that most probably will reshape the denomination (Nashville City Paper, Tenn.)
A changing Church | Well-advised actions by the Archdiocese of Boston in recent weeks offer hope for a period of calm in the ongoing process of parish closings and sales (Editorial, The Boston Globe)
Some say churches need off-duty officers | Should freelance cops direct church traffic? (The Washington Post)
Church proposals trouble Montgomery | Environmentalists oppose construction in county's agricultural reserve (The Washington Post)
Selling God a lucrative business | Joel Osteen looks like an anchorman, talks like a Southern salesman and runs this congregation like a CEO (CBS Evening News)
Orthodox Church, Pope to resume dialogue | Visiting Orthodox leaders told Pope Benedict XVI on Thursday that theological dialogue can resume soon, and the pontiff urged both sides to apply new vigor to efforts to overcome their differences (Associated Press)
Hillsong: Songs of praise — and politics | It looks more like a convention centre for God's delegates than a church, but Hillsong, with 18,000 Pentecostal Christians, represents the largest single congregation in Australia (Sunday, NineMSN, Australia; WARNING: DO NOT OPEN WITH FIREFOX)
Church and state:
Southern Baptist Convention takes U-turn on gambling | The South Carolina Baptist Convention decided Thursday it would stick to being the mouthpiece for Jesus, not the eyes and ears for law enforcement (Anderson Independent-Mail, S.C.)
Charitable choice debate revived | Now the fight is over whether the administration's programs should be made permanent (Baltimore Jewish Times)
Thou shalt not | Eastside public school violates separation of church and state, issues religious commandments to preschoolers (The Stranger, Seattle)
Is there a holy war brewing in the Gate City? | The controversy over Senior Resident Superior Court Judge William Douglas Albright's refusal to allow the witnesses to use the Quran when being sworn in for Guilford County court proceedings has caught the attention of the Iranian news media, while the hullabaloo has fed domestic religious tensions in the United States (Yes, Greensboro, N.C.)
Politics:
Ohio televangelist has plenty of influence, but he wants more | For almost a year now, Rod Parsley has crisscrossed the country on a "Silent No More" tour, granting interviews to national news publications and giving notice that he intends to be a major player in state and national politics in the coming years (Religion News Service)
From gospel to government | The Angry Left finds religion, and the result isn't pretty (Joseph Loconte, The Wall Street Journal)
AP: Lincoln Memorial video may be revised | The Park Service bought footage of President Bush, pro-gun demonstrations and pro-Iraq war rallies and even considered cutting out a section showing former President Clinton, a Democrat (Associated Press)
Moore supporter denounces 'alleged hate group' | A Birmingham minister who is working with a Christian political action group that supports a Roy Moore candidacy for Alabama governor said Thursday that he has no current ties to a controversial Confederate heritage organization (Mobile Register, Ala.)
Anti-Europeanism flourishes on U.S. right | Among Christian conservatives, who form a powerful bloc in the Republican Party, criticism of European secularism has become a standard theme, said University of Akron political scientist John Green, an expert on Christian fundamentalism (Associated Press)
Choose Mitt? | Pro-lifers wonder whether Gov. Romney can be their guy (W. James Antle III, The American Spectator)
Commandments:
But whose law should prevail? | Church, state and the courts in America (The Economist)
Did the court get the establishment clause right? | Paul Finkelman and John C. Eastman debate the Ten Commandments decisions (Legal Affairs)
Culture clash and the Commandments | It's amazing how much has always been at stake in the interpretation of these 10 terse phrases (David Klinghoffer, Beliefnet)
Breyer restraint | The Court's eminent domain and Ten Commandments decisions were practical and farsighted (Editorial, The New Republic)
Supreme obfuscation | Disliking religion in public life, the court can't bring itself to padlock God from the public square. So it goes on closing one door while leaving another partly cracked. Everything is case-by-case. What a mess (William Murchison, The Washington Times)
Faith displays remain vital | Public displays aren't always "public" displays (Mike Moore, The Journal Times, Racine, Wi.)
Religious displays are ploys | By allowing the Ten Commandments to be displayed outside the Texas state Capitol, but not inside two Kentucky courthouses -- and essentially micro-managing the issue -- the justices ensured that Ten Commandments cases will keep coming and coming and coming. (Kaffie Sledge, The Ledger-Enquirer, Columbus, Oh.)
Holy Moses | If the states at the Constitutional Convention in 1787 had seen David Souter's opinion of the First Amendment, they wouldn't have ratified it (George Neumayr, The American Spectator)
Supreme Court upholds church/state separation | But carves discretionary space for context (Editorial, Houston Chronicle)
Abortion:
Judge blocks new S.D. abortion law | The law would have required abortion doctors, starting Friday, to tell women that abortion ends the lives of "human beings" and poses medical and psychological risks (Associated Press)
High court to again hear case on abortion clinic protesters | Before leaving for its summer recess, the Supreme Court announced Tuesday that it would take up, for the third time, a long-running dispute between aggressive antiabortion protesters and the National Organization for Women (Los Angeles Times)
Senator rejects abortion fear | Anti-Abortion senator Julian McGauran has labelled as "hysterical" suggestions that a Supreme Court ruling on patient files could spark a demand for backyard abortions (The Age, Melbourne, Australia)
UK doctors keep abortion time limit as is:
Abortion time limit cut rejected | Doctors at the British Medical Association conference in Manchester have voted against reducing the upper limit for abortion (BBC)
Doctors vote to keep 24-week abortion limit |Curb on late termination fails at BMA conference (The Guardian, London)
Doctors reject call to reduce abortion limit (The Telegraph, London)
Just 70 | It's hard not to stick to long-held opinions, but I've recently been forced to rethink my attitudes on abortion (Joan Bakewell, The Guardian, London)
Limited argument | The 24-week limit stays. Change is needed on other fronts (Editorial, The Guardian, London)
Euthanasia:
BMA drops euthanasia opposition | Doctors have voted to drop their opposition to changes to the law which would allow terminally ill patients to be helped to die (BBC)
Also: BMA drops opposition to doctor-assisted suicide | The British Medical Association decided to adopt a neutral stance when private member's legislation returns to parliament to provide a means of escape for people living in pain with no hope of recovery (The Guardian, London)
Also: 'Historic' change as opposition to euthanasia ends | Long-standing opposition among doctors to euthanasia was effectively dropped by the BMA yesterday (The Telegraph, London)
Life ethics:
GOP backs non-destructive cell research | Embryonic stem cell research that doesn't destroy budding human life? Right now, it's possible only in theory, or on animals. But those alternatives to the most promising stem cell science are enough to win the attention of anti-abortion Republicans and President Bush (Associated Press)
Demand for IVF ban on lesbians | Coalition senators want legislation banning IVF treatment for single women and lesbians to be reintroduced into federal parliament (The Australian)
Wal-Mart has no Plan B | Wal-Mart continues to keep Plan B, the "morning-after pill," off its shelves. The megastore's policy, catering to its rural base, complicates its pursuit of new markets (Liza Featherstone, Women's eNews)
Marriage & family:
The man who married too much | Va. wife discovered Utah wife and more (The Washington Post)
Bureaucrat appears wedded to marriage education effort | Wade Horn, President Bush's marriage promoter, doesn't just want regular Americans to tie the knot and stick with it. He wants the federal workers who serve those Americans to live happily ever after, too (The Baltimore Sun)
Balancing rights | We honestly cannot understand the complaining from some members of the gay community over the Klein government's talk about protecting clergy from having to perform gay marriages (Editorial, Edmonton Sun)
Gay marriage in Spain:
Spain 3rd nation to legalize gay marriage | Spain became the third country to legalize gay marriage Thursday in a parliament vote that left gay activists blowing kisses to lawmakers and the powerful Catholic Church issuing veiled calls for defiance (Associated Press)
Spain defies Church to legalize gay marriage (Reuters)
Spain legalizes same-sex marriage | Prime Minister makes unexpected speech backing law termed 'unjust' by church (The Washington Post)
A look at gay marriage around the world | A look at gay marriage in nations where it is legal in all or part of the country or where such legislation is pending (Associated Press)
UCC to vote on gay marriage:
Gay unions in spotlight | Churches to vote in Atlanta (San Bernardino Sun, Ca.)
A church's struggle over gay marriage | The United Church of Christ - famous for setting precedent - considers backing same-sex marriage at its national synod (The Christian Science Monitor)
Religion Today: UCC considers gay marriage | The United Church of Christ is poised to become the largest Christian denomination to endorse same-sex marriage, but as with other Protestant churches, taking a stand on homosexuality could come with a price (Associated Press)
Church leader endorses gay marriage | With a possible historic vote looming on a measure supporting same-sex marriage, the head of the United Church of Christ on Tuesday publicly endorsed the resolution for the first time (Associated Press)
Divestment:
Another US church mulls divestment | The United Church of Christ is to consider divestment from Israel at its biennial General Synod assembly, which opens in Atlanta on Friday. (The Jerusalem Post)
Evangelicals, mainline Protestants clash on Israel | A clash between evangelicals and mainstream Protestants on divestment from Israel marks what appears to be the groups' first direct confrontation over the Jewish state (Baltimore Jewish Times)
Bad English | Anglican disinvestment from Israel (Martin Peretz, The New Republic)
Air Force Academy:
Air Force school chief gives cadets rules | As 1,400 new cadets were welcomed at the Air Force Academy on Thursday, the chief of staff of the Air Force was reminding commanders that promoting their religious faiths is against regulations (Associated Press)
Little common ground found in religion hearing | House members debate 'proselytizing' at Air Force Academy (Stars and Stripes)
Allard: AFA needs religion rules now | Sen. Wayne Allard, who sits on the Air Force Academy oversight board, wants to see proposed rules for expressing religious beliefs at the military school within two weeks (The Gazette, Colorado Springs)
Also: Allard presses for clearer religion guidelines at AFA (The Rocky Mountain News, Denver)
Higher Education:
Patrick Henry College sues employee fired over beliefs | Jeremy Hunley's Church of Christ teaches that baptism is necessary. School says that violates "faith alone" standard (Leesburg Today, Va.)
Christian law society sues SIU to be reinstated | A religious group that bars gays and lesbians unless they disavow their sexual orientation wants a federal judge to order Southern Illinois University's Law School to reinstate the group as a "recognized" campus organization (St. Louis Post-Dispatch)
Jenkins takes over as head of Notre Dame | John Jenkins, 51, takes over at a time of enormous growth (Associated Press)
Freedom of digital religious expression | Fairfield University a launches new major at the Roman Catholic institution in Fairfield, Conn.: New Media: Film, Television and Radio. It is the first media program led by Jesuit priests (Inside Higher Ed)
Persecution:
Naushera blasphemy case: Christian was illiterate, only followed orders: NCJP | Case also registered against angry mob which set temple on fire: police (Daily Times, Pakistan)
Earlier: Koran 'desecration' suspect held | A Christian man has been arrested in Pakistan's North-West Frontier Province for allegedly desecrating a Koran (BBC)
Five more arrested for murder of pastors | Police say the men had drawn up plans to kill more priests (IANS, India)
Abuse:
Victim of priest's abuse wins record sum | Solicitors warn that more claims are likely to cost church millions (The Guardian, London)
Pedophile priest costs the Catholic Church £1m for a decade of sex abuse against boys (The Telegraph, London)
Church settles priest abuse claims | Dioceses in Sacramento and Santa Rosa will pay $45.6 million to 42 alleged victims. One calls the payouts another 'wake-up call' (Los Angeles Times)
Also: 2 Calif. dioceses to pay $42m in abuse claims | Two Catholic dioceses in Northern California agreed yesterday to pay more than $42 million to settle 41 clergy sex abuse claims, resulting in the dismissal of all but one lawsuit (Associated Press)
Catholic group seeks probe of archdiocese's retiree fund | A coalition of Catholics opposed to parish closings yesterday delivered more than 2,300 signatures on petitions asking Attorney General Thomas F. Reilly to investigate the Archdiocese of Boston's management of money contributed for the benefit of retired priests (The Boston Globe)
Ex-priest convicted in Texas sex assault | A former priest was convicted Thursday of sexually assaulting an 18-year-old former parishioner who said he was too drunk following a wedding party to defend himself (Associated Press)
Crime:
'Son of Sam' book to be published in Sept. | Book "discusses how poor choices led to the horrific murders he committed, and how he eventually became a Christian" (Associated Press)
Vandals broke prized window but gave church a rock to build on | Part of the Tower of Light — the 46-year-old stained glass focal point at the front of Arcadia's Santa Anita Church — was shattered earlier this week, apparently the victim of vandals, a senior minister said (Los Angeles Times)
Ministers' crime-fighting mission | Clergy in Prince George's plan to take active role with police and families (The Washington Post)
Man sought in biblical center fire | Dallas Fire-Rescue officials said Wednesday they are looking for a man who may be able to offer information about a six-alarm fire that destroyed irreplaceable treasures inside the Biblical Arts Center in North Dallas (The Dallas Morning News)
Pastor and daughter murdered, burned:
Pastor, daughter are slain | Bodies found in Buffalo Grove fire (Chicago Tribune)
Minister, daughter found slain | Lutheran minister who had just returned to the pulpit of his Chicago church after battling serious health problems (Chicago Sun-Times)
Minister gave himself to his church | Standing before his congregation each Sunday, the Rev. Ivon Harris would lift his booming voice and chant a liturgy in Slovak so perfectly that visitors often mistook him for a native (Daily Herald, Chicago suburbs)
TV:
ABC drops show after complaints by civil rights groups | ABC Television canceled a reality show that let white suburban families decide which of seven families would move into their community (The New York Times)
Also: ABC faces reality, pulls welcome mat on 'Neighborhood' | ABC has pulled "Welcome to the Neighborhood" after it was suggested to the network that a reality series in which three couples consider race and religion to help decide which contestant family gets to become their neighbor violates the federal Fair Housing Act (The Washington Post)
Network has God, law on its side | The KOCE decision just goes to show: Pity the fool who rattles the heavenly cage (Dana Parsons, Los Angeles Times)
Art:
New Leonardo Da Vinci drawing discovered in London | Art curators have uncovered a new Leonardo Da Vinci drawing hidden beneath the surface of one of the Renaissance artist's most celebrated works, Britain's National Gallery said on Friday (Reuters)
Also: New Leonardo picture discovered | Experts using infra-red techniques found a drawing under the surface of the Virgin of the Rocks painting which hangs at the National Gallery in London (BBC)
Bible exhibits:
'Kings City' theme park opens in Eilat | After four years of construction, the much anticipated "Kings City" biblical theme park opened in Eilat this week at an investment of NIS 162 million, bringing a unique concept in family entertainment to Israel (The Jerusalem Post)
Smithsonian exhibit introduces little-known Biblical land to U.S. public | Kings came from the East and brought gold, frankincense and myrrh to the infant Jesus, the Bible says. All three are typical products of Yemen, whose ancient civilization is being introduced to Americans in a big exhibit of finds made since the mid-1900s (Associated Press)
Other religions:
The suspension of disbelief | Alister McGrath contends atheism was relevant and important for 200 years, but is now weary, frail and tediously eking out its last days as a significant philosophy, slain by postmodernism and resurgent spirituality (The Age, Melbourne, Australia)
Summer camp that's a piece of heaven for the children, but please, no worshiping | Camp Quest in Hamilton, Ohio, provides a haven for the children of nonbelievers (The New York Times)
Pagan followers fight misconceptions, slowly gain acceptance | The start of summer means shorts, swimsuits, Hawaiian shirts and sunscreen. And, for some, hooded black robes and pentagrams (North County Times, N.C.)
Other stories of interest:
Karate and Christ | Parents find martial arts classes that leave out Eastern religions (The Huntsville Times, Ala.)
Religion news in brief | Anglican divestment from Israel, Russian Orthodoxy disavows Soviet-era document, Bible society poll shows U.S. teens favor public religious expressions, and other stories (Associated Press)
Farmers says drought far from over | The National Council of Churches in Australia, the Australian Prayer Network and the Evangelical Alliance want Christians to pray for rain on July 24 as the first of the 40 days (AAP, Australia)
Clergy question boycott unity | Religious leaders concerned about fair religious representation say they want to see the Capital City celebrate the Montgomery bus boycott's 50th anniversary in a way that doesn't exclude non-Christian people of faith (Montgomery Advertiser, Ala.)
Mixing religious teachings | Overall, Americans say religion is important in their daily lives; for two-thirds, it is extremely or very important (CBS Evening News)
Related Elsewhere:
Suggest links and stories by sending e-mail to weblog@christianitytoday.com
See our past Weblog updates:
June 30 | 27
June 24 | 23 | 20
June 17 | 16 | 15 | 14
June 10 | 9 | 3 | 2 | May 31
May 27 | 26 | 24 | 23
Weblog
Launched in 1999, Christianity Today's Weblog was not just one of the first religion-oriented weblogs, but one of the first published by a media organization. (Hence its rather bland title.) Mostly compiled by then-online editor Ted Olsen, Weblog rounded up religion news and opinion pieces from publications around the world. As Christianity Today's website grew, it launched other blogs. Olsen took on management responsibilities, and the Weblog feature as such was mothballed. But CT's efforts to round up important news and opinion from around the web continues, especially on our Gleanings feature.
Ted Olsen is Christianity Today's executive editor. He wrote the magazine's Weblog—a collection of news and opinion articles from mainstream news sources around the world—from 1999 to 2006. In 2004, the magazine launched Weblog in Print, which looks for unexpected connections and trends in articles appearing in the mainstream press. The column was later renamed "Tidings" and ran until 2007.
Previous Weblog Columns: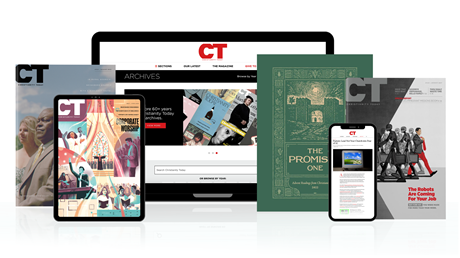 Annual & Monthly subscriptions available.
Print & Digital Issues of CT magazine
Complete access to every article on ChristianityToday.com
Unlimited access to 65+ years of CT's online archives
Member-only special issues
Subscribe
Billy Didn't Mean to Endorse Hillary for President, Says Franklin
Billy Didn't Mean to Endorse Hillary for President, Says Franklin