America debates as Terri Schiavo grows ever weaker. The world commemorates Good Friday and Easter. Pope John Paul II winces in agony as he unsuccessfully tries to speak his blessing. The Colorado Supreme Court overturns plans to execute a murderer-rapist because jurors consulted a Bible during deliberations. The U.S. Supreme Court upholds an execution despite a violation of jury instruction rules regarding his religious conversion. The Supreme Court also rejected an appeal regarding an Idaho parental consent abortion law. The investigations continue into the shootings in Red Lake and Milwaukee. Jerry Falwell is "critically ill" and hospitalized with pneumonia. See a theme?
Terri Schiavo Articles
Schiavo's demise | Autopsy planned | Family battles | Protesters | Conservative groups | Analysis | Legal specifics | Judge Greer | Arrest | Culture war | Congress and politics | Jeb Bush | Opinion — Politics | International perspectives | Schiavo and Holy Week | Catholicism | Religious opinions | Opinion—Anti-religion | Opinion: Siding with Michael Schiavo | Opinion: Against Michael Schiavo | More opinion | Media criticism | The science of Schiavo | Related issues | 'I strugged, too'
Beyond Schiavo
Life ethics | Stem cells | Abortion | Pope John Paul II | Catholicism | Church life | Emergent churches | Guns at church | Church property | Holy Land | Crucifixion and Good Friday | Easter services | Easter trends | Did Easter happen? | What Easter means | Easter and sacrament | Easter commerce | More Easter | Should Good Friday be a public holiday? | Business | Church and state | Law | Education | Evolution | Science | Politics | Criminal justice | Death penalty | Crime | Abuse | Violence | Zimbabwe | Iraq | India | Africa | AIDS | Homosexuality | Gay Anglicans | Hate speech | Russian anti-church art | Art | Books | Anne Lamott | Da Vinci Code | History | Bible | The Passion Recut | TV | Sports | Fashion | Travel | Music | Prayer & spirituality | Miracles and mysticism | Against religion | Social justice | Tsunami | People | Doug Wead | Prince Charles | Other stories of interest
Schiavo receives Last Rites, Communion | Terri Schiavo was given last rites and Easter communion — a drop of wine, but no bread — as protesters hoping to get the brain-damaged woman's feeding tube reinserted pledged to take their fight to the gates of the White House (Associated Press)
Saturday: Schiavo in her 'last hours,' father says amid appeals (The New York Times)
Schiavo called beyond saving | Seeing their daughter 'declining rapidly,' the woman's parents are done with courtroom efforts to keep her alive, a spokesman says (Los Angeles Times)
Schiavo seen as past 'point of no return' | Easter Sunday did not bring a miracle for the family of Terri Schiavo, though the 41-year-old woman was allowed her first nourishment in nine days, when a priest gave her a drop of Communion wine (The Washington Times)
Terri Schiavo's unstudied life | The woman who is now a symbol and a cause hated the spotlight (The Washington Post)
Schiavo's husband says autopsy will end suspicions | As Terri Schiavo was in her 11th day without food or water, her husband said that a full autopsy would be performed before her cremation (The New York Times)
To clear doubts, Schiavo autopsy planned | Procedure would offer proof of the woman's brain injuries and counter rumors about her husband's motives, his attorney says (Los Angeles Times)
Schiavo's husband and parents now battling over autopsy plan (The Washington Post)
A family's slow descent into loathing | Michael Schiavo and his in-laws stuck together, but then a settlement planted seeds of discord (Los Angeles Times)
Family acrimony marks long Schiavo case | So bitter and vindictive is the family feud over whether Terri Schiavo lives or dies that her husband and parents couldn't even agree on what priest should administer last rites or what should happen to her body after death (Associated Press)
Behind life-and-death fight, a rift that began years ago | Terri Schiavo's husband and parents once shared a home, a life, a goal (The New York Times)
The legal struggle | For the nation, it has been a short-term drama. But for Terri Schiavo's husband and family, it has been 15 years of anguish, accusations and court battles (Time)
Conflicting memories about Schiavo's wishes | The actual evidence indicating Terri Schiavo's intentions in the absence of a living will or legal directive is complicated, based on conflicting recollections by family members of long-ago casual remarks by her (The Boston Globe)
Activists make point in Schiavo case | Grabbing attention with a brief, dramatic demonstration, disabled activists have been raising their voices throughout the final stages of the Terri Schiavo drama to send a message: that Schiavo, too, is a disabled person who is worthy of living (Associated Press)
Protesters with hearts on sleeves and anger on signs | The legal battle over the life of Terri Schiavo may have ended, but a thick, fervent crowd remains in the makeshift encampment outside the Woodside Hospice House here (The New York Times)
Schiavo family asks protesters to go home (Associated Press)
Child protesters show support for Schiavo | Scott Heldreth has been arrested numerous times for picketing abortion clinics and blocking sidewalks while praying. Now his 10-year-old son, Josh, has followed in his footsteps (Associated Press)
Schiavo protesters begin to fray | Despondency, anger evident as hours pass (The Boston Globe)
Protesters try to keep faith | Advocates of feeding Schiavo pray and read the Bible aloud outside her Florida hospice. But increasingly some seem resigned to her death (Los Angeles Times)
Schiavo family urges protesters to stay calm | Sparks of anger briefly altered the mostly peaceful atmosphere of demonstrations outside Terri Schiavo's hospice on Easter Sunday, as a small group of protesters grew increasingly frustrated that the legal fight to keep the brain-damaged woman alive has ended (The Washington Post)
With giant spoon, Fla. woman helps stir up Schiavo protest across from White House | The battle over Schiavo is well into its denouement. (The Washington Post)
Protests putting spotlight on hospice | Delicate balance over rights in Schiavo case (The Boston Globe)
Supporters pray for Schiavo at Detroit federal building | Most demonstrators condemn the removal of her feeding tube and 'culture of death.' (The Detroit News)
Activists see base being fired up | Conservative, anti-abortion groups believe the Schiavo case will have a prolonged effect (Pittsburgh Post-Gazette)
Conservatives invoke case in fund-raising campaigns | Many groups are soliciting donations in her name, some for a much broader agenda (The New York Times)
List of Schiavo donors will be sold by direct-marketing firm | Thousands of strangers moved by Terri Schiavo's plight will likely receive a steady stream of solicitations from anti-abortion and conservative groups (The New York Times)
Did Descartes doom Terri Schiavo? | In the parade of faces talking about Terri Schiavo, two notable authorities were missing: Aristotle and Descartes. Yet their legacy was there (The New York Times)
The power of images to create a cause | Day after day during the past week, clips from a video of Ms. Schiavo shot a few years ago have run almost continuously on television (The New York Times)
Lessons of the Schiavo battle | What the bitter fight over a woman's right to live or die tells us about politics, religion, the courts and life itself (Time)
The legacy of Terri Schiavo | One woman's journey from marital bliss to medical darkness—and the forces that made her story a political and ethical watershed (Newsweek)
Rush to judgment | Liberals can count all the judges they want, but that does not mean all these judges agreed with the merits of the original court's decision. It means they found no basis for saying the original court's decision was illegal (Thomas Sowell, The Washington Times)
Why Schiavo's parents didn't have a case | The Schindlers lost their case and their cause — and soon probably their daughter — because in the end they were making claims the legal system has never been able or willing to recognize (Andrew Cohen, Los Angeles Times)
The shadow of death and the law | If we don't change the law based the presumption for life, we will have more Terri Schiavos (Darrell Bock, Beliefnet)
Ploy Chorus . . . law libretto | The rule of law dictated the withdrawal of nutrition and hydration in the wrenching Terri Schiavo litigation (Bruce Fein, The Washington Times)
Schiavo judge protected after threats | Amid the pitched legal battle over Terri Schiavo that has been fought through his court, Pinellas County Circuit Judge George Greer has been under the protection of armed guards, and friends say his family also is protected (Associated Press)
Judge Greer parts ways with his church on pastor's advice | Pinellas-Pasco Circuit Judge George Greer left his church last week after the pastor wrote him a letter suggesting "it might be easier for all of us" if he leave (St. Petersburg Times, Fla.)
It's the law, not the judge | But these days the bench is the hot seat (Jeffrey Rosen, The Washington Post)
Putting out a bounty on Greer and Michael Schiavo:
Schiavo e-mail lands man in federal court | Attorney: Message alleging bounty on woman's husband bad judgment (Asheville Citizen-Times, N.C.)
Costly lesson? | FBI rightly takes dumb, irresponsible e-mails seriously (Editorial, The Charlotte Observer, N.C.)
Fairview man makes first court appearance on e-mail threat charge (Asheville Citizen-Times, N.C.)
Fairview man charged in Schiavo bounty plot | Placed a bounty on the head of Michael Schiavo and on judge (Asheville Citizen-Times, N.C.)
N.C. man charged in threat to kill Michael Schiavo | FBI says suspect offered $250,000 bounty for killing Michael Schiavo (The Charlotte Observer, N.C.)
Schiavo debate as culture war:
Culture war's latest chapter: Schiavo case | The hushed tones within the Woodside Hospice are in marked contrast to the raised voices outside (Associated Press)
Culture war | Our great national shouting match over Terri Schiavo has moved way beyond the brain-damaged woman herself (Howard Kurtz, The Washington Post)
Life and death politics | The Schiavo case is just the latest front in a much nastier war (U.S. News & World Report)
Matters of life | Terri Schiavo has become a metaphor in the religio-cultural struggle over abortion (Hendrik Hertzberg, The New Yorker)
A thin view of 'life' | What does it mean to be pro-life? (E. J. Dionne Jr., The Washington Post)
Schiavo case bares political sea change | The drama played out in Florida and Washington this week signaled the domestic sea change that many believe was signaled by the president's reelection (Tim Rutten, Los Angeles Times)
We take life and death seriously | As the pro-life debate extends from abortion to euthanasia, one thing is clear (Mark Davis, The Dallas Morning News)
The rage over death issues will swirl on | Two worldviews - one religious, one scientific - contend in the public square, and they perpetually rage against each other (James P. Pinkerton, Newsday)
Is this "it"? | Terri Schiavo as a national turning point (Lawrence Henry, The American Spectator)
The Schiavo circus | The Brothers Bush turn flips—no net!—for right-to-lifers (Sharon Lerner, The Village Voice)
Congress ready to again debate end-of-life issues | The central question in the Terri Schiavo case is headed back to Capitol Hill, where debate over broader legislation has already begun (The New York Times)
PVS and the end of life | Congress again prepares to weigh in (Andrew C. McCarthy, National Review Online)
DeLay's own tragic crossroads | Family of the lawmaker involved in the Schiavo case decided in '88 to let his comatose father die (Los Angeles Times)
Deathbed conversion | The lesson of Tom DeLay's mortal hypocrisy (William Saletan, Slate)
The dangers of political theater | Pollsters say it's hard to remember a time when Congress acted in a manner so contrary to popular opinion - especially when the public was paying such close attention (The New York Times)
Schiavo case tests priorities of GOP | A week after their unprecedented intervention in the Terri Schiavo case, Republican congressional leaders find themselves in a moral and political thicket, having advanced the cause as a right-to-life issue -- only to confront polls showing that the public does not see it that way (The Washington Post)
'Culture of life' issues split GOP | In a nation accustomed to bitter divisions over cultural issues, the Schiavo dispute may have unexpectedly illuminated a point of consensus (Los Angeles Times)
Bill Frist's balancing act | Frist's doubts about Schiavo's diagnosis instantly raised the temperature of the debate and raised questions about his motives (U.S. News & World Report)
Bush's back-and-forth reflects rift in party | He flew halfway across the country in a vain effort to save her life, but in the week since, President Bush has retreated back to his ranch and remained largely out of sight as the nation wrestled with the great moral issues surrounding the fate of Terri Schiavo (The Washington Post)
Sunday: Governor is pressed on Schiavo as legal moves dwindle | Faced with the prospect of dwindling legal avenues, the parents of Terri Schiavo and others fighting to keep her alive appealed to Gov. Jeb Bush on Saturday to intervene further in the case. (The New York Times)
Later Sunday: Lawyer for parents says Governor Bush can do nothing more (The New York Times)
In a polarizing case, Jeb Bush cements his political stature | Gov. Jeb Bush has assumed a very high profile in the Schiavo case (The New York Times)
Jeb conflicted in Schiavo case | Florida governor is looking for ways to intervene in the Terri Schiavo case again, but he admits to being frustrated by the laws governing his office (Les Kjos, UPI)
Justice shall be executed | The Bush brothers profess a devotion to "life," but they never seem to worry about the wrongfully executed (Kirsten A. Powers, The American Prospect)
No, it wasn't a cynical ploy | The quality of the debate suggests to me that large majorities on both sides were acting out of reasoned moral conviction more than political calculation (Michael Barone, U.S. News & World Report)
Poor judgment | Wouldn't it be something if George W. Bush raced back to the White House from his Texas ranch for something with a little broader consequence than the feeding tube of one woman in a vegetative state whose husband says she would choose to die? (Brian McGrory, The Boston Globe)
In Solomon's absence | The Schiavo case made bad law and good politics (Daniel Henninger, The Wall Street Journal)
Charges of hypocrisy | Each objection on grounds of hypocrisy in these cases itself entails hypocrisy (Tod Lindberg, The Washington Times)
The politics of the Schiavo case | Losing the battle, winning the war (Jeffrey Bell & Frank Cannon, The Weekly Standard)
Emotional distance | Why Democrats should keep their distance from the Terri Schiavo drama (Michelle Cottle, The New Republic)
To err on the side of life? | The implied message is clear: If Bush represents those who would rather "err on the side of life" (whatever that means), it puts anyone with other legitimate moral concerns in a defensive position, having to explain how they could possibly not want to "err on the side of life." (Sean Gonsalves, Cape Cod Times, Ma.)
Exploiting Terri Schiavo | Will GOPers admit they went overboard? No way (David Corn, The Nation)
No last rites in the Schiavo mess | The travesty surrounding her death — inflammatory rhetoric, political pandering and crass exploitation — has caused real pain to many well-meaning people (Carol Towarnicky, Philadelphia Daily News)
A window has opened on the soul of America | The manner in which a brain-damaged woman's fate motivates millions of citizens to prayer and action speaks of the thick and under-appreciated vein of compassion that runs through American life. But the near-hysteria that the Schiavo controversy has induced has at times seemed to border on the grotesque (Alex Massie, The Scotsman)
World watching, but no consensus on ethics of death | Many nations have themselves wrestled with the right-to-die issue (Los Angeles Times)
Japan court ruling raises questions on life support | A Japanese court ruling handing a suspended sentence to a doctor who removed a comatose patient's breathing tube and injected him with muscle relaxant is raising questions on when to end life support (Reuters)
World divided on ethics of Terri Schiavo case | From the Netherlands, where euthanasia and assisted suicides are legal and common, to India, where no doctor is allowed to deny lifesaving treatment to any patient, no matter how hopeless, governments are struggling to draft ethical and practical laws governing so-called mercy killing (The Christian Science Monitor)
Life, death, and soul-searching at Easter services | Following last week's Terri Schiavo debate, churchgoers at Easter services said that they had found themselves pondering more deeply than in years past what it means to be alive (The New York Times)
Schiavo case getting notice on Good Friday | As Christians reflect on Jesus' death this solemn Good Friday, some also are giving special attention to Terri Schiavo — particularly Roman Catholics who count Schiavo as one of their own (Associated Press)
Woman's plight likened to Jesus' | Good Friday, the holiest day of the Christian year, was dominated yesterday by religious leaders comparing the suffering of Jesus Christ to the apparently impending death of brain-damaged Floridian Terri Schiavo (The Washington Times)
A meditation on death | Christ, Terri Schiavo, Pope John Paul II, and Jeff Weise (Editorial, Minneapolis Star-Tribune)
Observances reflect on right to die | Florida case tinges Holy Week services (The Washington Post)
In two friars, family finds spiritual support and more | In their long dark robes and Birkenstock sandals, Brothers Paul O'Donnell and Hilary McGee have become fixtures at Terri Schiavo's hospice here, serving as spokesmen, counselors and bodyguards for her parents (The New York Times)
Catholic stance on tube-feeding is evolving | Terri Schiavo Case reopens international debate on ethics and the end of life (The Washington Post)
A most personal test for the church's rules | Although details of the Pope's recent respiratory deterioration remain unclear, his medical saga raises similar questions about how the church defines extraordinary treatment (The New York Times)
What's God got to do with it? | Terri Schiavo makes a place for religion in politics (Denis Boyles, National Review Online)
Opinions split on feeding tube | Many churchgoers, including evangelical Christians, are divided in the life-and-death debate over the fate of Terri Schiavo (Los Angeles Times)
Faiths vary on life-or-death care choices | The Schiavo case brings questions of theology and human responsibility to the forefront (The Christian Science Monitor)
Views of local clerics varied | Judge's refusal in Schiavo's case felt in Colorado (Rocky Mountain News, Denver)
Peace for Terri Schiavo | Her name is 'written in the book of life,' so why idolize an utterly reduced life? (Martin E. Marty, Sightings)
Liberal Jews & Terri Schiavo | A Purim political lesson (David Klinghoffer, National Review Online)
The way of suffering | Terri Schiavo, at the foot of the Cross (Larry Kudlow, National Review Online)
Take a look in the mirror | The pols confused law with theology and allowed tabloidism to trump privacy (Jonathan Alter, Newsweek)
Beware the moral minority | Questions of life and death are too important to be decided by zealots and dogmatists (Mary Riddell, The Observer, London)
Terri is the dying martyr the Republican right can use | Those of us who have long worried that unleashing religious fundamentalism into the bloodstream of American politics would lead to disaster can feel only that our fears have now come true (Andrew Sullivan, The Times, London)
What's going on? | Once the Terri Schiavo case settles, look for more intimidation in the name of God from the right (Paul Krugman, The New York Times)
Schiavo case: My issue with evangelicals | What if George Bush is able to pack the federal courts with like-minded missionaries, intent on supplanting the secular affairs of this country with religious imperatives? (Jill Porter, Philadelphia Daily News)
Opinion: Siding with Michael Schiavo:
Good judgment | Neither Congress nor President Bush acquitted themselves well last weekend in enacting a law to intervene in the case of Terri Schiavo. But in the days that have followed, one institution of American government has distinguished itself in its handling of the matter: the federal courts (Editorial, The Washington Post)
When sentiment and fear trump reason and reality | The effort to blur the huge distinction between faith and science, between empirically falsifiable facts and beliefs, was on display again this month in two very different contexts (Lawrence M. Krauss, The New York Times)
The culture of each life | There are those of us who believe that under certain conditions the cruelest thing you can do to someone you love is to force them to live (Anna Quindlen, Newsweek)
Schiavo: Case closed | It is possible that Michael Schiavo is a battering spouse or a murderer, just as it is possible that you are a battering spouse or a murderer. But the odds against him (or you) being a battering spouse or murderer, and a complete idiot, are very, very high. (Keith Olbermann, MSNBC)
Easter charade | There's no resurrecting Terri Schiavo (Christopher Hitchens, Slate)
Opinion: Against Michael Schiavo:
No compelling reason to kill Terri Schiavo | If she feels nothing -- if there's no there there -- she has no misery to be put out of. That being so, why not err in favor of the non-irreversible option? (Mark Steyn, Chicago Sun-Times)
Terri's tragedy | The fundamental issue in Terri's case is disability rights -- not the right to die (Nat Hentoff, The Washington Times)
Tragedy amid confusion | People who say the government had no business interfering in a private decision like removing Terri Schiavo's feeding tube somehow have no problem with a squad of policemen preventing her parents (or anyone else) from giving their daughter food or water (Thomas Sowell, The Washington Times)
In search of justice | The Terri Schiavo case is a microcosm of 60 centuries of recorded human history, the story of man's struggle to advance from tyranny to freedom (William Goldcamp, The Washington Times)
The worms triumph and a woman dies | Life is a gift, and precious. This was once the abiding American belief, and it could be again (Wesley Pruden, The Washington Times)
Cruel, unusual | If the tragic case of Terri Schiavo shows nothing else, it shows how easily "the right to die" can become the right to kill (Thomas Sowell, The Washington Times)
Morality and reality | The core belief that social conservatives bring to cases like Terri Schiavo's is that the value of each individual life is intrinsic (David Brooks, The New York Times)
How liberalism failed Terri Schiavo | The question is not only what she would have wanted, but what we owe her. (Eric Cohen, The Weekly Standard)
'Human non-person' | Terri Schiavo, bioethics, and our future (Wesley J. Smith, National Review Online)
George Orwell & Terri Schiavo | Euphemisms about life and death (Rich Lowry, National Review Online)
Mary's child | Terri Schiavo, daughter (Susan Konig, National Review Online)
Beyond a reasonable doubt | Terri Schiavo has been denied due process of law (Andrew C. McCarthy, National Review Online)
"Evolving standards of decency" | "Evolving Standards of decency" saved Christopher Simmons's life; they weren't enough to save Terri Schiavo (William Kristol, The Weekly Standard)
Not their kind of woman | Feminists ignore Terri Schiavo (Andrew Cline, The American Spectator)
'I want to live!' | What if you'd rather not exercise your "right to die"? (Editorial, The Wall Street Journal)
American death sentence | The preferred new method is slow starvation and dehydration (Ben Stein, The American Spectator)
No; it's not about Terri Schiavo anymore | It's about those of us who have scary, messy disabilities, and the fears of the rest of us (Mary Johnson, Common Dreams)
Terri Schiavo: A cause for the Left? | Progressives need to be consistent and recognize the sanctity of life is more than a political ploy of the fascists in power. Life is fundamental to the progressive position. (Mark Polit, Common Dreams)
Morals compel us to favour life over death | The Schiavo case is not clear cut (Edward Spence, The Sydney Morning Herald)
A regrettable limit on life | Bioethics has hardened into an activist ideology that pervades the medical world, the schools, and government (John Leo, U.S. News & World Report)
The rhetoric in Schiavo case | This spectacle has been a sickening display of cynicism and fanaticism. (Cathy Young, The Boston Globe)
The mixed blessing of progress | Modernity often crashes down on us faster than we can adapt (Jonah Goldberg, The Washington Times)
Imagine Terri were a toaster … | An economist considers the Schiavo case (Steven E. Landsburg, Slate)
Raging bullsh*t | What the contestants of "The Contender" and Terri Schiavo have in common (Lee Siegel, The New Republic)
Terri Schiavo's legacy | A constructive debate about the "right to die." (Editorial, The Wall Street Journal)
The media's anti-Terri campaign | On a fundamental matter of life and death, the MSM heavyweights have proven themselves utterly incapable of fair reporting (Michelle Malkin, The Washington Times)
The ABCs of media bias | A mystery memo, biased reporting, and the usual suspects (Fred Barnes, The Weekly Standard)
Fake but accurate again? | The "GOP talking points memo" on Terri Schiavo has all the signs of a political dirty trick. Where is the mainstream media? (John Hinderaker, The Weekly Standard)
The case heard round the web | How Terri Schiavo became a household name (Wesley J. Smith, The Weekly Standard)
Lying Jesuits and journalists | Whenever a cultural controversy pops up, raging bias is sure to follow (George Neumayr, The American Spectator)
Neurology | When does the brain go blank? (Time)
Inside Terri's brain | She's probably not in pain. Still, doctors can't read her mind (U.S. News & World Report)
When life is on the line | This is not medicine's way. Consultants are not there to fight with one another but to collegially explain their differences (Bernadine Healy, U.S. News & World Report)
Whose life are we supporting? | In its simplest terms, the question is: Is Terri Schiavo dead or alive? And if we grant that she is "technically" alive, is hers a life worth continuing? (William Raspberry, The Washington Post)
Doctors: Feeding tube goes beyond purpose | The doctors who created the current technique for inserting feeding tubes into patients said the procedure has gone far beyond its original purpose of helping infants and children who couldn't swallow (Associated Press)
Docs say Schiavo videotapes can mislead | As social beings, humans are hard-wired to examine another's face for clues to what the person behind it is thinking. They naturally associate vocal tones with specific moods. They detect meaningful words in nonsense utterances (Associated Press)
Are they in there | With doctors working to unlock the unconscious, our understanding of life, death and states in between may change (Clive Thompson, The Dallas Morning News)
Sheer torture | Why we can't be confident Terri Schiavo is not feeling pain (John Tabin, The American Spectator)
Why we know painfully little about dying | This is a good time for politicians and policymakers to ensure that end-of-life issues are more prominent on the research agenda (June Lunney and Joanne Lynn, The Washington Post)
Choosing their time | The next contentious end-of-life issue: assisted suicide. How Oregon offers a way out (Time)
Even as doctors say enough, families fight to prolong life | Doctors and ethicists say that when hospitals and families clash, conflicts often pit families who want to continue life support and aggressive medical care against doctors who believe it is time to stop (The New York Times)
The myth of dying | In the cacophony of debate about insignificant things, the torture of unassisted death goes on unremarked (Polly Toynbee, The Guardian, London)
Archbishop attacks modern culture | Modern culture is obsessed by ageing and mortality, the Archbishop of Canterbury said in his Easter address (BBC)
Music stirred her damaged brain | Judging normal brain function in a neurologically impaired person is never an easy task (S. Allen Counter, The Boston Globe)
Still beautiful, still human | Why bother keeping her alive? they wondered--about my mother (Lucette Lagnado, The Wall Street Journal)
Hoping for small victory | Sydni Taylor Pecevich's name is not as well known as Terri Schiavo's, but the 4-month-old's fight against a life-threatening disease is as familiar as the silhouette of Children's Hospital in the Boston skyline (The Boston Globe)
Life or death: Love's choice | Two mothers, each acting out of compassion, reach different decisions after their children lapse into vegetative states (Los Angeles Times)
Life-or-death choices | Many families with a brain-injured loved one face such a struggle. But the road to each family's life-or-death decision is unique (The Boston Globe)
Wrestling with the final call | When it comes to end-of-life decisions, taking an ethical path isn't always easy (U.S. News & World Report)
Terri Schiavo and the reality gap | It is through the lens of my father's death that I have watched the Terri Schiavo case in horror (Abigail Trafford, The Washington Post)
Pharmacists' rights at front of new debate | Because of beliefs, some refuse to fill birth control prescriptions (The Washington Post)
Helping to save newborns, or not | Has the Abandoned Infant Protection Act helped or hurt? (The New York Times)
Time for a moral revolution | Abortion 'on demand' and the scandalous Schiavo case have resonance in the week we celebrate the triumph of life over death (Gerald Warner, Scotland on Sunday)
Life unborn, life unfulfilled and life usurped: the challenges of Easter | We should see today as a chance to focus on the value of human life, and take steps to protect it where it is threatened (Keith O'Brien, Sunday Herald, Glasgow)
Also: Cardinal's 'life issues' message | Scotland's most senior Roman Catholic has said that society has "lost sight of the sacred nature of human life"(BBC)
Catholics warned of Nazi eugenics trend | Cardinal Cormac Murphy-O'Connor, leader of the Roman Catholic church in England and Wales, renewed his attack on the abortion laws and embryo research yesterday in an Easter sermon, a TV interview, and a newspaper article which compared the research to eugenics experimentation in Nazi Germany (The Guardian, London)
Also: The church wants to stifle ethical debate | The story of eugenics suggests that we must never stop debating and agonising about these matters (David Aaronovitch, The Guardian, London)
What price perfection? | The elusive ethics of body modification (Erik Parens, The Boston Globe)
Church alarm over picking sex of babies | As details emerged of the extent of the disagreements among the MPs on the Commons science and technology select committee over the report - said by one to be like creating "Frankenstein" babies - the Church of England and Roman Catholics claimed the work was deeply flawed. (The Guardian, London)
Also: Cardinal 'horrified' at IVF plans | Cardinal Cormac Murphy O'Connor said on Saturday this would lead down "a very, very dangerous path" (BBC)
Hair follicles provide source of nerve stem cells | Stem cells found in hair follicles can develop into nerve cells and might be useful in medical treatment, U.S.-based researchers reported on Monday (Reuters)
House leaders agree to vote on relaxing stem cell limits | The House leadership has agreed to allow a floor vote on a bill that would loosen the restrictions on human embryonic stem cell research imposed by President Bush in 2001, according to members of Congress and others privy to the arrangement (The Washington Post)
Republicans discuss vote on new stem cell policy | The Republican leadership of the House has told party moderates that the House will vote this year on a proposal to modify President Bush's stem cell research policy, opening another contentious moral, theological and scientific debate about when life begins and ends. (The New York Times)
Maryland House agrees to funding on stem cells | Approval seen as backing for Md. biotech industry (The Washington Post)
UConn seeks to launch stem cells program | As lawmakers consider plans to make the state a hotbed for stem cell research, the University of Connecticut has announced it is poised to become one of the first colleges in the country to launch a program for making human embryonic stem cells (Associated Press)
Stem-cell bill faces 1st test in Mass. | Lobbying is intense on both sides of issue (The Boston Globe)
No state money for stem cells | Government funding will make the regulatory climate for stem cell research worse rather than better, thereby outweighing any benefit of increased funding (Jeffrey A. Miron, The Boston Globe)
Retreat paves way for stem cell study | John Howard has abandoned an attempt to extend restrictions on the scientific use of excess IVF embryos after failing to obtain state and territory agreement (The Australian)
Also: Australian PM gives stem cell research green light | Australia will allow human embryos to be used for some types of stem cell research after Prime Minister John Howard's decision not to push for extended restrictions on the use of IVF embryos (AFP)
Court declines to review abortion law | The Supreme Court rejected an appeal Monday to reinstate a state law requiring girls under age 18 to get parental consent for abortions except under the most dire of medical emergencies. Without comment, justices let stand a lower court ruling that struck down the Idaho law because its provisions on emergency abortions were too strict (Associated Press)
Justices won't reinstate Idaho abortion law | The rejection marked the second time in as many months that the high court has declined to weigh in on abortion matters (The Washington Times)
Roe v. Wade omitted from proclamation | Governor Mitt Romney removed a reference to Roe v. Wade in a proclamation he signed this week, raising eyebrows among abortion rights advocates who say the move corresponds with a rightward shift by Romney as he mulls a presidential bid (The Boston Globe)
Bishop criticizes abortion laws | The Archbishop of Birmingham, Vincent Nichols, believes MPs should be made accountable for their decisions, which affect the "innocent and vulnerable" in society (BBC)
Complaints prompt BMO to question link with anti-abortion group | Bank of Montreal has asked an anti-abortion group to remove a link on the group's website asking members to sign up for a fundraising MasterCard after receiving angry complaints from the pro-choice movement (The Montreal Gazette)
Yes, I'm pro-life—the mother's | The recently noted gummy 'smiles' of the foetus may be 'sweet', if you're a bit of a saddo, but it is no more actually smiling, dancing or walking than a mote of dust is 'flying (Julie Burchill, The Times, London)
Sonograms "R" us | Preview your baby at the mall? Doctors worry about the risks (Time)
Pope skips appearance at his window | Pope John Paul II skipped his traditional appearance at his window overlooking St. Peter's Square the day after Easter, following a Holy Week during which he was unable to speak (Associated Press)
Pope appears at his window, but his voice is an inaudible whisper | Pope John Paul II made a relatively long appearance on Easter but was only able to produce an inaudible whisper (The New York Times)
Sick Pope skips Easter Monday blessing for first time | To the disappointment and concern of the faithful, the ailing Pope John Paul failed to appear at his window on Easter Monday but there was no indication that the Pontiff's health had worsened (Reuters)
Pope's absence casts a shadow on Holy Week | Pope John Paul II, silent and very sick, joined thousands at a Good Friday service at the Colosseum via a live video link from his private chapel at the Vatican, shown only from the back watching the event on television (The New York Times)
Ailing pope's face not seen at Good Friday ceremony | Vatican official cites process of 'serene abandonment to God' (The Washington Post)
Pope gives a silent blessing for Easter | In dramatic illustration of his decline, a grimacing Pope John Paul II appeared before thousands of Easter pilgrims Sunday and struggled to speak but ultimately failed (Los Angeles Times)
Special prayers for the pontiff | At a Polish Catholic church in L.A., parishioners revere the ailing pope as an abiding symbol of national pride (Los Angeles Times)
A Holy Week marked by an absence | As Easter rites unfold without John Paul, the Vatican says the pope's ordeal holds a message (Los Angeles Times)
Crowd cheers pope's Easter blessing | Unable to speak, pontiff makes sign of the cross (The Boston Globe)
As Easter dawns, eyes look to John Paul | Pope's own calvary has the faithful questioning future (The Boston Globe)
One of the great popes | If nothing else, you have to admire his chutzpah (Editorial, The Times, London)
His greatest performance | In his agony, the Pope invites us to share something truly instructive (Martin Kettle, The Guardian, London)
Paper: Pope may have to return to hospital | The report in Corriere della Sera said doctors are considering a new hospitalization next week both to check the tube and to adjust his diet because of problems with swallowing (Associated Press)
Pope leads Catholic Church with new image | As Pope John Paul II struggles with his latest health crisis, a new image of his papacy is emerging — one based on gestures, images and video appearances (Associated Press)
A Mass like no other | The courage, faith and evident suffering of John Paul II (Editorial, The Times, London)
Despite church sex abuse scandals, youth are open to leap of faith | The Catholic church in the republic has launched an advertising campaign to tap "latent vocations" after a survey revealed that one in eight of under-25-year-olds would consider becoming a priest or nun (The Times, London)
Opening the papacy to new ways of thinking | It would be a great move for the next pope to call for consultations with married and divorced Catholics, women theologians, homosexuals and celibate priests, nuns and monks, so that church doctrine may be changed (Sidney Callahan, The Washington Post)
Vatican stands by bishop sacked in Argentine abortion row | Bishop Antonio Baseotto, who is bishop to Argentina's armed forces, was fired for saying that Ginés González García, the Argentine health minister, should be "thrown into the sea with a millstone around his neck" for seeking to decriminalize abortion (The Telegraph, London)
In the backlands of Brazil, a stony path to sainthood | The birth of the Rev. Cicero Romão Batista 161 years ago was celebrated in Juazeiro do Norte, Brazil, where he was at one time parish priest (The New York Times)
Rescuers overpower man on Vatican dome | A convicted murderer with a history of psychiatric problems climbed onto the side of the dome of St. Peter's Basilica on Saturday and perched there for hours until firefighters dragged him to safety, police said (Associated Press)
Saint in the saddle? | Father Pierre Yves Keralum built chapels and rode the border for 20 years, living as a martyr, dying in mystery (The Dallas Morning News)
The soul of the new exurb | In the rapidly growing community of Surprise, Ariz., Radiant megachurch offers financial planning, athletic facilities, child care, marriage counseling and Krispy Kremes with every sermon. Welcome to the expanding conservative frontier (Jonathan Mahler, The New York Times)
Related: The evangelicals are all right (aren't they?) | The power and the weirdness of the evolving evangelical narrative (Jeff Sharlet, The Revealer)
Mega-churches offer prayer, play, shopping | Churches with thousands of members and a one-stop mentality becoming more popular (Good Morning America)
Megachurches put their faith in unity | Local pastors agree to a joint worship event, 90 days of service (The Dallas Morning News)
More women serving God from pulpit | Enrollment in seminary still lags behind men; 'stained-glass ceiling' decried (The Boston Globe)
If a diverse congregation were cash, this church would be rich | As immigrants have settled in Spring Valley, the weekly attendance at the Church of Saint Joseph has ballooned to nearly 4,000 people (The New York Times)
A community living by the cross | From a tiny district church, four stories of strength and hope (The Washington Post)
Tending to wayward shepherds | A new group seeks due process for accused priests (Newsweek)
A decline in the community of believers | The shortage of priests is being felt nationwide, as is the fall in church attendance (Editorial, The Age, Melbourne, Australia)
Flying Padre takes to the sky | When the Flying Padre (Salvation Army Captain David Shrimpton) comes down from the sky he doesn't know if there will be kangaroos on the landing strip, or if anyone is in the mood to talk about religion (The Age, Melbourne, Australia)
Church sets up nightclub missions to attract New Age followers | The Church of England is to recruit directly from nightclubs as part of an evangelical drive that taps into the growth of New Age spiritualism in Britain. Evangelical missions have already begun working with surfing communities in Cornwall and are now targeting clubbers as far afield as Ibiza. (The Independent, London)
Faith, where you find it | Millions of Americans have turned to nondenominational congregations - Protestant Christian churches that purposely remain independent from an organized religious group (The Forum, Fargo, N.D.)
Church pauses at milepost in trip back from ashes | There is no church here. There is no steeple. There are no doors. But there are people (The New York Times)
Vicar reprimanded over flag burial | A minister has been reprimanded by his church for honoring a Digger's dying wish to have the Australian flag on his funeral casket (The Advertiser, Adelaide, Australia)
'Porn' event draws criticism | Westwinds church uses the programs to fight pornography (The Jackson Citizen-Patriot, Mi.)
Churches take aim at 'bling' funerals | Funeral services could be banned from sanctuaries (The Jamaica Observer)
Finding faith from afar | Two pastors from countries that have few Christians find common ground with the Salem area's believers (Statesman Journal, Salem, Ore.)
Powerful symbols of faith | Downtown churches still a haven for their migrating flocks (The Plain Dealer, Cleveland)
Asian evangelicals blend faith, culture | n the Bay Area, Los Angeles and other heavily Asian parts of the country, men and women in their 20s and 30s are bringing their multicultural, Western upbringing, as well as a cultural legacy of family duty and experiences with discrimination, to an already energized evangelical movement (San Jose Mercury News, Ca.)
Resurrecting religion | Mainline churches show new signs of life (The Denver Post)
Worship reborn | The "emerging" or "postmodern" church is drawing growing numbers of young people to worship services with energetic messages set to contemporary music in nontraditional settings (St. Louis Post-Dispatch)
Twist of faith | Emergent churches attract worshippers with alternative religious experiences (Pittsburgh Post-Gazette)
Churches reach out to hipper flock | This Easter, pop culture will meet religion to get young adults into the seats (The Detroit News)
Pass the Lord and pass the ammunition | Pastor Mark Byers urges the congregation at Calvary Christian Church to get concealed weapons permits and carry firearms to church (The Daily Tribune, Royal Oak, Mi.)
Parents claim church brainwashed daughter | John Stroich said he had no idea what his family was getting into when his daughter began courting the pastor's son at Calvary Christian Church (The Daily Oakland Press, Mi.)
Police give church warning on gun policy | The school and day-care center at Calvary Christian Church will be gun-free zones from now on (The Daily Oakland Press, Mi.)
Judge throws out breakaway group's bid to strip Free Church of millions in assets | A breakaway group which claimed to be the true Free Church of Scotland lost a court action yesterday over millions of pounds in church assets (The Scotsman)
Also: Wee Free rebels lose fight over Church's millions (The Times, London)
Church sites become hot property | Parish properties on Cape Ann put up for sale by the Catholic Archdiocese of Boston have attracted a slew of potential buyers, including developers and non-Catholic churches, a real estate broker said (The Boston Globe)
Closed parish is sent priest | O'Malley averts unsanctioned Mass (The Boston Globe)
Jordanian Orthodox Christians add voices to land sale protest | More than 1,000 Orthodox Christians in Jordan held a vigil here on Friday to protest the reported sale of church land in Jerusalem to Jewish organizations (Associated Press)
Jordan demands answers over alleged Jerusalem land sale | Jordan, which considers itself the historic guardian of Christian and Muslim sites in Jerusalem, has called on the Greek Orthodox patriarch to come clean over an alleged sale of Old City land to Jewish investors (AFP)
Greek fugitive adds to pressure on Jerusalem patriarch over property lease | Irineos's former financial manager claimed the church leader had ordered the lease of Jerusalem property (Associated Press)
Don't neglect Christian Arabs | Christian presence in the Holy land—on either side of its Green Line—is dwindling and Christian-Arab communities increasingly feel beleaguered and set upon (Editorial, The Jerusalem Post)
Patriarch 'did not help Israelis' | The head of Jerusalem's Greek Orthodox church has denied claims he knew church land in East Jerusalem was being sold to Jewish property speculators (BBC)
Christian Arabs and monks clash over Jerusalem land sale | The Good Friday commemoration in Jerusalem's Old City turned chaotic yesterday as Christian Arabs scuffled with Orthodox monks outside the Church of the Holy Sepulchre, which, according to tradition, covers the exact spot where Jesus was buried and rose again (The Telegraph, London)
The Holy Land now | A Roman Catholic group visits sacred sites in Israel, easily passing through security checkpoints and surprising some church caretakers not used to seeing pilgrims lately (The Times-Picayune, New Orleans)
This year, a better Good Friday | Christian pilgrims are returning to Jerusalem to celebrate the Easter season as tensions between Israel and the Palestinians subside (Los Angeles Times)
Death in the afternoon | What really happened on the historical Good Friday? (Geza Vermes, The Guardian, London)
Also: The truth about the first Good Friday | The biblical historian Geza Vermes tells Stuart Wavell what really happened just before the crucifixion (The Times, London)
Science replays the crucifixion | TV show blends Bible and biomechanics (MSNBC)
How exactly did he die? | More than 2 billion Christians today commemorate the most famous public execution in history, and if most believers choose to reflect on faith's lessons about the death of Jesus Christ, a few with a curious bent have for years sought a more clinical enlightenment (The Times-Picayune, New Orleans)
Filipinos celebrate Good Friday with nails, blood | The gory rituals in several parts of the heavily Roman Catholic country are not sanctioned by the Church as part of Easter but have become a magnet for the curious and devout during a week of prayer, shopping, visiting and little work (Reuters)
Philippine police in Easter rite | A group of Philippine policemen were among the flagellants trying to atone for their sins during this year's re-enactment of the crucifixion (BBC)
Catholics re-enact Passion in Mexico | Some of the faithful wore crowns of thorns, pierced their arms and chests with cactus spines, and struggled beneath the weight of wooden crosses during annual Good Friday events in Mexico (Associated Press)
For Christians the cross is a priceless logo | A logo is important and companies spend as much as £11 million for a distinctive symbol. The cross is the long-standing logo of Christianity and is found in most Christian churches in some form or another. But is it understood? (Derek Prime, The Scotsman)
Latino faithful lead 'Stations' journey | Hundreds of Christians took to the streets of Montgomery County's heavily Latino neighborhoods to make the four-hour journey (The Washington Post)
Story which transforms both living and dying | The Christian Church dares to proclaim that here, in this life and this death, we encounter God, the source and the sustainer of all life and being, emptying Himself, coming down to the lowest part of our need. (Geoffrey Rowell, The Times, London)
Bush again attends service at Fort Hood | President Bush attended an Easter service Sunday at Fort Hood where he offered prayers for peace and the well-being of American soldiers and their families (Associated Press)
Bush attends Easter service at Fort Hood | 1st Cavalry returns from Iraq as 4th Infantry prepares to go (Houston Chronicle)
On 5th Ave., a pair of lines: one for worship, and one for the parade | Easter in New York City (The New York Times)
Christians celebrate Easter in Jerusalem | Thousands of Christians from around the world gathered at Jerusalem holy sites to celebrate Easter Sunday, marking the day with prayer and hymns (Associated Press)
Easter gospel with a twang | Md. showcase offers songs of pain, praise (The Washington Post)
Churches on vigil celebrate Easter Masses | United congregants express hope, anxiety (The Boston Globe)
Easter's history around the world | Whether it's the Easter bunny or the Playboy bunny, the icons are linked in their meanings, according to folklore experts. And in Sweden, girls dress up as witches during Holy Week. The history behind Easter traditions around the world from Moira Smith, a folklore librarian at Indiana University (All Things Considered, NPR)
On Easter, the atheists went for a cruise | Group ends convention with trip on the Delaware (Philadelphia Daily News)
A renewal of faith and community | Easter in Eatonville highlights the special role the church has played as supporter and advocate for African-Americans (The Orlando Sentinel)
More worshipers pulling the shades on sunrise service | Some churches drop early morning Easter programs. Others find ways to keep tradition (Los Angeles Times)
Easter joins ranks of casual Sundays | Once seen as an elegant holiday, with shopping excursions for white gloves and shoes, spring hats and bonnets, Easter best has been replaced with anything goes at many churches (Chicago Tribune)
Most planned Easter worship | Churches were expected to be more crowded than usual for Easter services in the midst of a national preoccupation with the plight of brain-damaged Florida woman Terri Schiavo and an ailing pope (The Washington Times)
'Anxious' flock seeks the comfort of religion | Religious leaders yesterday attributed an increase in numbers attending Easter services to community anxiety because of the tsunami and other world events (The Australian)
The Resurrection: Did it really happen? | There are Christians who simply don't buy into the physical Resurrection account (San Diego Union-Tribune)
Do Christians have to believe Jesus rose from the dead? | What if the story told in the Bible is simply a myth, an elaborate hoax, say, which has grown to monstrous proportions with the accumulation of centuries? What if it's a pot-au-feu of metaphor, symbol and allegory? (Alan Taylor, Sunday Herald, Glasgow)
From Lent into Easter | Easter belongs to the natural calendar as well as the liturgical one (Editorial, The New York Times)
Easter in Iraq | Uncertainty is what makes Iraq truly an Easter story this year (David Ignatius, The Washington Post)
A rite of spring | Easter is not only the most holy of days to Christians but a portal to time travel that can take a person back to childhood (Editorial, The Boston Globe)
Beyond belief? | Half of us have no idea what happened to Christ at Easter. But ignorance about our heritage does not stop yearning for a religious framework for our lives (Bryan Appleyard, The Times, London)
The Easter story | The enduring power of Christ's life and sacrifice (Editorial, The Times, London)
Easter's hope found in unlikely places | Easter has that "just in time" feeling about it (Editorial, Boston Herald)
Bringing the true meaning to life | At its heart, Easter is the ultimate miracle where we discover that God has power over all things, even death (Ewan Aitken, The Evening News, Edinburgh)
If God died for all of us, it is not ours to decide who is fit to live | What the Resurrection has meant for Britain is hard sometimes to see, because what is most significant is often the thing you need think about the least (Cardinal Cormac Murphy-O'Connor, The Telegraph, London)
Easter celebrates Jesus' rising from the tomb and his promise of new life | The Gospel offers comfort and perspective to people pondering the fate of those who linger between life and death (Editorial, Houston Chronicle)
From cold, rolled stone to blood-streaked man | A look at he spiritual insights afforded by artists' changing depictions of the Resurrection across the centuries (Richard Harries, The Times, London)
How Christ is recognised in the breaking of bread | A meditation on resurrection, Communion, and Caravaggio (Editorial, The Telegraph, London)
An age-old rite of faith renewed | As Easter approaches, Christians affirm their commitment through the sacrament of baptism (The Star-Ledger, Newark)
Embracing in a watery grave | Easter is all to do with the grave (Christopher Howse, The Telegraph, London)
Come Easter, the perennial favorite | Lily trumpeted as most popular church adornment (The Washington Post)
What comes first, Easter or the egg? | Easter has been appropriated from the event that gives Christianity its sense and purpose to something approximating a chocolate festival (Christopher Bantick, The Age, Melbourne, Australia)
Chocolate crosses move into mainstream | But chomping on a chocolate cross can be offensive to some, said Joseph McAleer, a spokesman for the Roman Catholic diocese in Bridgeport, Conn. (Associated Press)
Fur flies over bunny theory | Academics have scoured medieval history and found the story is based on a lie. They blame a meddling medieval monk for mucking up pagan history (Sunday Tasmanian, Australia)
A division in religion | East and West streams of Christianity created separate Easter celebrations, but some want flow toward reunification (Commercial Appeal, Memphis, Tenn.)
Wave of hope in the death and resurrection | Sydney Anglican Archbishop Peter Jensen said in his Easter message that, though we might live in a post-Christian society, the death and resurrection of Christ still held an extraordinary power over Australians (The Australian)
Should Good Friday be a public holiday?:
Good Friday should not be a public holiday | In this most diverse of states, it's important to recognize that there are days equally sacred or special to other religions, which are not designated as paid holidays (Editorial, Honolulu Advertiser)
Holy day, not holiday | Gilbert students march for Good Friday off (The Arizona Republic)
On Wall Street, a rise in dismissals over ethics | With regulatory scrutiny heightened, there has been a wave of firings as corporations move to stop perceived breaches of ethics (The New York Times)
Christian bosses practice what they preach | A growing number of senior figures in business that are asserting their Christian values in their professional lives (Financial Times)
Faithful pressure on drugmakers | The religious season will overlap with the annual meeting season this spring as the Interfaith Center on Corporate Responsibility increases its pressure on pharmaceutical companies to make their drugs cheaper and more available (Newsday)
Puzzling over expressions of faith in flight | Is it wrong for a flight attendant to say "God bless you all?" (The Washington Post)
Troy to let 2 groups pray | Worship day will include ceremonies for 5 religions, 2nd for Christians only (The Detroit News, Mi.)
Sunday: Prayer day issues trouble Troy | Some religions feel excluded; officials to reassess the request to pray on city land (The Detroit News, Mi.)
End Catholic ban, says Howard | A repeal of the historic ban on Catholics inheriting the British throne took a step closer yesterday with the revelation that Michael Howard now supports reform (The Guardian, London)
Ten Commandments display can stay, 7th Circuit rules | Panel votes 2-1 to back Indiana county monument, acknowledges high court's pending decisions in similar cases 'may undo our work here' (Associated Press)
City settles street preacher suit | A preaching fellowship contends First Amendment rights were trampled when they were ticketed for spreading the gospel (Monroe Evening Times, Mi.)
Neb. high court upholds infant blood tests | Josue and Mary Anaya brought the case after being ordered by a judge in December 2003 to submit their newborn, Rosa, to the metabolic test. The Anayas, who are fundamental Christians, said the test infringed on their rights and could shorten the life of their baby (Associated Press)
Broke | Why is a nation that considers spending a civic duty approving harsher ways to punish the bankrupt? (Walter Kirn, The New York Times Magazine)
Self-adhesive salvation | A mailroom with a mission (Legal Affairs)
The Lord's hand in law of the land | Modern law likes to pretend it has nothing to do with religion, but it does. It is deeply wrapped in religious symbolism, if not faith. (Richard Ackland, The Sydney Morning Herald)
Montgomery schools' ban on fliers backed by court | Christian group alleged discrimination (The Washington Post)
Faith and the fifth grade | Did a California school ban the Declaration of Independence? Not quite (Naomi Schaefer Riley, The Wall Street Journal)
Federal judge tosses Arizona school tax-credit case | ACLU-backed lawsuit had claimed state's dollar-for-dollar income-tax break for donations to religious and other private schools violates establishment clause (Associated Press)
Maine high court revisits voucher question | Parents in towns with no public high school want state to cover tuition for their children to attend religious schools (Associated Press)
School board to discuss questioned novel | 'House of the Spirits': Parent has criticized content read by high school seniors (Anchorage Daily News, Ak.)
Content of school seminar criticized | Some say workshop evolved into sermon (Arkansas Democrat-Gazette)
Board of Bozos | Choosing to attend The King's College, an evangelical school based in the Empire State Building, instead of George Washington University was the "best decision of my life," says King's freshman Anthony Randazzo. But if state Board of Regents member John Brademas has his way, students like Randazzo might have to think twice before making a similar choice (Naomi Schaefer Riley, New York Post)
College: 'Catholic, Catholic, Catholic' | Christendom prides itself as a conservative option to more liberal schools (Richmond Times-Dispatch, Va.)
Ageless awakening | More than half of the estimated 79,000 students in the nation's theological schools are 35 and older; of the estimated 33,000 enrolled in master of divinity programs, 44 percent are in that age category (Tampa Tribune)
College faculties a most liberal lot, study finds | Religious services take a back seat for many faculty members, with 51 percent saying they rarely or never attend church or synagogue and 31 percent calling themselves regular churchgoers (The Washington Post)
Cardinal rule: Cash will conquer Crusaders | The mascot for the University of the Incarnate Word is changing. Slowly. (San Antonio Express-News, Tex.)
Youth movement | LI diocese relieves 3 campus nuns from their posts in favor of younger replacements, sparking outrage (Newsday)
UT professor gets $500,000 for 'spiritual capital' project | Robert Woodberry, assistant professor of sociology at UT, will lead research on the influence of various religions on health, education and economics (Austin Business Journal)
Education (U.K.):
Cardinal confirms gay teachers will not face ban | Scotland's leading Catholic has confirmed that gay teachers will not be banned from working in faith-based schools (The Herald, Glasgow)
Earlier: McConnell takes on church leaders over ban on gay teachers | The First Minister, speaking at his monthly press conference, revealed his irritation at plans drawn up by senior church figures which, a leading churchman said, would ban gay teachers from its schools and stop the promotion of those already employed (The Times, London)
Is this the right way to turn the tide of bigotry, Bishop Devine? | Apart from the fact that Bishop Devine's plan to ban gay teachers would contravene employment law, it is un-brotherly and un-Christian (Jenny Hjul, The Scotsman)
Teaching Darwin splits Pennsylvania town | The pastoral fields and white frame houses appear at peace, but this Pennsylvania farm town is deeply at war over teaching Darwin or Christian creationism in its schools (AFP)
Dover to review donated books | Anti-creationism group wants 23 books to go in school's library (York Daily Record, Pa.)
Earlier: Furor breathes new life into aging 'Pandas' | Book used in Dover a dated look at intelligent design concept (York Daily Record, Pa.)
Teachers feel pressed to teach creationism | A new U.S. survey has found about one third of science teachers feel pressured to present creationism and other non-scientific alternatives to evolution (UPI)
'Call to arms' on evolution | Nearly one-third of science teachers who participated in a national survey say they feel pressured to include creationism-related ideas in the classroom. And an alarmed science establishment is striking back in defense of teaching evolution (USA Today)
Creation conflict in schools | How some biology teachers are handling the hot button debate over the theory of evolution, creationism and intelligent design (NewsHour with Jim Lehrer, PBS)
'Creationists and capitalists are taking over city academies' | The Government's £5 billion city academies programme is allowing "capitalists and evangelical Christians" to take control of state schools and destroy comprehensive education, the National Union of Teachers said yesterday (The Telegraph, London)
Of apes, angels and the politics of faith | Religion and politics remain inextricably linked (Katie Grant, The Scotsman)
Evolution & IMAX:
Censorship in the science museums | It is unacceptable for museums to reject legitimate science films because they offend the beliefs of religious fundamentalists (Editorial, The New York Times)
That dirty e-word | If a few people take offense at evolution in a film, must all of us suffer? (Raymond A. Eve, The Dallas Morning News)
Evolution: faith into politics | When a science museum is loath to show an IMAX film because it refers to evolution, we need to ponder the role of religion in our society (Michael Paul Williams, Richmond Times Dispatch, Va.)
Faith doesn't need science | Such attempts undercut personal experience of divine (Margaret Wertheim, Houston Chronicle)
Science and religion | 'Talk more about life's mystery' (Brian Walden, BBC)
All real politicians have morals | Belief in the supernatural has nothing to do with ethical values (Roy Hattersley, The Guardian, London)
Can we take action without taking sides? | I worry that Christian social action rarely survives its journey into the world of politics. If the messenger isn't crucified, the community is divided into warring political factions (Henry G. Brinton, The Washington Post)
Movement in the pews tries to jolt Ohio | Christian conservative leaders from scores of Ohio's fastest growing churches are mounting a campaign to win control of local government posts and Republican organizations, starting with the 2006 governor's race (The New York Times)
Black Democrats embrace faith issues | Black Democratic leaders are openly talking about the importance of faith, opening the door to pro-life Democrats, and changing the culture of violence in hip-hop music, indicating a more open posture toward conservative values among the party's most loyal voting bloc (The Washington Times)
Black churches ponder direction as some ally with GOP | Critics say ministers are lured by grants, but supporters agree with party ideas (The Baltimore Sun)
Can Dems do religion? | Going a little far in their fine-tuning (Rich Lowry, National Review Online)
Governor candidates take religion on the road | The two leading candidates running for governor of Virginia are taking their faith on the campaign trail (The Washington Times)
For family, religion shapes politics | Heartlanders convert others to live daily by 'the word of God' (The Boston Globe)
Ralph Reed plots a new course | The former Christian Coalition leader is about to mount a campaign for lieutenant governor of Georgia (The Baltimore Sun)
Granholm's faith often on display on cultural issues | Gov. Jennifer Granholm has not been shy about mentioning her Catholic faith or quoting Bible verses to make her case (Associated Press)
Getting biblical not main thrust in Christian politics | The party of morals campaigner Fred Nile wants to ditch its image as an anti-sex party and has launched a recruitment drive as it moves to compete for the Christian vote with the emerging Family First Party (Linda Morris, The Sydney Morning Herald)
Christian moderates drowned out | Christian liberals are not being heard in debate on the key moral issues (Muriel Porter, The Age, Melbourne, Australia)
Faith helps set ex-inmate free | Within the next few months, 48 women and 88 men will have the opportunity to be housed in faith-based dorms at Polk County's two jails (The Orlando Sentinel)
Alternate offender program growing | Drug court may soon offer some faith-based jail alternatives (Houston Chronicle)
Bishop rips governor over parole reversal | Murderer has been ordained as an Episcopal deacon (San Francisco Chronicle)
Bible reading thwarts Colo. murder case | The Colorado Supreme Court threw out the death sentence Monday of a man convicted of raping and killing a cocktail waitress because jurors consulted the Bible during deliberations (Associated Press)
Jury can't use Bible in death penalty case | Ruling that juries cannot turn to the Bible for advice during deliberations, a divided Colorado Supreme Court threw out the death penalty for a convicted murderer because jurors discussed verses from Scripture (Associated Press)
Colorado court bars execution because jurors consulted Bible | The Bible, the court said, constituted an improper outside influence and a reliance on what the court called a "higher authority" (The New York Times)
State justices overturn killer's death sentence | Robert Harlan faces life in prison because jurors consulted Bible (Rocky Mountain News, Denver)
Juror quoted 'an eye for an eye' (Rocky Mountain News, Denver)
Jury's use of Bible voids death sentence | Robert Harlan, who raped and killed a waitress in 1994 and paralyzed the woman who tried to save her, will serve life in prison after his death sentence was overturned (The Denver Post)
Crime, fraud, and other shady dealings:
£10,000 pay-out for 'betrayed' church | Parishioners whose vicar stole nearly £30,000 from church funds have heard that they will receive an insurance pay-out (Driffield Times, England)
1,200 clients left in lurch by Boca-based credit counseling firms | From a nondescript Boca Raton office suite, Debt Relievers Credit Counseling and sister company Christian Debt Management drew in customers from across the country, promising them a shot at financial stability. It was a pledge dozens of clients say went unfulfilled (South Florida Sun-Sentinel)
Church loses abuse case | Jury awards double the amount suggested by the San Francisco Archdiocese for a former altar boy molested by a priest (Los Angeles Times)
Also: Victim receives $437,000 in sex abuse case | Jury decided last Friday that church officials knew or should have known the late Rev. Joseph Pritchard was abusing young boys, including Dennis Kavanaugh, now 47 (Associated Press)
Trial begins in clergy sex abuse case | Diocese officials in Northern California nurtured a policy of secrecy, negligence and disregard for children's safety that led to the sexual abuse of two altar boys more than 20 years ago, an attorney argued (Associated Press)
S.F. archdiocese admits negligence in abuse cases | The San Francisco Archdiocese acknowledged in court Monday that it had failed to thoroughly investigate a sex-abuse complaint against a priest in 1977, an unusual admission that comes as it and the Oakland Diocese face trials this week brought by alleged victims (Los Angeles Times)
Phila. priest who admits fondling girl is suspended | The Catholic Church has suspended a former Center City pastor and placed him under investigation after he admitted to The Inquirer that he had repeatedly fondled a teenage girl decades ago (The Philadelphia Inquirer)
Motives remain a mystery | People who knew the shy computer `nerd' can't reconcile the churchgoer with the man who killed 7 near Milwaukee (Chicago Tribune)
Teacher killed in Minn. shootings praised | While students crouched under their desks in a corner, Neva Rogers stood out in the open and began to pray (Associated Press)
Bomb in Christian area of Beirut wounds 5 | It's the third attack on a Christian neighborhood in a week (The New York Times)
Brazil farmer wanted in U.S. nun's murder surrenders | Brazilian farmer Vitalmiro Bastos de Moura, suspected of ordering the murder of U.S.-born land rights activist sister Dorothy Stang, surrendered to authorities on Sunday, police said (Reuters)
U.N. council sends peacekeepers to Sudan | The U.N. Security Council voted to send 10,700 peacekeepers to Sudan to monitor a peace deal ending a 21-year-civil war, but left contentious issues of sanctions and how best to punish war criminals in the Darfur region for later debate (Associated Press)
Marchers press for peace in Compton | Calling attention to area violence, 600 people walk miles as performers re-create scenes from Christ's Passion (Los Angeles Times)
A nation of fetish practices? | This society must indeed be very deep that five able-bodied citizens can be over- powered, killed and their headless bodies systematically redistributed to correspond with the areas they live in the city of Ibadan in the year of our Lord 2005. If anything can be spine-chilling, this must be it, the greatest manifestation of the reported complete take-over of Nigeria by evil (Moses Onoja, Daily Trust, Abuja, Nigeria)
Zimbabwe clergyman urges Mugabe's ouster | Roman Catholic Archbishop Pius Ncube of Zimbabwe's second-largest city, Bulawayo, said he was willing to put on his vestments and lead a march to Mugabe's residence himself, but feared: "If I do it, I do it alone" (Associated Press)
Zimbabwe condemns 'liar' cleric | Zimbabwe has called one of its leading clerics an "inveterate liar", after he called for a peaceful uprising against President Robert Mugabe (BBC)
Mugabe condemns Archbishop who called for mass uprising as 'halfwit' | Clearly stung by the comments of the Most Rev Pius Ncube, the Catholic Archbishop who is a prominent critic of the President, Robert Mugabe spoke out as he was campaigning south of Harare, ahead of the election on Thursday (The Independent, London)
Pausing at patriarch's path | New pilgrims seek the waters on a U.S. air base in Iraq where Abraham is said to have washed (Chicago Tribune)
The other Iraq war | There is another war going on today in Iraq about which little is heard. It is a war against Christianity (Arnold Beichman, The Washington Times)
Australian missionary's widow wins Indian honor | Dressed in a blue sari, Gladys Staines was given the Padma Shri, India's second highest civilian award, for tending to lepers in one of the poorest parts of India despite the death of her husband, Graham (Reuters)
President presents Padma awards | The loudest applause went out for Padma Shri recipient Gladys June Staines (The Hindu, India)
Where faith thrives | For the first time since it began two millenniums ago, Christianity is no longer "Western" in any very meaningful sense (Nicholas D. Kristof, The New York Times)
Where faith is a healer | The answers to Africa's problems increasingly lie with spirituality rather than politics (Madeleine Bunting, The Guardian, London)
Ivory Coast cathedral is world's largest Christian church | The world's largest Christian church is in the Ivory Coast capital of Yamoussoukro. The multimillion-dollar basilica rises out of the slums of the city and was supposed to provide social services for the poor in the developing African country. But the social projects never materialized, and the church sits mostly empty during mass (Morning Edition, NPR)
For Sudan slaves, freedom at a cost | Most are thrilled to be emancipated, but the uprooting shocks some of their children (Los Angeles Times)
A tainted Easter message | Which is better? Thumbing one's nose at Episcopalians in the United States or bringing more doctors into the midst of human suffering? (Colbert I. King, The Washington Post)
U.S. rights watchdog raps Uganda on Aids | Human Rights Watch accused President Yoweri Museveni and his wife, Janet, of falling under the influence of US Christian conservatives and placing youth at risk of contracting HIV (New Vision, Uganda)
Md. bill on 'life partners' advances | Rights for couples pass Senate, 31-16 (The Washington Post)
Domestic partners opponents challenge law | A California law that gives gay couples who register as domestic partners nearly the same responsibilities and benefits as married spouses should be overturned because lawmakers undermined the will of voters, lawyers for two groups argued Friday (Associated Press)
Maine Senate passes gay rights bill by wide margin | A bill that would bar discrimination against gays and lesbians in Maine won a strong vote of approval Monday in the state Senate, moving the measure to the House where a vote could be held as soon as Tuesday (Associated Press)
Rain on the gay parade | Many advocates of an international gay parade in Jerusalem—another step toward legal recognition of homosexual marriage—tout gay advances as avant-garde. Actually, they are regressive—taking us back several thousand years to antediluvian times (Shira Leibowitz Schmidt, The Jerusalem Post)
Transgender bias law dropped | Albany County lawmaker withdraws proposed protections after failing to garner support (Times Union, Albany, N.Y.)
Gay issue divides Scottish Anglicans | Evangelical Scottish Anglican Network asks church to reconsider its position before they meet again on April 7 (The Guardian, London)
Church divides over gay priests | A group of evangelical churches has been accused of running scared after it called on the Scottish Episcopal Church to retract a statement on gay priests (BBC)
Scots Church faces a split in row over gay priests | Conservative Anglicans are threatening to split the Scottish Episcopal Church unless bishops retract an "offensive" statement which said that homosexuality was no bar to becoming a priest (The Times, London)
Backing for gay priests could split Scottish Episcopals | Evangelicals yesterday warned of a schism in the Scottish Episcopal Church as the crisis surrounding the ordination of gay priests deepened (The Scotsman)
Human Rights Act does more harm than good, says poll | People's increasing insistence on "standing up for their rights" seems to be undermining public support for the very idea of rights, a YouGov survey for The Daily Telegraph suggests (The Telegraph, London)
23 blasphemy cases registered in 2004, says NCJP report | Three cases against Christians (The Daily Times, Pakistan)
Serbian Church condems anti-Semitism | Serbia's influential Orthodox Christian Church sharply criticized a recent rise in anti-Semitism, after three men were arrested this week for putting up anti-Semitic posters around the Serbian capital (Associated Press)
Delegate defends remarks on homosexual 'hate' | A Maryland lawmaker last week defended his comments at an earlier meeting in Montgomery County in which he said he was "spreading the hate of homosexual activists" (The Washington Times)
In test of free speech, Russian court rules against art show | A court ruled a museum director and curator incited religious hatred for an exhibition that, to many, ridiculed the Russian Orthodox Church (The New York Times)
Sakharov director is found guilty (The Moscow Times)
Russia fines museum aides for art said to ridicule religion | A court ruled a museum director and curator incited religious hatred for an exhibition that, to many, ridiculed the Russian Orthodox Church (The New York Times)
2 Moscow museum officials fined for 'blasphemous' art exhibition (Los Angeles Times)
Christian high culture owes debt to unbelievers | Christian high culture owes a huge debt to the work of unbelievers, waverers, sceptics, heretics, backsliders, non-churchy mystics and seekers (Boyd Tonkin, The Independent, London)
On display at library, a mosaic of faith | If a picture is worth a thousand words, then the two quilts hanging near the main hall in the Boston Public Library are novels and the 60-odd human faces adorning them chapters in the city's spiritual narrative (Rich Barlow, The Boston Globe)
Holy cash cow! | Publishers in search of the almighty dollar are targeting kids with a bevy of faith-based books (New York Post)
Historical epic is focus of copyright dispute | A prominent author is accusing director Ridley Scott and 20th Century Fox of stealing his research for use in their film, "Kingdom of Heaven" (The New York Times)
Papacy as paradox: a mixed legacy | Jason Berry reviews John Cornwell's The Pontiff in Winter and the Pope's Rise, Let Us Be on Our Way (The Boston Globe)
Discourses, by turns brilliant and troubling | Jason Berry reviews Memory and Identity: Conversations at the Dawn of a Millennium by Pope John Paul II (The Boston Globe)
Apparitions of Mary, spurred on by technology | Bernadette Murphy reviews The Internet and the Madonna by Paolo Apolito (Los Angeles Times)
'Whose Bible Is It?': God speaks; man translates | James Kugel reviews Jaroslav Pelikan's latest (The New York Times Book Review)
A faith-based view of history | Jason Berry reviews One Nation Under God The History of Prayer in America by James P. Moore Jr. (Los Angeles Times)
Text messages | Harvey Cox reviews Jaroslav Pelikan's Whose Bible Is It?: A History of the Scriptures Through the Ages (The Boston Globe)
Finding and keeping faith, in 10 new religious titles | Rich Barlow hits several recent releases (The Boston Globe)
From sect to church | George Scialabba reviews three books on early Christianity (The Boston Globe)
A faith independent of left and right | Dan Wakefield reviews Jim Wallis's God's Politics (The Boston Globe)
Abattoir Christianity | Christopher Bland reviews The Cathars by Sean Martin (The Telegraph, London)
Kafka and God | For the author of "The Metamorphosis," it was a lifelong debate (John Wilson, The Weekly Standard)
Standing in defense of 'one true God' | Monotheism's critics guilty of 'distortion,' says Os Guinness (The Dallas Morning News)
Author explores spiritual payoffs of sabbath-keeping | Lynne Baab, a Christian, never gave ''sabbath'' a thought until she moved to the Mideast for a couple of years (The Tennessean, Nashville)
In his footsteps, right to Schiavo's hospice | Jonathan Edwards launched it all (The Philadelphia Inquirer)
The heart of the matter | Bernadette Murphy reviews Plan B: Further Thoughts on Faith by Anne Lamott (Los Angeles Times)
Writer, Christian, aging hippie | Anne Lamott has become something of a cult figure among harried single mothers, struggling writers, unapologetically liberal Christians and assorted others who have followed her life for years through her bestselling essay collections and novels and an online column for Salon.com (Palm Beach Post, Fla.)
Sunday Lunch with Anne Lamott | Lamott, the white dreadlocked Presbyterian heroine of liberal evangelicals everywhere, is trying hard to focus on the whole interview thing (Debra Pickett, Chicago Sun-Times)
Dan Brown fans boost Vatican tourism | The faithful are flocking to Rome for Easter week, but the Vatican is also attracting pilgrims clutching blockbusters rather than Bibles (BBC)
Papal preacher attacks 'Da Vinci Code' | A Vatican official railed against "The Da Vinci Code" during a Good Friday sermon in St Peter's Basilica, saying the hit book was an example of "literary and artistic parasitism" in a sex-obsessed society (Reuters)
The Vatican code | Dan Brown is not the tormentor of the Vatican, but an ally (Maureen Dowd, The New York Times)
Fighting for God | Europe's dwindling Christians take on 'The Da Vinci Code,' and more (Newsweek International)
The stone box | Did a stone box, an ossuary, once contain the bones of the brother of Jesus, as its inscription said? (60 Minutes)
Salvadorans honor slain archbishop | Oscar Romero, who was assassinated 25 years ago, still inspires those in L.A. County's large expatriate community. Push for sainthood is on (Los Angeles Times)
Manuscript returned to cathedral | The manuscript is a double-page spread from a gospel lectionary, thought to have been written by a highly-skilled scribe from the Holy Roman Empire (BBC)
Ancient Easter pages return to Canterbury | A 1,000-year-old manuscript outlining readings for Holy Week has been returned to Canterbury Cathedral after five centuries, just in time for Easter (The Guardian, London)
Controversial gospel to be translated | About 2000 years after the Gospel according to Judas sowed discord among early Christians, a Swiss foundation says it is translating for the first time the controversial text named after the apostle said to have betrayed Jesus Christ (The Courier-Mail, Brisbane, Australia)
Digging in the dirt | Priests named in secret police files (The Slovak Spectator, Slovakia)
In the beginning … | E.L. Doctorow compares versions of the Book of Genesis, and finds that God steals the show (The Guardian, London)
A biblical mystery | Who was Mary? Misinformation shrouds Magdalene (Richmond Times-Dispatch, Va.)
Bible versions abundant | Accounts now less likely to get lost in translation (Aberdeen American News, S.D.)
Science unlocks biblical secrets | New technology helped date biblical scrolls back to the 7th century (CBS Evening News)
Gospel truths | Canongate claimed the Good Book for literature with a divided edition of the Bible. Introductions to the books of the Old and New Testaments from Nick Cave, Bono, the Dalai Lama and others are collected in Revelations (The Observer, London)
Logos to offer Bible for Mac | Company dominates Bible software field (The Washington Times)
Gibson's 'Passion' fizzles out on re-release | "The Passion Recut," with six of the most violent minutes from the original "The Passion of the Christ" excised, has tanked at the box office and drawn none of the attention from evangelical churches it did a year ago (The Washington Times)
Jesus Christ, superstar | Mark Kermode takes his mother to see the sanitised Passion. Her verdict: bloody - but brilliant (The Observer, London)
TV gets religion | For Fall, programmers weigh pilots with biblical themes: Revelations, troubled priests (The Wall Street Journal)
Summoning the faithful | God is in the airwaves (Brandweek)
Defender of the faith | As ITV halves its religious output and evangelical pressure groups lead the charge against 'blasphemy' on screen, the broadcasters' official adviser on religion, the Bishop of Norwich, tells Maggie Brown why television needs God (The Guardian, London)
Priest provides guidance for Louisville | Bradley is Pitino's spiritual adviser and longtime friend (Associated Press)
Promise keeper | C.J. Nitkowski found his faith after a near tragedy. Now he's hoping that new perspective will help him finally live up to his can't-miss potential in the Twins' bullpen (Pioneer Press, St. Paul, Minn.)
Wearing their beliefs on their chests | Legions of the faithful, or the merely fashionable, are increasingly drawn to religious themes and imagery on clothing (The New York Times)
What to wear | Buyers of charity wristbands should be generous, but beware (Editorial, The Times, London)
America's new vacation companion: God | Jesus themes abound whether you're hiking, cruising or camping (NBC News)
Slay Goliath, sail the Ark—it will be a hell of a ride at Holyland | Andrea Webster's biblical fun park could rise in Yorkshire if a million Christians answer her prayers (The Times, London)
Traditional songs beat the 'happy clappers' hands down in search for Britain's best hymns | Traditional religious classics, including Love Divine and Amazing Grace, have trounced "happy clappy" offerings in a battle to find Britain's favourite hymn (The Telegraph, London)
Haydn's music on Christ's last words is a transforming experience | But Haydn's Last Words needs words (The New York Times)
Prayer rising, even if many eschew the pews | Prayer, which for years received short shrift in popular entertainment, seems to be making a comeback (Donna Britt, The Washington Post)
Religion's value | Some people feel that organized religion is corrupt and that it tells its followers what to believe, while they overlook the community and fellowship that communities of worship can offer (Matt Cooper, The Orlando Sentinel)
'I'll pray for you, you know' | Happy the man who has religion, which is often only a matter of luck, like so much else in life (Elissa Ely, The Boston Globe)
Angels on the battlefield | It's a new-age fad to have a "special guardian" but there were believers long before now (The Sydney Morning Herald)
Between doubt and faith | Skeptics berate him. Believers shun him. But Randall Sullivan says his Miracle Detective is for people, like him, who struggle to understand religious feelings (Randall Sullivan, The Dallas Morning News)
The rational mystic | Kyriacos Markides is a University of Maine sociologist and the author of several books on shamanism and esoteric religious traditions. His most recent book, The Mountain of Silence, investigates the role of mystical thought and experience in Eastern Orthodox Christianity (The Dallas Morning News)
Miracle? Prove it | A healthy dose of logic can separate truth from wishful thinking (John Blanton, The Dallas Morning News)
Jesus is in hearts, not sandwiches | Why are we Christians-looking for some sign of our faith in such inanimate objects? (Merlene Davis, Lexington Herald-Leader, Ky.)
Nuns saved me from nuts | The more they taught us about Christianity, the harder it became to share their conviction (Jemima Lewis, The Telegraph, London)
Time to put some faith in free thinking | Religious dogma is blighting our lives (Ivan Middleton, The Times, London)
Getting past 'respectable' bigotry | Thirty-seven percent of highly educated white Americans hold "intense antagonistic feelings" toward fundamentalist Christians (Bob Welch, The Register-Guard, Eugene, Ore.)
Giving till it hurts | Jeffrey Sachs has a bold plan to end poverty world-wide. Alas, it won't work (Claudia Rosett, The Wall Street Journal)
Faces of prostitution | "Book" rewrites attitudes (The Denver Post)
Tsunami-hit Aceh residents celebrate resurrection | Christians in Indonesia's tsunami-ravaged city of Banda Aceh packed churches on Easter Sunday, three months after colossal waves shattered their lives a day after Christmas (Reuters)
Tsunami sufferers question faith | For the pilgrims descending upon Vailankanni, this Easter weekend is both a celebration of Christ's resurrection and a remembrance of the victims who died when last this seafront community came together to mark a Christian festival (BBC)
Jerry Falwell back in hospital | A month after battling pneumonia, the Rev. Jerry Falwell was hospitalized again Tuesday for an undisclosed medical problem, his ministry said (Associated Press)
Gospel for both sides of the aisle | The evangelism of the Rev. Jim Wallis defies stereotypes: He preaches a conservative morality but condemns 'pro-rich, pro-war' views (Los Angeles Times)
Regime change | Moral hardliner Peter Jensen has emerged the victor in a long-running internal power struggle over the future of the Sydney Anglican Church. But his greatest challenge will be converting secular Sydney (The Sydney Morning Herald)
The Guardian profile: Rowan Williams | The new Archbishop of Canterbury was greeted with huge optimism three years ago. He was approachable, astute, incisive and took a radical approach to worship. Now he is siding with the conservatives as the church splits apart (The Guardian, London)
Obituary: Richard Fletcher | Historian of diverse interests was chiefly known for his studies of medieval Spain and the clash between the two great religions of Christianity and Islam (The Telegraph, London)
Think of a headline, any headline. This is it, isn't it? | Briton Derren Brown, a "one-time fundamentalist Christian," now describes himself as a "psychological illusionist" (The New York Times)
Alba turns her back on Christian pals who made her feel ashamed | Sexy actress Jessica Alba turned her back on the born-again Christian community she grew up with when they started to make her feel ashamed of having a great body (Contact Music)
Original: The sinner | If you were wondering what became of America's favorite Dark Angel, fear not (GQ, p. 4 of 6)
A giving man's leap of faith | Despite risks, firefighter will donate part of his liver to bishop in 'amazing' act of generosity (The Sacramento Bee, Ca.)
Behind the secret tapings of Bush, a life is changed | Despite apologies, Doug Wead is still persona non grata in many circles (Los Angeles Times)
Wead in the Rose Garden | Doug Wead, a Bush family advisor and counselor to Dubya, has a history of crass opportunism and the release of the Bush tapes was only the most recent example (Bill Berkowitz, WorkingForChange)
Bishop calls for Prince Charles apology | Bishop David Stancliffe has called for Prince Charles to apologize to the ex-husband of his fiancee Camilla Parker Bowles (Associated Press)
Charles must apologize for adultery, says top bishop | David Stancliffe, the Bishop of Salisbury, said church rules dictated that the prince should atone for committing adultery (The Times, London)
Prince 'must atone' for conduct | David Stancliffe, Bishop of Salisbury, said church rules meant the prince should "make good any hurts" before he marries Camilla Parker Bowles (BBC)
The Easter puzzle | Why do Jews reject the Resurrection? We believe God already had saved us in the gift of the commandments (David Klinghoffer, The Dallas Morning News)
Church of martyrs | More than 300 million Christians are either threatened with violence or legally discriminated against because of their faith (Anthony Browne, The Spectator, U.K.)
Churchgoers remember Texas blast victims | Churchgoers at Easter Sunday services were urged to support friends and neighbors who are grieving for loved ones lost in last week's deadly explosion at a BP oil refinery (Associated Press)
Finding stress, and some friction | Volunteers from the Church of Scientology have been stationed at red-clothed tables in Times Square and several other subway hubs, measuring baseline stress levels (The New York Times)
Easter break? | America is not as divided this holiday as some contend (Editorial, The Press Democrat, Santa Rosa, Ca.)
Zondervan, pastor team up on videos | Zondervan is distributing a new video series with the Rev. Rob Bell aimed at spreading Christian messages in quick, easy-to-digest bites (The Grand Rapids Press, Mi.)
The great tech escape | Eric Brende and his wife spent a year and a half living with the Amish. They gave up TV, telephones, computers and their car—and gained a new perspective (The Dallas Morning News)
Evangelical influence growing in Mexico | Growing numbers of Mexicans are leaving the Catholic Church and making evangelical Christianity the fastest growing religion in Mexico, according to some experts. Evangelicals as a group, traditionally a non-factor on the national political scene, are beginning to flex their political muscles and are looking north for their model (El Universal, Mexico)
Conception deception | Whatever spin is put on it, a woman having sex with two blokes doesn't read well. Throw a baby into the mix and it gets really murky (Kay O'Sullivan, The Age, Melbourne, Australia)
French Muslims reopen headscarf, holiday debate | France's largest Muslim organization has urged the state to rethink its ban on Islamic headscarves in schools and to recognize Islamic holy days, reopening a debate most French thought was closed (Reuters)
Related Elsewhere:
Suggest links and stories by sending e-mail to weblog@christianitytoday.com
Check out Books & Culture's weekly weblog, Content & Context, and the Christianity Today Movies weekly weblog, Reel News.
See our past Weblog updates:
March 24 | 23 | 21 | 16 | 11
March 9 | 8b | 8a 7 | 2
February 25 | 24 | 23 | 22
February 18 | 17 | 16 | 15
February 11 | 10 | 9b | 9a
Weblog
Launched in 1999, Christianity Today's Weblog was not just one of the first religion-oriented weblogs, but one of the first published by a media organization. (Hence its rather bland title.) Mostly compiled by then-online editor Ted Olsen, Weblog rounded up religion news and opinion pieces from publications around the world. As Christianity Today's website grew, it launched other blogs. Olsen took on management responsibilities, and the Weblog feature as such was mothballed. But CT's efforts to round up important news and opinion from around the web continues, especially on our Gleanings feature.
Ted Olsen is Christianity Today's executive editor. He wrote the magazine's Weblog—a collection of news and opinion articles from mainstream news sources around the world—from 1999 to 2006. In 2004, the magazine launched Weblog in Print, which looks for unexpected connections and trends in articles appearing in the mainstream press. The column was later renamed "Tidings" and ran until 2007.
Previous Weblog Columns: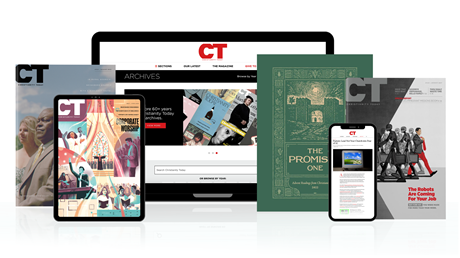 Subscribe to Christianity Today and get access to this article plus 65+ years of archives.
Home delivery of CT magazine
Complete access to articles on ChristianityToday.com
Over 120 years of magazine archives plus full access to all of CT's online archives
Subscribe Now
Terri Schiavo, Easter, and Much More
Terri Schiavo, Easter, and Much More