Echoes from Calvary is more like a sixth-century church mosaic than like an image on a high-definition television.The picture that emerges demands a more of the viewer, an attitude less passive and more engaged.
The book is a compilation of 86 meditations on the Seven Last Words of Christ by 76 contributors (including high recognition names like Martin Marty and Billy Graham as well as CT staff Stan Guthrie and David Neff). But just because it features so many distinct voices, don't expect the book to suffer from the fragmentation of most multi-author volumes. It retains its focus because of the passion of the Vermeer String Quartet's violist, Richard Young, for restoring a work of classic spiritual music to something like its original context.
In 1786, the Austrian composer accepted a commission from the Cathedral of Cadiz in Spain to provide a series of musical reflections that would be played between the spoken meditations of the preacher at his cathedral's three-hour Good Friday service. Haydn's masterful writing is exquisitely paired to the meanings of Jesus' final utterances—right down to imitating the natural speech accents of each of the sayings (in Latin, of course). But with the exception of the final movement (Earthquake), Haydn's series of nine musical meditations are all slow movements. And listening to them one after another can be wearing on an audience.
After a 1987 performance of the Haydn work by the Vermeer Quartet, the cellist remarked to Young that the audience "just had the experience of their lives and don't even know it!"
That was when the Vermeer was just playing the music. Young soon realized that the music needed the spoken word in order to let the audience reflect and absorb. So Young and the Vermeer began to bring the Haydn's work and Jesus' words into a new light. Eventually, they began a series of yearly concerts at the University of Chicago's Rockefeller Chapel, with speakers drawn from a variety of Christian traditions and occasionally from another religious community. The result was a newly invigorated classic that appealed beyond the chamber music crowd and bridged all sorts of ethnic and social gulfs.
Haydn's work is economical. Every note has weight. So Young knew it was important that the spoken meditations be likewise spare. He has imposed a two-minute limit on those who speak at the annual event (which is something of a challenge for preachers and professors who fill most of those slots). Yet the two-minute discipline results in an almost poetic quality, as the normally prolix are forced to pare their thoughts to bare essentials.
Doors to meditation

Echoes from Calvary opens multiple doors to meditation. One can take these meditations one at a time, reading and pondering them individually. One can read one meditation from each of the Seven Last Words and then go back and begin the cycle again, reliving the Crucifixion ten or more times. One can read all the meditations on a single saying from the cross, and then ponder them together. One can enter through Haydn's music, listening, then reading, then listening again.
The book comes bundled with two discs, one with both music and spoken meditations, the other with just the music. Listening to the music is made more meaningful by Richard Young's essay, "The Words and the Music," and Grover Zinn's "The History of Meditation on Jesus' Seven Last Words."
Haydn wrote with musical symbolism, choosing notes that both mean and evoke. Take, for example, Haydn's choice of a simple two-note melody (a descending minor third from the fifth to the third of the major scale) to illustrate Jesus' word to his mother. Many years later, composer and music educator Zoltan Kodaly identified these same two notes as the playground call of children in almost every musical culture. "More apropos here," writes Young, these are the two notes with which children call their mothers." Similarly, when Haydn responds to "Why have you forsaken me?" his melodic line and his accompaniment voices are out of sync. "This conveys not just a disorienting, off-kilter sensation," writes Young, "but a feeling of frustration and even panic . … " Knowing these things, we hear Haydn with new ears, and he helps us to hear Jesus with new ears.
Meditation always takes time and intentionality. This book is an excellent aid to structuring intention and a richly rewarding way to spend slow time.
Related Elsewhere:
Last year, David Neff wrote a meditation on Haydn's Seven Last Words. The Passion, Eight Adagios, and an Earthquake | Haydn's "Seven Last Words" is a powerful guide for Good Friday meditation.
Echoes From Calvary is available from Amazon.com and other book retailers.
'It Is Finished' But It Is Not Over | God's work of redemption continues in the redeemed, an excerpt from Cross-Shattered Christ.
Article continues below
When the Giver of Eternal Life Thirsts | Meditations on Franz Joseph Haydn's The Seven Last Words of Christ.
And Jesus Stood | An excerpt from Holy Week Sonnets, by Philip Rosenbaum.
God's New Family | Rethinking Jesus' words, "Woman, behold thy son … behold thy Mother," an excerpt from The Seven Last Words from the Cross.
Other Holy Week articles include:
Maundy Thursday | Part one of "The Great Reversal," a CT Classic article, by Walter Wangerin, Jr. (April 20, 2000)
Good Friday | Part two of "The Great Reversal," a CT Classic article, by Virginia Stem Owens (April 20, 2000)
Holy Saturday | Part three of "The Great Reversal," a CT Classic article, by Eugene H. Peterson (April 20, 2000)
Easter Sunday | Part four of "The Great Reversal." by Philip Yancey (April 20, 2000)
The Goodness of Good Friday | An unhappy celebration—isn't that an oxymoron? (April 17, 2003)
The Other Holy Day | In the rush toward Good Friday and Easter, don't forget Maundy Thursday. (March 22, 2002)
More Easter articles include:
Who Killed Jesus? | After centuries of censure, Jews have been relieved of general responsibility for the death of Jesus. Now who gets the blame? (Aug. 24, 2000)
The Scars of Easter | He knows the wounds of humanity. His hands prove it. By Paul Brand with Philip Yancey (April 18, 2000)
Grave Matters | Take away the Resurrection and the center of Christianity collapses. By N. T. Wright (April 6, 1998)
Jesus v. Sanhedrin | Why Jesus "lost" his trial. by Darrell L. Bock (April 6, 1998)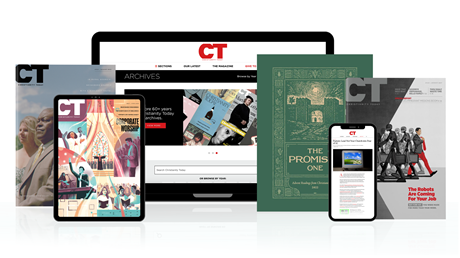 Subscribe to Christianity Today and get access to this article plus 65+ years of archives.
Home delivery of CT magazine
Complete access to articles on ChristianityToday.com
Over 120 years of magazine archives plus full access to all of CT's online archives
Subscribe Now
The Last Words of Jesus
The Last Words of Jesus