true
Sounds like … The Message: Psalms and Enter the Worship Circle, true to the folk and acoustic pop styles of contributing artists Waterdeep, Derek Webb, Jill Phillips, Robbie Seay Band, Jami Smith, Sara Groves
At a glance … widely available in stores with barely any promotion, this is a thoughtful folk-pop adaptation of the Psalms created with excellence—and reminiscent of successful collaborative compilations like City on a Hill
I was browsing the music section at a local Christian bookstore when I found this album in the new release section, a project featuring new material from several of my favorite artists. But I'd never even heard of it. Most independent artists do a better job at publicizing than this album, yet Please Don't Make Us Sing This Song: Songs from The Voice Volume 1 is widely available in stores, and it turns out to be one of the year's better releases.
The premise is nearly identical to 2005's The Message: Psalms, with various artists crafting alt-folk/pop songs based on the Psalms. The album describes The Voice as "a project [by Ecclesia Bible Society] to rediscover the story of the Bible as retold by a gifted team of writers, poets, pastors, and storytellers." A second Songs from the Voice project based on Handel's Messiah is planned for Christmas.
This is in many ways a Waterdeep project at heart. Don Chaffer produced, he and his wife Lori handle much of the songwriting, and they contribute their performance skills throughout, with drummer Brandon Graves and his wife Christena on keyboards. Stylistically, the album also generally sticks to Waterdeep's penchant for folk-pop with a strong classic rock influence.
But the songs are the true focal point, thoughtfully adapting the Psalms to modern-day songwriting instead of the other way around. Like Shane & Shane's Psalms in 2002, it's a matter of building a chorus and a hook around a Scripture passage to make a fresh and unique artistic expression. For instance, take the odd album title. As demonstrated in Lori Chaffer's stripped down title track, it's actually a fair interpretation of the sadness inPsalm 137, applying it more broadly to the present by dropping a couple of historical references. Don Chaffer successfully uses Psalm 108 to yield two different songs—"Oh, That You Would Be" (co-written with Andrew Osenga) and "Sing with Great Affection"—transforming verse one into a chorus for the latter that's faithful to Scripture, yet also original: "My heart is committed, Lord … I will pledge my whole soul to the singing, and sing with great affection." Similarly, Christena Graves revitalizes the familiar hope and encouragement expressed in Psalm 121 with her reggae-styled "He Will Not Rest."
Now add to that a bevy of guest talent, many of them contributing equally strong songs of their own. Jill Phillips uses pure country folk and the middle portion of Psalm 104 to celebrate Creation in "So Much You Have Made" (co-written with Phil Keaggy). With the same Psalm, Sandra McCracken uses the Appalachian sounding "Call Him Good" as a way to rephrase "Praise the Lord," and the almost melancholic setting causes us to consider such praise in a new light. Her hubby Derek Webb also sings a new interpretation on familiar text from Psalm 113 with "Let the Name of God Be High"— "All of you who call yourselves the children of God/Lift His name to the high place in your hearts."
Another standout track features Sara Groves, perfectly matched for Lori Chaffer's enjoyably whimsical take onPsalm 40 "As If That Were Not Enough"—the title is a scriptural add-on, but an appropriate one. It's also nice to hear Jami Smith embrace an even more rootsy acoustic rock sound for her adaptation ofPsalm 126, which declares that the Lord hasn't just done great things, but "Remarkable Things." The contributing artists come together for the latter half of Psalm 126 to deliver Lori Chaffer's "Those Who Walk the Fields to Sow," and the resulting chorus, instrumentation, and chord progression is impressively reminiscent of Sufjan Stevens.
Interesting that the two comparatively louder tracks are also the longest. Recognize this line: "If you have air to breathe, hear your call to sing?" It comes from Robbie Seay Band's "Go Outside," fusing Psalms 149 and 150into a simple and soothing six-minute praise song that doesn't overstay its welcome. Likewise, Seth Woods delivers an eight-minute alt-folk rock rendition of Psalm 124 that's everything you could want from a Psalm—epic, passionate, and powerful.
Admittedly, Please Don't is overall as mellow as might be expected from the likes of Waterdeep, Webb, and Groves. But it's also melodic and memorable, slightly more cohesive than The Message: Psalms was, and at times more collaborative than the famed City on a Hill series. Most importantly, the album captures the essence of the Psalms through music, allowing some creative license while staying true to their imagery and intent. This is one album worth supporting, just to make these artists sing these songs.
Browse All Music Reviews By: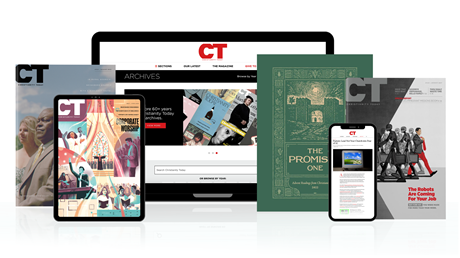 Annual & Monthly subscriptions available.
Print & Digital Issues of CT magazine
Complete access to every article on ChristianityToday.com
Unlimited access to 65+ years of CT's online archives
Member-only special issues
Subscribe
Please Don't Make Us Sing This Song: Songs from The Voice Vol. 1
Please Don't Make Us Sing This Song: Songs from The Voice Vol. 1