Miracle on Via Sacra? Atheist's publicity stunt succeeds
Luigi Cascioli wrote a book called The Fable of Christ (apparently self-published) which says Jesus didn't exist. Enrico Righi, a priest near Rome, wrote an article in the diocesan newspaper criticizing the claim. So Cascioli did something almost American: He sued.
Or, more accurately, Cascioli filed criminal charges against Righi, saying that he's breaking two Italian laws. The first, "abuse of popular belief/credulity," is an anti-fraud law. The second is "substitution of identity"— Cascioli charges that "the church constructed Christ upon the personality of John of Gamala," an anti-Roman Jew in the first century.
"I started this lawsuit [in 2002] because I wanted to deal the final blow against the church, the bearer of obscurantism and regression," Cascioli told Reuters.
Judge Gaetano Mautone "had earlier refused to take up the case, but was overruled last month by the Court of Appeal, which agreed that Signor Cascioli had a reasonable case for his accusation," The Times of London reported yesterday. So on Monday, Mautone set a preliminary hearing for the end of this month, and ordered Righi to appear, essentially to prove that Jesus actually existed.
"Cascioli says he didn't exist. And I said that he did," Righi told Reuters. "The judge will have to decide if Christ exists or not."
The priest told The Times that he doesn't anticipate a problem, as the evidence for Jesus' existence is overwhelming.
"If Cascioli does not see the sun in the sky at midday, he cannot sue me because I see it and he does not," he said. Well, apparently Cascioli can sue. But he's unlikely to win. Even Cascioli agrees with that. "It would take a miracle," he said.
British Medical Journal: Bible is lying about Lot
An article in the latest British Medical Journal says that the biblical story of Lot and his daughters is false, and that Lot was an incestuous sexual predator.
"How is it that father-daughter incest is universally perpetrated by the father, while in Genesis the roles are reversed?" asks Ilan Kutz, a psychiatrist at Meir General Hospital in Kfar Saba, Israel. "Re-reading Genesis 19, this time with the hypothesis of Lot as the abusive father, unmasks certain inconsistencies in the plot and reveals additional clues to support his culpability. For instance, the daughters' rationalization for their unusual, desperate action: 'Our father is old, and there is no man in the land … let us have our father drink wine and lie with him,' may hold a lot of wine, but does not hold much water. … Also unlikely is the story of the double instant impregnation, with only one nightly contact for impregnating each daughter."
As for Lot's wife, Kutz suggests that rather than being turned into a pillar of salt (a "biblical misogynist view that attributes her fate to female curiosity"), she probably committed suicide, "knowing she was helpless to stop the molestation of her daughters."
The response at the BMJ website is so far negative, with criticism on historical and textual grounds. "Kutz's proposed motive for the cover-up, the preservation of the 'noble name and family honor' of Abraham and his descendants, is hardly plausible given the myriad other sordid events for which the Bible portrays them as responsible," says University of Glasgow medical student Peter Hart in a typical reply.
Kutz's 2000 BMJ article on the Book of Job ("possibly the earliest description of patients and their healers struggling to cope with loss and illness") was had less criticism of the source material, though it was not absent. Kutz asserted, for example, that "modern psychology and even theology can agree that the voice from within the divine whirlwind represents Job's inner voice rising from within his stormy being."
More articles
Market bombing in Indonesia:
Palu bomb used mortar round, ball bearings: Police | The investigations led by a special team of detectives is still in progress, with police still questioning a 37-year-old man who was detained the same day of the bombing (AFP)


One detained over Palu bombing | Provincial police have detained at least one man in connection with the New Year's Eve bombing at a Christian market in Palu, Central Sulawesi, in which seven people were killed and 56 wounded (The Jakarta Post, Indonesia)


Dozens questioned over Palu market bombing | Police continued questioning dozens of local residents on Monday to unravel Saturday's bombing of a pork stall at a market in Palu, Central Sulawesi, but no one has yet been declared a suspect (The Jakarta Post, Indonesia)


Indonesian police detain man after market bombing | The man, who was about 40, was detained on Saturday near the site of the blast but had not been named a suspect, police said (Reuters)


Indonesian police probe New Year's bombing | Authorities searched Sunday for the suspected Islamic militants who set off a bomb at a Christian market in central Indonesia, killing seven people and underscoring the ongoing battle against terror in the world's most populous Muslim nation (Associated Press)


Sudanese attacked by police in Cairo:
After Cairo police attack, Sudanese have little but rage | Three days after riot police attacked a squatter camp, hundreds of Sudanese have been released from detention camps onto the streets with no money (The New York Times)


Egypt says to expel 650 Sudanese following protest | Egypt plans to expel about 650 Sudanese, a spokeswoman said on Tuesday, despite assuring the United Nations' refugee agency it would not do so after at least 27 refugees were killed last week when police ended a protest (Reuters)


Egypt's Sudanese despair after police end protest | 27, including 11 children, dead after clash (Reuters)


War & terrorism:
Anguished by the suffering, a cleric keeps on talking | Pius Ncube is the chief Zimbabwean critic of leader Robert Mugabe. Some fear for his life (Los Angeles Times)


Iraqi family marks Christmas in Baghdad | But the hardships of daily life dampened the festivities (Associated Press)


Iraqi clerics are paid to spin for US | A company headed by a young British businessman at the centre of a controversy over the Pentagon's information war in Iraq has been making payments to Islamic clerics in exchange for advice on how to target Sunnis with pro-American propaganda. (The Independent, London)


Religious freedom:
Pope on terrorism:
Pope, at New Year, decries terrorism, calls on UN | Pope Benedict ushered in the first New Year of his papacy on Sunday urging humanity to take a leap of faith in God to prevent terrorism, nihilism and fanatical fundamentalism undermining peace (Reuters)


Pope issues call to combat terrorism | Pope Benedict XVI warned Sunday that terrorism, nihilism and "fanatic fundamentalism" threatened world peace, and he called on individuals, governments and institutions to work together to combat them (Associated Press)


Amid 'terrorism, nihilism,' Benedict seeks path to peace | In the pope's New Year's message, he stresses the importance of faith and international law (Los Angeles Times)


Catholicism:
Abuse:
Lawmakers seek to end limits on church liability | Abuse cases are targeted (The Boston Globe)


Crime:
Vandals hit suburban monastery | A graffiti-busting crew from the Cook County Sheriff's Department ventured into rural McHenry County today to help an obscure religious order and found itself in a collision of good intentions (Chicago Tribune)


Va. mayor pleads not guilty to fraud | The mayor of Lynchburg faces federal charges of stealing from a church charity to pay his debts and taking money from Social Security recipients (Associated Press)


Bogus priest duped church for months | A Roman Catholic diocese in Austria is trying to determine how a German man passed himself off as a priest for three months before being exposed as a fraud (Fox News)


Armed robbery at church:
Churchgoers robbed in Harford County | Gunman enters sanctuary during service (The Baltimore Sun)


Church robbed during service | Several congregants at Mount Zion United Methodist Church in Bel Air, Md., thought the gunman with a ski mask who interrupted their New Year's Day service was part of their pastor's lesson (The Washington Times)


Stolen Jesuses:
Four arrested in theft of baby Jesus figurines | Four New Jersey teenagers were arrested yesterday and charged with stealing more than 25 plastic baby Jesus figurines, which they planned to burn in a bonfire, the police said (The New York Times)


Baby Jesus, always in their hearts, back in their arms | Church and families are reunited with statues stolen from crèches (The Star-Ledger, Newark, N.J.)


Stolen away from their mangers | 27 baby Jesuses, taken from creches, are found in car (The Star-Ledger, Newark, N.J.)


Holiday wars continues:
Should offices that include non-Christians use Christmas decorations? | Readers respond (The Washington Post)


And now, the war on Hanukkah | The holidays on the march (Michael M. Rosen, National Review Online)


Yule be sorry | Don't flatter yourselves, baby-Jesus haters. We don't care whether you share our celebration. We just want you to be inconvenienced by it (Matt Labash, The Weekly Standard)


Indiana House ban on prayer:
Judge: Ban on prayer stands | Indiana's House speaker sought clarification and vows appeal to 7th Circuit Court (The Indianapolis Star)


Judge upholds prayer limits in Ind. state house | Some in both parties vow to fight ruling (The Washington Post)


Religion & politics:
Church & state:
Church & state, non-U.S.:
Public wants state church referendum | A new survey shows that a majority of Norwegians want a referendum on the separation of church and state, and that there is also majority in favor of separation (Aftenposten, Oslo)


Central African Republic told taken prayer too far | Prayer is good but don't force it, a human rights group told Central Africa Republic's government on Thursday after it decreed three days of national prayer and ordered bars to shut ahead of New Year celebrations (Reuters)


Police ban Christian crime comic | An anti-violence comic by a Christian police group has been banned by the Metropolitan Police after being accused of ignoring other faiths (BBC)


ID in York, Pa.:
New school board votes ID out | Community, board and teachers discussed the future of the biology curriculum (York Daily Record, Pa.)


Board rescinds 'Intelligent Design' policy | Dover's much-maligned school policy of presenting "intelligent design" as an alternative to evolution was officially relegated to the history books Tuesday night (Associated Press)


Pastor enjoys year in spotlight | However, Ray Mummert thinks lying to cover up religious motivation is wrong (York Daily Record, Pa.)


Group accuses Santorum of switch | Conservative association says senator made '180-degree turn' on intelligent design (York Daily Record, Pa.)


Evolution and Intelligent Design:
A semi-intelligent ruling | As a matter of policy, U.S. District Judge John Jones' ruling last week that intelligent design cannot be taught in science classes is the prudent one (Editorial, The Washington Times)


A mutating controversy | Just as creationism mutated into intelligent design, many observers believe intelligent design will return in a new guise, perhaps as something called sudden-emergence theory (Editorial, The Cincinnati Post)


Science, religion shouldn't mix | To discard science in favor of pure faith would be a major step backward (Editorial, The Ledger, Lakeland, Fla.)


Unintelligent designs | Judge Jones' ruling should awaken religious conservatives to the futility of trying to make a secular state reflect their beliefs. Instead, they should withdraw their children from public schools (Cal Thomas, The Washington Times)


Ruling snuffs out dissenting view in classroom | The truly orthodox never think of themselves as orthodox. This allows them to crush all dissent to their orthodoxy with a good conscience, since what reasonable objection could there be to sincere attempts to stamp out self-evident falsehoods? (Paul Campos, The Journal Gazette, Ft. Wayne, Ind.)


Stretching the Constitution to keep out intelligent design | How intelligently designed are public schools in which intelligent design cannot even be referenced? (Andrew Cline, The Baltimore Sun)


Dover decision smart design | Jones' message is that when state or local governmental authorities attack the teaching of evolution in favor of religion—whether by intent, effect, or endorsement and whether by requiring, permitting, or not mentioning intelligent design—they are in violation of the Constitution (Perry A. Zirkel, The Philadelphia Inquirer)


Mature evolution in battle between faith and reason | Not all religious believers are six-day creationists or supporters of intelligent design. Another perspective is possible (Paul Gray, The Australian)


Find a place for intelligent design in public schools | Maybe not science class, but there's room elsewhere for core beliefs (Mark Davis, The Dallas Morning News)


Our job is to teach the best science | Those insisting that intelligent design ought to be part of the public schools curriculum would open a can of worms (Lee Stagg, Minneapolis Star-Tribune)


Protecting Intelligent Design | Intelligent Design examined outside the dogmatic confines of religion is a different type of experience from Sunday School, and frankly, one that the public schools ought to provide. (Arnold H. Loewy, The News & Observer, Raleigh, N.C.)


Jeb and Job | Governor should re-read book in Bible for lesson in wonder of it all (Maurice O'Sullivan, The Orlando Sentinel)


Higher education:
Strange bedfellows? | Policy spurred by conflict over sleeping arrangements of gay instructor at U. of St. Thomas is affecting straight employees, too (Inside Higher Ed)


Bethel quietly becomes a draw | Christian school one of state's largest private colleges (Pioneer Press, St. Paul, Minn.)


Teens sue school after expulsion :
Teens accused of being lesbians sue school | Two 16-year-olds who were expelled from a Lutheran high school because they were suspected of being lesbians have sued the school for invasion of privacy and discrimination (Associated Press)


State officials watching lawsuit against Christian school | Paul Ramsey, chief counsel for the state Department of Fair Employment and Housing, said case law he is aware of does not spell out whether a private, Christian school can expel students for being homosexual, the dilemma the Wildomar case presents (North County Times, San Diego, Ca.)


Earlier: Religious freedom must be honored | Church school can expel over sexual orientation (Editorial, North County Times, San Diego, Ca.)


Same-sex marriage:
D.C. weighing boosts in gay rights | Bills reflect wariness of congressional veto (The Washington Post)


Same-sex marriage foes falter in '06 ballot efforts | Infighting, voter fatigue and a slow fundraising start appear to have plagued efforts by conservatives to place a measure on the 2006 ballot banning same-sex marriage in California (Los Angeles Times)


Abortion:
A wider buffer for clinics gets support | Leading legislators back doubling abortion protest limits (The Boston Globe)


Abortion case will be key at Alito hearing | Samuel Alito's decision as a federal appeals judge to uphold a 1980s Pennsylvania abortion restriction — later overturned by the Supreme Court — is likely to draw some of the toughest scrutiny at his upcoming confirmation hearing (Associated Press)


Life ethics:
Charity:
Evangelicals demonstrate faith with a chequebook | Evangelical Christians give nine times as much to charity as the average householder, donating more than 12 per cent of their net income each year, according to a new survey (The Times, London)


After storm, relief groups consider more work in U.S. | The chaotic response to Hurricane Katrina by government agencies and the Red Cross has led organizations like Oxfam to wonder whether they have a role in the U.S. (The New York Times)


In charity, too, the rich get richer | Americans should continue to help those in dire need, but they should also look around before sending a check or clicking the "donate" button (Richard M. Walden, The New York Times)


After the tsunami, a tide of human love | Asked once how she could possibly help all the poor of the world, Mother Teresa answered simply: "One by one." (Cardinal Cormac Murphy-O'Connor, The Telegraph, London)


Missions & ministry:
Church life:
Schuller hands Crystal Cathedral to son:
Schuller hands his son keys to Crystal Cathedral | The Rev. Robert H. Schuller handed over the leadership of the Crystal Cathedral to his only son on Sunday, ending a half-century as pastor of a church he started in a drive-in movie theater in Orange County and built into a worldwide ministry (Los Angeles Times)


Younger Schuller plans a 'next level' for ministry | Pushing ahead with his father's brand of unfettered optimism, the Rev. Robert A. Schuller plans to attract more young people to the Crystal Cathedral and recruit a million new members around the globe (Los Angeles Times)


Rev. Schuller steps down | The Rev. Robert H. Schuller, speaking to a crowded New Year's Day congregation, announced that he will step down as senior pastor of the landmark ministries he built over the past half-century at the Crystal Cathedral in Garden Grove (The Orange County Register)


From father to son | The Schullers, in transition, take a look back, as well as at what the future holds (The Orange County Register)


Money & business:
Court upholds GM program accused of religious bias | A General Motors Corp. program that allows Hispanics, blacks or lesbians - but not Christians - to organize in employee groups is not committing religious discrimination, a federal court ruled (Associated Press)


Supermarket chaplains tend their flock beside the frozen lamb | Asda has recruited 160 clergy of all faiths to bring their ministry to the aisles (The Guardian, London)


'Devilish' jeans a hot seller in Sweden | A punk-rock style, trendy tight fit and affordable price have made Cheap Monday jeans a hot commodity among young Swedes, but what has people talking is the brand's ungodly logo: a skull with a cross turned upside down on its forehead (Associated Press)


Yoga:
Yoga teacher takes Christian approach | "If anyone ever came to one of the classes I teach, they'd see how it would enhance their relationship with God," said Dayna Gelinas. "I call it yoga from a Christian perspective." (The Atlanta Journal-Constitution)


Churches, synagogues mingle yoga with beliefs | In a small but growing practice, churches and synagogues are offering yoga as a tool for connecting with God (The Washington Post)


Spirituality:
My Fundamentalist Education:
Recalling a cherished girlhood | Roger K. Miller reviews My Fundamentalist Education: A Memoir of Divine Girlhood by Christine Rosen (The Washington Times)


Goodbye to All That | Christine Rosen's complaints about Christian fundamentalism are mainly aesthetic ones Alan Pell Crawford reviews My Fundamentalist Education (The Wall Street Journal)


Reformed school girl | Christine Rosen attended a fundamentalist Christian school, but the doctrinaire teachings—and the scary sex-ed classes—couldn't stem the tide of her questions (Rebecca Tuhus-Dubrow, Salon.com)


Books:
Walking the Bible:
Standing where Moses stood | Bruce Feiler visits Old Testament locations in this long and winding PBS documentary created to complement his book of the same name (The New York Times)


Backers of Bible miniseries are investing in their faith | Based on the best-selling book "Walking the Bible," the three-hour miniseries will take viewers on a 10,000-mile trek across three continents, five countries and four war zones to biblical settings, including the Garden of Eden, Abraham's birthplace and Jerusalem's sacred Temple Mount (Chicago Tribune)


Television:
Even Jesus might not forgive 'Book of Daniel' | It's a well-intentioned drama with a few comedic quirks but without depth or greater purpose (Reuters)


We should have faith in "Daniel" | "The Book of Daniel" feels like a cross between "Once and Again," "Six Feet Under" and something wonderfully new (The Denver Post)


Film:
Music:
Underoath rock like Slipknot, for God's sake | Christian metalcore band wants to change its audience--and the world (MTV.com)


Christian, gospel labels pray for strong new acts | The overall music industry decline in 2005 did not spare the Christian and gospel labels, whose prayers for a banner year were unanswered (Reuters)


Pocket full of stars | Sufjan Stevens is a man on a mission (Plan B, p. 2)


Religion in the news:
Pews in the news | The five most important religious trends of 2005, and my hopes for 2006 (Marc Gellman, Newsweek)


Momentous year that put religion in spotlight | It's been a momentous year for religion, with the prospect of even more significant events in 2006 (The Sunday Business Post, Ireland)


The year in review | Law and religion in 2005 (Marci Hamilton, FindLaw.com)


People:
E-mail joke suddenly turns sour | Ted Haggard clashes with foe of proselytizing at AFA (Rocky Mountain News, Denver)


Hinn visa under consideration | The Immigration Department has yet to decide whether or not to allow Christian evangelist Benny Hinn entry into the country (Fiji Times)


Bakker's focus: The future | Former PTL leader says God molded him through ordeals (The Herald, Rock Hill, S.C.)


Also: Bakker's flock offers words of welcome | Ex-PTL leader back in town as speaker (The Herald, Rock Hill, S.C.)


And the buff shall inherit the earth | He's pumped, pious, and convinced that he's found the secret to a heavenly body and "outrageous happiness." Is Christian fitness coach and bestselling author Ben Lerner divinely inspired—or just blessed with marketing savvy? (Outside)


Obituaries:
Israel:
Greek patriarch boycotts Israeli Christmas party | The Greek Orthodox Patriarch in Jerusalem boycotted an annual Israeli Christmas party on Thursday because the invitation failed to recognize him as the church's new leader, a church official said (Reuters)


Plans for Holy Land theme park on Galilee shore where Jesus fed the 5,000 | Evangelical groups and Israel on brink of deal (The Guardian, London)


More articles of interest:
"Who are my mother and my brothers?" | The Gospels don't preach family values (Slate)


Broadcaster airs a deal for school | The Christian broadcast company that has been awarded the frequency of Maynard High School's radio station is proposing a truce -- but the bargain is at the expense of the University of Massachusetts (The Boston Globe)


The fundamental problem with narrow, violent religion | Thus, as the new year begins and the holidays draw to a close, the political battle between secularism and religious extremism continues. The question for secularists and the nonfundamentalist faithful becomes: how to subvert these violent and intrusive manifestations of religious fundamentalism on society (Victoria A. Brownworth, The Baltimore Sun)


Latest Capistrano mission: Exterminate those termites | Over more than two centuries, it has been subjected to earthquakes, floods and long stretches of neglect. And now, the historic mission at San Juan Capistrano is under siege by an army of hungry foes: termites (Los Angeles Times)


Stay out of our wardrobe! | The libertarian Narnia state (R. Andrew Newman, National Review Online)


Related Elsewhere:
Suggest links and stories by sending e-mail to weblog@christianitytoday.com
See our past Weblog updates:
December 28 | 21 | 16 | 14 | 12
December 9 | 7 | 6
December 2b | 2a | November 30
November 23 | 22 | 21
November 18 | 17 | 16b | 16 | 15
Weblog
Launched in 1999, Christianity Today's Weblog was not just one of the first religion-oriented weblogs, but one of the first published by a media organization. (Hence its rather bland title.) Mostly compiled by then-online editor Ted Olsen, Weblog rounded up religion news and opinion pieces from publications around the world. As Christianity Today's website grew, it launched other blogs. Olsen took on management responsibilities, and the Weblog feature as such was mothballed. But CT's efforts to round up important news and opinion from around the web continues, especially on our Gleanings feature.
Ted Olsen is Christianity Today's executive editor. He wrote the magazine's Weblog—a collection of news and opinion articles from mainstream news sources around the world—from 1999 to 2006. In 2004, the magazine launched Weblog in Print, which looks for unexpected connections and trends in articles appearing in the mainstream press. The column was later renamed "Tidings" and ran until 2007.
Previous Weblog Columns: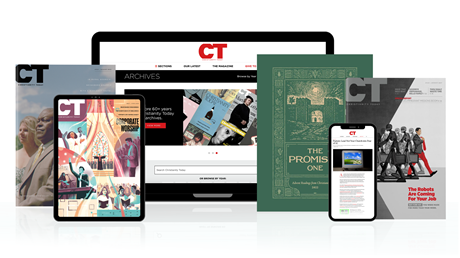 Annual & Monthly subscriptions available.
Print & Digital Issues of CT magazine
Complete access to every article on ChristianityToday.com
Unlimited access to 65+ years of CT's online archives
Member-only special issues
Subscribe
Italian Trial Demands Proof of Jesus
Italian Trial Demands Proof of Jesus