WSJ story on dismissed Wheaton professor is old, but hot
Is the Reformation over? asks Wheaton College history professor Mark Noll in a book with Carolyn Nystrom (see CT's review and Books & Culture's excerpt). As reported in the top story in the weekend Wall Street Journal, Noll's school has answered the question with a resounding no.
Around Christianity Today, a stone's throw from Wheaton, the dismissal of assistant philosophy professor Joshua Hochschild for his conversion to Roman Catholicism is a bit old news. Indeed, the Journal notes that he left last spring, and the debate over his dismissal goes back to 2003. Furthermore, the debate over limiting Catholic teaching at Wheaton is considerably older. It was a subject of debate when Weblog was a Wheaton undergraduate student more than a decade ago. As the Journal itself reports, Wheaton "has never hired a Catholic professor full time and tells Catholic applicants it won't consider them for such posts. … Aware of Wheaton's Protestants-only policy, Mr. Hochschild recalls thinking he would probably lose his job."
But the Journal sees, as its deck proclaims, "a new orthodoxy at religious colleges."
"A conservative reaction is setting in, part of a broader push against the secularization of American society," writes Daniel Golden. "Fearful of forsaking their spiritual and educational moorings, colleges are increasingly 'hiring for mission,' as the catch phrase goes, even at the cost of eliminating more academically qualified candidates."
It doesn't sound like Wheaton College president Duane Litfin would characterize his actions as fearful. "If you look at the caliber of our faculty, this is an amazing place," he told the paper. "It's thriving. Why do genetic engineering on it? Why muck up its DNA?"
Some conservative Catholics—who just five minutes ago were carping about how Catholic colleges have been losing their distinctives—see this as an example of "they don't think we're Christians." But the issue isn't whether Litfin sees Roman Catholics as Christians (he calls Hochschild a "brother"), but whether he sees them as evangelicals who truly agree with the college's statement of faith.
Not all Catholics are so negative. "The general response of serious religious believers, Protestant and Catholic alike, is likely to be: 'Good for Wheaton.' Or, rather, 'Good for Wheaton—given that the evil of Christian disunity exists,'" Jody Bottum writes on the First Things weblog. "Until those divisions are healed, the shared Catholic and Protestant struggle to maintain religious identity in a secularized culture will occasionally create such disturbing incidents. If Catholics are concerned—as they ought to be—about the Catholic identity of their own colleges and universities, then they must accept the right and even duty of Protestant schools to maintain a Protestant character."
If there is a story in Hochschild's dismissal, it's not the "new orthodoxy." It's the "new evangelicalism." The Journal suggests that all the chips in the Hochschild story may not have fallen. "Perhaps Wheaton College has come to a point where, because of challenges such as yours, it must revise its documents to make more explicit its non-Catholic identity," Litfin wrote to Hochschild. If Wheaton does revise its statement of faith (as it did in the mid-1990s) to make its identity clearer, it will be interesting to see the point or points at which the school says Catholicism and evangelical Protestantism are irreconcilable. Scot McKnight, who once wrote an article for the Journal of the Evangelical Theological Society titled "From Wheaton to Rome," suggests that "supreme and final authority" of the Bible may not be the only—or even the main—concern.
McKnight echoes one point that's screamed over at the conservative Anglican blog TitusOneNine, where some (including some Wheaton faculty members) wonder if the axe is at the root of the Anglican tree.
One final interesting comment from the TitusOneNine blog, from Wheaton professor Dan Treier:
Many at Wheaton would like the board to open the school to RCs who want to affirm the phrase ["supreme and final authority"]. However, the Prez believes no good RCs could. The interesting issue, then, is who gets to interpret the statement of faith, and whether its preamble (where Protestant is mentioned) delimits it. Obviously, the Prez gets to give the magisterial interpretation.
More articles
Church life:
Church of England debates women bishops:
Church wants women bishops by 2012 | Opponents warn of major rift as leaked document reveals the determination of bishops to press on (The Times, London)


Anglicans to debate women bishops | Talks are due to start on whether the Church of England should allow the ordination of women bishops (BBC)


Split over women bishops deepens | Divisions over whether women can be bishops appear to be deepening within the Anglican Church, as talks over the historic change are due to start (BBC)


Chicago church destroyed:
Landmark church destroyed by fire | Pilgrim Baptist was birthplace of gospel music (Chicago Tribune)


History burns with church | Cultural pilgrims from around the world came to Pilgrim Baptist to behold the place where gospel music was born (Chicago Tribune)


'God gave us a wake-up call' | Some see fire as a chance to rebuild congregation (Chicago Tribune)


Gospel music loses its storied birthplace | History left in ruins (Chicago Tribune)


Congregation prays for strength | Church is its people, not building, they say (Chicago Tribune)


Investigators: Torches started church fire | Fire investigators on Monday said heating torches being used by renovation crews caused the blaze that destroyed a landmark church known as the birthplace of gospel music (Associated Press)


Fire destroys a landmark Chicago church famed for gospel music | The church was significant not only for its role in gospel music, but as one of the last defining works of legendary architect Louis Sullivan (The New York Times)


Fire destroys landmark Chicago church | The architecture was majestic, the gospel choir was inspiring and services at the Pilgrim Baptist Church were so popular that worshippers in the 1930s and '40s had to show up an hour early to find a seat (Associated Press)


Service held after Chicago church fire | Fire officials were investigating the cause of Friday's blaze, a fire so intense it could be seen for miles and injured four firefighters (Associated Press)


Interfaith relations:
Air crew ordered not to wear crucifixes on flights to Saudi | Air crew on the only British airline that flies to Saudi Arabia have been told not to wear crucifixes or St Christopher medals on flights there so as not to offend the country's Muslims (The Telegraph, London)


Jordan's king to speak at U.S. prayer breakfast | Jordan's King Abdullah II, whose interfaith efforts over the past year impressed Catholics, Jews and Muslims alike, will have a supporting role at this year's National Prayer Breakfast, according to a key aide (The Washington Times)


Among evangelicals, a kinship with Jews | Some skeptical of growing phenomenon (The Washington Post)


Tragedy:
Looking to faith for comfort | When the Sago Mine blast tested a town's faith, Wease Day of Sago Baptist Church offered hospitality and strength of belief (The Baltimore Sun)


'Your pain is ours,' Greek Orthodox leader tells N.O. | Ecumenical Patriarch Bartholomew I, leader of a quarter-billion Eastern Orthodox Christians from his seat in Istanbul, clutched his flowing black robes and trudged up the side of the broken Industrial Canal levee Saturday "to answer the need of our soul." (The Times-Picayune, New Orleans)


Also: Church leaders tour areas hit by Katrina | The spiritual leader of the world's 200 million Orthodox Christians visited the devastated Lower Ninth Ward and prayed for the victims Hurricane Katrina on Saturday (Associated Press)


Indonesia:
Man released after questioning | Police released one Mulyono alias Mul on Saturday after no evidence was found that he was involved in a bomb blast at a Christian market in Palu last week that killed seven people (The Jakarta Post)


Blast hits Indonesia's Central Sulawesi province | No casualties or damage in explosion near church (Radio Australia)


Sudan:
Peace in Sudan also brings uncertainty | Villagers living in places unnamed on any map — without roads, electricity, schools or clinics — say they still feel forgotten, and fear war will return if peace does not also mean prosperity (Associated Press)


One year after peace deal, Sudanese seek dividends | As Sudan marks a year of peace between the north and south, many in Africa's largest country say they are still searching for a dividend after a slow start for the peace accord and persistent conflict nationwide (Reuters)


Ecuador martyrs:
Slaying of missionaries by tribe portrayed in film | Casting agent Mark Fincannon said Thursday he hopes "End of the Spear" will "raise the bar of Christian filming," along with other theologically significant movies such as "The Chronicles of Narnia: The Lion, the Witch and the Wardrobe" and "The Lord of the Rings" trilogy. (The Washington Times)


Ecuadoran tribe transformed after killing of 5 missionaries | Fifty years ago today, tribesmen in Ecuador speared five American missionaries (Pittsburgh Post-Gazette)


Gender selective abortion in India:
Abortion:
Family-planning leader named | Cecile Richards, a veteran political activist and daughter of former Texas Gov. Ann Richards, was named Monday as the new president of the Planned Parenthood Federation of America, taking over at a crucial time for America's abortion-rights movement (Associated Press)


Wis. governor vetoes abortion-pain bill | Gov. Jim Doyle on Friday vetoed a bill that would have forced doctors to tell women seeking abortions after their fifth month of pregnancy that their fetuses could suffer pain (Associated Press)


Battle to legalize abortion heats up in Brazil | Although abortion is outlawed in Brazil except in rare circumstances, the country has one of the highest abortion rates in the developing world (Reuters)


Slovak abortion move worries EU | An attempt by the Vatican to reduce the number of abortions in Slovakia has raised concerns in the European Union about the loss of rights for women (BBC)


States' laws clash on teen abortions | Missouri rule forces restrictions in Illinois (Chicago Tribune)


Men's abortion rights | If men are expected to be parents with equal responsibilities, shouldn't they at least be allowed to discuss whether to have a child? (John Tierney, The New York Times)


Crime:
Pastor resigns after arrest for seeking lewd behavior | Morris H. Chapman, president and chief executive officer of the SBC Executive Committee, expressed concern for all those involved (Baptist Press)


We'll protect you, Italy tells the man who shot the Pope | The man who shot Pope John Paul ll may know too much (The Times, London)


Also: Pope John Paul's shooter to be released | The man who shot Pope John Paul II in 1981 will be released from prison this week after a court decided he had completed his sentence for the attack on the pontiff and other crimes — a ruling that took the Vatican by surprise (Associated Press)


Jury selection under way in priest slaying | Jury selection got under way Monday for the trial of a prison inmate accused of killing convicted pedophile priest John Geoghan, with some prospects expressing doubts they could be impartial in the highly publicized case (Associated Press)


Abuse:
Catholicism:
A ruling on the status of its women roils a monastery | In Pecos, N.M., a monastery where monks and nuns interact is going through a rough transition after a ruling from the Vatican (The New York Times)


Pope hopes for dialogue among Christians | Pope Benedict XVI expressed hope Saturday for continued dialogue among all Christians that could surmount the "tragic divisions" that arose after the rise of Protestantism in the 16th century (Associated Press)


Pope says terrorism is 'moral perversion' | Benedict stressed the need for forgiveness and reconciliation to bring peace in armed conflicts around the world. And he told the ambassadors that wealthy countries must do more for the world's poor (Associated Press)


Pope says terror provokes 'clash of civilizations' | Pope Benedict on Monday warned of a clash of civilizations caused by the "moral perversion" of terrorism, called for peace between Israel and Palestinians, and urged cuts in arms spending to feed the poor (Reuters)


Pope baptizes newborns in Sistine Chapel | Wails rang out in the Sistine Chapel on Sunday as Pope Benedict XVI baptized 10 newborns, continuing a beloved tradition of Pope John Paul II by personally welcoming some of the newest members of the Roman Catholic Church (Associated Press)


The year of two popes | How Joseph Ratzinger stepped into the shoes of John Paul II—and what it means for the Catholic Church (Paul Elie, The Atlantic)


UK-Vatican relations:
After 400 years, our man in Rome is a Catholic | Richard Owen talks to the ambassador who represents our protestant nation in the Vatican (The Times, London)


Britain sparks row with Vatican over proposal to close embassy | The Vatican has warned Britain that it risks violating a longstanding treaty by transferring its Embassy to the Holy See to premises within the British Embassy to Italy (The Times, London)


Religion in Europe:
Cross purposes | Conflicting views about religion threaten to divide Europe from the US (Ian Buruma, The Guardian, London)


Is God dead in Europe? | Where Europe has gone, America could be going — and that is a prospect that is frightening Christians and sharpening the religious divide in this country (James P. Gannon, USA Today)


Church and state (non-U.S.):
St Paul's tries again with £1m request for lottery funding | St Paul's Cathedral, one of the most visited buildings in Britain, has so far missed out on lottery funding because it does not appeal to a "wide enough range of people" (The Telegraph, London)


Church must lose its £17 million tax break | The Roman Catholic Church in Spain is embroiled in a dispute over a bill for millions of pounds of unpaid tax (The Times, London)


Bishops urge Kibaki to start review debate | The Anglican and Catholic churches have urged President Kibaki to restart the constitution making process as soon as possible (The East African Standard, Kenya)


Looking away when the target is Jesus | Christmas seemed like a good time to catch up on Dick Gross' revisionist gospel Jesus, Judas and Mordy Ben Ruben and to contemplate the selective application of anti-vilification laws in Victoria (Terry Lane, The Age, Melbourne, Australia)


Church and state (U.S.):
Sam Alito and Justice Sunday 3:
Alito seeks to distance himself from previous abortion statements | Nominee faces senators in second day of hearing (The Washington Post)


A fight over courts staged in Phila. | A North Philadelphia church and the surrounding blocks became the staging ground Sunday night for a national battle over the federal judiciary - between conservatives who see it as hostile to religious freedom and liberals who characterize the political right as bullies of the court (The Philadelphia Inquirer)


Christian Right mobilizes for judge | Conservative tilt sought on bench (The Washington Post)


Chaplain ends protest fast:
Navy chaplain ends hunger strike after 18 days | Claims that service changed its policy are disputed (Stars and Stripes)


Fasting chaplain declares victory | Navy denies that he couldn't pray in Jesus' name (The Washington Post)


Also: Chaplain ends 18-day fast | A Navy chaplain ended an 18-day fast outside the White House yesterday, proclaiming victory in his bid to use Jesus' name when praying in public (The Washington Times)


Politics:
Democrats might now proclaim their faith | Some key Kentucky Democrats have begun to road-test new messages and campaign sound bites on abortion and their candidates' personal faith (Lexington Herald-Leader, Ky.)


Taking a stand on a rite with hazards | Mayor Michael R. Bloomberg is finding out the hard way that conflicts of church and state always come back (The New York Times)


Abramoff:
Pat Robertson:
Evangelical leaders criticize Pat Robertson | Officials of conservative Christian churches and organizations suggested that Robertson was losing religious and political influence as a result of his remarks on Sharon and other recent controversial comments (Los Angeles Times)


Media:
Magazine blends faith and attitude | Relevant magazine only looks like it belongs on a shelf between Rolling Stone and Maxim . In fact, it's a pioneering Christian publication that wraps old school values in pop culture packaging (The Dallas Morning News)


Christian band StorySide: B starts new chapter | Talent competitions such as "American Idol" have produced some of today's most successful artists. In the faith-based music community, there are similar contests serving as a vehicle to launch new acts (Reuters)


Sports:
A man of faith, football | Chaplain beat his own demons before helping Colts (The Indianapolis Star)


Chaplains with other NFL teams | Many of the league's 32 teams have chaplains. Many are nondenominational. Here's a look around the league (The Indianapolis Star)


Internet:
Scripture, meet the web: Placing limits on 24/7 | Many electronic retailers with religiously observant owners and executives leave their sites up and running on their Sabbath, but do not complete orders, work on the site or otherwise do anything to help customers. And despite an increasingly competitive environment and ever more demanding customers, they say their businesses have not suffered (The New York Times)


Net now a fisher of men as faithful tune in for 'godcasts' | Britney Spears, Gorillaz, Missy Higgins, Bernard Fanning, Matthew 4:18-5:16 - The Sermon On The Mount as preached by Dean Phillip Jensen. All these could be streamed direct to you via your iPod or your MP3 player (The Sydney Morning Herald)


Books:
Book of Daniel:
Much show, little go, for NBC's 'Daniel' | Finishes third in timeslot, despite stink (Media Life)


Five TVs drop 1st chapter of Daniel | Tupelo, Miss.-based American Family Association (AFA), which has been lobbying stations to drop NBC's limited drama, The Book of Daniel, says five stations did so for Friday's two-hour premiere (Broadcasting and Cable)


Sinfully bad TV | A real live preacher weighs in on NBC's "The Book of Daniel" and the unholy outrage from the religious right (Salon.com)


The risk of playing religion straight | Whether we're atheists, agnostics, secularists or believers, we all hold religious leaders to higher standards (Diane Winston, Los Angeles Times)


Richard Dawkins:
Science and evolution:
Creation doctrine a matter of faith | The best thing to come out of the recent court decision on "intelligent design" for me was the realization that traditional Christian theology has something fresh to say about this (Bill Tammeus, The Kansas City Star)


Bible and theology:
Is God an accident? | Despite the vast number of religions, nearly everyone in the world believes in the same things: the existence of a soul, an afterlife, miracles, and the divine creation of the universe. Recently psychologists doing research on the minds of infants have discovered two related facts that may account for this phenomenon. One: human beings come into the world with a predisposition to believe in supernatural phenomena. And two: this predisposition is an incidental by-product of cognitive functioning gone awry (Paul Bloom, The Atlantic)


Binge eating worse than being unfaithful? | Most Italians feel more guilty about over-eating than they do about cheating on their partners, a survey has found, suggesting that people in Casanova's native land care more about staying slim than staying faithful (Reuters)


Just who did write Paul's letters from prison? | The books of I and II Timothy and Titus, which claim to have been written by the Apostle, may actually have been written by Paul's associates or admirers long after his death in roughly 65 A.D. (Lexington Herald-Leader, Ky.)


Prayer:
Missions & ministry:
A city that runs on faith | Loma Linda, famous for its groundbreaking medical center, is led by Seventh-day Adventists devoted to health and spiritual growth (Los Angeles Times)


The children come first | Catholic Charities, the social service arm of the Archdiocese of Boston, has been taking children out of danger and placing them in loving homes for decades. For the sake of children in desperate need now and in the future, Archbishop Sean O'Malley should allow the social service agency to continue its difficult, important adoption work (Editorial, The Boston Globe)


Missionary work draws ethical debate | If so much trouble has come from trying to spread an idea or system of beliefs, why do we as human beings continue to do it? (Michael Gartland, The Post and Courier, Charleston, S.C.)


Church group protests against Hinn | The Liberty church is protesting against the Government's decision to approve evangelist Benny Hinn to preach in Fiji (The Fiji Times)


An arena of shared faith | Baptism at Coliseum unites friends, fans of Mexican rodeo (The Denver Post)


Gay marriage:
Group gathers to push marriage amendment | Supporters of a Florida Constitutional amendment defining marriage as the union of one man and one woman held concurrent news conferences across the state Friday morning to boost their efforts to meet a Feb. 1 petition deadline (The Tampa Tribune, Fla.)


Chan denies anti-gay stance | Chinese-language newspaper quoted Richmond MP as saying he opposes gays' right to marry (Vancouver Sun)


New Jersey lawmakers pass two gay rights bills | New Jersey lawmakers voted to give same-sex couples the same rights as married couples regarding inheritance and funeral arrangements and to extend gay couples' access to health benefits in the public sector (Reuters)


More articles of interest:
Russia celebrating Orthodox Christmas | Believers across Russia began celebrations of the Russian Orthodox Christmas on the eve of the holiday Friday, with President Vladimir Putin sending greetings to the faithful (Associated Press)


Minister bridges two disparate worlds | A new year traditionally means new starts, when people resolve to change their lives. So it's an apt time for one pastor's tale of the epic change he made 25 years ago, when he was transformed from atheist to evangelical Christian (Rich Barlow, The Boston Globe)


The Cairo massacre | Something shameful has been happening in Cairo, where Egyptian security forces assaulted Sudanese refugees who had been camping out before the offices of the United Nations High Commissioner for Refugees (Editorial, The Boston Globe)


God is in the details of this case. Or is he? | The idea of Christianity being defended not by the Pope, but some small-time cleric staring anxiously into his fusilli, is truly cinematic in its scope (Caitlin Moran, The Times, London)


Related Elsewhere:
Suggest links and stories by sending e-mail to weblog@christianitytoday.com
See our past Weblog updates:
January 6 | 5 | 4
December 28 | 21 | 16 | 14 | 12
December 9 | 7 | 6
December 2b | 2a | November 30
November 23 | 22 | 21
November 18 | 17 | 16b | 16 | 15
Weblog
Launched in 1999, Christianity Today's Weblog was not just one of the first religion-oriented weblogs, but one of the first published by a media organization. (Hence its rather bland title.) Mostly compiled by then-online editor Ted Olsen, Weblog rounded up religion news and opinion pieces from publications around the world. As Christianity Today's website grew, it launched other blogs. Olsen took on management responsibilities, and the Weblog feature as such was mothballed. But CT's efforts to round up important news and opinion from around the web continues, especially on our Gleanings feature.
Ted Olsen is Christianity Today's executive editor. He wrote the magazine's Weblog—a collection of news and opinion articles from mainstream news sources around the world—from 1999 to 2006. In 2004, the magazine launched Weblog in Print, which looks for unexpected connections and trends in articles appearing in the mainstream press. The column was later renamed "Tidings" and ran until 2007.
Previous Weblog Columns: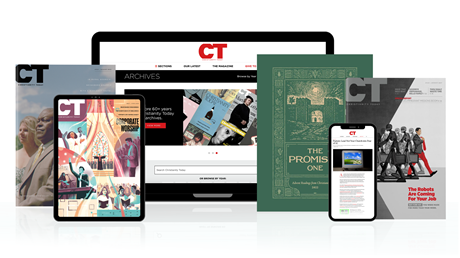 Subscribe to Christianity Today and get access to this article plus 65+ years of archives.
Home delivery of CT magazine
Complete access to articles on ChristianityToday.com
Over 120 years of magazine archives plus full access to all of CT's online archives
Subscribe Now
Reformation Isn't Over at Wheaton
Reformation Isn't Over at Wheaton