Today's Top Five
1. U.S. Supreme Court: Don't remove cross—yet
The Supreme Court has repeatedly refused to get involved in the dispute over whether a 29-foot-tall cross at San Diego's Mount Soledad Veterans Memorial violates the constitutional ban on the establishment of religion. That changed Monday, when Justice Anthony M. Kennedy stayed a federal judge's order that the city remove the cross by August or face a $5,000 daily fine. The stay is in effect until the Court issues a further order—but that doesn't mean that the Supreme Court will hear the case. "I would cancel the funeral," city attorney Michael Aguirre told the San Diego Union-Tribune. "But I would not schedule the victory party yet." Pat Mahoney of a group called the Christian Defense Coalition had a different interpretation: "Yes, we're thankful to Justice Kennedy, but God did this. God the Sovereign intervened." So if the Supreme Court decides that the cross should be removed, will Mahoney claim that's an act of God, too, or will he attack "activist judges"?
2. A true American idol
There's something awfully syncretistic about the 72-foot Statue of Liberation Through Christ, created by World Overcomers Outreach in Memphis. It looks like the New York Harbor's Statue of Liberty, only instead of a torch, she's carrying a cross, and instead of the July 4, 1776, tablet, she carries the Ten Commandments. Her crown says "Jehovah," and a tear is running down her cheek. A tear indeed. World Overcomers pastor Alton Williams says the 12,000-pound statue, which cost $260,000, was created to fight "godlessness in America." The New York Times quotes him saying, "This statue proves that Jesus Christ is Lord over America, he is Lord over Tennessee, he is Lord over Memphis." The Commercial Appeal of Memphis reports that at the unveiling, Williams "faced the 72-foot statue and blessed the city of Memphis against disease, crime, intolerance and poverty."
 Weblog isn't sure the way to fight godlessness is to create what American Christians would see in any other culture as an idol. Perhaps next a nice Midwestern church can erect a statue of a giant gilded cow that says "Holy Cow! God Loves You!" or "Let Jesus Moooove Into Your Life."
3. Priest says college objected to his Catholicism
James A. Crowley says his department head at Naugatuck Valley Community College objected to him using "Catholic examples" while teaching business ethics classes. Crowley, who has been teaching at the college since 1971, is a Roman Catholic priest. The head of the business department also allegedly objected to Crowley wearing clerical clothing and references to him as "father." Crowley is now suing the school, along with his immediate supervisor, claiming religious discrimination and retaliation.
4. AIDS speaker arrested for fraud
Cassey Weierbach has toured the country, speaking to churches, youth groups, and the media about her rape, AIDS infection, and imminent death from progressive multifocal leucoencephalopathy. Now she may bring her tale to a new location: criminal court. Weierbach faces fraud charges, and the Pennsylvania Office of Inspector General says she never had AIDS.
The whistleblower, as it turns out, is Lois Randolph, former pastor of Lower Saucon United Church of Christ, who says she investigated Weierbach's claims after the congregation gave her money and other gifts. "She duped my church," Randolph told the Allentown Morning Call last month. Cassey claimed that Randolph was motivated by homophobia. "It seems like she is going to make my life living hell," she responded  "Do you hate me so much because I'm gay that you are willing to destroy my life?" Somehow, that charge rings hollow at a United Church of Christ congregation. "I believe God created us all to be loved and love one another," said Randolph. "I can't believe God made a mistake. I recognize that there are some people who are homosexuals, and I accept it." The  Morning Call reported that Weierbach took advantage of other churches, such as Bethlehem's First Baptist Church and the Lehigh Valley Church of Christ, both evangelical congregations.
5. Eviction notices
At least one Belgian church has been cleared of the illegal immigrants—mostly Muslim—that have been squatting there with the support of church leaders. Expatica reports that police raided Our Sweet Lady of the Immaculate Conception in Anderlecht, and arrested four dozen immigrant protesters. "Residents also claimed that they heard heated discussions and witnessed fights because only foreigners without proper identification documents were being allowed to enter the church," said the news service. About 40 other churches in Belgium are also occupied by immigrant protesters—with the support of Belgian church leaders.
Meanwhile, in Goa, India, church officials are the ones behind some new eviction notices. Tourism guides are no longer welcome at the Bom Jesus Basilica, the Herald reports. "The move comes in the backdrop of severe criticism voiced by the Catholic community that tourists were barging into the Basilica during religious services, while non-Christians were even found rushing to receive the Holy Communion, thus hurting the religious sentiments of the Catholics," says the paper. Tourists are still welcome. But tours must end at the basilica's entrance.
Quote of the day
"I don't think it is a sin to be rich; it's a sin to die rich. I want people to make as much money as they can as long as they give it away as much as they can."
—Rick Warren, quoted by the Sydney Morning Herald. The Saddleback Church pastor is in Australia for the Hillsong Conference.
More articles
Mt. Soledad cross | Graven images | Church and state | Politics | Obama's speech | Life ethics | Abortion | Sexual ethics | Anglicanism | Australia's Uniting Church | Crime and abuse | AIDS speaker busted | Education | America's founding fathers | History | Catholicism | Reclaiming churches abroad | Church life | Missions and ministry | Interfaith relations | India | Other stories of interest
Church's statue unveiled, blessed | Cross-bearing 'Liberty' receives mixed reviews (Commercial Appeal, Memphis, Tenn.)


Also: Lady Liberty trades in some trappings | A Memphis church has built a giant replica of the Statue of Liberty, replacing the torch with a large gold cross (The New York Times)


Fallen soldier gets a Bronze Star but no pagan star | More on the military memorial controversy (The Washington Post)


Stafford leaders want no more churches | The leaders of a small Texas town are hoping to put out the "no vacancy" sign for religious organizations hoping to build there (KPRC, Houston)


Cowboy church remains in limbo | Bedford County officials and church leaders interpret a letter about the issue differently (The Roanoke Times, Va.)


CBS4 investigates Arvada church's land battle | The city is preparing to use eminent domain to take the land and build a parking lot for its new library, a tactic city officials call a last resort (KCNC, Denver)


Honor guard's new wrinkle | Air Force's flag folding ceremonies lose religious references (Las Vegas Review-Journal)


Bans douse Indian fire ceremonies | No exemptions given for religious practices (Rocky Mountain News, Denver)


Fayette County land owner claims concerts, parties are 'church' | William Pritts claims he founded his Church of Universal Love and Music in Bullskin, Fayette County, to "advance non-denominational religion through music" (Pittsburgh Post-Gazette)


Also: Bullskin Twp. man sues county (Herald Standard, Uniontown, Pa.)


The Lina Joy case: Right not infringed on | Compelling a Muslim to get an apostasy order from the Syariah Court to renounce his or her religion does not infringe on a person's Constitutional right to profess another religion, the Federal Court heard (The Malaysia Star)


Update: Counsel: Law not divisive (The Malaysia Star)


Democrats should heed Senator Obama and get some religion | The party must compete for the support of evangelicals and other churchgoing Americans (Erick Wakiaga, Home News Tribune, East Brunswick, N.J.)


In good faith | The real meaning of Barack Obama's speech on religion and politics (Amy Sullivan, Slate)


Efforts to get the Word out can be tricky | Evangelism, political and spiritual (Dawn Turner Trice, Chicago Tribune)


Irish woman sues over frozen embryos | A landmark lawsuit seeking to confirm a frozen embryo's right to life opened in an Irish court Monday, a touchstone issue in a predominantly Roman Catholic country whose constitution outlaws abortion and commits the state to defend the unborn (Associated Press)


Also: Frozen embryos' rightful place with her, says mother (Irish Examiner)


Hwang accepts faked clone blame | But Hwang Woo-suk, who is charged with fraud and embezzlement, repeated a claim that the fabrications were the work of junior researchers (BBC)


Abortion time limit rethink urged | More than 60 MPs have now signed a Commons motion backing a review after scientific and medical changes (BBC)


I have. I'm not ashamed | If we can get women to speak about it without embarrassment, we can break the abortion taboo (Zoe Williams, The Guardian, London)


Don't speak of it?! | Silencing an abortion debate (Kathryn Jean Lopez, National Review Online)


African leaders attack divided church plan | The leaders of Africa's largest Anglican church have attacked plans for a new division in the Communion, comparing liberal attitudes about gays to a "cancerous lump" within the global church (The Telegraph, London)


Priest suing city college | Suit charges discrimination and retaliation by administrators and campus police (Republican-American, Waterbury, Ct.)


Armstrong opts for college post | Former U.S. senator accepts presidency of evangelical Colorado Christian University (Rocky Mountain News, Denver)


With academy flock, chaplain tends many faiths | Lt. Cmdr. Kimberly Sawatsky is Navy Chaplain of the Year (The Baltimore Sun)


US, EU clash over Yongsan Foreign School | With the European Union Chamber of Commerce in Korea (EUCCK) withdrawing from the Yongsan Foreign School, Seoul, board of directors Thursday, American and European expatriates here are divided over who should run the school. American-style International Christian School was picked to run the foreign school instead of the British International School (The Korea Times)


Fireworks over faith of founders | Even now, after years of reviewing diaries, letters and other papers, historians still disagree about who practiced what faith publicly and what they privately believed (The Sacramento Bee)


Washington's faith unfurled | The Founding Father was Christian—not a deist, as myth might have people believe (Peter A. Lillback, The Philadelphia Inquirer)


Sunlight on the Vatican's dark hours | Pope takes a good, if limited and overdue, first step in opening the Church's pre-war archives (Editorial, Los Angeles Times)


Nazi ship to become vehicle of faith | Croatia's defense ministry has donated a World War II Nazi ship to a local Roman Catholic monastery, which will turn it into a sailing church (Associated Press)


Original article: Desantni brod postaje ploveća crkva za mlade (Jutarnji List, Croatia, link via Open Book)


Police raid Brussels church, evict immigrant protestors | Brussels South police raided the church Our Sweet Lady of the Immaculate Conception in Anderlecht on Tuesday and cleared the building of 48 illegal immigrants (Expatica)


Guides 'evicted' from Basilica | In a drastic move, tourist guiding activities inside the Bom Jesus Basilica have now been banned with immediate effect. The move comes in the backdrop of severe criticism voiced by the Catholic community that tourists were barging into the Basilica during religious services, while non-Christians were even found rushing to receive the Holy Communion, thus hurting the religious sentiments of the Catholics (Herald, Goa, India)


Jews for Jesus hit town and find a tough crowd | Jewish groups have united in opposition to a campaign that has set off debates about religion, ethnicity, and culture (The New York Times)


Graham son brings word to Baltimore | Health permitting, Billy Graham will preach a brief message Sunday. But the unmistakable leader of the event will be Franklin Graham (The Baltimore Sun)


Churches, saying lessons learned, prepare for next disaster | Many religious leaders acknowledge their response wasn't well-organized. This time, they'll be ready (Associated Press)


Mediating the mosque dispute | Panel calls for quiet resolution (The Boston Globe)


Israel's version of 'Wife Swap,' in which cultures and religions collide | In a country where Jews and Arabs rarely mix, a reality television show brings together unlikely religious bedfellows, with mixed results (The New York Times)


Putin warns of Christian-Islam conflict | Christians, Jews, Muslims and Buddhists from several dozen countries including Iran, Israel and the United States have gathered in Moscow for the World Summit of Religious Leaders (The New York Times)


Priests, nuns can practise as advocates: SC | Priests and nuns can continue practise law in addition to performing their church duties. The SC on Tuesday refused to stay a Kerala HC ruling in favour of priests and nuns, despite reservations expressed by Bar Council of India (The Times of India)


Nuns, priests cannot enroll as advocates: Bar Council | Special Leave Petitions against Kerala High Court verdict admitted (The Hindu, India)


Related Elsewhere:
Suggest links and stories by sending e-mail to weblog@christianitytoday.com
See our past Weblog updates:
July 3
June 29b | 29a | 28
June 23 | 22 | 21
June 16 | 15 | 14 | 13b | 13
June 9 | 8 | 7 | 6
June 2b | 2a | May 31
May 26 | 24
Weblog
Launched in 1999, Christianity Today's Weblog was not just one of the first religion-oriented weblogs, but one of the first published by a media organization. (Hence its rather bland title.) Mostly compiled by then-online editor Ted Olsen, Weblog rounded up religion news and opinion pieces from publications around the world. As Christianity Today's website grew, it launched other blogs. Olsen took on management responsibilities, and the Weblog feature as such was mothballed. But CT's efforts to round up important news and opinion from around the web continues, especially on our Gleanings feature.
Ted Olsen is Christianity Today's executive editor. He wrote the magazine's Weblog—a collection of news and opinion articles from mainstream news sources around the world—from 1999 to 2006. In 2004, the magazine launched Weblog in Print, which looks for unexpected connections and trends in articles appearing in the mainstream press. The column was later renamed "Tidings" and ran until 2007.
Previous Weblog Columns: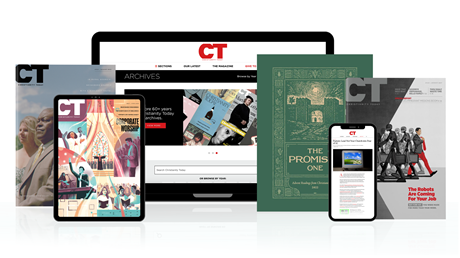 Annual & Monthly subscriptions available.
Print & Digital Issues of CT magazine
Complete access to every article on ChristianityToday.com
Unlimited access to 65+ years of CT's online archives
Member-only special issues
Subscribe
Supreme Court Stays Mt. Soledad Cross Removal
Supreme Court Stays Mt. Soledad Cross Removal