1. Civilization saved from the brink of destruction
The top courts in New York and Georgia both ruled today that state marriage laws are constitutional. The New York Times, which calls the New York decision "a crushing blow for advocates of gay and lesbian marriage," emphasizes on its home page that the "court did not rule that the state should not or could not allow gay marriages, only that the state constitution did not require that it allow them."
Or, in the language of the New York State Court of Appeals decision, "We hold that the New York Constitution does not compel recognition of marriages between members of the same sex. Whether such marriages should be recognized is a question to be addressed by the Legislature."
The New York decision was split, with three judges signing on to the majority opinion, one judge concurring, and two dissenting. The Georgia Supreme Court decision, however, was unanimous—but the issue it considered was much narrower and technical. A lower court judge had thrown out Georgia's marriage amendment because the state constitution requires ballot measures to focus on a single subject; critics said the amendment's sentence "No union between persons of the same sex shall be recognized by this state as entitled to the benefits of marriage" was too broad. The Georgia Supreme Court disagreed. "[I]t is apparent that the prohibition against recognizing same-sex unions as entitled to the benefits of marriage is not 'dissimilar and discordant' to the objective of reserving the status of marriage and its attendant benefits exclusively to unions of man and woman," the justices ruled in their brief opinion.
2. Malaysia government: You can't convert from Islam to Christianity "at will"
Lina Joy is a Christian Malay. At least, that's what she says. The Malaysian government says she's still a Muslim named Azlina Jailani, and won't let her change her identity card without the Islamic Shari'ah (Syariah) courts approving her "apostasy." Meanwhile, the government says, she can't have a Christian wedding so long as she's officially a Muslim.
"The issue here is that, in order to renounce Islam, she must go to the proper channels as provided by law and she cannot renounce her religion, Islam, at will," a government lawyer argued at Malaysia's Federal Court, the nation's highest judicial authority, yesterday. "The issue of renunciation is a matter pertaining to the akidah (faith) of a Muslim transgressed into the realism of the Syariah Law, which needs serious consideration and proper interpretation of such laws. As such, only the Syariah Court and/or bodies are qualified to make such a determination."
Compass Direct reported in April that the Syariah courts have never granted permission for a Malaysian Muslim to leave Islam.
3. U.K. call to regulate churches
AFRUCA (Africans Unite Against Child Abuse), a British charity, says recent high-profile cases of child exorcisms and anti-witchcraft actions in African churches in the U.K. demonstrate the need to regulate religious practices. "AFRUCA is calling for the establishment of a registration and monitoring system to regulate the faith sector and ensure anyone who wants to set up any place of worship is vetted to ensure they are fit to do so," the organization says in a press release. "We believe such a system should help to weed out unscrupulous persons and ensure they are fit to be spiritual leaders with responsibilities for vulnerable families and their children most of whom rely exclusively on their faith networks for support, help and assistance in settling into their lives in the country." Of course, child abuse is already a crime in the U.K., so this measure would simply ensure that churches are forced to be churches in precisely the way that the government wishes them to be.
4. Africa Bible Commentary released
For a better idea on how to deal with witchcraft in African churches and communities, check out the 1,700-page Africa Bible Commentary, which was officially released this week. There's a full entry on witchcraft, as well as entries on HIV and AIDS, polygamy, debt, syncretism, blood, Christians and politics, and other subjects. Zondervan offers a sampler, which contains the full commentary of the Book of James and some introductory material. This will almost certainly be hailed as the most remarkable Christian publication of the year.
5. Yemen Times: The missionaries did it better
Even before the deadly 2002 shooting at Jibla Baptist Hospital in Yemen, the Baptists had planned to turn over control of the facility, providing medical care but not administration. Now Jibla Hospital is run by the government, and the Yemen Times says the administration is doing poorly. "Locals maintained that like other public hospitals, Jibla Hospital would last only six months or a year at best," Nashwan Dammaj reports.
Quote of the day:
"What we've got to do in the music business is destroy the image that has got through … which has [given] God Almighty and Jesus Christ … an image of a weakling. A slightly effeminate image. A sort of Sunday image. A religious image. This is not the case. … This is something we're trying in U2 to do something about."
—Bono, in a 1981 presentation to a weekend retreat for Christian musicians with fellow band members the Edge and Larry Mullen Jr. While the fan site @U2 reports bootleg recordings of the presentation have been making the rounds for years, the organizer of the retreat is now offering an official CD for sale.
More articles
Life ethics | Politics | Church and state | Crime and abuse | Ken Lay | Money and business | Entertainment and media | Books | Church life | Missions and ministry | Other stories of interest
Government morally irresponsible: retiring church head | The Australian Government has sacrificed millions of people on the altar of the market, preferred to help the rich over the poor, and has made human rights negotiable, outgoing Uniting Church president Dean Drayton said in his farewell speech yesterday (The Age, Melbourne, Australia)


Also: Church head: don't knock PC talk | Political leaders had failed to confront the big issues such as poverty and environmental sustainability and wrongly regarded economics as God, a senior church leader said yesterday (The Australian)


Northern Christians rally behind Gana | As the race for who succeeds President Olusegun Obasanjo on May 29, 2007 gathers momentum, Prof. Jerry Gana, until recently a presidential adviser, has become a rallying point among Northern Christians who see in him worthy presidential material (This Day, Nigeria)


Ecological efforts unite faiths in common cause | By addressing issues such as global warming, church leaders are linking religion and environment (Associated Press, alt.)


Faith, race and Barack Obama | There could be far more like him, if gerrymandering vanished (The Economist)


Obama's prayer | Wooing evangelicals (Peter Wood, National Review Online)


Pulpit politics | Whether it's candidate Bill Clinton addressing followers from the pulpit or Gov. Rick Perry signing a bill in a church school, it's wrong (Editorial, Waco Tribune-Herald, Tex.)


Patriotism, religion, politics: All have separate, real roles | Many Christians do not support the religious fervor reaching into our government or the political fervor reaching into many churches, but they do not speak up and are complicit in their silence (Peggy L. Davis, The Atlanta Journal-Constitution)


Can a Mormon ever be elected U.S. president? | Poll shows that many conservative Christians would reject candidate (Cal Thomas)


Call for church child-safety vet | People who want to set up churches should be vetted to ensure the safety of children, a children's charity says (BBC)


Navy chaplain's complaint ruled 'without merit' | A Navy review has concluded that a complaint from a ship chaplain was "without merit" when he charged that his commanding officer censored and harassed him by discouraging the use of certain Bible quotations (The Washington Times)


Diocese, plaintiffs square off over judge | A Vermont judge should be blocked from overseeing civil cases involving alleged sexual abuse by priests because he has shown "bias and prejudice" against the church, according to the statewide Diocese of Burlington (Rutland Herald, Vt.)


Palestine police investigate Baptist pastor's shooting | Det. Larry Mars of the Palestine Police Department said 54-year-old Dwight Callier, pastor of Mount Calvary Baptist Church in Palestine, was listed in serious condition at Mother Frances Hospital as of Tuesday afternoon (Tyler Morning Telegraph, Tex.)


Church under probe | Schoolgirl allegedly gang-raped while deacon watched (Jamaica Gleaner)


Facing prison, Lay believed he had future | A week before death, Kenneth Lay told pastor he believed he had a future, if it included prison (Associated Press)


Reflections on the life and death of Kenneth L. Lay | An interview with Steve Wende, pastor of Lay's church (Los Angeles Times)


Woman says firm fired her for being Wiccan | A Schaumburg company allegedly fired a woman, and one employee is accused of calling her a "devil worshipper" after she disclosed she practiced Wicca -- a pagan religion viewed by some as witchcraft (Chicago Sun-Times)


They shall spread the (printed) word | Store, reportedly New England's largest Christian bookstore, joins principles of spirituality, prosperity (The Boston Globe)


Rare recording featuring three-fourths of U2 for sale | Message from 1981 to a weekend retreat for Christian musicians described as 'fresh and relevant' (@U2)


Celebrated gospel artist battled racism | As Andrae Crouch remembers it, the crowd was roaring — until they actually saw the band (Associated Press)


A 'hit nun,' nerdy librarian and televangelists collide in Mime Troupe's smart 'GodFellas' | A dynamic punk-rock-for-Christ gospel, belted with in-your-face attitude by Lisa Hori-Garcia, opens the show with a jolt (San Francisco Chronicle)


Cox buys WBGB Jacksonville from Salem | Cox Radio has purchased WBGB Jacksonville, Fla., from Salem Communications for $7.7 million in cash. The company expects the transaction to close in the second half of 2006 (Billboard Radio Monitor)


Bible commentary for Africa tackles HIV | African scholars have launched the continent's first bible commentary which tackles issues like female circumcision, HIV/AIDS and ethnic violence to make the scriptures more relevant for Africans (Reuters)


Also: Bible gets African interpretation | The first Bible commentary written exclusively by African theologians has been launched in Kenya (BBC)


A star's-eye view of faith | An interview with Cathleen Falsani, author of The God Factor (The Washington Times)


Ordain gay Presbyterians? | Policy affirms Holy Spirit may lead 'in ways not previously envisioned' (Samuel E. Roberson, The Charlotte Observer, N.C.)


Debate over the soul of the Episcopal Church | The Episcopal Church is certainly at a crossroads in its history, perhaps like none other since our beginnings at the founding of our nation and independence from Great Britain (Philip C. Linder, The State, Columbia, S.C.)


Listening for God in the silence | When Quakers get together for worship, you hear something you don't hear in most contemporary worship services (Kevin Eigelbach, Cincinnati Post)


Jibla Hospital—then and now | Jibla Hospital formerly was run by foreigners, but the government took over its operation in 2002, resulting in deteriorating administration (Yemen Times)


Gift horse or a Trojan horse? | John Hagee's message: There would be absolutely no proselytizing or missionizing associated with Christians United For Israel, the group he established in February to nationalize Christian pro-Israel lobbying (The Jerusalem Post)


Related Elsewhere:
Suggest links and stories by sending e-mail to weblog@christianitytoday.com
See our past Weblog updates:
July 5 | 3
June 29b | 29a | 28
June 23 | 22 | 21
June 16 | 15 | 14 | 13b | 13
June 9 | 8 | 7 | 6
June 2b | 2a | May 31
May 26 | 24
Weblog
Launched in 1999, Christianity Today's Weblog was not just one of the first religion-oriented weblogs, but one of the first published by a media organization. (Hence its rather bland title.) Mostly compiled by then-online editor Ted Olsen, Weblog rounded up religion news and opinion pieces from publications around the world. As Christianity Today's website grew, it launched other blogs. Olsen took on management responsibilities, and the Weblog feature as such was mothballed. But CT's efforts to round up important news and opinion from around the web continues, especially on our Gleanings feature.
Ted Olsen is Christianity Today's executive editor. He wrote the magazine's Weblog—a collection of news and opinion articles from mainstream news sources around the world—from 1999 to 2006. In 2004, the magazine launched Weblog in Print, which looks for unexpected connections and trends in articles appearing in the mainstream press. The column was later renamed "Tidings" and ran until 2007.
Previous Weblog Columns: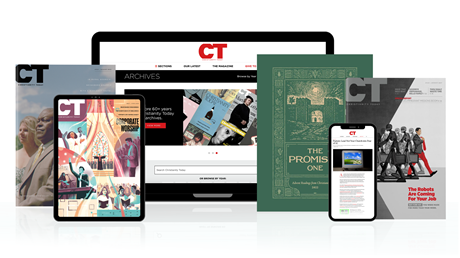 Subscribe to Christianity Today and get access to this article plus 65+ years of archives.
Home delivery of CT magazine
Complete access to articles on ChristianityToday.com
Over 120 years of magazine archives plus full access to all of CT's online archives
Subscribe Now
Top Courts in N.Y., Ga. Uphold Gay Marriage Bans
Top Courts in N.Y., Ga. Uphold Gay Marriage Bans