Today's Top Five Six
1. Another church treasurer embezzlement story
Not all the Presbyterian Church (USA)'s financial woes are due to declines in giving by local congregations. The denomination says that its second-ranking financial officer, Judy Golliher, has admitted to embezzlement and that $100,000 is missing from the general operating fund.
The Courier-Journal notes, "Golliher was originally hired as interim controller in 2004 to replace Nagy Tawfik, who was fired because of allegations he had tampered with a bidding process. The church last month paid Tawfik $390,000 to settle allegations that he was wrongfully terminated, in part based on his national origin. Tawfik is Egyptian."
If this sounds familiar, by the way, you're probably remembering Ellen Cooke was convicted of embezzling $1.5 million as treasurer of the Episcopal Church USA. Or when George Patrick was arrested for embezzling $800,000 as treasurer of the Evangelical Lutheran Church in America's New England Synod. Just so you know, this isn't what Christianity Today's newest sister publication, Church Finance Today, is about. It's for church treasurers—not a warning about church treasurers.
2. U.K. prison drops InnerChange out of diversity concerns
A month after a federal judge called Prison Fellowship's InnerChange Freedom Initiative "pervasively sectarian" and ordered the program in Iowa's Newton Correctional Facility to close, comes word that a sister program has been kicked out of Dartmoor prison in England. "There are two reasons for the closure," Prison Fellowship England and Wales chairman Lady Georgie Wates tells The Church of England Newspaper. "First we don't comply with the diversity policy of the Prison Service because we teach the sanctity of heterosexual marriage as the Bible says, which is seen as homophobic. And secondly, because we don't fit in with the multi-faith agenda. They think we should be teaching a bit of every religion and that what we're teaching offends other faiths." Bishop of Rochester Michael Nazir-Ali tells the paper he worries that the decision could indicate a broader marginalization of Christianity in chaplaincies.
3. County says megachurch can't partner with seminary
McLean Bible Church, one of the country's most prominent congregations, wanted high-level Bible studies at its church, so it partnered with Capitol Bible Seminary to offer classes.
"[I]nvolvement with the seminary has not changed the church's educational program or purpose and … the scope, nature and relative size of the classes have not changed," says a press release from the American Center for Law and Justice. "In addition, the church does not issue any academic credit or attempt to confer any academic degrees."
But Fairfax County says that the seminary could in theory start offering credit for the classes, so the program is prohibited under the church's current zoning provision. If it wants to offer college-level classes, county administrators insist, McLean Bible must seek special zoning and approval as a college or university. As you've no doubt concluded by the above allusion to the ACLJ, the church is now suing over the matter.
4. Gordon-Conwell Seminary seeks a market among orthodox Anglicans
With the Anglican Communion fragmenting, Gordon-Conwell Theological Seminary says it sees an opening in ministerial training. "We really are being opportunistic here," academic dean Barry H. Corey told The Boston Globe. "Given what's going on in terms of the schisms in the Episcopal Church USA … as churches depart, they are going to need training for their ministers, and they are probably not going to send them to Episcopal Divinity School in Cambridge, because those schools pretty much have sided with the liberal end of the spectrum."
The Globe notes that not all schools have sided with the liberal end, and names Nashotah House Theological Seminary in Wisconsin and Trinity Episcopal School for Ministry in Pennsylvania as examples of conservative Episcopal seminaries. (Gordon-Conwell is working with both schools in developing its program.) The paper also notes that Northern Seminary just launched its own Anglican Studies Emphasis in partnership with Trinity Episcopal. Had the story gone beyond America's borders, it probably would have mentioned Regent College's Study Program in World Anglicanism, which is a partnership with Oxford's Wycliffe Hall, Moore Theological College in Sydney, and on the U.K. side, St John's Theological College in Nottingham, Oak Hill College in London, and Trinity College in Bristol. The Anglican Mission in America (AMiA), by the way, has its own Anglican Studies Program, but it is not a degree program; it's really a training in Anglicanism for those with M.Div. degrees from other seminaries.
Northern and Gordon-Conwell smell a new market/ministry here. The story in the breakup of the Episcopal Church USA, then, may not be the denomination's takeover by the Left, but the rise of the young orthodox.
5. Jews still for Jesus
Jews for Jesus has 42 illuminated ads throughout the subway stations at Times Square, The New York Post reports. The paper rounds up the usual complaints. "I personally don't think religion has any place in advertising," Roman Meisenberg explains. "Why do we need this in a public space like the subways?" Yes, from now on, no ads that promise a better life. And religious ads should only be displayed in private, where no one can see them. Makes perfect sense.
Sarah Stevens remarks, "Those people are so annoying, but I'd rather have these ads than have them stop me on the street." Ah, Sarah. You didn't read your Times on Tuesday, did you?
6. There's actually something interesting about the New York gay marriage decision
Speaking of the Times, there's a revealing analysis piece today about yesterday's New York State Court of Appeals decision upholding the ban on same-sex marriage. "Gay leaders," the paper says, are upset not just about the court's decision, but about its reasoning. Here are some sections they find particularly troubling:
In its brief due process analysis [in 1964's Loving v. Virginia case, where the Supreme Court threw out race-based restrictions on marriage], the Supreme Court reiterated that marriage is a right "fundamental to our very existence and survival"— a clear reference to the link between marriage and procreation. … Far from recognizing a right to marry extending beyond the one woman and one man union, it is evident from the Loving decision that the Supreme Court viewed marriage as fundamental precisely because of its relationship to human procreation. …
It is not irrational for the Legislature to provide an incentive for opposite-sex couples—for whom children may be conceived from casual, even momentary intimate relationships—to marry, create a family environment, and support their children. Although many same-sex couples share these family objectives and are competently raising children in a stable environment, they are simply not similarly situated to opposite-sex couples in this regard given the intrinsic differences in the assisted reproduction or adoption processes that most homosexual couples rely on to have children.
But what apparently really burns the "gay leaders" is the decision's framing the issue as "sexual preference" instead of "sexual orientation." For example, "A person's preference for the sort of sexual activity that cannot lead to the birth of children is relevant to the State's interest in fostering relationships that will serve children best." It's no oversight: The court does talk about sexual orientation, but mainly to dismiss the idea that gays and lesbians are denied the benefits of heterosexual marriage. "Regardless of sexual orientation," the court explained, "any person can marry a person of the opposite sex."
Quote of the day:
"For the public at large, the linguistic and narrative place that for more than two centuries had been occupied by the KJV is now substantially filled by the omnipresent electronic media. … Whether any modern translation of the Scriptures, or any other moral guide, can anchor the culture as the KJV once did, is a question worth serious consideration in the run-up to 2011 and the 400th anniversary of this unsurpassed cultural force."
—Historian Mark Noll, writing about the cultural impact of the King James Version of the Bible in today's Wall Street Journal.
More articles
Church and state | Embezzlement allegations at PCUSA | Crime and religious freedom | Politics (non-U.S.) | Politics (U.S.) | Life ethics | Sudan | Missions & ministry | Education | Homosexuality | Church life | Spirituality | People | Other stories of interest
Prison ministry axed | A groundbreaking discipleship course for prisoners in Dartmoor prison has been axed by the Prison Service after only one year because it did not comply with 'diversity policies' (Church of England Newspaper)


County rejects appeal from McLean Bible | Leaders of McLean Bible Church may take Fairfax County to court seeking the right to conduct theological classes at its campus on Leesburg Pike, according to the church's attorney, Stuart Mendelsohn (The Fairfax County Times, Va.)


Also: Church sues to keep offering classes in its building | The American Center for Law and Justice announced yesterday that it had filed suit in a Virginia federal district court to defend the rights of the McLean Bible Church to offer Bible study and religious ministry classes in its church building under its current use permit (Religion Clause)


Embezzlement allegations at PCUSA:
Presbyterian funds missing | Treasurer is fired (The Courier-Journal, Louisville, Ky.)


PC(USA) treasury official charged with embezzlement | Judy Golliher fired; more than $100,000 missing (Presbyterian News Service)


PC(USA) fires Golliher | Church charges embezzlement of at least $102,000 (The Presbyterian Outlook)


Church fire was arson, police say | Investigators probing a suspicious fire at the Parchment United Methodist Church reached a chilling conclusion Thursday: Someone intentionally set the church ablaze under cover of night early Wednesday (Kalamazoo Gazette, Mi.)


Democrats of little faith | Their politicians want evangelical voters, but their voters don't want evangelical politicians (Patrick Hynes, The American Spectator)


Baptizing America is goal of right-wing Christocrats | James Rudin says so. (Cleveland Jewish News)


No political party can contain us | As we approach the midterm congressional elections, poverty—at home and abroad; economic and educational parity—or the lack thereof; voting rights and accessibility; reconstruction of the Gulf Coast; and the war in Iraq are all critical issues that African-Americans should consider as we head to the ballot box (T.D. Jakes, CNN)


The top 10 power brokers of the Religious Right | Who they are, what they want, and why these American ayatollahs must be stopped (Rob Boston, Church and State (Americans United's magazine), via Alternet)


Religious row over stem cell work | Scientists have condemned a leading Catholic cardinal's calls for those who carry out embryonic stem cell research to be excommunicated (BBC)


False dilemma on stem cells | If you believe that embryos a few days after conception have the same human rights as you or me, killing innocent embryos is obviously intolerable. But do opponents of stem cell research really believe that? (Michael Kinsley, The Washington Post)


A step toward clarity | Recent cloning headlines may herald the end of embryo name games (Thomas Berg, National Review Online)


Sudan's 'Lost Boys' find old friends at conference | Just children when displaced, refugees attain success in U.S. (The Washington Post)


Darfur's accidental warmongers | Bad reporting has made Darfur's conflict worse, and might even lead to an unnecessary international war, a British journalist argues (Reuters/Alertnet)


Conservative path offered on Episcopal training | Mass. seminary sees opportunity (The Boston Globe)


Indian River board tweaks prayer policy | It's been more than two years since the battle over prayer began in the Indian River School District. And, with two court cases still pending, it doesn't figure to come to a conclusion anytime soon (Sussex Post, Ct., link via Religion Clause)


Irreconcilable differences? | Five professors say that Patrick Henry College encroached on their academic freedom, but the administration says it is preventing the slide to secularism that has characterized many once-Christian colleges (World)


A Canterbury tale: U.S. Episcopalians in manufactured schism | It's the old liberals' dilemma, ecclesiastical version. They fight dirty; we don't. They organize; we temporize. They seize the pendulum and give it a rightward shove; we wait meekly for the pendulum to swing back (Peter Laarman, The Huffington Post)


Media provides cover for assault on traditional marriage | If the battle to protect marriage takes even five more years, liberal judges and activists will have destroyed this 5,000-year-old institution, which was designed by the Creator, Himself. Even now, they are close to achieving that coveted objective (James Dobson, CNN)


Spokane diocese reaches abuse agreement | The Roman Catholic Diocese of Spokane has reached agreements with two more insurance carriers on payments to cover sexual abuse claims as the diocese's bankruptcy case heads into mediation (Associated Press)


Church of England 'to relax' wedding rules | Synod will also consider whether the ordination of women priests can be "theologically justified" (BBC)


Female bishop's election continues to spur rift | Katherine Schori's election to bishop of the Episcopal Church in America was unexpected for some and also unwanted by many (WFAA, Dallas)


Satanic worship rampant in Stanly County, pastor claims | North Carolina is the headquarters for cult activity for the nation, says Alan DiDio, pastor of Encounter Christ Church of Albemarle (The Stanly News & Press, N.C.)


'I do not think they should be forgiven' | The mother of a 7/7 victim speaks on the anniversary of the attack to say her feelings about the bombers have still not changed (The Times, London)


'Christian SA' must still exorcise legacy of the whip and the gun | It is commonplace in the townships to see bishops, priests, church elders of the biggest "western" churches — Roman Catholic, Anglican, Methodist — drink home-brewed beer and slaughter on Saturday and then go to church the following day (Vuyo Mvoko, Business Day, South Africa)


No hamburger in heaven | The Bible says animals are part of salvation history--and hints that humans, as their spiritual leaders, shouldn't eat them. An interview with Dr. Stephen Webb (Beliefnet)


Also: God prefers the Veggieburger | Christian vegetarianism is a diet of hope, one that witnesses to the Bible's vision of our holy future with animals (Beliefnet)


The disbeliever | Sam Harris, author of The End of Faith, on why religious moderates are worse than fundamentalists, 9/11 led us into a deranged holy war, and believers should be treated like alien-abduction kooks (Salon.com)


O.C. pastor heading to N. Korea | "Purpose-Driven" author planning first evangelical stadium crusade in 60 years inside communist nation (The Orange County Register, Ca.)


Turner religious broadcast nixed | WXYZ-TV (Channel 7) news anchor Frank Turner's request to get a temporary federal court injunction to allow him to circumvent his exclusive services contract clause and commence weekday evangelical broadcasting for WEXL-AM (1340) was turned down late Thursday (Detroit Free Press)


A bridge between the faiths | Maronite Catholic leader helps keep balance in Lebanon (Chicago Tribune)


Christian retailers to exhibit industry's booming future | More than 10,000 Christian retailers and distributors of Christian products will be in Denver next week for the International Christian Retail Show (The Denver Post)


The American biblical tradition | The King James Version used to be our common text (Mark A. Noll, The Wall Street Journal)


Open the FloodGates | The Microsoft mogul and his wife should not leave their foundation to posterity (John J. Miller, The Wall Street Journal)


Related Elsewhere:
Suggest links and stories by sending e-mail to weblog@christianitytoday.com
See our past Weblog updates:
July 6 | 5 | 3
June 29b | 29a | 28
June 23 | 22 | 21
June 16 | 15 | 14 | 13b | 13
June 9 | 8 | 7 | 6
June 2b | 2a | May 31
May 26 | 24
Weblog
Launched in 1999, Christianity Today's Weblog was not just one of the first religion-oriented weblogs, but one of the first published by a media organization. (Hence its rather bland title.) Mostly compiled by then-online editor Ted Olsen, Weblog rounded up religion news and opinion pieces from publications around the world. As Christianity Today's website grew, it launched other blogs. Olsen took on management responsibilities, and the Weblog feature as such was mothballed. But CT's efforts to round up important news and opinion from around the web continues, especially on our Gleanings feature.
Ted Olsen is Christianity Today's executive editor. He wrote the magazine's Weblog—a collection of news and opinion articles from mainstream news sources around the world—from 1999 to 2006. In 2004, the magazine launched Weblog in Print, which looks for unexpected connections and trends in articles appearing in the mainstream press. The column was later renamed "Tidings" and ran until 2007.
Previous Weblog Columns: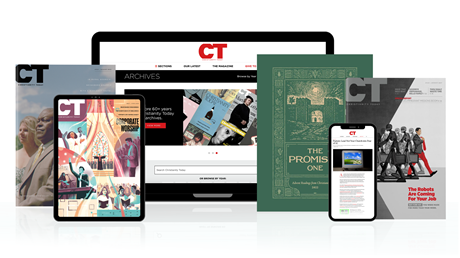 Subscribe to Christianity Today and get access to this article plus 65+ years of archives.
Home delivery of CT magazine
Complete access to articles on ChristianityToday.com
Over 120 years of magazine archives plus full access to all of CT's online archives
Subscribe Now
Treasurer Embezzled $100,000, Says PC(USA)
Treasurer Embezzled $100,000, Says PC(USA)