Today's Yesterday's Top Five
(Sorry for the delay in the posting. We'll try to post Wednesday stories by early this afternoon.)
1. Report: More than a third of religious worker visas fraudulent
Remember when the U.S. government banned Finnish theologian Veli-Matti Kärkkäinen from returning to his post at Fuller Seminary and revoked his "special immigrant religious worker" visa? Those visas might be a lot harder to come by very soon. The Boston Globe reports that the Department of Homeland Security
found numerous instances in which groups in the United States falsely claimed to be churches, and visa applicants lied about their religious vocations in order to get into the country. More than a third of the visas examined by investigators were based on fraudulent information. … The probe found a particularly high fraud rate among applicants from countries the government deemed to pose a security risk, such as Egypt, Algeria, Pakistan, Syria and Iraq, the report found. There were 11 applications for people from special-risk countries among the 220 petitions that were audited—and 8 of those 11 were fraudulent, it said.
Catholics quoted in the story are worried that curtailing or reforming the visa system could add even more hurdles for the church's bringing in foreign priests to fill many vacant pulpits. But Stewart Baker, assistant secretary for policy at the Department of Homeland Security, told the Globe that at the very least, the department needs to step up investigations.
"There is way too much fraud in this program," he told the Globe. "One of the things we need to do is go there more often and actually check that it is a real institution, because unfortunately one form of fraud is to say 'I have a storefront church,' and when you go to that address there is a store, not a church."
2. Christian Legal Society wins injunction against Southern Illinois U.
Can you name all the freedoms guaranteed by the First Amendment? Only 1 in 1,000 Americans can—it's that tricky freedom to petition for redress of grievances that gets 'em every time. But you'd think that the Southern Illinois University School of Law would be able to name most of them. Not so, according to a suit by the Christian Legal Society (CLS), which accuses the school of violating at least half of the First Amendment freedoms (three of five or six, depending on whether you count the religion stuff as one freedom or two), along with the Fourteenth Amendment rights of equal protection and due process, by revoking a CLS chapter's official student organization status.
Monday, the Seventh U.S. Circuit Court of Appeals gave CLS a significant victory, telling the university that it couldn't revoke the status just yet. That yet is important—while some media reports might make it seem like the court ruled on CLS's lawsuit, what it really did was rule on CLS's request for an injunction while the lawsuit moves forward. The 2-1 decision was granted because, the court said, CLS is likely to succeed in its lawsuit:
There are three reasons CLS is reasonably likely to succeed on the merits, and any one of them is enough to carry CLS's burden. First, it is not clear CLS actually violated any SIU policy, which was the justification offered for revoking its recognized student organization status. Second, CLS has shown a likelihood that SIU impermissibly infringed on CLS's  right of expressive association. Finally, CLS has shown a likelihood that SIU violated CLS's free speech rights by ejecting it from a speech forum in which it had a right to remain.
The decision may put pressure on SIU to settle the suit, or we'll see it again when the district court (which had earlier denied the injunction) considers the case. And, no doubt, we'll continue to see related cases as CLS chapters battle schools around the country.
3. Church attack thwarted in Egypt
Mohammed Masoud Khalil was reportedly set to stab Christians inside St. George's church in Qus, Egypt, when he was stopped by police, Reuters reports. "Police said he was mentally ill," says the report, which rightly notes that the same explanation was given for church attacks in April. "Many Christians," Reuters explains, "say the government used mental illness to cover up sectarian motives behind the attack."
4. Spirituality in a 'shroom
So, if spiritual feelings help medical patients, then shouldn't medical doctors try to make their patients feel more spiritual? What if spiritual feelings were something you could get from a pill—or, more accurately, from a mushroom? The Los Angeles Times raises some really interesting questions about a new study (pdf | html) published in Psychopharmacology, where Johns Hopkins University researchers found that psilocybin—the chemical found in "magic mushrooms"—"can occasion mystical-type experiences having substantial and sustained personal meaning and spiritual significance." This, the Times reports, "might have therapeutic value in improving the outlook of addicts and terminal cancer patients under enormous psychological burdens."
Lead researcher Roland R. Griffiths also says that further research into how psilocybin works with the brain could, in the Times's words, "explain the biology underlying spiritual experiences." In Griffiths's words, the research could uncover "the basis of ethics and morality."
Other people might disagree, Richard Sloan, a professor of behavioral medicine at Columbia University School of Medicine, warns the Times. "I would think religious people would find it objectionable to describe the religious experience as a product of neurochemistry with no intrinsic truth," he said. (Watch for Richard Sloan's essay on the limits of the scientific study of religion coming in the August issue of Christianity Today. Don't get Christianity Today? Then subscribe, you freeloader.)
By the way, if anyone has access to the Psychopharmacologyeditorial on the study, or to the four commentaries, I'd be interested in reading them.
5. More trouble for Jews for Jesus' underground campaign?
Friday's Weblog noted the predictable controversy over Jews for Jesus advertising in New York subway stations. Tuesday's New York Post reports a different angle, which is the skirmish between the evangelistic organization and the MTA:
Transit officials demanded the controversial evangelical group … stop using the brown and orange circular logos for the J and F trains in their literature, on their Web sites, or on T-shirts. The insignias were used to spell out the initials for the organization. The material includes a doctored photo of a subway station with the logos indicating J-F-J trains stop there.
But by the time the Post reported the story, Jews for Jesus had changed the logos and the MTA had backed off. So now Jews for Jesus can just go back to being "controversial" for being evangelistic.
Quote of the day:
"To show that they're cool."
—Jilene Framke of Angel Toes Inc., explaining to the Rocky Mountain News why Christian kids should wear the company's temporary Christian tattoos. Angel Toes is one of 410 exhibitors at the International Christian Retailers Show (formerly CBA) in Denver. Previous generations of Christian tattoo companies might have marketed such products as "conversation starters" for evangelism, or remarked about the socializing aspects of tattoos, even temporary ones. Now, it seems, the intent of Christian tattoos is to demonstrate solidarity with mainstream culture.
More articles
Church life | Copts | Pope Benedict XVI | Education | CLS vs. SIU | Homosexuality | Homosexuality and religion | Politics (U.S.) | Politics (non-U.S.) | Embryonic stem cells | Crime and violence | International religious freedom | Missions and ministry | International Christian Retail Show | Books | Music and film | Child tragedies | Other stories of interest
US-based religious group challenges Coptic church | A Greek Orthodox fringe group based in the United States has angered Egypt's largest and oldest church by sending an Egyptian bishop with liberal ideas to Cairo to win followers among Egyptian Christians (Reuters)


Coptic pope plays down challenge by dissident bishop | Egypt's Coptic pope has sought to reassure his followers upon returning from a trip abroad that raised concerns over his health and saw a dissident bishop trying to set up a rival church (AFP)


Pope begins holidays, says supported Italy in Cup | "I've been living here for a long time. I love Italy and the Italians," he told reporters as he began the holiday near Mount Blanc and the border with France (Reuters)


Papal spokesman to be replaced | Joaquin Navarro-Valls, a Spanish journalist brought in by Pope John Paul II to modernize Vatican press operations and long the official voice of the late Polish pope, is leaving his post after 22 years, the Vatican said Tuesday (Associated Press)


Also: Navarro-Valls steps down as Vatican spokesman (Reuters)


Naval Academy's questions about race, religion stir discord | Application requires prospective sponsors to state preferences about gender, smoking habits and the favored sport of their ideal midshipman. Elsewhere on the form, sponsors are asked to rank their top six preferences from a list of seven that includes both race and religion (The Washington Post)


Bolivia education minister calls for ban | Bolivia's education minister called for an end to religious education in the country's schools, drawing criticism from the Roman Catholic Church which could see its schools affected by the proposed change (Associated Press)


State appeals court hears same-sex marriage debate | Plaintiffs seeking to void the ban on gay marriage enacted after San Francisco issued licenses find a sympathetic ear on state appellate court (Los Angeles Times)


Gay marriage fights intensify | Massachusetts' highest court ruled on Monday that voters could decide whether to ban gay marriage in the first and only state to legalize it, while a California court weighed the constitutionality of such a ban (Reuters)


Gay-marriage opponents get SJC go-ahead | Amendment effort is constitutional (The Boston Globe)


A Canterbury tale | Striking back at pro-gay Episcopalians, the Anglican Archbishop calls for a schism in his own Church. He also just may kill off the dream of a religious left in America for good (Adele M. Stan, The American Prospect)


Bishops won't join Arroyo impeachment bid | The Catholic Bishops' Conference of the Philippines said in a statement it respected "the position of individuals or groups that wish to continue using the impeachment process to arrive at the truth" (Associated Press)


Nevers Mumba vows not to back out of Zambia presidential race | "Those fighting my political involvement, it is too late to do that. We are going to fight it," says pastor. "Christians are hungry to have a Christian leadership. A lot of them are looking to this leadership. Statements of such nature disturb the Church and the moral people that have helped put things in place" (The Post of Zambia)


Senate to address stem cell bills | The Senate could debate as early as next week a three-bill package that includes a measure to expand federal funding for stem cell research using human embryos (USA Today)


Stem-cell research foes mobilizing | Ads, talks at homes, public events are featured. Supporters cite 'scare tactics' (The Kansas City Star)


Arrests made in separate church robberies | Nassau Police arrested an Oceanside man yesterday and Suffolk police arrested a Deer Park man, both for allegedly trying to take money from church collection boxes (Newsday)


Coalition to call for solidarity with Muslim community | Church and volunteer organizations in the Lewiston-Auburn area are calling for a show of support for the Muslim community after a Lewiston man was charged with throwing a severed pig's head into a mosque during a prayer session (Associated Press)


Bibles used to traffic cocaine | Couple plead guilty in prison drug-smuggling charges in Huntington (Associated Press)


International religious freedom:
Muslim stopped from attacking Christians in Egypt | Guards stopped a Muslim from carrying out a knife attack on Christians at a church in Egypt on Tuesday, security sources said. Police arrested Mohammed Masoud Khalil after he was stopped by guards at the door of St. George's church in the southern Egyptian town of Qous, the sources said. Police said he was mentally ill (Reuters)


Chinese filmmaker released after 5 months | A Chinese filmmaker detained while making a documentary about underground Christians was released Tuesday after more than five months in police custody, his sister said in an Internet posting (Associated Press)


The dirty dozen religious persecutors | The world remains a dangerous place for humble believers (Doug Bandow, The American Spectator)


International Christian Retail Show:
Christian retailers show to draw 10,000 | The annual event opened Monday with an hour-long talk on leadership by former U.S. Attorney General John Ashcroft (Rocky Mountain News, Denver)


Ashcroft wants leadership from Christians | Former U.S. Attorney General John Ashcroft encouraged Christian retailers on Monday to become leaders in their communities. He was in Denver for the International Christian Retail Show at the Colorado Convention Center (The Denver Post)


A book of clichés | Ernest W. Lefever reviews The Mighty and the Almighty by Madeleine Albright (The Washington Times)


Beecher: Abolitionist, preacher, lover | Henry Ward Beecher was a legend in his time, for both theology and scandal (The Christian Science Monitor)


Everclear kick off drama with controversial 'hater' Jesus video | Son of God smokes, drinks, cavorts with tattooed strippers in clip (MTV)


Cheering The Code after punching The Passion | From handwringing to hype (Chris Weinkopf, The American Enterprise)


Outward is heavenward | Presenting gospel's modern sounds in praise and worship (The Village Voice)


5 St. Louis drowning victims shared faith and fate | Dream Center has significant children's ministry (Los Angeles Times)


7 children on church bus fall ill during trip | Carbon monoxide leak suspected (The Courier-Journal, Louisville, Ky.)


Counterculture drug provides spiritual boost | Using the active ingredient in illegal hallucinogenic mushrooms, researchers at Johns Hopkins University have induced a lingering sense of spirituality that they believe has the potential to help patients struggling with addiction or terminal cancer (Los Angeles Times)


Islam remark costs pastor | A Pompano Beach clergyman's comments about Islam has cost him a post on Broward's Judicial Nominating Commission (The Miami Herald)


Related Elsewhere:
Suggest links and stories by sending e-mail to weblog@christianitytoday.com
See our past Weblog updates:
July 10
July 7 | 6 | 5 | 3
June 29b | 29a | 28
June 23 | 22 | 21
June 16 | 15 | 14 | 13b | 13
June 9 | 8 | 7 | 6
June 2b | 2a | May 31
Weblog
Launched in 1999, Christianity Today's Weblog was not just one of the first religion-oriented weblogs, but one of the first published by a media organization. (Hence its rather bland title.) Mostly compiled by then-online editor Ted Olsen, Weblog rounded up religion news and opinion pieces from publications around the world. As Christianity Today's website grew, it launched other blogs. Olsen took on management responsibilities, and the Weblog feature as such was mothballed. But CT's efforts to round up important news and opinion from around the web continues, especially on our Gleanings feature.
Ted Olsen is Christianity Today's executive editor. He wrote the magazine's Weblog—a collection of news and opinion articles from mainstream news sources around the world—from 1999 to 2006. In 2004, the magazine launched Weblog in Print, which looks for unexpected connections and trends in articles appearing in the mainstream press. The column was later renamed "Tidings" and ran until 2007.
Previous Weblog Columns: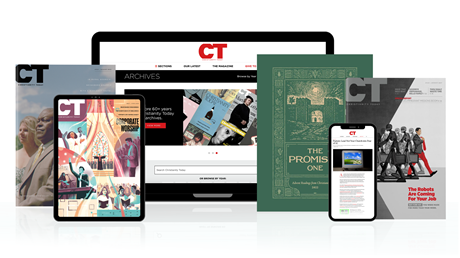 Subscribe to Christianity Today and get access to this article plus 65+ years of archives.
Home delivery of CT magazine
Complete access to articles on ChristianityToday.com
Over 120 years of magazine archives plus full access to all of CT's online archives
Subscribe Now
Homeland Security Says 'Way Too Much Fraud' in Religious Visa Program
Homeland Security Says 'Way Too Much Fraud' in ...