Today's Top Five
1. China's population control leader wants jail for gender abortions
Yu Xuejun, who oversees law and policy issues at China's National Population and Family Planning Commission, complains to the Financial Times that the Chinese government is not doing enough to fight gender-based abortion. "I believe this is a kind of crime," he told the paper. The country's law code agrees in theory and includes fines and license revocations for doctors who perform sex-selective abortion. (It is forbidden, for example, to use an ultrasound to determine the gender of a baby before birth.) But Yu complains to the British paper that National People's Congress refuses to jail such doctors. This paragraph is particularly interesting:
"All policies have risks," he said in reference to the problems of gathering evidence of illegal abortions and the threat of the practice being driven underground. "We cannot be deterred because there are risks."
The news comes less than a month after Chinese officials admitted they arrested Chen Guangcheng, one of the country's leading opponents of its one-child policy.
In related news, Britain's health minister said the government will introduce a "clear and specific ban" on sex selection, which could apply to IVF implantation decisions as well as abortion.
In the U.S., aborting an unborn child because the parents don't like his or her gender is legal.
2. Jakes, Gray, and Shaw quit Katrina Fund panel
Black megachurch pastors T.D. Jakes and William H. Gray III, co-chairs of Interfaith Advisory Committee of the Bush-Clinton Katrina Fund, have resigned in protest, The Washington Post reports today. National Baptist Convention head William Shaw has also quit. The Post's Darryl Frears writes:
Gray said board directors and staff members of the Katrina Fund —established by former presidents George H.W. Bush and Bill Clinton— would agree with the committee's recommendations in meetings and then do the opposite. He said that he, Jakes and Shaw resigned when the staff sent $35,000 to a church without their knowledge, then refused to explain why. That particular church had not been inspected to determine its need, Gray said. … Gray said that he and Jakes feared their reputations might be stained if the fund delivered money to churches that did not deserve it.
The Post was unable to confirm Gray's claim that as many as eight of the nine committee members resigned, but notes that "Jakes, Gray and Shaw were the committee's marquee names."
3. Episcopal Church to "address anti-Jewish prejudice" in Scripture and liturgy
Religion News Service finds potentially explosive news from the Episcopal Church's General Convention that has nothing to do with homosexuality. Here's one of the resolutions passed by the church:
Resolved, That the 75th General Convention direct the Standing Commission on Liturgy and Music to collect and develop materials to assist members of the Church to address anti-Jewish prejudice expressed in and stirred by portions of Christian scriptures and liturgical texts, with suggestions for preaching, congregational education, and lectionary use, and to report to the 76th General Convention.
The resolution has been discussed quite a bit on orthodox Anglican sites, especially the TitusOneNine blog of Kendall Harmon, who spoke against the resolution and introduced an amendment to remove criticism of "Christian scriptures." (thread 1 | 2 | 3). Religion News Service quotes from Harmon and from supporters of the resolution:
Through sermon tips and bulletin inserts that provide context for Bible passages, the church hopes to "minimize tensions with the Jewish community," said Bishop Christopher Epting, head of ecumenical and interfaith relations for the Episcopal Church.
Particularly during Holy Week, when biblical texts about Jesus' death are read in church, there can be "misunderstandings in the pews" about the role of Jews in Jesus' crucifixion, Epting said.
"The texts without explanation can lead people to an anti-Semitic point of view," according to Epting. "Commentary and education material will help people understand the context in which these things were said." …
"Nobody's talking about changing the Bible," [Mass. delegate Byron] Rushing said. "But we are a liturgical church, and like all liturgical churches we pick and choose the parts of Scripture we use in our services. That's different from thinking Scripture itself should be revised."
To summarize: the Episcopal "church" isn't saying parts of the Bible should be removed; just that some parts shouldn't be read aloud. As it turns out, only some Scripture is breathed out by God and profitable for teaching, for reproof, for correction, and for training in righteousness.
4. Bishop: Christianity not being removed from U.K. prisons
Peter Selby, the Church of England's bishop to prisons, and Phil Wheatley, director general of HM Prison Service, are criticizing news reports that the innerchange Freedom Initiative was removed from Dartmoor over religious diversity issues. (See last week's Weblog posting.) The Church of England Newspaper reports that Selby
said the Inner Change programme failed on five different counts to obtain approval from the Prison Service, arguing that the experience of the programme in the US had been mixed, "and there have been concerns about its ability to integrate with general chaplaincy provision."
And in his letter to The Telegraph, Wheatley writes that InnerChange was nixed because it was ineffective:
The figures quoted on reoffending rates have been shown by a number of academics to be inaccurate. There is some evidence that those who attend an IFI programme and do not complete it are slightly more likely to reoffend than those who have never been on one.
But The Church of England Newspaper reports that Dartmoor prison officers say InnerChange was having an effect on inmate behavior, though it has only been in place for less than a year. InnerChange volunteer Maureen Bridge, in a letter to The Telegraph, writes, "We have seen for ourselves how the programme has affected the men who are taking part; their outlook, their behaviour, even their appearance has in most cases undergone transformation."
"It may be that there are some things wrong with it," Charles Moore writes in The Telegraph. "It would be surprising if a project that started out saying it needed three to five years had got everything right in a few months." But it's clear, he says, that InnerChange faced religious discrimination. He quotes a report from the Area Psychologist, who was asked to examine the program. InnerChange's teaching that "the root of offending is in individual sin," she fretted, "lacks basis in specific scientific research. … The place of anti-social behaviour in the concept of good and evil, god [sic] and the devil may not encourage self-responsibility in a manner which enables the individual to make sophisticated choices when faced with complex situations in their lives." Furthermore, she said, InnerChange was run by people who believe that their version of Christianity is "right."
What horrors, says Moore, "The public doctrine of 'multi-faith' seems now to have been pushed way beyond its origin—the admirable desire to respect different faiths. It has become a concept in which the word multi trumps the word faith."
5. Milingo returns
The infamous Roman Catholic archbishop from Zambia, who famously married a Korean woman in a mass ceremony officiated by Sun Myung Moon, has resurfaced after disappearing a few weeks ago. He's apparently back with his wife and on a crusade to get the Vatican to approve marriage for priests. Bartholomew's Notes on Religion has good background. Whispers in the Loggia, by Tablet writer Rocco Palmo, is following the developments.
Quote of the day:
"I believe that God used me as a messenger for the Beamer family and to deliver God's message the way he wanted it to be delivered, and I'm pretty sure that God used me for that reason. You know, God has an assignment for you that only you can fulfill. And I think God uses us as we are with our unique gifts, abilities, and experiences. And I wasn't prepared for my test on September the 11th. I went on faith and made myself available. God is not concerned about your ability, but your availability."
—Lisa Jefferson, the Verizon Airfone employee who took Todd Beamer's Flight 93 phone call. In her Beliefnet interview, she reveals that she was laid off from Verizon last April after 20 years on the job. She now has a book titled Called, written with Chicago radio journalist Felicia Middlebrooks.
More articles
Sex-selective abortion | Life ethics | Politics | Homosexuality and politics | Homosexuality and religion | Uniting Church disunity | Church life | Catholic Archbishop Emmanuel Milingo | Church and state | Evolution | Missions &ministry | Money and business | Entertainment and media | Crime and lawsuits | Other stories of interest
Beijing split over abortion policy | Deep divisions have emerged within the Chinese government over how to manage its controversial one-child policy, with the country's population control commission defying domestic legislators with a push to criminalise sex-selective abortions (Financial Times)


China's one-child problem | Chen Guangcheng is still paying the price for exposing sterilizations and forced abortions (Los Angeles Times)


Related: Baby sex selection 'to be banned' | Choosing the sex of babies for social reasons will be banned, Health Minister Caroline Flint has said (BBC)


Gynecologist may support patient's child | The Austrian Supreme Court has ordered a lower tribunal to consider whether a gynecologist accused of failing to give complete information about a high-risk pregnancy should pay child support after his patient gave birth to a disabled child (Associated Press)


Campaign begins in S. Dakota abortion vote | Supporters of a South Dakota abortion ban, passed as a challenge to an established U.S. right to abortion, launched their campaign on Wednesday to uphold the state law in a November referendum (Reuters)


Politics:
Compassionate conservatism's voice | Former presidential speechwriter Michael Gerson has argued within the White House that faith must bear fruit in works (The Christian Science Monitor)


Minister gains notoriety for treatise against the religious right | An interview with Robin Meyers, author of Why the Christian Right Is Wrong: A Minister's Manifesto for Taking Back Your Faith, Your Flag, Your Future (The Bellingham Herald, Wa.)


Wages more evidence of small Bible | The Religious Right has hardly made a peep on minimum wage (Rick Brand, The Daily Dispatch, Henderson, W.V.)


Homosexuality and politics:
Judge knot | The upside of New York's anti-gay marriage decision (Peter Beinart, The New Republic)


Hate and marriage | Same-sex marriage setbacks may not be all bad news for gay rights (Richard Thompson Ford, Slate)


Homosexuality and religion:
Uniting Church disunity:
Rebel clerics split over gay clergy | Conservatives in the Uniting Church have precipitated an internal split by moving to form their own assembly, comprised of members who oppose to the appointment of practicing homosexuals as ordained ministers (The Sydney Morning Herald)


Church rebels split over gay priests | The Uniting Church is closer to a fundamentalist split after conservatives yesterday moved to set up a breakaway "church within the church" in protest at the failure to ban gay ministers (The Australian)


Gay clergy split Uniting Church | Dissidents in the Uniting Church, "distressed and angry" that the national assembly this week reaffirmed gay clergy, will form their own church within a church (The Age, Melbourne, Australia)


Church life:
Episcopal Church to address "anti-Jewish prejudice" in Scripture, liturgy | A majority of lay and ordained delegates to the church's triennial meeting in June voted to ask a church committee to "collect and develop materials … to address anti-Jewish prejudice expressed in and stirred by portions of Christian Scriptures and liturgical texts" (Religion News Service)


Religion Today: Jewish-Christian relations move south | In Africa, many Christians feel an affinity for Jews and Israel. In Latin America, the situation is less promising. (Associated Press)


Nine Episcopal parishes don't want new province | Group would meld conservative dioceses (Pittsburgh Post-Gazette)


Bigotry from some pulpits, better sense in the streets | In an interview on Wednesday, the Rev. O'Neal Dozier of the Worldwide Christian Center said "all Islam is radical" and he called the Quran "a dangerous, evil instrument" that's "the root of the problem." His proposed solution: banning Islam in the United States (Michael Mayo, South Florida Sun-Sentinel)


Catholic Archbishop Emmanuel Milingo:
Church and state:
Prisons policy defended | A dispute erupted over prison chaplaincy this week at General Synod, following last week's report in The Church of England Newspaper over the closure of the ground-breaking Inner Change discipleship course in Dartmoor Prison (The Church of England Newspaper)


Muslim teachers sacked for wearing headscarf | Two Muslim teachers from the Brussels public education system have been sacked for wearing an Islamic headscarf (Expatica, Brussels)


Paging Dr. Weldon | Winning in the little things — with big effects (Hadley Arkes, National Review Online)


Evolution:
Scientist decries 'smear' campaign | The debate about evolution and intelligent design resurfaced Tuesday at the Kansas State Board of Education meeting (The Lawrence Journal-World, Kan.)


George Gilder, metaphysic | Where's the science? For Creationists, nowhere (John Derbyshire, National Review Online)


Missions &ministry:
Money and business:
Wal-Mart CEO calls sustainability a "higher purpose" | Jim Ball, executive director of the Evangelical Environmental Network, said Wal-Mart's efforts were helping convince people that the science behind human-made climate change is real (Pine Bluff Commercial, Ark.)


The way of all flesh | Christian marriage advisers say kinky's okay, the observant way (Joann Wypijewski, Mother Jones)


Entertainment and media:
Johnny Cash earns first No. 1 album since 1969 | Though the top debut is a great posthumous achievement, the Rick Rubin-produced "American V" sold the fewest copies of a No. 1 debut since Nielsen SoundScan began tracking data in 1991 (Reuters)


Omaar to explore Jesus miracles | Jesus' miracles as described in the Bible are to be recreated in an upcoming three-part BBC series, presented by reporter Rageh Omaar (BBC)


God-fearing footballers | Bible study big part of life for many Blue Bombers (The Winnipeg Sun)


Crime and lawsuits:
Other stories of interest:
Related Elsewhere:
Suggest links and stories by sending e-mail to weblog@christianitytoday.com
See our past Weblog updates:
July 12b | 12a | 10
July 7 | 6 | 5 | 3
June 29b | 29a | 28
June 23 | 22 | 21
June 16 | 15 | 14 | 13b | 13
June 9 | 8 | 7 | 6
June 2b | 2a | May 31
Weblog
Launched in 1999, Christianity Today's Weblog was not just one of the first religion-oriented weblogs, but one of the first published by a media organization. (Hence its rather bland title.) Mostly compiled by then-online editor Ted Olsen, Weblog rounded up religion news and opinion pieces from publications around the world. As Christianity Today's website grew, it launched other blogs. Olsen took on management responsibilities, and the Weblog feature as such was mothballed. But CT's efforts to round up important news and opinion from around the web continues, especially on our Gleanings feature.
Ted Olsen is Christianity Today's executive editor. He wrote the magazine's Weblog—a collection of news and opinion articles from mainstream news sources around the world—from 1999 to 2006. In 2004, the magazine launched Weblog in Print, which looks for unexpected connections and trends in articles appearing in the mainstream press. The column was later renamed "Tidings" and ran until 2007.
Previous Weblog Columns: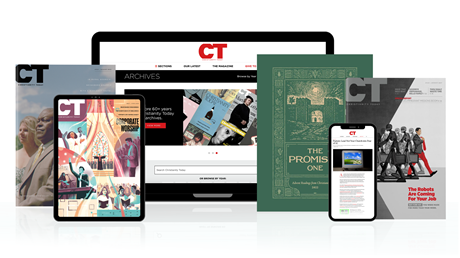 Subscribe to Christianity Today and get access to this article plus 65+ years of archives.
Home delivery of CT magazine
Complete access to articles on ChristianityToday.com
Over 120 years of magazine archives plus full access to all of CT's online archives
Subscribe Now
China's Abortion Battle
China's Abortion Battle