Today's Top Five
1. Looking for an extreme voice on Israel? It's John Hagee time!
Maybe it's time for Weblog to shift from its regular "Pat Robertson doesn't represent evangelicalism" programming to "John Hagee doesn't represent evangelicalism." He's the latest Christian media darling, getting truckloads of press clippings from reporters eager to profile a Christian leader who sounds gleeful over war in the Middle East and ties current events to apocalyptic premillennialism. The latest and probably most prominent and detailed profile yet is on today's Wall Street Journal front page. Andrew Higgins describes the scene at last week's Christians United for Israel rally in D.C.:
Standing on a stage bedecked with a huge Israeli flag, Mr. Hagee drew rapturous applause and shouts of "amen" as he hailed Israel for doing God's work in a "war of good versus evil." Calls for Israel to show restraint violate "God's foreign-policy statement" toward Jews, he said, citing a verse from the Old Testament that promises to "bless those who bless you" and curse "the one who curses you." … "Leave Israel alone. Let them do the job," Mr. Hagee told his supporters.
Yeah, there's a number of people in the evangelical movement who believe that Israel should only be criticized when it's being too soft on its neighbors. Let's accurately describe them as Zionist Christians rather than as evangelical Christians. As a subset, Hagee's views are no more representative of all evangelicals than they are of all Texans. Just how big is this group? One indication comes from Hagee himself. His San Antonio church claims 19,000 members (it has a weekly attendance of about 8,000), and yet he says that getting 3,500 Zionists to attend his rally in D.C. is a "miracle of God."
2. Report: Britain's last missionary leaves Lebanon
"Nearly 140 years after British missionaries first brought a message of peace to this corner of the Biblical lands, their last remaining representative was driven out by the bombs yesterday," The Telegraph reports. Weblog isn't so sure that there are no British missionaries left in the country, but it's still an interesting story. As 62-year-old Peter Hayes boarded his ship, he warned, "What is being done in the dark, God still sees. Those who think they can do things in the dark and not be held to account are wrong, because all of us face God's judgment for our actions."
3. Catholics complain about evangelical chaplains and soldiers
An article in Our Sunday Visitor shows a surprising hostility to evangelical Protestants. "Many Catholic military men and women," the Roman Catholic newspaper warns, are vulnerable "to the proselytizing of evangelical chaplains and soldiers." The unsigned article continues:
Although the military brass has stepped in on several recent occasions to address concerns about proselytism … the practice continues among many rank-and-file evangelicals who see Catholic soldiers as prime targets. Lacking a solid formation in their faith or an available Catholic priest to visit for counsel, some Catholic soldiers find themselves too poorly equipped to effectively defend church teaching and practices against the evangelicals' charges. They may come away from such encounters confused or disillusioned about the church and be drawn away from the Catholic faith into evangelicalism or fundamentalism.
Nothing like a little friendly fire during wartime.
4. God's bounty hunter
Regular viewers of A&E and Bravo will already be familiar with Duane "Dog the Bounty Hunter" Chapman. Those who aren't familiar with the the only private citizen to have snared someone on the FBI's most wanted list can catch up with a brief profile in The Telegraph. Since it's a British newspaper, it's particularly fascinated by Chapman's quaint "religious inclinations." A sample:
He also believes in forgiveness and sometimes prays with the men he has just captured and tells them to change their ways. But he added: "I don't make that a habit because I ain't no Jesus freak. I'm not an evangelist, I'm a bounty hunter."
In fact, evangelical Christians find Dog a perplexing figure. "I know Christians get upset because I say 'Freeze mother[expletive]!' or whatever, but I told them that 'Freeze in Jesus's name!' doesn't work."
5. We didn't mean to spend it on politics. We meant to spend it on golf.
Del Way, pastor of Calvary Temple Church in Kerrville, Texas, has been reported to the IRS by Americans United for Church and State. Way's crime? Donating $1,500 in church funds over three years to the Republican Party of Texas. "This is just an innocent thing," Way told the local paper. "It wasn't for a candidate." Instead, he says, it was to advertise the church at local golf tournaments, some of which were sponsored by the Republican Party. "I'd be an idiot to directly support a party," he said. "I have sent a letter to the Republican Party asking for a reimbursement for the monies, regretfully. When we have some of our guys playing, people see Calvary Temple involved. We were involved in the golf tournament for our advertising purposes." Hey, where's the post about this over at Church Marketing Sucks?
Quote of the day
"Christians all over the state have been praying for this decision, and there is a sense of joy. We would truly say that God has intervened in the affairs of man."
—Rick Kingham, senior pastor of the Overlake Christian Church in Redmond, Wash., on Wednesday's 5-4 Washington Supreme Court ruling that same-sex marriage is not constitutionally guaranteed. Kingham was apparently not asked if he believes the Massachusetts court decision that ruled the opposite way was also a result of divine intervention.
More articles
Politics | War & terrorism | Education | Abortion | Church & state | Freedom of speech | Books | Bible | Church life | Camp | Missions & ministry | Spirituality | Crime | People | Film & TV | Other articles of interest
Jeb Bush backs King over Terry in Florida Senate race | King famously broke with Bush last year when Schiavo's feeding tube was removed, but Bush prefers him over anti-abortion activist Randall Terry (Tallahassee Democrat, Fla.)


Evangelicals push back on global warming | Interfaith Stewardship Alliance says the likes of Al Gore have it all wrong. (Family News in Focus, Focus on the Family)


Washington court upholds gay-marriage ban | In a 5-4 ruling, the state Legislature's 1998 ban is upheld. But three judges in the majority call on lawmakers to revisit the issue and its effects (Los Angeles Times)


Holy war: A Texas preacher leads campaign to let Israel fight | Mr. Hagee draws evangelicals by arguing Jewish state fulfills biblical prophecy. He sees the 'end of world as we know it' (The Wall Street Journal)


Missionary leaves with warning to men of violence | Nearly 140 years after British missionaries first brought a message of peace to this corner of the Biblical lands, their last remaining representative was driven out by the bombs yesterday (The Telegraph, London)


"We are tired, weary, sick, and wounded. We need your help." | Bishop Riah, the Anglican Bishop in Jerusalem, on the current crisis in the Middle East (Anglican Communion News Service)


Unpicking the philosophy of faith schools | Christian schools are perfectly acceptable but other faith schools, especially Muslim ones, are a big mistake and should be scrapped if the Government wants to encourage a unifying British identity, according to the man reckoned by many to be the world's leading moral philosopher (The Telegraph, London)


Intelligent-design proponent distorts foes' views | It is John Calvert and the intelligent-design proponents, not our group or the Kansas scientific or educational communities, who are responsible for promoting an atheistic view of science. (Keith B. Miller, The Kansas City Star)


Preachers can return to Snellville sidewalks | Snellville will take a kinder and friendlier approach toward street preachers in the future, said City Manager Jeff Timler. "They're coming back Saturday," he said of the preachers, "and we're not going to touch them." (The Atlanta Journal-Constitution)


Earlier: Sidewalk preachers' arrest sparks review | Constitutionality of Snellville permit ordinance is in question (The Atlanta Journal-Constitution, Wednesday)


The secret's out: `Da Vinci' mania fading | Simmered by three years of lawsuits, religious debates and conspiracy theories, brought to a boil in May by the Hollywood movie, the craze for all things "Da Vinci Code" is finally fading, publishers and booksellers agree (Associated Press)


Christian shops ecumenical about rivals | Christian business owners walk a tightrope between their religious calling and the need to earn a living as they adjust to new competition from big-box retailers (Associated Press)


Book buried in Irish bog is called a major find | The 1,200-year-old Book of Psalms found last week by a construction worker was called an "Irish equivalent to the Dead Sea Scrolls" (The New York Times)


'Strine' slang Bible a hit in secular Australia | "Out of the blue God knocked up the whole bang lot. … God said 'let's have some light' and bingo - light appeared" (The Christian Science Monitor)


Aramaic-English Bible translation draws criticism | The real controversy comes in the translator's interpretations (KTVT, Dallas)


Church's razing draws protests | Plan for housing goes before city (The Boston Globe)


Episcopal Church on verge of split | The latest development concerns four California bishops who have filed legal charges against a fifth — the Bishop of San Joaquin — seeking to depose him out of fear he may lead his diocese out of the Episcopal Church (Church of England Newspaper)


Thou shalt not | How Plano pastor David Roseberry became the leading edge of a schism in the Episcopal Church over gays in the ministry (Dallas Observer)


Fort Worth Episcopal leaders 'opting out' | Conservative leaders of the Episcopal Diocese of Fort Worth have made another move to distance themselves from what they consider the liberal, pro-gay leadership of the national church (Ft. Worth Star-Telegram, Tex.)


Camp:
"Jesus" documentary aims for diverse flock | Magnolia Pictures has nabbed North American rights to "Jesus Camp," a documentary about a retreat for born-again Christian children (Reuters)


Camps sign up freethinkers | Ah, summer camp: Canoe. Swim. Climb rocks. Tell tales by the fire …   And — perhaps hear lectures on famous freethinkers at Camp Quest West, an hour's drive north of Sacramento. It caters to young people whose parents are skeptics, humanists, atheists and agnostics (USA Today)


Onward, Catholic soldiers | Catholics in the military are under siege by evangelicals who see them as prime targets for evangelism (Our Sunday Visitor)


Creation Museum under construction | Might open next spring (Community Recorder, Florence, Ky.)


Fort Swaggart: Bible campus becomes Blackwater base | Blackwater's headquarters in the Katrina zone are at the World Evangelism Bible College and Seminary, where the company rents a portion of the nearly abandoned campus from its founder, disgraced TV evangelist Jimmy Swaggart (The Virginian-Pilot)


S. Koreans to hold festival in Afghanistan | Some 2,000 South Korean Christians will gather in Afghanistan next month despite a Kabul government ban on their plans to hold a four-day festival there, organizers said on Wednesday (Dawn, Pakistan)


At Thursday's Braves game, bring a glove - and a Bible? | After the final at-bat of Thursday's game between the Atlanta Braves and Florida Marlins, the stadium seats will turn into pews (The Christian Science Monitor)


A modern guide to sinning | Sloth, gluttony, covetousness … those seven deadly sins are so over. According to the Bishop of London, what's really wicked now are holiday flights and gas-guzzling cars. But Lucy Mangan has other ideas (The Guardian, London)


Religion Today: Cuba's miracle | While the Virgin Virgin of Charity has evolved into one of the island's most important symbols, it confounds both the Roman Catholic church and Cuba's communist rulers (Associated Press)


Pastor took church funds, congregants allege in suit | Nineteen members of the Chickaree Union Church—known as the Jesus Saves Church—are suing their former pastor, saying he depleted church accounts of upwards of $25,000 without authorization (The Tribune-Democrat, Johnstown, Pa.)


Execution of pagan devotee set for tonight | Va. man who worships Norse gods cites religion in slaying of fellow inmate (The Washington Post)


Betjeman church falls victim to vandalism | One of Britain's finest parish churches, described by Sir John Betjeman as "Victorian Gothic at its finest", has become the target of sustained vandalism (The Telegraph, London)


America's toughest bounty hunter - and he doesn't use a gun | "Dog" Chapman believes in forgiveness and sometimes prays with the men he has just captured and tells them to change their ways. But he added: "I don't make that a habit because I ain't no Jesus freak. I'm not an evangelist, I'm a bounty hunter" (The Telegraph, London)


Felix on rise with God at her side | "I think that God is using me," Allyson Felix explains of the rise to prominence that began with a silver medal in the Athens Olympics and culminated in the world title last August in Helsinki. "And the only reason I am here as world champion is because of God" (The Telegraph, London)


Earlier: The world's fastest teenager | Olympic hopeful Allyson Felix is running for God's glory (Today's Christian, 2004)


Odd bedfellows align to market Oliver Stone's film about 9/11 | Family Research Council, Wilberforce Forum, among those getting sneak peeks (The New York Times)


On PBS, indecency worries | PBS' big program announcements yesterday at the press tour were three religion-related projects for 2007: an "American Experience"/ "Frontline" collaboration, "The Mormons," a "NOVA" hour on intelligent design, and six hours of "The Route to Christianity," a New Testament exploration from the producers of public TV's popular "Walking the Bible" history travelogue (Newsday)


Related Elsewhere:
Suggest links and stories by sending e-mail to weblog@christianitytoday.com
See our past Weblog updates:
July 26
July 21 | 19
July 14 | 13 | 12b | 12a | 10
July 7 | 6 | 5 | 3
June 29b | 29a | 28
June 23 | 22 | 21
June 16 | 15 | 14 | 13b | 13
Weblog
Launched in 1999, Christianity Today's Weblog was not just one of the first religion-oriented weblogs, but one of the first published by a media organization. (Hence its rather bland title.) Mostly compiled by then-online editor Ted Olsen, Weblog rounded up religion news and opinion pieces from publications around the world. As Christianity Today's website grew, it launched other blogs. Olsen took on management responsibilities, and the Weblog feature as such was mothballed. But CT's efforts to round up important news and opinion from around the web continues, especially on our Gleanings feature.
Ted Olsen is Christianity Today's executive editor. He wrote the magazine's Weblog—a collection of news and opinion articles from mainstream news sources around the world—from 1999 to 2006. In 2004, the magazine launched Weblog in Print, which looks for unexpected connections and trends in articles appearing in the mainstream press. The column was later renamed "Tidings" and ran until 2007.
Previous Weblog Columns: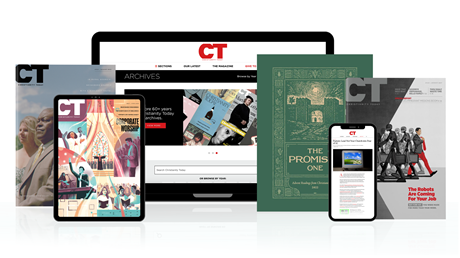 Annual & Monthly subscriptions available.
Print & Digital Issues of CT magazine
Complete access to every article on ChristianityToday.com
Unlimited access to 65+ years of CT's online archives
Member-only special issues
Subscribe
War's Cheerleader
War's Cheerleader