It's not every day you see the Colorado Rockies on the front page of USA Today. The Rockies last reached the playoffs in 1995—their first and only postseason appearance. Actually, they're not even that great this year. After losing Tuesday night, the Rockies dropped to 27-25. Not bad, but not exactly above-the-fold material.
But the Rockies didn't make the front page of America's most-read newspaper for their on-field success. Apparently Colorado's favorite baseball team has a new strategy for winning—signing and developing high-character Christian players. Now that's a front-page story.
Rockies officials insist they don't only sign Christian players. But team CEO Charlie Monfort did say that Christians closely match their standards for behavior. USA Today reported that the Rockies clubhouse shows no hint of the pornography and obscene music common among other ballclubs. The club hopes to avoid the embarrassment they endured in 2004, when pitcher Denny Neagle was charged with soliciting a prostitute. Rockies executives prefer the team to be known for players such as Todd Helton, a mainstay at first base, and Matt Holliday, a promising young outfielder, both of whom regularly attend chapel and Bible studies.
The team seems to owe its emphasis on character to at least two factors. One, the Rockies were once the toast of Denver, selling out all their games at beautiful Coors Field. But years of losing grated on fans, and many stopped coming. The team appeared to have little idea how to manage high-scoring games altered by the thin mountain air. Now the Rockies hope high-character players will build team unity, improve effort, and lead to more wins. Plus, it can't hurt among Colorado's sizable evangelical community to feature a team of clean-living ballplayers.
The other factor might be more significant. Monfort, the CEO, and manager Clint Hurdle told USA Today they became Christians three years ago. Monfort abandoned a party lifestyle that had landed him 18 months of probation for driving while impaired. Interviewed by USA Today, Hurdle made no effort to cover up his team's Christian zeal. "We're not going to hide it," he said. "We're not going to deny it. This is who we are." Rockies general manager Dan O'Dowd was more wary. "We're nervous, to be honest with you," he said. "It's the first time we ever talked about these issues publicly. The last thing we want to do is offend anyone because of our beliefs."
O'Dowd can expect some backlash. Some will charge that no matter what he claims, the team discriminates against non-Christians. They will resent clubhouse pressure to conform with Christian values and attend Christian gatherings. USA Today ran a fair, balanced, mostly positive story about the Rockies. But the editors didn't put this on the front page to encourage other teams to adopt the Rockies model. This story plays into fears of undue Christian influence on American institutions—including the national pastime. Last year, Major League Baseball commissioner Bud Selig moved quickly to condemn remarks by Washington Nationals outfielder Ryan Church, who spoke to a chaplain about how Jews must believe in Jesus in order to be saved. Baseball's keepers have no interest in fostering dialogue on the exclusivity of Christ.
I can't say I blame them. I'm all for what the Rockies are doing. It's nice to see good guys rewarded, and I'll be rooting for them in the NL West standings from now on. Nevertheless, theology in the hands of baseball professionals can be a dangerous thing. "You look at things that have happened to us this year," O'Dowd told USA Today. "You look at some of the moves we made and didn't make. You look at some of the games we're winning. Those aren't just a coincidence. God has definitely had a hand in this." Pitcher Jason Jennings said, "They do preach character and good living here. It's a must for them, and that starts from the very top. But we're not a military group. Nobody is going to push their beliefs on each other or make judgments. We do believe that if you do things right and live your life right, good things are going to happen."
Far be it from me to challenge God's providence. God's hand is everywhere—even at Coors Field. And Proverbs offers plenty of affirmation for Jennings's viewpoint. I just don't know how to square these beliefs with the other side. Baseball, like life in general or Christianity in particular, isn't so simple. What do we make of players who cheat, win titles, make gobs of money, and never get caught? And what about Christian athletes who can't ward off injuries, never play for winning teams, and suffer teammate ridicule for their faith? Finally, if this character strategy doesn't result in continued winning, will the Rockies abandon the plan?
This is where the metaphor for baseball as life breaks down. God does not promise that our good behavior will reap financial rewards—or wins. He does not promise to protect us from suffering—or injuries. He promises much more for his people—that justice will ultimately be done, that if we remain faithful, we will live with him and enjoy him forever.
Collin Hansen is an associate editor of Christianity Today.
Related Elsewhere:
Earlier Play Ball columns include:
Incomplete Sentences | Many pro athletes convicted of a crime are sentenced to a lame excuse for "community service." It's time for the legal system to show a little backbone. (May 11, 2006)
Bowling Alone No More | A stealth revolution in attitude may be brewing. (May 4, 2006)
Sports as Soap Opera | Sportswriters seem to have forgotten their godly calling. By Mark Galli (April 27,2006)
'You Trying to Say Jesus Christ Can't Hit a Curveball?' | Fans vent their frustration on struggling slugger who professes religious devotion. By Collin Hansen (Apr., 20, 2006)
Un Problema Grande, No? | What major league baseball reveals about the dangers of immigration. By Mark Galli (Apr. 13, 2006)
WWJWD? | In the wake of UCLA's loss in Monday's NCAA championship game, I couldn't help but wonder: What would John Wooden do? By Mark Moring (April 6, 2006)
There IS Crying in Basketball | If only we all had something so precious to weep about. By Collin Hansen (March 30, 2006)
Pirates vs. Braves | Reforming sports one city at a time. By Mark Galli (March 23, 2006)
Bjorn Again? | It's been a while since tennis legend Bjorn Borg was in the news. Too bad he's back because he's selling his Wimbledon trophies. By Mark Moring (March 16, 2006)
Steroids 'R' Us | It's not just Barry Bonds's heart that is desperately wicked. By Mark Galli (Mar. 9, 2006)
Play Ball
From 2005 to 2007, "Play Ball" examined the relationship of sports and faith: sports is important precisely because it is a form of play, that is, a manifestation of the Sabbath. Contributors included Mark Galli, Collin Hansen, Mark Moring, and others.
Previous Play Ball Columns: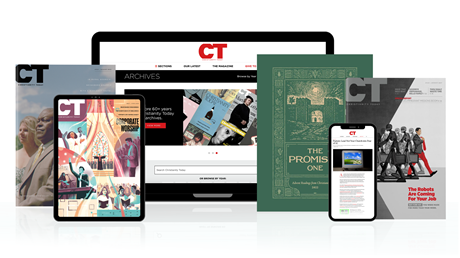 Annual & Monthly subscriptions available.
Print & Digital Issues of CT magazine
Complete access to every article on ChristianityToday.com
Unlimited access to 65+ years of CT's online archives
Member-only special issues
Subscribe
Read These Next
Trending

American Christians Should Stand with Israel under Attack

While we pray for peace, we need moral clarity about this war.

From the Magazine

The Unusual Epistle that Helps Me Counsel on Sexuality

Jude has strong words for immorality in the church. Yet he advocates for mercy for those who doubt.

Editor's Pick

Don't Miss These African Christmas Hits

Jam out this season to highlife, Afrobeats, jazz, a cappella, R & B, rap, dance, and hip-hop artists from Nigeria, South Africa, and more.
Onward Christian Shortstops
Onward Christian Shortstops