As the world marks 25 years since HIV and AIDS first appeared, a clash among high-profile evangelical leaders over an international relief foundation threatens to take center stage.
The dispute also lays bare a faultline among American evangelicals, who have been divided over the treatment and prevention of AIDS because of the disease's perceived connections to homosexuality and sexual promiscuity.
The clash, which centers on the Global Fund to Fight AIDS, Tuberculosis, and Malaria, may have long-term ramifications, both for those suffering with diseases and for the reputation of American evangelicals, activists said.
If the U.S. fails to extend help because of objections from conservative Christians, "we will look on this as a very mistaken time," said Tony Campolo, a prominent sociologist and Christian activist.
Since its founding in 2001, the Swiss-based Global Fund has spent $2 billion on programs that offer medical treatment and education in 130 countries, according to a spokesperson. The U.S. government has provided 30 percent of the public-private foundation's finances through 2005, and appropriated $445 million for 2006.
Some of the programs bankrolled through the Global Fund—such as those that distribute condoms to prostitutes or provide clean needles to drug addicts—have drawn fire from conservative evangelicals. Hardline conservatives favor President Bush's policy of abstinence and emphasis on fidelity in marriage. Others take a more pragmatic approach, and say that exporting Western morality to foreign countries is ineffective at best and calamitous at worst.
After the Senate passed a non-binding budget amendment last March to increase the U.S. contribution to the Global Fund to $866 million in 2007, Dobson lambasted the international foundation, saying it promotes "legalized prostitution and all kinds of wickedness around the world."
As the House debates a foreign spending bill this week that would maintain the current $445 million to the Global Fund next year, Dobson's Focus on the Family ministry has turned up the heat.
A five-page letter addressed to lawmakers criticizes the Global Fund's board of directors, its spending habits, and its "social marketing" of condoms "to the near exclusion of abstinence and faithfulness." The letter is signed by Dobson and representatives from 29 other conservative organizations, such as Shepherd Smith of the Institute for Youth Development and former presidential candidate Gary Bauer of American Values.
Not all evangelicals, however, are siding with Dobson.
The Global Fund released its own letter on May 24 that quoted Scripture, detailing the foundation's accomplishments and listing supportive signatures of prominent Christian leaders like Call to Renewal founder Jim Wallis, Campolo and, Pat Robertson.
Interview requests with Robertson, an outspoken conservative evangelical and CEO of the Christian Broadcasting Network, were declined.
"Robertson would be the first to admit that we don't agree on many issues. But there are certain issues that get people together all across the theological spectrum and this is one of them," said Campolo, who heads the Evangelical Association for the Promotion of Education.
Campolo said he was surprised Dobson has spoken so forcefully against the Global Fund when "it's a minute portion of the funding that would cause any objection in the evangelical community."
In fact, the Global Fund financially supports more than 73 faith-based organizations, including the Salvation Army, Youth for Christ, and World Vision, a Christian relief agency based in the United States.
Focusing on "narrow" and contentious issues—such as condom distribution—dismisses and distracts from "all the good work the Global Fund is doing for suffering people," said Jenny Eaton Dyer, national faith outreach director for DATA, an organization co-founded by U2 frontman Bono that is dedicated to eradicating disease and poverty in Africa.
Paul Hetrick, a spokesman for Dobson's ministry in Colorado Springs, Colo., said Dobson is not "categorically opposed" to condom use by married couples, but would rather see money funneled to a Bush administration program that stresses abstinence.
"We're just concerned," he said, "about government programs where abstinence is given short shrift."
Although their ranks remain small, increasing numbers of American evangelicals are willing to donate money for AIDS education and prevention in Africa, according to recent polls.
The disease remains "a very touchy subject among evangelicals," said John C. Green, a professor of religion and politics at the University of Akron.
But if young Christians follow the lead of musicians like Dan Haseltine, a singer-songwriter in the popular group Jars of Clay, some of that may be changing.
Two years ago, Haseltine, who signed the letter in support of the Global Fund, started a program to provide clean blood and water supplies to African communities. Working in those communities, Haseltine said he has come to appreciate, and be humbled by, "the messiness of life."
"The church is kind of infamous for taking complex questions and finding really simple answers," Haseltine said in an interview. "AIDS doesn't work that way."
Related Elsewhere:
Focus's press release and letter (.PDF) about Global Fund financing are available on their website.
More about the Global Fund and the programs they finance is available from their website.
News elsewhere includes:
Condom-mania | Once upon a time on Planet Earth -- before the scourge of AIDS -- the subject of condoms rarely came up in polite company. (Kathleen Parker, Orlando Sentinel, May 7, 2006)
Focus on Family disputes criticism | Dobson strongly supports the fight against AIDS, but when American money is being hijacked to fund the destructive agenda of radical liberals to legalize prostitution and drug use, you better believe he'll speak up. (Tom Minnery, Letter to the Editor, Sun-Sentinel, Fla. May 23, 2006)
More Christianity Today coverage of AIDS includes
Finally, Some Overdue Good News in the Battle Against AIDS | "Global slowing" is about as good as it gets when you're talking about this disease. (June 1, 2006)
Close Encounters with HIV | Local churches should network in the war against the virus.—A Christianity Today editorial (Jan. 19, 2006)
Warren, Hybels Urge Churches to Wage 'War on AIDS' | Hundreds of evangelicals attending Disturbing Voices conference repent, refocus on outreach to outcasts. (Dec. 5, 2005)
On The Record
Why We're Losing the War Against HIV/AIDS | Harvard's Edward C. Green says health officials undermine abstinence and fidelity programs in Africa. (March 7, 2005)
Q&A: Deborah Dortzbach | The international director of HIV/AIDS programs at World Relief talks on our progress, and regress, with AIDS. (Aug. 16, 2004)
Cry, the Beloved Continent | Don't let AIDS steal African children's future. (March 04, 2004)
Confronting Moral Horror | It's a witness even the most jaded find impressive. (Feb. 04, 2004)
As Complicated as ABC | Condoms and abstinence can both play a role in AIDS prevention. (Feb. 04, 2004)
Beyond Condoms | To alleviate AIDS, we must sharpen our moral vision. (June 10, 2003)
A Strategy for Progress | Unless prevention of HIV/AIDS becomes a clear priority, things are only going to get worse. (May 2, 2003)
Civics for Gay Activists | We may see more die from HIV/AIDS because gay activists are intolerant. (April 10, 2003)
ABC vs. HIV | Christians back abstinence-fidelity plan against deadly virus. (March 10, 2003)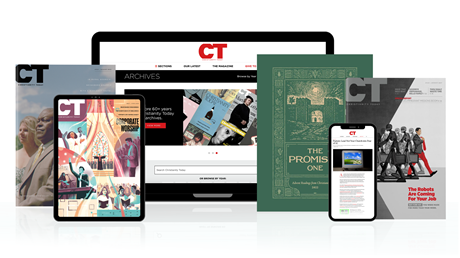 Subscribe to Christianity Today and get access to this article plus 65+ years of archives.
Home delivery of CT magazine
Complete access to articles on ChristianityToday.com
Over 120 years of magazine archives plus full access to all of CT's online archives
Subscribe Now
Rift Opens Among Evangelicals on AIDS Funding
Rift Opens Among Evangelicals on AIDS Funding