Today's Top Five
1. Sam Brownback's humble presidential run
"What the world needs now," Sam Brownback said in a speech to the archdiocese of Denver, "is love, sweet love." And The Washington Post says Brownback is ready to spread that love as he explores a run for president.
"Instead of getting angry at somebody for opposing you on something, you're just praying for them," he says. "You just pray blessings on them, blessings on their family."
The Post finds this habit of Brownback's just bit incongruous with his evangelical and conservative Catholic following. (He grew up Methodist and attended a non-denominational evangelical church before joining the Roman Catholic Church.)
Because of his emphasis on compassion, Brownback does not fit the stereotype of the angry Christian conservative. This persona was embodied sensationally by "Pitchfork Pat" Buchanan and his talk of America's "religious war," by Sen. Tom Coburn of Oklahoma, who once imagined "rampant" lesbianism in his state's schools, by the Rev. Jerry Falwell, who said abortionists, feminists, gays and pagans helped cause the 9/11 terror attacks. (Falwell later took it back.)
Brownback has teamed up with some of the most liberal members of the Senate to help victims of sex trafficking, and suffering Sudanese. He quotes Bono on the struggles of the poor and encourages college students to take their spring breaks in Africa. He has worked for women's rights in Afghanistan and for North Korean refugees. When the issue of illegal immigration blew up in the Senate earlier this year, Brownback embraced President Bush's plan for comprehensive reform, infuriating some conservatives who see it as too lenient. He has pushed for an African American history museum on the Mall, saying he became committed after a "divine intervention" came to him during prayer.
Unfortunately, The Post obviously thinks that Brownback's bleeding-heart-liberal positions on human rights somehow don't square with his pro-life, pro-family views.
But Brownback is as evangelical as any churchgoer. Discussing his reading of the Qur'an, Brownback says, "That's why I love grace so much. And mercy. Think of the burden that is on a person, that you're going to be weighed. And all of us fall short." The Post writes,
Once, years ago, he washed the feet of a staffer at a farewell party to demonstrate respect and humility. When he feels his staffers need guidance, he gives them index cards with Scripture encouraging them to follow Christ's model of servant leadership, or reminding them that "Pride goes before destruction."
Perhaps it's Brownback's humility that makes him a dark horse in the upcoming presidential primaries. But, The Post suggests, his presence could have a leavening effect. "Even if he doesn't get close to winning, though, his support in the conservative Christian community may affect what other candidates are talking about." Rob Schenck, a minister and the president of the conservative National Clergy Council says, "He in a way could hold the evangelical and the traditional Catholic vote hostage if the party began to waver on those [social conservative] issues."
2. Kay Warren: Christians must do more to combat AIDS
Kay Warren, wife of Rick Warren, writes for CNN:
Horrific and startling images confront each of us daily through newspapers, televisions, and eyewitness accounts of those suffering from AIDS. You can do what I did for years -- choose to ignore it all because it was too painful -- or you can become disturbed -- seriously, dangerously disturbed -- so disturbed that you are compelled to do something. …
I challenge the worldwide church to take on the global giants of spiritual darkness, lack of servant leaders, poverty, disease, and ignorance. It's past time for those who claim to be Christ's followers to join the struggle against the devastation that the HIV virus brings.
Kay and her husband have done much to get evangelicals to "do something" about HIV/AIDS. She also says the rest of the AIDS-fighting community needs to accept evangelical offers of support. "There are people concerned that Saddleback would want to try to convert them from gay to straight," said Alan Witchey, executive director of the Orange County AIDS Services Foundation.
"Just because they don't trust us, they're not going to put us in the game," Kay says.
It's another example of the civics lesson some gay activists need to learn. As Christianity Todaywrote in 2003, "By hijacking the AIDS agenda for their political purposes, gay activists are saying no to thousands of willing foot soldiers in the fight against AIDS. We may see more die from HIV/AIDS because gay activists are intolerant of social conservatives."
3. Harvard scientists attempt to clone humans
Weblog hopes the mainstream media will stop saying that Bush has banned stem-cell research now that a second American university is attempting to clone humans for research. The AP reports, "The privately funded work is aimed at devising treatments for such ailments as diabetes, Lou Gehrig's disease, sickle-cell anemia and leukemia. Harvard is only the second American university to announce its venture into the challenging, politically charged research field." The University of California, San Francisco recently restarted a cloning program it abandoned in 2001.
4. Archbishop reinstates "rebel" evangelical
The Anglican wars limp along in England. Richard Coekin declared himself in impaired communion with his bishop, Tom Butler, after, as The Guardian reports, "Butler, together with all the other diocesan bishops and the archbishop, agreed to a statement last July allowing gay clergy to enter civil partnerships providing they gave assurances that their relationships were chaste." Circumventing his bishop, Coekin then invited a bishop from the Church of England in South Africa (which is not in communion with the Church of England in England) to ordain three deacons. In response, Butler revoked Coekin's license to minister. The action eventually prompted the Archbishop of Canterbury, Rowan Williams, to order Butler to reinstate Coekin.
This could have ramifications in the U.S. as several ministers have requested alternative oversight but are still waiting for an official response. No comment yet at TitusOneNine.
5. Roy Moore loses bid for governor
Incumbent Bob Riley defeated Roy Moore in the Alabama primary race for governor. Even last night, Moore was optimistic despite low poll ratings. "We expect to win," said Moore. However, Moore gained only 33 percent of the vote, while Riley garnered 67 percent, exactly as polls predicted.
"Moore, 59, was making his first race for public office since a state judicial court ousted him as Alabama's chief justice in 2003, but his campaign failed to gain traction," the Associated Press reports.
Quote of the Day
"Oddly enough, those Americans who live in Darwin-denial, the evangelicals and the orthodox, they live as Darwin recommends: They have lots of kids, they raise them well, and when they get old, they don't mind all that much stepping aside as God or nature intends. But those Americans who do believe that Darwin teaches the truth are having fewer and fewer children, are more and more obsessed about their personal existences, and are living more as individuals. So the people who believe in Darwin are the evidence that Darwin doesn't teach the whole truth and nothing but."
Peter Augustine Lawler, interviewed on Mars Hill Audio Journal, vol. 79.
Politics | Same-sex marriage | Religion & homosexuality | Education | Ethics | Church life | World Cup ministry | Catholicism | Abuse | Taylor crash | Books | Music | More articles of interest
British gays want marriage recognition | Two women asking Britain to recognize their Canadian same-sex marriage argued in court Tuesday that their relationship is like that of any other married couple and calling it a civil partnership violated their human rights. (Associated Press)


Washington gay-rights challenge fails | Opponents of Washington state's new gay civil rights law failed to submit enough voter signatures Tuesday to force a statewide ballot on the issue this fall. (Associated Press)


Gay marriage amendment carries new support | A constitutional amendment to ban gay marriage is headed toward certain Senate defeat, but supporters say new votes for the measure represent progress that gives the GOP's base reason to vote on Election Day. (Associated Press)


District suspends visits by pastors | Policy - Bend-La Pine parents complain about church members meeting with students during lunch (The Oregonian)


Patrick Henry students look to future | Most of Adrienne Cumbus' classes at Patrick Henry College next fall will be taught by TBD—To Be Determined. (Loudoun Times-Mirror, Va.)


Can you teach a person ethics? | Iraqi allegations. Hiring probes. Enron. Right and wrong seem to be elusive concepts (Chicago Tribune)


Scientists to try to clone human embryos | Stepping into a research area marked by controversy and fraud, Harvard University scientists said Tuesday they are trying to clone human embryos to create stem cells they hope can be used one day to help conquer a host of diseases. (Associated Press)


Churches invite fans to take a pew to watch games | Churches across Germany are encouraging soccer fans to swap their barstools and pints for a pew and a prayer, hiring big screens to broadcast World Cup games to their congregations. (Reuters)


"God save the team" service for fans | For football fans seeking divine intervention on behalf of their teams or in need of consolation after a crushing defeat, religious pastors will be on hand in each of Germany's World Cup cities to offer spiritual care. (Reuters)


Gay marriage is "eclipse of God" –Vatican | The Vatican said on Tuesday that gay marriage, abortion, lesbians wanting to bear children and a host of other practices it sees as threats to the traditional family were signs of "the eclipse of God". (Reuters)


Vatican reiterates family stance | Hits contraception and gay unions (Associated Press)


Vatican: Abortion must be punished | In a document by the Pontifical Council on the Family, the Vatican said that unless abortion is punished as a crime it will be seen as a "banal" act. (UPI)


Catholic Church seeking ways to keep Hispanic youths in the fold | Some 2,000 Hispanic youth and Catholic Church leaders will gather this week as part of a new, churchwide effort to meet the spiritual and social needs of young Hispanics. (Knight Ridder)


China, Vatican talks go on despite dispute | Hong Kong Cardinal Joseph Zen said talks on resuming ties between the Vatican and Chinese government will continue despite a dispute over China appointing bishops without the Holy See's approval, a newspaper reported Tuesday. (Associated Press)


2 women file suits alleging abuse by nun | Two women who claim they were sexually abused by a Roman Catholic nun filed lawsuits Tuesday alleging a religious order failed to protect them. (Associated Press)


Judge won't withdraw from church abuse case | A Chittenden County Superior Court Judge won't voluntarily step aside as the presiding judge in 19 priest sexual abuse cases that are pending against the Roman Catholic Diocese of Burlington. (Associated Press)


VanRyn's body is exhumed in Gaylord | She was mistaken for Gaylord woman who survived crash (Traverse City Record Eagle)


Body exhumed in crash mix-up case | Surviving student `sitting up,' dad says (Associated Press)


Casket travels home to Grand Rapids | Burial of Laura in tragic mix-up case expected later this week; Whitney makes strides in recovery. (The Detroit News)


Hating Ann Coulter | The syndicated columnist and TV commentator is certainly near the top of any liberal's list of most-hated conservatives, and she probably won't make any new Democrat friends with her latest book, "Godless: The Church of Liberalism." (The Washington Times)


Magazine revisits claim of 'Da Vinci' borrowing | Despite having been cleared by several courts, Dan Brown, the author of the blockbuster novel "The Da Vinci Code," continues to be dogged by allegations that he heavily borrowed material from other sources for the book. (The New York Times)


Author, former congressman makes friends across party lines | Tony Hall's new book "Changing the Face of Hunger" (W Publishing Group, $21.99) achieves the rare, perhaps unprecedented, feat of drawing blurbs from liberal comedian Al Franken and conservative columnist Cal Thomas. (The Dallas Morning News)


Busted: Sufjan Stevens | Busted Halo discusses faith's place in art and the public market with one of America's most adventurous singer-songwriters. (Busted Halo.com)


Country stars make room for God in their work | God and religion have always been a part of country music. And the role may be getting bigger. I was amazed when three of the top awards of the recent Academy of Country Music went to songs with stirring messages of faith. (Jim Jones, Knight Ridder)


More articles of interest:
Showing faith in his family | Filmmaker is home to share personal story in 'Hand of God' (The Boston Globe)


Video game targets Antichrist | A Christian-themed electronic video game will feature battles pitting armies of a One World Government against the forces of God. (The Washington Times)


Distant spat plays out in L.A. courts | Children of Nigerian religious leader fight over right to church property even though their faith preaches against legal action. (Los Angeles Times)


Assyrian Christians object to their exclusion in Iraq homeland | After years of being persecuted by Saddam Hussein's tyrannical regime, they were hoping to have their voices heard under Iraq's new democratic government, the one the United States helped create. But so far, that hasn't really happened, says Oshana, an Assyrian Christian whose family fled Iraq in 1977, when she was 8. (The Arizona Republic)


Bible, yoga strike a pose | As Susan Bordenkircher sees it, Christians for too long have kept yoga on the mat. (Knight Ridder)


World religious leaders congregate in Seoul | Leaders of the world's representative religions are in Seoul to pray for world peace and harmony between religions. (Korea Times, South Korea)


Related Elsewhere:
Suggest links and stories by sending e-mail to weblog@christianitytoday.com
See our past Weblog updates:
June 6
June 2b | 2a | May 31
May 26 | 24
May 19 | 18 | 17
May 11 | 10 | 9 | 8
May 5 | 4 | 3
April 28 | 27b | 27a | 19
April 12 | 11 | 7
Weblog
Launched in 1999, Christianity Today's Weblog was not just one of the first religion-oriented weblogs, but one of the first published by a media organization. (Hence its rather bland title.) Mostly compiled by then-online editor Ted Olsen, Weblog rounded up religion news and opinion pieces from publications around the world. As Christianity Today's website grew, it launched other blogs. Olsen took on management responsibilities, and the Weblog feature as such was mothballed. But CT's efforts to round up important news and opinion from around the web continues, especially on our Gleanings feature.
Ted Olsen is Christianity Today's executive editor. He wrote the magazine's Weblog—a collection of news and opinion articles from mainstream news sources around the world—from 1999 to 2006. In 2004, the magazine launched Weblog in Print, which looks for unexpected connections and trends in articles appearing in the mainstream press. The column was later renamed "Tidings" and ran until 2007.
Previous Weblog Columns: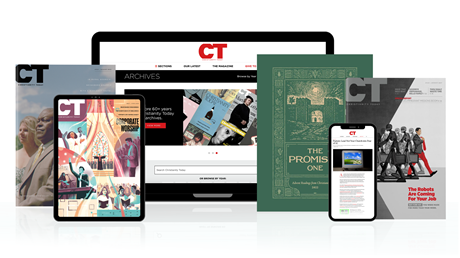 Annual & Monthly subscriptions available.
Print & Digital Issues of CT magazine
Complete access to every article on ChristianityToday.com
Unlimited access to 65+ years of CT's online archives
Member-only special issues
Subscribe
Sam Brownback's Humble Ambition
Sam Brownback's Humble Ambition