No commentary today, just links.
Religious freedom | Abortion clinic targeted with pipe bomb | Crime | Abuse | Politics | US approves cervical cancer drug | Homosexuality | Education | Church life | Missions & ministry | Family | Spirituality | Edinburgh Fringe festival | Media | Books | Other religions | Scientology | More articles of interest
China detains 28 Christians during raid on unauthorized church | Chinese authorities detained 28 Christians in a raid on a non-government-authorized church service at a private home, an overseas monitoring group said Friday. (Associated Press)


Sudanese leaders prepare for peace talks | Southern Sudanese leaders said Thursday they are organizing peace talks with the rebel Lord's Resistance Army and the Ugandan government to try to end the brutal war in northern Uganda that has spilled across the border into their own country. (Associated Press)


Hope renewed for Valley Iraqi exiles | But fear remains that others will rise, take Zarqawi's place (The Arizona Republic)


Abortion clinictargeted with pipe bomb:
Man arrested for plotting clinic attack | A man who told police he made a pipe bomb to attack an abortion clinic was arrested Thursday, shortly before the device went off in a friend's home while authorities tried to disable it, according to court documents. (Associated Press)


Maryland abortion clinic targeted | Maryland authorities allege a man arrested with a homemade pipe bomb planned to attack a College Park, Md., abortion clinic. (UPI)


One arrested in Wis. monastery vandalism | Authorities arrested a man and were searching for a teenager after vandals spraypainted a historic monastery with the number 666 and the phrase "Happy Birthday Satan." (Associated Press)


Man arrested at Holy Hill in vandalism | Deputies seek teen who fled after questioning (Milwaukee Journal Sentinel)


Trumpeter Driscoll convicted in tax case | Grammy-winning trumpeter Phil Driscoll, who shifted from pop music to gospel, was convicted Thursday on federal charges that he used his Tennessee-based Christian music ministry in an income-tax cheating scheme. (Associated Press)


Vatican appeals ruling in molestation case | The Vatican filed an appeal Thursday to a federal judge's ruling refusing to dismiss a lawsuit that claims the Holy See bears responsibility for a priest who was transferred from city to city even though he was known to be a molester. (Associated Press)


Vatican defrocks Springfield Diocese priest accused of sex abuse | A Roman Catholic priest suspected of sexual abuse while serving in the Springfield Diocese has been defrocked, church officials said Thursday. (Associated Press)


Mahony's move angers abuse plaintiffs | The cardinal intervenes in an LAPD case and wins a ruling that could shield the archdiocese's files from alleged victims of priests. (Los Angeles Times)


US approves cervical cancer drug:
U.S. approves use of vaccine for cervical cancer | Federal drug officials on Thursday announced the approval of a vaccine against cervical cancer that could eventually save thousands of lives each year in the United States and hundreds of thousands in the rest of the world. (The New York Times)


US approves cervical cancer drug | The US has licensed the first vaccine against cervical cancer, which kills at least 290,000 women worldwide a year. (BBC)


Lesbian foster parents win Missouri case | The state plans to drop its legal challenge to a lesbian's efforts to become a foster parent because a new state law makes the appeal impossible, Missouri Attorney General Jay Nixon said. (Associated Press)


County to recognize legal same-sex unions | Westchester move seen as symbolic (The Journal News, N.Y.)


Delay in lesbian wedding decision | A High Court judge has delayed his decision in a ground-breaking legal challenge brought by a lesbian couple who want their marriage recognised. (BBC)


Prayer at school | Students take faith public (Waterloo Cedar Falls Courier, Iowa)


Vagt to step down after decade leading Davidson College | The president of Davidson College says he will step down in a year because the school needs fresh leadership. (Associated Press)


Vagt to leave Davidson in '07 | College saw record fundraising, changes in tenure as president (The Charlotte Observer)


In Pittsburgh, conservative bishop hews to tradition | In Pittsburgh, there are two very different views of the state of the Episcopal Church. (The Columbus Dispatch)


Will fight over gay clergy split Anglicans? | In an Easter season letter to leaders of the Anglican Communion, the Archbishop of Canterbury set out their priorities for a once-a-decade summit planned for 2008. The note was all about survival: How do we heal the feuds over gay clergy and other rifts and manage to hold together 77 million followers around the world? (Chicago Sun-Times)


A sower goes forth | As in Jesus' parable, consultant on new churches reaps success (News & Observer, N.C.)


Synod assembly to elect bishop | Bishop Mark Hanson is in town this weekend not only to lead the East Central Synod of Wisconsin's annual Synod Assembly, but also thank its members. (Post-Crescent, Wisc.)


Group to protest at Southern Baptist Convention | Anti-gay protesters, who became the focus of recently passed federal legislation for their controversial demonstrations at the funerals of soldiers, will be at the Greensboro Coliseum next week to picket the unveiling of a statue of the Rev. Billy Graham at the Southern Baptist Convention. (Greensboro News Record, N.C.)


Cowboy church issue remains in spotlight | A lawyer says Bedford County is incorrectly applying state law in banning the services. (Roanoke Times, Va.)


On a Gold Wing and a prayer? | Even before Andrew Raffensperger says he knew Jesus, he'd feel a holy presence while riding his bike. (Glens Falls Post-Star, N.Y.)


Keeping a different promise | Promise Keepers is re-emerging as a leaner movement. The organization is pursuing a less-ambitious schedule of traditional, two-day conferences such as the one that begins here tonight, while developing plans for shorter, smaller and, in some cases, ethnically specific events. Meanwhile, it continues to spread the theologically and socially conservative message that its leaders say men still need to hear. (Baltimore Sun)


Teams start churches, help sick, aid abandoned kids | Mission teams from Birmingham returned last month to Peru, where Christians from Alabama have conducted medical missions, helped start churches and reached out to abandoned children over the past eight years. (The Birmingham News)


Bethel Christian singer-songwriter inspired by her personal experiences | "It's like Woodstock for Christians," said Bethel's Bizzy Bender about SoulFest, a five-day family music festival set for Aug. 2-6 at Gunstock Mountain Resort in Gilford, N.H. (Danbury News Times, Conn.)


Giving kids a day of their own | Mother and son seek to spread a church tradition nationwide with a Children's Day (Chicago Tribune)


Employee stigma over infertility | A third of people who are undergoing fertility treatment do not tell their employers because they fear it will harm their career. (BBC)


Religion to feature in Edinburgh Fringe festival | Religion in guises ranging from violence in faith to Jesus as a stand-up comedian is a central theme in this year's Edinburgh Fringe Festival. (Reuters)


Religion at the heart of Fringe | Religion has emerged as the main theme at this year's Edinburgh Festival Fringe, including two shows featuring Jesus as a stand-up comedian. (BBC)


House seeks to open cable TV market | Lawmakers say their goal is to open cable TV markets to more competition, possibly saving consumers hundreds of dollars a year, in House legislation that also tackles the government role's in Internet access. (Associated Press)


Editorial cartoonists in heated debate over religion | What do you get when you put Muslim, Christian, and Jewish leaders in the same room with editorial cartoonists? An impassioned and occasionally testy discussion that seemed to be just getting started after two hours. There was even some cartoonist vs.cartoonist debate. (Editor & Publisher)


Sherwood movie too evangelical for G-rating | The Albany makers of "Facing the Giants" say they expected a PG rating, but they did not expect the reason stated by the Motion Picture Association of America, which assigns ratings to new releases. (WALB, Ga.)


Superman as Christ figure | Author of 'The Gospel According to the World's Greatest Superhero' to speak at All Saints Sunday (Daily News Journal, Tenn)


Dan Brown's effigy, copies of book, VCD burnt | An effigy of author Dan Brown, copies of his controversial book The Da Vinci Code and a VCD of the film based on the book were burnt today by members of the Mizoram Producers' Guild, an organisation of film-makers. (Press Trust of India)


Should Jews read Gospels? One rabbi says yes | Of all the texts considered required reading in a thorough Jewish education, one major work with Jewish roots is usually missing from everyone's list: the New Testament. (Associated Press)


Play highlights Muslim family's beliefs | Play 'The Perfect Prayer' highlights Muslim family's beliefs, conflicts (Associated Press)


Neb. couple fights newborn blood test law | A Saunders County couple has asked a federal judge to throw out Nebraska's one-of-a-kind newborn blood screening law before the case goes to trial. Ray and Louise Spiering filed a lawsuit challenging the law in 2004, arguing that the mandatory blood test would violate a tenet of their religion beliefs as members of the Church of Scientology. (Associated Press)


Church takes message on road | Scientology backs driver at Irwindale, joining retailers and others seeking an audience. (Los Angeles Times)


Beyond tattoos, they look to faith | Bradley Jesse Larson, one of the four Taylor University students killed in April when a semitrailer truck crossed the median of an Indiana freeway and plowed into their van, lived in Elm Grove, about a half-mile from Jordan and Aaron Hawkins, two brothers who live in Brookfield and had known Brad since they were kids. A while ago, Aaron and Jordan agreed that if a close friend of theirs ever died, they would get tattoos to memorialize their loss. (Milwaukee Journal Sentinel)


Vicar offers counselling for fans | England football fans are being offered counselling if the unthinkable happens and their team loses to Paraguay. (BBC)


Teens' use of condoms increases | Survey finds use grew since ruling (The Boston Globe)


Related Elsewhere:
Suggest links and stories by sending e-mail to weblog@christianitytoday.com
See our past Weblog updates:
June 8 | 7 | 6
June 2b | 2a | May 31
May 26 | 24
May 19 | 18 | 17
May 11 | 10 | 9 | 8
May 5 | 4 | 3
April 28 | 27b | 27a | 19
April 12 | 11 | 7
Weblog
Launched in 1999, Christianity Today's Weblog was not just one of the first religion-oriented weblogs, but one of the first published by a media organization. (Hence its rather bland title.) Mostly compiled by then-online editor Ted Olsen, Weblog rounded up religion news and opinion pieces from publications around the world. As Christianity Today's website grew, it launched other blogs. Olsen took on management responsibilities, and the Weblog feature as such was mothballed. But CT's efforts to round up important news and opinion from around the web continues, especially on our Gleanings feature.
Ted Olsen is Christianity Today's executive editor. He wrote the magazine's Weblog—a collection of news and opinion articles from mainstream news sources around the world—from 1999 to 2006. In 2004, the magazine launched Weblog in Print, which looks for unexpected connections and trends in articles appearing in the mainstream press. The column was later renamed "Tidings" and ran until 2007.
Previous Weblog Columns: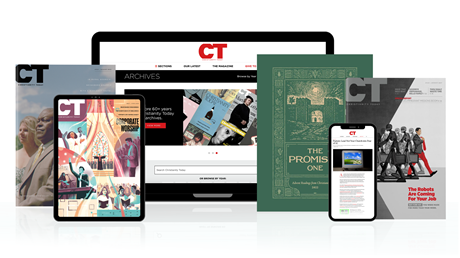 Annual & Monthly subscriptions available.
Print & Digital Issues of CT magazine
Complete access to every article on ChristianityToday.com
Unlimited access to 65+ years of CT's online archives
Member-only special issues
Subscribe
China Detains 28 in House Church Raid
China Detains 28 in House Church Raid