This is today's second Weblog posting. Our morning post collected stories from the weekend.
Today's Top Five
1. Evidence that bolsters a doubted biblical tale
An archaeological find in Jordan is making researchers—who seem terrified of proving the Bible historically accurate—very skittish. The New York Times reports on the ongoing controversy.
An international team of archaeologists has recorded radiocarbon dates that they say show the tribes of Edom may have indeed come together in a cohesive society as early as the 12th century B.C., certainly by the 10th. The evidence was found in the ruins of a large copper-processing center and fortress at Khirbat en-Nahas, in the lowlands of what was Edom and is now part of Jordan. …
The findings, Dr. Levy and Dr. Najjar added, lend credence to biblical accounts of the rivalry between Edom and the Israelites in what was then known as Judah. By extension, they said, this supported the tradition that Judah itself had by the time of David and Solomon, in the early 10th century, emerged as a kingdom with ambition and the means of fighting off the Edomites.
The discover runs counter to prevailing notions that the kingdoms of David and Solomon were little more than agricultural cooperatives.
Most criticism has come from advocates of a "low chronology" or "minimalist" school of early biblical history. They contend that in David's time Edom was a pastoral society, and Judah not much more advanced. In this view, ancient Israel did not develop into a true state until the eighth century B.C., a century and a half after David. …
Israel Finkelstein, an archaeologist at Tel Aviv University and a leading proponent of the low-chronology model, has said the new research does "not shed new light on the question of state formation in Edom." He argues that perhaps the copper operations were controlled by chieftains in Beersheba, to the west, and supplied material for urban centers west and north of Edom.
Right, any explanation makes sense except the Bible's.
2. Our persecution is none of your business
China is reacting to a House resolution on Monday that condemned the country for religious persecution. The resolution urged:
the Government of China to end its repression of religious organizations, recognize the ecclesiastical authority of religious leaders to provide spiritual leadership to their followers, and end the practice of only allowing religious worship through state-sanctioned patriotic religious associations; and [the House] insists that China refrain from additional ordinations of Catholic bishops until and unless their elevation is approved by the proper ecclesiastical authorities.
"The Chinese government protects the freedom of religious beliefs of citizens in accordance with the law," said Jiang Yu, a Chinese Foreign Ministry spokeswoman. "After reform and opening up … we have made great progress in our human rights and people's livelihoods. This is obvious for all to see."
Last week, China arrested 28 in a raid on an "unauthorized" church.
Who's smarter: the man who says his investment deal will earn massive returns, or the man who says if you give him money, God will repay you?
Greg Setser is learning the answer. "Federal prosecutors alleged that Setser, 49, and others ran a sham company that promised churches and religious investors the chance to make huge profits. Some 1,700 investors were duped," reports the Associated Press.
Prosecutors argued Setser had gained investments from influential leaders like Benny Hinn and used their testimony to persuade other investors.
If Setser doesn't get the maximum life sentence, next time he should just pose as a pastor in order to collect others' money.
4. Religious leaders say 'ban torture'
It's nice to think that in these days of polarizing political debates there are still some things we can all agree on.
In an expression of religious solidarity and moral outrage, Rick Warren, Nobel laureate Elie Wiesel, Cardinal Theodore E. McCarrick of Washington, Ted Haggard, Archbishop Demetrios of the Greek Orthodox Archdiocese of America, former president of Catholic University William J. Byron, and 21 others signed a statement asking the U.S. to "abolish torture now—without exceptions."
"Nothing less is at stake in the torture abuse crisis than the soul of our nation. What does it signify if torture is condemned in word but allowed in deed?" the statement read in part.
The government's response? "This government does not torture, and we adhere to the international conventions against torture."
Oh, well then, everything's fixed now.
But the National Religious Campaign Against Torture gets a little more specific.
The Washington Post reports:
The National Religious Campaign Against Torture urges Congress and the president to "remove all ambiguities" by prohibiting secret U.S. prisons around the world, ending the rendition of suspects to countries that use torture, granting the Red Cross access to all detainees and not exempting any arm of the government from human rights standards.
David Gushee, who the Post noted for his "influential article against torture" in Christianity Today, told the Post he is "not sure that everyone who signed the statement would concur with that platform." Whew, now that we know these leaders didn't mean anything specific, we can go back to ignoring them.
5. 'In God We Trust' survives Newdow attack
Ruling that the coined phrase is secular, a federal judge rejected Michael Newdow's claim that it violated the First Amendment. Newdow, of 'under God' fame, has promised to appeal. A new suit from Newdow challenging the constitutionality of the Pledge of Allegiance is pending before the ninth Circuit Court of Appeals.
More Articles
Church & state | Religious freedom | Politics | Australia overrules same-sex marriage law | Religion & homosexuality | ECUSA | SBC | Missions & ministry | Islam in America | Crime | People | More articles of interest
Judge rejects atheist's lawsuit | A federal judge on Monday rejected a lawsuit from an atheist who said having the phrase "In God We Trust" on U.S. coins and dollar bills violated his First Amendment rights.


Judge orders ministry out of Iowa prison | A federal judge has ruled that Iowa crossed the First Amendment line when it contracted with an evangelical Christian program for prison inmates. (UPI)


City sued to stop payment to Baptist group | Funds are for an anti-hunger program to be conducted by a local organization preceding national convention (Baltimore Sun)


Churches push for school worship | Secondary schools are failing to hold daily acts of collective worship and so limiting pupils' "spiritual and moral" development, Church leaders warn. (BBC)


China rejects US criticisms on religious freedom | China dismissed U.S. resolutions criticizing it for religious persecution on Tuesday, saying it was based on "groundless accusations" and constituted interference in its internal affairs. (Reuters)


China rips U.S. House bill on persecution | China's Foreign Ministry on Tuesday said a resolution by U.S. lawmakers condemning Beijing for allegedly stepping up religious persecution was a "groundless accusation" that interfered in China's internal affairs. (Associated Press)


IRAQ: Minority communities look abroad for asylum | Maria Canderi, a 34-year-old teacher, is one of hundreds of Iraqi Christians who—fearing their rights are not protected under the national constitution—has decided to leave Iraq to escape ongoing sectarian violence. (IRIN)


Pastor shares beliefs of free speech rights | A pastor who once distributed smuggled bibles in Saudi Arabia told a Maitland congregation yesterday he would go to jail rather than apologise for allegedly transgressing Victoria's religious vilification laws. (Maitland Mercury, Australia)


Religious leaders urge U.S. to ban torture | Twenty-seven religious leaders, including megachurch pastor Rick Warren, Nobel laureate Elie Wiesel and Cardinal Theodore E. McCarrick of Washington, have signed a statement urging the United States to "abolish torture now -- without exceptions." (Washington Post)


Bishops urge Mexicans to vote in July | Mexico's Roman Catholic Church on Monday urged voters to participate in the July 2 presidential election and asked the candidates to run clean campaigns.


Australia overrules same-sex marriage law:
Australia government overrules gay marriage laws | Australia's conservative national government has overruled same sex marriage laws in the nation's capital, Canberra, Attorney General Philip Ruddock said on Tuesday. (Reuters)


Australia overrules gay union law | Australia's conservative national government has overruled a local law allowing gay unions. (BBC)


Church to address fallout over gay bishop | Three years after confirming its first openly gay bishop, the U.S. Episcopal Church must decide whether to appease irate Anglicans by promising not to do it again — at least for now. (Associated Press)


Church revisits views on gays | Episcopal leaders face the ecclesiastical Rubicon over homosexuality at their triennial General Convention, which starts today in Columbus, Ohio. (The Washington Times)


Anglicans face rift over gay clergy | The Anglican Church could move a step closer to schism this week as the US branch meets to debate whether to "repent" the effects of its actions in consecrating an openly gay bishop. (Times, London)


SBC:
Southern Baptists meet amid dissension | Pastors' generational division, church's authority at issue in N.C. (The Tennessean)


Southern Baptists look to boost membership | There are more than 16.2 million Southern Baptists worshipping in the U.S., but as leaders of America's largest Protestant denomination gather this week, they are worried about how to attract new members.


Blogs bring Baptists' conflicts to the fore | As the Southern Baptist Convention convenes today, it will grapple with conflicts over doctrine and management — many of which have been brought into the spotlight by a younger generation of vocal Baptist ministers blogging on the Internet. (The Tennessean)


For ladies in waiting | Pregnant women in need find a home, coach and support network at Madison House (Portland Tribune, Ore.)


From the bright lights to a born-again crusade | One Baldwin brother ditches acting career to preach Christianity (Staten Island Advance)


U.S. Muslims confront taboo on nursing homes | Many Muslim families are trying to reconcile Islamic teachings on caring for elders with the modern realities. (New York Times)


Relocation of mosque into black community escalates tensions in Pompano | The Islamic Center of South Florida wants to move to a largely black, Christian section of Pompano Beach, where they have bought land meant to support their growing Muslim membership. (South Florida Sun-Sentinel)


Former CEO of import-export company convicted in scam targeting religious investors | A former import-export company executive who claimed to have a God-given gift for making deals was found guilty Monday of cheating ministers and their congregants out of about $65 million.


Jury convicts brother, sister of swindling church members | Man could get 45 years for using Ponzi scheme to make millions (The Dallas Morning News)


Wife indicted for Tenn. minister's death | The wife of a minister who was shot to death in his church's parsonage was indicted Monday on a charge of premeditated murder.


Bluegrass star goes spiritual on new album | Bluegrass legend Del McCoury makes his first foray into gospel music on his new album, "The Promised Land." (UPI)


Family: 'She's in heaven now' | Police are still investigating a crash that killed two Dover teens. (Daily Record, York, Pa.)


Moving heaven and earth | When it comes to global warming, Richard Cizik and Jim Ball are hell-bent on making fellow evangelicals see the light. (Fast Company)


In a ruined copper works, evidence that bolsters a doubted biblical tale | An international team of archaeologists has recorded radiocarbon dates that they say show the tribes of Edom may have indeed come together in a cohesive society as early as the 12th century B.C., certainly by the 10th. The evidence was found in the ruins of a large copper-processing center and fortress at Khirbat en-Nahas, in the lowlands of what was Edom and is now part of Jordan. (New York Times)


India court blocks Da Vinci ban | India's Supreme Court has refused to ban The Da Vinci Code film, rejecting petitions from Christian groups opposed to its religious content. (BBC)


Alcohol, drugs, trendy clothes: Can this be Amish country? | During 'Rumspringa,' Amish youth are encouraged to sample life in the mainstream. (Christian Science Monitor)


Relic renews Russians' faith | For the faithful of the Russian Orthodox Church, it is a hugely significant event. (BBC)


Salem Communications amends credit facility to pay more dividends, buy back added shares | Salem Communications Corp., which operates a radio network and publishes magazines aimed at Christians, said Tuesday it amended terms of its credit facility in order to pay out more dividends and buy back additional stock.


Related Elsewhere:
Suggest links and stories by sending e-mail to weblog@christianitytoday.com
See our past Weblog updates:
June 13
June 9 | 8 | 7 | 6
June 2b | 2a | May 31
May 26 | 24
May 19 | 18 | 17
May 11 | 10 | 9 | 8
May 5 | 4 | 3
April 28 | 27b | 27a | 19
April 12 | 11 | 7
Weblog
Launched in 1999, Christianity Today's Weblog was not just one of the first religion-oriented weblogs, but one of the first published by a media organization. (Hence its rather bland title.) Mostly compiled by then-online editor Ted Olsen, Weblog rounded up religion news and opinion pieces from publications around the world. As Christianity Today's website grew, it launched other blogs. Olsen took on management responsibilities, and the Weblog feature as such was mothballed. But CT's efforts to round up important news and opinion from around the web continues, especially on our Gleanings feature.
Ted Olsen is Christianity Today's executive editor. He wrote the magazine's Weblog—a collection of news and opinion articles from mainstream news sources around the world—from 1999 to 2006. In 2004, the magazine launched Weblog in Print, which looks for unexpected connections and trends in articles appearing in the mainstream press. The column was later renamed "Tidings" and ran until 2007.
Previous Weblog Columns: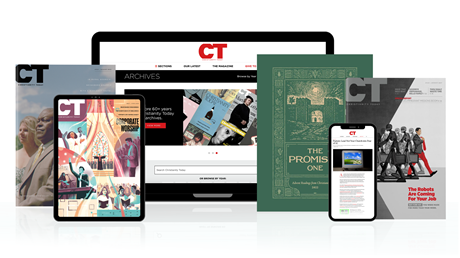 Annual & Monthly subscriptions available.
Print & Digital Issues of CT magazine
Complete access to every article on ChristianityToday.com
Unlimited access to 65+ years of CT's online archives
Member-only special issues
Subscribe
Evidence that Demands a Controversy
Evidence that Demands a Controversy