Today's Top Five
1. Frank Page is new, nicer SBC president
"I'm just a normal pastor of a somewhat normal church," said Frank Page upon being elected as president of the country's largest Protestant denomination. It was the first contested election in years, writes the Associated Press.
Johnny Hunt, a pastor from Woodstock, Ga., was the leadership's choice for president but unexpectedly dropped out of the race in late April. He was replaced by [Ronnie] Floyd, head of the First Baptist Church in Springdale, Ark., and the nearby Church at Pinnacle Hills.
Then Page entered the race, leading a group that criticized the low levels of cooperative program giving at Floyd's churches. Page's church, by contrast, gives 12 percent of its undesignated offerings to the program.
Page says he'll show a gentler face of Southern Baptists. "I believe in the Word of God," he said. "I am just not mad about it. Too long Baptists have been known for what we are against. Please let us tell you what we are for," he told The New York Times.
2. Ohio considers abortion ban
"By the time it gets to the Supreme Court, we may have a friendly court," John Willke, president of the Cincinnati-based Life Issues Institute and past president of the National Right to Life, told lawmakers at a hearing on a bill that would ban all abortions in Ohio. "The time has come."
Ohio's pro-life community hopes to join South Dakota in its effort to overturn Roe v. Wade. But it looks like they'll have to wait until after the November elections. The Dayton Daily News reports:
The bill has little chance of passing any time soon since House Speaker Jon Husted, R-Kettering, has said it would get only one hearing for now. State Rep. Chris Redfern, who is also Ohio Democratic Party Chairman, said the GOP doesn't want to vote on it now because a total ban would cost it votes in November.
3. Narnia really is about Jesus
When Anne Jenkins wrote C. S. Lewis asking for an explanation to a passage in The Silver Chair, she wasn't expecting a reply. The BBC reports that Lewis did reply, telling Jenkins what he told no one else—that Narnia was about Christ.
In the letter Lewis simply states that the Lion, the Witch and the Wardrobe tells the story of the "crucifixion of Christ and the resurrection".
He also explains that the story of Prince Caspian "tells the restoration of the true religion after the corruption".
"If you read the letters he wrote to other children, none of them are like this at all," Anne said.
Now who's going to publish the gift book and daily devotional spin off?
4. Chinese restaurant ministry
The LA Times profiles a woman who has made it her ministry to help Chinese immigrants working in restaurant kitchens:
Many, here illegally, have no access to labor unions or social service networks. They live in cramped restaurant-owned dormitories or in rented garages without cooking facilities, bathrooms or running water.
To cope with their harsh living conditions and mind-numbingly mundane work, many fall prey to gambling, drugs, alcohol and prostitution.
Among the worn wooden chopping boards and flashing meat cleavers, hissing deep-fryers and walk-in freezers, the desire for a higher calling is fierce.
5. Where's Waldo?
Evangelicals seem to be perennially eager to find God in popular culture artifacts. The Associated Press reports Superman Returns is no exception:
Many … see the story of a hero sent to Earth by his father to serve mankind as having clear enough New Testament overtones. Others have taken the comparison even further, reading the "El" in Superman's original name "Kal-El" and that of his father "Jor-El" as the Hebrew word for "God," among other theological interpretations.
More Articles
SBC new president | Church life | ECUSA | Same-sex marriage | Politics | War & terrorism | Religious freedom | Education | C.S. Lewis letter | More articles of interest
Southern Baptists elect Page as president | The Southern Baptist Convention elected Frank Page its new president Tuesday, choosing a pastor who had said that it would take a "miracle" for him to win and heralding a new direction for the denomination. (Associated Press)


Unexpected victory for new Baptist leader | The 16 million Southern Baptists in the United States have a new president, elected on Tuesday in a surprise victory that he called a turning point for a church that needs to engage more of its members. (New York Times)


New leader of Southern Baptists vows to open group to new voices | An S.C. pastor elected Tuesday as president of the Southern Baptist Convention promised to open the nation's largest Protestant body to new, younger voices. (Knight Ridder)


Baptists shake up old-guard leadership | Nashville's Sutton loses bid to S.C. pastor who wants 'sweet spirit,' no revolution (Hendersonville Star News, Tenn.)


New Southern Baptist leader reform-minded | Convention elects small-town pastor over endorsed candidates (Dallas Morning News)


Baptists choose outsider | New SBC president refreshing, hopeful choice, local pastors say (The Decatur Daily, Ala.)


Southern Baptists choose outsider as president in a surprise vote | The Southern Baptist Convention elected Frank Page its new president yesterday, choosing a pastor who had said that it would take a "miracle" for him to win. (The Tennessean, via Courier-Journal, Louisville)


Gay Episcopal bishop to fight new barriers | The first openly gay Episcopal bishop says it is unlikely the church's top policymaking body will create new barriers for homosexual clergy despite turmoil over his 2003 consecration. (Associated Press)


US Church in gay bishops debate | The US Anglican Church is meeting over the next week to discuss a motion to appease Church leaders critical of its gay bishops stance. (BBC)


Australia invalidates gay-relationship law | Conservative Prime Minister John Howard's federal government has invoked special powers to invalidate a territory's law that had been the first in Australia giving legal recognition to same-sex relationships. (Associated Press)


Australia overrules gay union law | Australia's conservative national government has overruled a local law allowing gay unions. (BBC)


BYU prof. let go for gay marriage stance | Brigham Young University has decided not to rehire a part-time instructor because he publicly opposed the Mormon church's stand against marriage for same-sex couples. (Associated Press)


Abortion bill debate draws big crowd | House Bill 228 would ban all abortions in Ohio but is not expected to come to a vote before November. (Dayton Daily News)


Religious leaders warn about global warming | Dozens gather at the Capitol to push for policy changes (Statesman Journal, Ore.)


Evangelicals to abandon Arroyo over abolition of death penalty | A Catholic Church prelate said President Gloria Macapagal-Arroyo may lose the support of the Philippine Council for Evangelical Churches (PCEC) and other religious groups and organizations in favor of capital punishment should she approve the abolition of the Death Penalty Law. (Sun-Star, Philippines)


For Iraqis, exodus to Syria and Jordan continues | In one of the first comprehensive tallies of Iraqis fleeing Iraq since the American-led invasion, an American refugee advocacy group has counted 644,500 Iraqi refugees in Syria and Jordan in 2005. (New York Times)


Ex-Ulster fighter promotes peace | A former Northern Ireland sectarian fighter - now working as a pastor in Heaton Chapel - is to attend the 10th anniversary ceremony for the Manchester bomb to promote peace. (Stockport Express, UK)


Vietnam: Montagnards face religious, political persecution | Vietnamese authorities have detained, interrogated, and even tortured Montagnard refugees and asylum seekers who have returned to Vietnam from U.N. High Commission for Refugee (UNHCR) camps in Cambodia, Human Rights Watch said in a report released today. (Reuters)


Turks oppose headscarf ban, back religion: poll | A majority of Turks say a ban on women wearing the Muslim headscarf in public offices and universities should be lifted and just two fifths favor a military government, according to a poll published on Wednesday. (Reuters)


Christian reform school sues Mo. workers | A Christian reform school sued over the state's removal of 115 students whom officials said they were trying to protect from abuse. (Associated Press)


Southern Baptists consider school strategy | As concerns persist about how classrooms are handling subjects such as homosexuality and "intelligent design," some members of the nation's largest Protestant denomination want the Southern Baptist Convention to consider creating an exit strategy from public schools. (Associated Press)


Woman allowed to share faith with students | A grandmother in Fort Worth, Texas, is now allowed to hand out religious pamphlets to students outside Crowley High School. (UPI)


CS Lewis letter tells tales of Narnia | When a little girl wrote to CS Lewis asking him for an explanation of the Chronicles of Narnia, she never expected to get a reply. (BBC)


CS Lewis Narnia letter for Queen's | A handwritten letter by CS Lewis, explaining the whole meaning of the Narnia story was being donated to Queen's University today. (Belfast Telegraph)


Related Elsewhere:
Suggest links and stories by sending e-mail to weblog@christianitytoday.com
See our past Weblog updates:
June 13b | 13
June 9 | 8 | 7 | 6
June 2b | 2a | May 31
May 26 | 24
May 19 | 18 | 17
May 11 | 10 | 9 | 8
May 5 | 4 | 3
April 28 | 27b | 27a | 19
Weblog
Launched in 1999, Christianity Today's Weblog was not just one of the first religion-oriented weblogs, but one of the first published by a media organization. (Hence its rather bland title.) Mostly compiled by then-online editor Ted Olsen, Weblog rounded up religion news and opinion pieces from publications around the world. As Christianity Today's website grew, it launched other blogs. Olsen took on management responsibilities, and the Weblog feature as such was mothballed. But CT's efforts to round up important news and opinion from around the web continues, especially on our Gleanings feature.
Ted Olsen is Christianity Today's executive editor. He wrote the magazine's Weblog—a collection of news and opinion articles from mainstream news sources around the world—from 1999 to 2006. In 2004, the magazine launched Weblog in Print, which looks for unexpected connections and trends in articles appearing in the mainstream press. The column was later renamed "Tidings" and ran until 2007.
Previous Weblog Columns: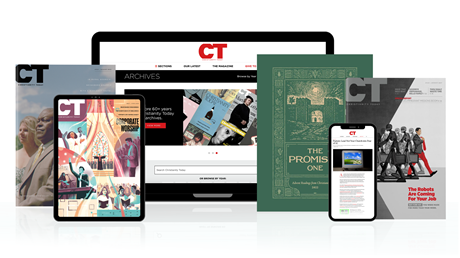 Annual & Monthly subscriptions available.
Print & Digital Issues of CT magazine
Complete access to every article on ChristianityToday.com
Unlimited access to 65+ years of CT's online archives
Member-only special issues
Subscribe
Dark Horse Wins SBC Presidency
Dark Horse Wins SBC Presidency