1. 'I believe in the Word of God. I am just not mad about it'
E. J. Dionne takes a deep look at the Southern Baptist election of Frank Page and says it shows evangelicals are mellowing out. "Page's upset victory could be very significant, both to the nation's religious life and to politics," Dionne says. By beating out the stalwarts of the conservative resurgence in the SBC, Page is broadening the Southern Baptists' appeal. Not cast in the mold of the combative, conservative leader, Page isn't fighting the liberals, but talking about preaching the gospel in a denomination whose membership has remained stagnant for several years.
While Dionne's analysis of Page's election is reductionistically political, and the election is not as momentous as he makes it, he is on to something. "The evangelical political agenda is broadening as new voices insist on the urgency of issues such as Third World poverty and the fights against AIDS and human trafficking," he says.
Rich Cizik, vice president for governmental affairs at the National Association of Evangelicals (and a self-described "Ronald Reagan movement conservative"), has been a leader in urging evangelicals to make environmental stewardship a central element of their political mission. This has earned him attacks from such prominent leaders on the Christian right as James Dobson. …
Religious movements stay vibrant thanks to the complicated interaction of fidelity, reflection and reform. The evangelical world is going through a quiet evolution as believers reflect on the perils of partisanship and ideology and their reasons for being Christian. This will probably affect the nation's political life, but it will certainly affect the country's spiritual direction. My hunch is that not only moderates and liberals but also many solid conservatives welcome the departure.
It will be interesting to watch this "departure." How will evangelicals take up the banners of creation care, AIDS, human trafficking, and religious freedom without deemphasizing issues like abortion and sexual morality?
How will evangelicals avoid becoming the mirror image of the mainline? News from this summer's mainline Protestant conventions has focused almost exclusively on political issues: homosexuality, the war in Iraq, Guantanamo, divesting from Israel. At the same time, these denominations are hemorrhaging members and money.
While evangelical leaders craft statements on global warming and torture, hoping that they're finally being listened to in the halls of power, will the temptation to appeal to a broader audience—and to be liked by cultural gatekeepers—cause them to dilute their evangelical message?
2. Speaking of which …
"Former President Bill Clinton praised evangelical Christians on Thursday for their recent efforts on global warming and debt relief for poor nations," reports the Associated Press. Clinton praised in particular the publication of Climate Change: An Evangelical Call to Action.
3. Decency on the airwaves
"U.S. President George W. Bush on Thursday signed into law legislation that raises fines tenfold for radio and television broadcasters that violate U.S. decency standards by airing extensive profanity or sexual content," reports Reuters. "The Christian Coalition had placed legislation to increase the fines as the No. 5 item on its 2006 legislative agenda."
Now, television will be safe once again for the whole family to veg out in front of for hours every evening.
4. Brazilian evangelicals show muscle
"About 3 million evangelical Protestants staged a huge rally Thursday in the heart of Brazil's biggest city, demonstrating their growing influence in the world's largest Roman Catholic country," reports the Associated Press.
"Evangelical churches like Reborn in Christ and the Universal Kingdom of God have seen their Brazilian flocks grow rapidly in recent decades, with millions in the country of more than 180 million attracted by their dynamic services and promises that divine intervention will improve their lives despite grinding poverty affecting tens of millions."
5. I caught you a delicious bass
Christian fans of Napoleon Dynamite will be interested in The Washington Post profile of its director Jared Hess.
During a telephone conversation, the writer-director happily mentions his wife and two children and the fact that he goes to church every Sunday. The former Idaho resident also says he lives in Salt Lake City as opposed to Hollywood because "we're really close to Idaho and near the grandparents, and it's good to be around family." He explains all this in the same tone he adopts when answering almost every question a reporter poses: pleasant, polite and—really, there is no better word for it—normal. …
Hess, a practicing Mormon, avoids the foul language that peppers so many mainstream movies, particularly comedies aimed at younger audiences. Like Napoleon, Nacho [Libre, Hess's latest film] is rated PG, and, though it contains cartoonish violence, not a single dirty word is uttered.
Quote of the Day
"The Lord has a plan. We always think the plans are A, B, C and D, and everything is going to be perfect for us and it may not be that way, but it's still his plan."
Tony Dungy, head coach of the Indianapolis Colts, who lost his son to suicide.
More Articles
Politics | War & terrorism | Homosexuality | ECUSA | Church life | Catholicism | New mass liturgy | Crime | Film & television | People | Spirituality | More articles of interest
A shift among the evangelicals | The mellowing of evangelical Christianity may well be the big American religious story of this decade. (E. J. Dionne Jr., Washington Post)


Pioneer urges 'responsible fatherhood' | The Department of Health and Human Services (HHS) announced the availability of its first funding stream dedicated to "responsible fatherhood" programs. (The Washington Times)


Clinton praises evangelical Christians | Former President Bill Clinton praised evangelical Christians on Thursday for their recent efforts on global warming and debt relief for poor nations and said he sees growing understanding between people of different faiths. (Associated Press)


Prayers in the military | Oh, Lord, help Congress to stop its meddling. (Editorial, The Washington Post)


Families demand probe into 1994 N.Irish killings | The families of six Roman Catholic men shot dead in a Northern Ireland bar 12 years ago have called for a public inquiry, saying they believed British security forces colluded with their Protestant killers. (Reuters)


El Salvador death squads targeting criminals: Church | A spike in the number of murders of gang members and criminals in El Salvador is raising concern that resurgent death squads are carrying out "social cleansing," the Catholic Church said on Thursday. (Reuters)


Ark.: Gay foster parents ban protects kids | Lawyers for gay couples told the Arkansas Supreme Court on Thursday that a policy banning homosexuals from becoming foster parents is unconstitutional, but the state argued that it protects children's moral and spiritual welfare.


Metro board member fired for comment on gays | Maryland Gov. Robert L. Ehrlich Jr. yesterday fired Robert J. Smith, his appointee on the Metro transit authority board, for referring to gay people as sexual deviants on a cable television show. "Homosexual behavior, in my view, is deviant," he said. "I'm a Roman Catholic." (The Washington Post)


Christian group promotes converting gays | More than 700 attendees listened to a panel of speakers, many of whom claimed to be former homosexuals, on issues such as reaching out to homosexual family members, gay marriage and the prevention of homosexuality. Nancy Heche, whose daughter was involved in a very public homosexual relationship with comedian Ellen DeGeneres, was one of the speakers at the conference. (Montgomery County Sentinel, Md.)


US Church to decide response to gay clergy | The US Episcopal Church is to debate its position on homosexuality this weekend and, by extension, whether it wishes to remain within the 77 million-strong worldwide Anglican communion. (The Guardian, UK)


War, Mideast issues face Episcopal church votes | While debate over homosexuality dominates news coming from the U.S. Episcopal Church's triennial convention, matters ranging from opposition to the Iraq war to a demand that the Guantanamo prison be closed are also on the agenda. (Reuters)


Episcopalians weigh not having gay bishops | The threat of a split in the worldwide Anglican family hovered over a national meeting of the Episcopal Church on Thursday, as delegates considered whether they should preserve unity by temporarily barring gays from becoming bishop.


Danforth warns Episcopalians on issues | John Danforth, an Episcopal priest and former U.S. senator, warned Thursday that the church risked irrelevancy by focusing on divisive issues such as gay clergy and same-gender couples. (Associated Press)


A house divided | James Mathes, Episcopal bishop of San Diego, and others struggle against fractures in the church over homosexuality (Union-Tribune, San Diego)


Baptists' leader puts stress on evangelism | Welch told the 11, 637 messengers, or delegates from individual churches who represented the roughly 16 million Southern Baptists worldwide, to focus on what he said Baptists do better than any other organization in the world: leading people to Christianity. (Arkansas Democrat Gazette)


Protestant rally draws 3 million in Brazil | About 3 million evangelical Protestants staged a huge rally Thursday in the heart of Brazil's biggest city, demonstrating their growing influence in the world's largest Roman Catholic country. (Associated Press)


Portuguese maintain tradition of festivals | If all had gone as planned, the men and women of the St. John Holy Ghost Association in Fall River would have gathered for Sunday morning Mass at Espirito Santo Church. Instead, the community is preparing for a memorial service tonight at 7 at the church to mourn four people who died at a rosary service Wednesday night, and to pray for those who were injured. (Boston Globe)


U.S. church urged to transform image after sex scandal | Pope Benedict's representative in the United States on Thursday urged Catholic bishops to transform the reputation of a church still tarnished by the nationwide paedophile priest scandal. (Reuters)


Bishops end debate over politicians, abortion | U.S. Catholic bishops on Thursday ended years of soul searching over whether Catholic politicians who support abortion rights should be denied communion, leaving the decision with local bishops. (Reuters)


Religion news in brief | A Vatican cardinal warned the Church of England that any move to consecrate women as bishops would make it impossible for their churches to fully reunify. (Associated Press)


Catholic Healthcare West to settle price-gouging suit | Catholic Healthcare West agrees to repay as many as 800,000 uninsured patients it is accused of overcharging.


Changes coming to Catholic mass | Bishops meeting in L.A. approve a new English translation that will alter the prayers recited by millions in the U.S. (Los Angeles Times)


A changing mass for U.S. Catholics | Roman Catholic bishops in the United States voted yesterday to change the wording of many of the prayers and blessings that Catholics have recited at daily Mass for more than 35 years, yielding to Vatican pressure for an English translation that is closer to the original Latin. (The New York Times)


U.S. bishops approve new Mass translation | The nation's Roman Catholic bishops have approved a new English translation for Mass that would change key prayers spoken for decades by millions of American parishioners. (Associated Press)


Proposed changes to English language Mass | A look at some of the proposed changes to the Mass that were before the U.S. Roman Catholic bishops on Thursday: (Associated Press)


Judge: Spokane bishop can't sell parishes | A federal judge ruled Thursday that individual parishes of the Catholic Diocese of Spokane are not owned by the bishop and thus cannot be sold by him to pay victims of clergy sex abuse. (Associated Press)


Man indicted on killing spree at La. Church | A man accused of killing his wife and opening fire inside a church, killing four of her relatives, was indicted murder charges, and prosecutors said they would seek the death penalty. (Associated Press)


Bush signs law boosting TV, radio indecency fines | U.S. President George W. Bush on Thursday signed into law legislation that raises fines tenfold for radio and television broadcasters that violate U.S. decency standards by airing extensive profanity or sexual content. (Reuters)


Parental guidance and matters of faith | In what is becoming the latest clash between fundamentalist Christianity and the rest of the world, the Motion Picture Association of America (MPAA) recently assigned a PG rating to an explicitly Christian film. (James L. Evans, Anniston Star, Ala.)


'Napoleon's' Hess enters the ring | Jared Hess sounds like the most ordinary, average guy on planet Earth. During a telephone conversation, the writer-director happily mentions his wife and two children and the fact that he goes to church every Sunday. (The Washington Post)


Amazing grace | Tony Dungy stands by his strong personal faith to overcome tragedy. (ESPN)


Calif. man carries cross; 'God does all the work' | This week, 44-year-old Johnson made his second pass through Georgetown as part of his 10th journey across America with his 6-foot long, 30-pound cross on his shoulder. (Georgetown Times, S.C.)


Hawking recalls pope's views on research |Â  Famed physicist Stephen Hawking said Thursday that Pope John Paul II tried to discourage him and other scientists attending a cosmology conference at the Vatican from trying to figure out how the universe began. (Associated Press)


Selling, for a saintly price | LI homeowners put their faith in St. Joseph; bury an icon and pray for a quick sale (Newsday, NY)


Scholars: Belief in heaven, hell wanes | Belief in hell is going to you-know-where. And belief in heaven is in trouble, too. (Associated Press)


Fired—for love without marriage | Roller rink fires 'top 10' worker for plan to move in with boyfriend (Associated Press)


Palestinians dance for peace | The campaign addresses the fate of Palestinian Christians in the Holy Land by funding a housing project that will provide affordable apartments to Palestinian Christians. (Chicago Tribune)


Band's music rooted in members' faith | Though all members of the band have a personal faith in Jesus and call themselves Christians, the label "Christian band" is something they prefer not to give themselves. (The Chippewa Herald, Wisc.)


Related Elsewhere:
Suggest links and stories by sending e-mail to weblog@christianitytoday.com
See our past Weblog updates:
June 15 | 14 | 13b | 13
June 9 | 8 | 7 | 6
June 2b | 2a | May 31
May 26 | 24
May 19 | 18 | 17
May 11 | 10 | 9 | 8
May 5 | 4 | 3
April 28 | 27b | 27a | 19
Weblog
Launched in 1999, Christianity Today's Weblog was not just one of the first religion-oriented weblogs, but one of the first published by a media organization. (Hence its rather bland title.) Mostly compiled by then-online editor Ted Olsen, Weblog rounded up religion news and opinion pieces from publications around the world. As Christianity Today's website grew, it launched other blogs. Olsen took on management responsibilities, and the Weblog feature as such was mothballed. But CT's efforts to round up important news and opinion from around the web continues, especially on our Gleanings feature.
Ted Olsen is Christianity Today's executive editor. He wrote the magazine's Weblog—a collection of news and opinion articles from mainstream news sources around the world—from 1999 to 2006. In 2004, the magazine launched Weblog in Print, which looks for unexpected connections and trends in articles appearing in the mainstream press. The column was later renamed "Tidings" and ran until 2007.
Previous Weblog Columns: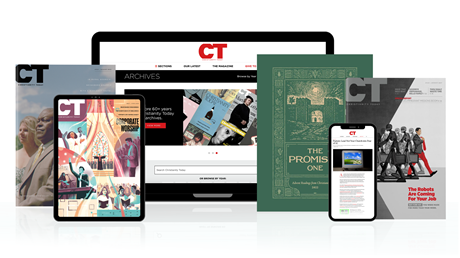 Annual & Monthly subscriptions available.
Print & Digital Issues of CT magazine
Complete access to every article on ChristianityToday.com
Unlimited access to 65+ years of CT's online archives
Member-only special issues
Subscribe
The Softer Side of Evangelicals
The Softer Side of Evangelicals