Weblog has been overwhelmed with all the church convention news. (See our dispatches from Columbus, Ohio, on ECUSA's General Convention.) So we're just posting links of articles from last Saturday through today.
Here are some highlights: Presbyterians (PCUSA) get creative with the Trinity and allow local jurisdictions to break ban non ordaining self-avowed practicing gays. Episcopalians reject banning gay bishops, kind of. The Vatican asks Amnesty International not to push for worldwide decriminalization of abortion. And a Christian football film was not given a PG rating for its religious themes.
ECUSA gay bishops | Katharine Jefferts Schori | Episcopal conservatives | Anglican schism | More on ECUSA | PCUSA allows ordaining gays | PCUSA divestment | PCUSA language on the Trinity | More on PCUSA | SBC | Church life | Pentecostalism | Missions & ministry | Catholicism | Parish cuts | U.K. Cardinal challenges abortion laws | Abortion | Life ethics | Politics | Church & state | Education | Silver rings banned from UK school | Religious freedom | Religious freedom & television | Homosexuality | Family | War & terrorism | Zimbabwe | Music | Books | Film | Sports | People | Spirituality | More articles of interest
Episcopalians defeat bid to nix more gay bishops | Episcopalians will continue consecrating homosexual bishops and allowing same-sex unions after its House of Deputies defeated a motion yesterday to stop both in the waning hours of their General Convention. (The Washington Times)


Church regrets, won't repent for gay bishop | Episcopalians passed a resolution expressing "regret" for consecrating a homosexual bishop in 2003, but not "repentance" as many of the world's Anglican archbishops have urged. (The Washington Times)


Episcopalians struggle for sexuality compromise | Episcopalians remained bogged down yesterday as they sought a compromise on ordaining homosexual bishops, an issue that has split the denomination. (The Washington Times)


Episcopal Church group defers on gay bishops | A proposal for the U.S. Episcopal Church to impose an unofficial moratorium on the ordination of more openly gay bishops was rejected in a key vote at the church's convention on Tuesday, a move that could further roil relations with fellow Anglicans worldwide. (Reuters)


Episcopalians address gay bishop impasse | The Episcopal General Convention tried again Tuesday to break an impasse on whether to meet Anglican demands that the U.S. church stop electing gay bishops for now. (Associated Press)


For an Episcopal pioneer, the challenge is to unite | As she talked about her past and her future, Bishop Katharine Jefferts Schori on Tuesday described a life filled with so many unusual steps — including learning to fly and entering the Episcopal priesthood at age 40 — that it seemed to suggest an almost congenital appetite for challenge. (The New York Times)


'A worldwide revolution' | Bishop Robert Duncan argues that the consecration of an openly gay bishop may bring an end to a unified Anglican church. (Newsweek)


Episcopal choice highlights Anglican rifts | Long before battles over gay priests, the main quarrels in the worldwide Anglican Communion were over how far a woman could rise in its churches. The issue roared back to center stage after the American church became the first to choose a woman as leader. (Associated Press)


Woman's election drives wedge into Episcopalians | A liberal brand of Christianity is prevailing in a divisive battle with conservatives, say North Jersey Episcopal priests who helped elect their church's first female presiding bishop this weekend. (NorthJersey.com)


Author dissects moral relativism, absolute truth | Pamela Binnings Ewen's slant on the issue causing the most discord at this week's 75th annual General Convention of the Episcopal Church in Columbus, Ohio, is not anti-gay sentiment. (Post-Crescent, Wisc.)


Church leaders moving carefully | Episcopalians debate each word (Pittsburgh Post-Gazette)


This convention is different for Robinson | Openly gay Episcopal Bishop is busy but not hounded (Herald-Leader, Lexington, Ky.)


Presbytery tosses complaint against pastor | A complaint against the Rev. Ilene Dunn, pastor of Madison Square Presbyterian Church, for her role in ordaining gay and lesbian church members was dismissed without explanation Monday by the San Antonio-based Mission Presbytery. (San Antonio Express)


U.S. Presbyterian church opens door to gay clergy | The largest U.S. Presbyterian Church body approved a measure on Tuesday that would open the way for the ordination of gays and lesbians under certain circumstances. (Reuters)


Presbyterians OK leeway for ordaining gays | A Presbyterian Church (U.S.A.) national assembly voted Tuesday to create some leeway for gay clergy and lay officers to serve local congregations, despite a denominational ban on partnered gay ministers. (Associated Press)


Presbyterians to vote on gay clergy bill | The Presbyterian Church (U.S.A.), severely split over homosexuality, would maintain its ban on gay clergy but allow some leeway in enforcing it under a proposal headed to a national assembly vote on Tuesday. (Associated Press)


Presbyterians will reconsider severing investments in Israel | Assembly sought `equitable peace' in Middle East. (South Florida Sun-Sentinel)


Presbyterian Church to decide whether to lift ban on investing in Israel | Christians and Jews who believe the Presbyterian Church damaged its relationship with the Jewish community by voting to stop investing in Israel two years ago are hoping the church does an about-face this week. (South Florida Sun-Sentinel)


Protestants scrutinize policies on Mideast | 2 churches debate use of their clout (The Courier-Journal, Louisville)


PCUSA language on the Trinity:
Presbyterians 'receive' policy on worship | The divine Trinity — "Father, Son and Holy Spirit" — could also be known as "Mother, Child and Womb" or "Rock, Redeemer, Friend" at some Presbyterian Church (U.S.A.) services under an action Monday by the church's national assembly. (Associated Press)


Presbyterians weigh worship alternatives | Delegates of the Presbyterian Church (U.S.A.) are to tackle whether to adopt gender-inclusive language for worship of the divine Trinity along with the traditional "Father, Son and Holy Spirit." (Associated Press)


Report: Man face trouble over donation | A Denver businessman and elder with the Presbyterian Church (U.S.A.) who promised to donate a record $150 million to the church owes hundreds of thousands of dollars to creditors and has had his assets frozen, according to public records reviewed by The Denver Post. (Associated Press)


Manitowoc native eager to be ordained as Presbyterian minister | Come Aug. 1, the members of First Presbyterian Church of Worland, Wyo., are going to get a new pastor who will want to see members put their faith into action … no sitting on their hands. (Herald Times, Wisc.)


Some ministers opening door to new way of spreading Word | Suffice it to say that evangelism has not been a priority for many Presbyterians. But that's changing, at least locally with a handful of pastors and laypeople who see a great need. (The Post and Courier)


700 expected for Presbyterian meeting | This week Rome hosts the 26th General Assembly, which will draw people from all over the country. (Rome News-Tribune, Ga.)


SBC:
Page touts conservatism as SBC president | The surprise pick for president of the Southern Baptist Convention says he'll stand up for the denomination's conservative beliefs — but he'll do it with a smile. "I believe in the Word of God," says the Rev. Frank Page. "I'm just not mad about it." (Associated Press)


Young pastors encouraged by Southern Baptist election | On the eve of this year's annual meeting of Southern Baptists, Micah Fries spoke of how he, as a 27-year-old pastor, often feels left out of the nation's largest Protestant denomination. (Religion News Service)


Americans flock to mega-churches | Non-denominational churches growing in size, appeal (Weekly Standard, via CBS News)


New pastor, old legal fight | Breakaway congregation battles AME Zion over $40 million in assets, including Lear Jet (The Washington Post)


Ugandan preacher, local church united Fremont worshipers join efforts in Africa | In his native Uganda, Jackson Senyonga is kind of like Billy Graham, Oral Roberts and Pat Robertson all rolled into one. During a pit stop in Fremont, though, Senyonga crusaded for money and manpower as much as he crusades for Jesus. (Inside Bay Area, Calif.)


Institute adds fire to worldwide Pentecostal reach | Christ for the Nations Institute is extending its Pentecostal reach worldwide. (The Dallas Morning News, via Miami Herald)


Pentecostalism: A church leader speaks out | The Rev. Jack Hayford, 71, the president of the church, which is based in Los Angeles, recently sat down to talk about the state of Pentecostalism, his denomination's stand on women in leadership and the church's intersection with culture. (Religion News Service)


Habitat constructs homes in remote Isulan village | At least 50 houses are to be built by Habitat for Humanity in this remote barangay in Isulan, Sultan Kudarat in a bid to improve the quality of life of its people and sustain the peace-building initiatives in the community. (Sun-Star, Philippines)


93-year-old priest's simple Mass draws faithful to senior complex | Father M. Ignatius Curzydlo is 93 and, not surprisingly, his step has slowed. But his mind is sharp and his faith is strong, so every day he celebrates the Mass, the central worship service of the Roman Catholic Church. (Rochester Democrat and Chronicle, N.Y.)


New country, new religion | More Latinos leaving Catholicism as other churches reach out (Charlotte Observer, N.C.)


Growing flock celebrates last Mass at mission | Doraville church moving to larger building in Lilburn (The Atlanta Journal-Constitution)


Retiring Archbishop gives farewell homily | He will miss it here. He will miss the nuns and the priests he has come to call friends. But shortly before Cardinal Theodore E. McCarrick delivered his final homily as archbishop of Washington yesterday, he said he will most miss the people he has served the past five years. (The Washington Post)


Pope urges respect for refugee rights | Pope Benedict, speaking ahead of the United Nations World Refugee Day, said on Sunday the rights of those forced to leave their homelands must always be respected. (Reuters)


Interview - Vatican envoys in Beijing for secret talks—cardinal | Vatican officials have visited Beijing for closed-door talks on normalising ties despite strains over the installation of two bishops in China without Rome's approval, the church's top clergyman in Hong Kong said on Monday. (Reuters)


Opus Dei's earthly weapon in image battle: Humor | Their Catholic organization's reputation tarnished by 'Da Vinci Code,' members find that laughter goes a long way. (Los Angeles Times)


Archdiocese of New York nears final list of parishes and schools marked for closing | After more than two years of work, the Roman Catholic Archdiocese of New York is nearing the end of a reorganization process that could lead to the closing of dozens of parishes. (The New York Times)


Coming back to fight for the church of their ancestors | In 1848, as refugees of the Irish potato famine streamed into New York, Irish shipwrights began work on St. Brigid's Church on the eastern edge of Tompkins Square Park. The church became the community's anchor, but by the late 19th century, most of the Irish had left the neighborhood, and St. Brigid's, known as the Famine Church, was largely forgotten by Irish-Americans eager to bury painful memories of privation. (The New York Times)


Layoffs completed in Boston archdiocese | 25 administrators said to be affected (The Boston Globe)


Bell rings one last time at Catholic grade school | On the final day at Immaculate Conception School, first-graders sat cross-legged on a rug, listening carefully to their teacher, Marie Duggan . (The Boston Globe)


Winchester debates church site's future | When the Archdiocese of Boston closed the parish in November 2004, Schleicher's heart was broken. She said the sale and redevelopment proposal that followed have caused even more pain for a neighborhood that feels twice abandoned. (The Boston Globe)


U.K. Cardinal challenges abortion laws:
State to vote on abortion ban in November | South Dakotans will vote in November on the fate of a new state law, one of the most restrictive anti-abortion measures in the United States, banning the procedure even for women made pregnant by rape or incest or those whose health is in danger. (Reuters)


U.S. top court to decide second abortion law case | The U.S. Supreme Court said on Monday it would expand its review of a federal law banning some abortion procedures by deciding a California case on whether the law was too vague and imposed a burden on women. (Reuters)


Vatican official warns Amnesty against abortion move | Human rights group Amnesty International will be discredited if it pushes for the decriminalization of abortion worldwide, a senior Vatican official said on Wednesday. (Reuters)


MPs told to forget religion in euthanasia debate | Euthanasia advocates have called on South Australian MPs to put religion aside when debating proposed voluntary euthanasia laws. (ABC, Australia)


S Korea cloning expert on trial | The South Korean cloning scientist accused of faking his stem cell research has gone on trial in Seoul, charged with fraud and embezzlement. (BBC)


A final word with president's faithful speechwriter | Michael Gerson might be the highest-profile ghostwriter in the country. Over the last seven years he has written most of President Bush's important speeches, including two inaugural addresses, the president's much-admired speeches after the Sept. 11 attacks, as well as several State of the Union messages and many, many policy statements. (NPR)


Scriptures offer fix for dispute over immigration | Immigration, a tough U.S. public policy dispute, is a central theme in the Bible. (Associated Press)


Answering the challenges of lofty rhetoric | The Condi star power was ablaze last week in Greensboro, N.C. There she was, this black Presbyterian addressing the 12,000 white evangelicals of the Southern Baptist Convention, this high-stepping secretary of state come among the partisans of Southern values. And she wowed them. (The Washington Post)


S. African Christians host pro-Israel parley | Reaching out to Christian supporters of Israel in Africa, a group of conservative Israeli thinkers and the interim head of the Knesset's Christian Allies Caucus will take part in the first Jerusalem Summit Africa in Cape Town on Monday, in an effort to garner support for Israel at a time of increasing Islamic fundamentalism and anti-Israel sentiment in the continent. (Jerusalem Post)


Onward Christian lawyers | Now it seems that the right-wing legal establishment has decided that if you can't beat them, join them. In an article for U.S. News and World Report, Scott Michels documents how the Alliance Defense Fund, the Christian Right counter to the ACLU, is "taking the culture wars overseas." (Editorial, The Nation)


Faith used as weapon in race | In a gubernatorial race in which religion is playing a public role, Democrat Ted Strickland cracked open his Old Testament on Tuesday to lash out at what he called ``inaccurate and inappropriate'' comments by his Republican opponent, Ohio Secretary of State J. Kenneth Blackwell. (Lisa A. Abraham, Beacon Journal, Akron)


Chaplain prayers spark debate | Some worry they're being restricted to nonsectarian prayers (The State, S.C.)


Details of district's insurance suit kept secret | Taxpayers may have to pay for remainder of Indian River's legal battle over school prayer (News Journal, Del.)


Silver rings banned from UK school:
Sikh bracelets, but no Christian rings at school bans pupils from wearing 'purity rings' | A group of teenage Christians have been banned by a secondary school from wearing "purity rings" as a symbol of their religious belief in chastity until marriage. (Telegraph, UK)


Silver rings cause religious controversy | Silver rings worn by schoolgirls are causing controversy in West Sussex, as well as in the rest of Britain, The Observer reported. (UPI)


Banned | Schoolgirls are forced to take off chastity rings - or be ordered out of lessons (The Observer, UK)


Religious freedom & television:
Televangelists revive offer for O.C.'s PBS affiliate | The Daystar network, fighting for the right to buy KOCE, is up against a legal thicket surrounding the TV station's sale to a foundation. (Los Angeles Times)


Channel 7's Turner seeks injunction so he can proceed with radio show | Here's another twist in WXYZ-TV (Channel 7) news anchor Frank Turner's attempt to launch a radio career as a weekday evangelist despite exclusivity clauses in his TV contract that Channel 7 maintains prohibit such activity. (Detroit Free Press)


Brangelina's an ugly role model | Unmarried celebs having babies sends a bad message to the world. (Katharine DeBrecht, Los Angeles Times)


News flash! The traditional family is threatened--but by whom? | Furthermore, while evangelicals in the so-called "Bible Belt" states have been leading the charge to protect and defend the institution of marriage, divorce rates in that region of America are higher than in traditionally liberal states. (John W. Whitehead, The Free Lance-Star, Va.)


Va. institute's peace mission still strong | Three months after Fox's bullet-riddled body was found in Baghdad, relief workers, teachers and counselors continue to come to the Center for Justice and Peacebuilding, each focused on easing tension in the world's most troubled spots. (Associated Press)


Church members mourn after death of Fort Hood soldier | Members of a North Dakota church are mourning the death of a Fort Hood soldier whom they cheered a few months ago when he told them how proud he was to serve in Iraq. (KWTX, Texas)


Mugabe divides his church critics | President Robert Mugabe has lured most of Zimbabwe's Christian churches into a new political alliance, side-lining prominent church critics. (Telegraph, UK)


Zimbabwe: Churches, clergy in Mugabe's pocket | ZANU PF and its allies in the Church have cancelled the National Day of Prayer which is held annually on 25 May and replaced it with the Zimbabwe Day of Prayer to be celebrated on 25 June. (Zimbabwe Standard)


Bluegrass star McCoury takes fans to 'Promised Land' | After performing bluegrass music for more than 40 years, collecting numerous accolades including the International Bluegrass Music Assn.'s entertainer of the year award nine times, and winning a Grammy Award earlier this year, you'd think Del McCoury would have checked off everything on his professional to-do list. But there's at least one thing left: a gospel album. (Billboard)


The Afters cross over from Christian niche | With a Gospel Music Award in hand for best new artist and prime exposure from such mainstream outlets as MTV, VH1 and pop radio, Dallas-based the Afters are the next contenders for Switchfoot's crossover crown. (Billboard)


'Danielson': The family that rocks with God | At Silverdocs, a film moved by a strange singer's spirit (The Washington Post)


Book was 30-year effort | Ex-area pastor writes about the historical Jesus (Toledo Blade)


A glittering insight into hostile faiths | Sea of Faith: Islam and Christianity in the medieval Mediterranean world by Stephen O'Shea (The Independent, UK)


Finding the cool in Christian rock | Opinion by Andrew Beaujon author of "Body Piercing Saved My Life: Inside the Phenomenon of Christian Rock" (ABC News)


Film:
A green light for blasphemy | When The Da Vinci Code hit theaters last month, like other Christians around the world I faced a dilemma: to go and see it, or not. At first I considered arguments in favor? mostly so that I could be in the loop culturally, and because the story and settings are so intriguing. But then I started thinking more seriously about what my small vote, my "yea" or "nay" to The Da Vinci Code, would say. (Dale Buss, USA Today)


Theater owners reassure patrons that movie is simply work of entertainment | The blockbuster movie "The DaVinci Code" will be showing this weekend in Harmony and JEM Theater owners Paul and Michelle Haugerud are anxious to reassure concerned patrons about the movie. (Marshall News Record, N.C.)


'Jesus' looks Sterling to Silverdocs | "Jesus Camp," Heidi Ewing and Rachel Grady's look at a summer camp for young evangelical Christians, won the Sterling Award for feature film Saturday at the fourth annual Silverdocs, the D.C.-area documentary fest held by American Film InstituteAmerican Film Institute and Discovery Channel. (Variety)


Superman or saviour? | Christian parallels drawn in new hero movie (Daily News, South Africa)


Christians on football film: Give us a G! | Supporters of 'Facing the Giants' criticize the PG rating given to the inspirational movie (Los Angeles Times)


Blunt weighs in on movie's PG rating | The MPAA rejects the allegation that the movie's Christian content is the reason the ratings board decided on PG and says the filmmakers have accepted the board's ruling. (The Hill)


Christian movie's PG rating not worth outcry | In what is becoming the latest clash between fundamentalist Christianity and the rest of the world, the Motion Picture Association of America recently assigned a PG rating to an explicitly Christian film. (James Evans, Atlanta Journal Constitution)


Sounds keep the faith | Faith Night begins with a line of several hundred fans emptying into Greer Stadium, clamoring for a cartoonish bobblehead of the Old Testament hero Jonah. (Nashville City Paper)


Well, praise the Rockies | The front-office executives pray together. Most players not only attend Sunday chapel but also weekday fellowship and Bible study groups. Girlie magazines and music with obscene lyrics are banned from the clubhouse. Scripture quotations are not. (Editorial, Pioneer Press, Minn.)


Ethiopian saint still inspires | Six years ago at his baptism in the Orthodox church, Jerome Moses Fisher of Detroit adopted the name of a saint that most Americans have never encountered: St. Moses the Black. (David Crumm, Free Press, Detroit)


A hard core, hip-hop spiritual journey | Just as the sun started to burn through the smog on a recent Monday morning, the Rev. Ricardo Xavier-Zatwon Bailey, 32, a priest at Holy Spirit Roman Catholic Church here, loosened his collar, slipped on his headphones and rolled up to a radio-studio microphone. (The New York Times)


Hard-core, tattooed types know it's what's inside that counts | Sara Langdon looks different. With 20 piercings, her studded black leather collar, baggy black cargo pants and a small five-pointed star Sharpied just below her right eye, the 16-year-old from West Harrison, Ind., sticks out in a crowd. Especially a Christian-centric one. (Herald-Leader, Lexington, Ky.)


Catch hell | We asked Beliefnet readers if they know someone who's going to hell. Here are the surprising results. (Beliefnet)


Temple Square top Utah tourist attraction | Travel brochures can boast about breathtaking Zion, Bryce and Arches national parks. Tourism promoters can roar about Dinosaur National Monument and hawk the state's high peaks. But Utah's hottest tourism destination is Temple Square. (Associated Press)


Thieves target church | In a rare case of sacrilege for Fiji, police are investigating a break-in at a Christian church at Nalase, Rewa at the weekend. (fijilive.com, Fiji)


Johnston businessmen form Christian Business Forum | The new Christian Business Forum had its beginnings in the Johnston Evangelical Free Church and held its first meeting in March. (Des Moines Business Record)


The Jordan river is deep and wide no more | Over-use of water from the southern stretch of the Jordan River threatens to dry it up and devastate one of the world's most important religious sites. The warning comes from conservationists, Christian groups and the heads of local authorities in the region and there is mounting fear of a natural disaster that would have far-reaching consequences. (Ha'aretz, Israel)


Catholic group pelts Protestant paraders | Catholic militants hurled rocks and golf balls Friday night at paraders from the Orange Order, Northern Ireland's major Protestant brotherhood, authorities said. (Associated Press)


Jehovah's Witnesses busy inviting everyone in region to convention in Tacoma | The group printed enough invitations to hand out at 900,000 homes from Bellingham to Vancouver, bold and ambitious even for a religion known for its persistent door-to-door visits and divergence from certain bedrock Christian beliefs. (Seattle Post Intelligencer)


A crucible for secularism | France's policy of church-state separation is reflected in declining Christian church attendance, while many of its Muslims hold their faith close (Chicago Tribune)


A feminist look at the Mormon faith | The description that perhaps best defines Judith R. Dushku seems oxymoronic and captures the religious tension of her life. She's a Mormon feminist, a woman who takes periodic issue, if lovingly, with the Church of Jesus Christ of Latter Day Saints. (The Boston Globe)


Related Elsewhere:
Suggest links and stories by sending e-mail to weblog@christianitytoday.com
See our past Weblog updates:
June 16 | 15 | 14 | 13b | 13
June 9 | 8 | 7 | 6
June 2b | 2a | May 31
May 26 | 24
May 19 | 18 | 17
May 11 | 10 | 9 | 8
May 5 | 4 | 3
April 28 | 27b | 27a | 19
Weblog
Launched in 1999, Christianity Today's Weblog was not just one of the first religion-oriented weblogs, but one of the first published by a media organization. (Hence its rather bland title.) Mostly compiled by then-online editor Ted Olsen, Weblog rounded up religion news and opinion pieces from publications around the world. As Christianity Today's website grew, it launched other blogs. Olsen took on management responsibilities, and the Weblog feature as such was mothballed. But CT's efforts to round up important news and opinion from around the web continues, especially on our Gleanings feature.
Ted Olsen is Christianity Today's executive editor. He wrote the magazine's Weblog—a collection of news and opinion articles from mainstream news sources around the world—from 1999 to 2006. In 2004, the magazine launched Weblog in Print, which looks for unexpected connections and trends in articles appearing in the mainstream press. The column was later renamed "Tidings" and ran until 2007.
Previous Weblog Columns: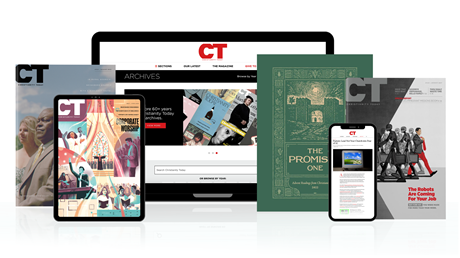 Annual & Monthly subscriptions available.
Print & Digital Issues of CT magazine
Complete access to every article on ChristianityToday.com
Unlimited access to 65+ years of CT's online archives
Member-only special issues
Subscribe
In the Name of the Mother, Child, and Womb
In the Name of the Mother, Child, and Womb