1. Christian skate a no-no says state human-rights division
The Times Herald Record of New York state reports on a roller rink that is accused of human-rights violations for trying to attract Christian customers.
Skate Time 209 offers residents a new wooden roller skating rink and a fancy skateboard park. In its hunt for customers, the business has "tot" skates and "tween" (ages 6-13) skates. There are family nights and adult disco parties.
And there are "Christian skate times" on Sunday afternoons, Skate Time's ad in the April 19 Ulster County Press said. That ad is evidence of a human rights violation, according to the state Division of Human Rights.
A "Christian skate denies or at a minimum, discourages non-Christian patronage," a June 15 letter from the state division said. The weekly paper got the same letter, accusing it of "aiding and abetting" the violation, said its editor-at-large, Greg Childers.
Is it even worth pointing out that "tot" and "tween" skates equally discourage participation from non-tots and non-tweens? Weblog doubts that the person who composed the letters would be able to recognize the inconsistency.
2. Chinese Christian explosion
"It's like in South Korea in the 1970s and 1980s, when the church was a leader in the democratic movement," says Yu Jie, a Chinese house church leader. Nicholas Kristof reports on the growth of underground churches in the country.
One reason for the boom in Christianity is that China is going through just the kind of turbulent social change, including alarm at the eclipse of traditional values, that often drives people toward faith. And in China's case, Maoism wiped out the traditional religions.
Despite persecution in some areas of the country, Christians are reshaping China after missionaries failed to do so. "One of the oddest legacies of the Communist dynasty may be that after 2,000 years Christianity gains a major foothold in China."
3. Jim Wallis, hope of the religious left
Slate opens the wedge driving apart the two sides of the Religious Left. Led by "Michael Lerner, the garrulous rabbi and editor of the interfaith magazine Tikkun, and Rev. Jim Wallis, the barrel-chested evangelical editor of Sojourners magazine and head of the anti-poverty group Call to Renewal," the Religious Left (and the Democratic Party) will have to choose its spiritual director.
Martin Edlund writes that the two groups differ in their core audience. At a recent Lerner conference, Edlund says, "My breakout group of eight—led by a stunning Jewfi woman (Jew + Sufi = Jewfi) in ventilated Crocs sandals—included Unitarian and United Church of Christ pastors, a retired scientist looking to marry faith and reason, and a gay former Christian fundamentalist turned theatrical performance activist."
Wallis, on the other hand is more specific: "moderate evangelicals and Catholics." Edlund writes:
The source of Wallis' appeal is his apparent moderation, both political and theological. His argument is compelling in its simplicity: An overriding commitment to social justice is more basic to Christianity than the issues championed by Christian fundamentalists. But to prevail he must avoid seeming too militantly progressive. "The country is not hungry, I don't think, for a religious left to counter the religious right," Wallis told the NSP conference. "The country is hungry for a moral center."
Edlund advises Wallis and the rest of the Democratic Party to leave Lerner, which may do the Left some good. Wallis could steal some so-called moderate Christians from the Republicans, especially those tired of the culture wars. However, for Wallis's strategy to be a winning one for Democrats, he won't be able to ignore the issue of abortion, which sent many Christians into the ranks of the Republican Party to begin with. And the Democratic position on gay-rights issues, particularly same-sex marriage, won't ease the consciences of "moderate" Christian voters this fall.
4. Another Episcopal church leaves
Christ Church Episcopal in Plano, Texas, is one of the largest Episcopal churches in the country. And it's leaving the Episcopal Church (its new acronym is TEC), The Dallas Morning News reports. "The mission of Christ Church is to make disciples and teach them to obey the commands of Christ," said a statement approved by Christ Church's leaders this weekend. "The direction of the leadership of the Episcopal Church is different, and we regret their departure from biblical truth and the historic faith of the Anglican Communion. … We declare our intention to disassociate from ECUSA as soon as possible."
It will be interesting to watch how the church tries to keep its property. "They bought it. They paid for it," Dallas Bishop James Stanton said. The conservative bishop plans to allow the church to l keep its building, which technically belongs to the denomination. The church says Stanton is still its "apostolic leader."
Another interesting point some bloggers have made is that the church is larger than the entire diocese from which the new TEC presiding bishop came.
5. Oh yeah, the First Amendment
D. C. officials have dropped their objections to a 850-pound monument of the Ten Commandments outside a row house across from the Supreme Court. The group Faith and Action had earlier been threatened with a $300/day fine for not removing the monument, which was erected without a permit. Feeling they were being singled out for religious discrimination, the group refused. According to The Washington Post, the most recent letter sent by the city stated, "In view of the First Amendment interests reflected in the installation of the Ten Commandments sculpture … and upon further consideration of applicable law," D.C. officials don't think there was any violation of permit requirements.
More Articles
China | Religious freedom | Politics | Same-sex marriage | Religion & homosexuality | Christian convention on poverty | Education | ECUSA | Church life | Creation care | Missions & ministry | Abortion | Catholicism | Islam | Other religions | Film & theater | Superman | Television | Music | People | Spirituality | Family | History | Books | Terror suspect grew up in Christian family | World Cup | More articles of interest
Keeping faith in China | The fastest-growing churches are the underground ones that are independent of the government. (Nicholas Kristof, The New York Times)


China: 1,958 Evangelical Christians arrested in one year | The worst persecution took place in Henan, where 823 Christian pastors and followers were arrested. Those hardest hit were community leaders and teachers: the government fears they may corrupt new generations. (AsiaNews)


Court hears gay marriage challenge | A lesbian couple from Rhode Island argued in court on Monday for the right to marry in Massachusetts, the only U.S. state where gay marriage is legal, in a potentially precedent-setting case. (Reuters)


Same-sex marriage debate likely to focus on kids | With Prime Minister Stephen Harper promising a free vote on reopening the same-sex marriage issue this fall, the positions of Canadian churches are unchanged from where they were last June, when the Liberals passed Bill C-38 into law. But they may have less energy. (CanWest News Service)


Gay pair asking to be wed in Mass. say no ban in R.I. | A Massachusetts Superior Court judge heard arguments yesterday that a gay couple from Providence should be allowed to marry in the Bay State because Rhode Island law does not explicitly ban same-sex marriage. (The Boston Globe)


Christian leaders slam gay parade | The heads of three prominent Jerusalem-based Christian organizations on Tuesday lambasted plans to hold an international gay parade in the city this summer, and urged Israeli authorities to reconsider allowing the controversial event to take place. (Jerusalem Post)


They ask, and tell | He organized a 51-day bus trip to change the way homosexuals are treated by colleges and the military. He led his group to 19 institutions to ask to be heard. He didn't just ride; he's driven. (St. Petersburg Times, Fla.)


Gay bishop reflects on colleges, coming out, Jesus and a life of fame | Lexington native to be part of documentary (Lexington Herald Leader, Ky.)


The debate over gays | 2 groups with opposing views convene in Indiana next week (Indianapolis Star)


Prenatal effect hinted for some gay men | Men who have several older brothers have an increased chance of being gay — whether they were raised together or not — a finding researchers say adds weight to the idea that sexual orientation is based in biology. (Associated Press)


Sexual orientation of men determined before birth | A man's sexual orientation appears to be determined in the womb, a new study suggests. (Reuters)


Study links male gays, birth of older brothers | A mother's antibodies may change with each boy, raising chances the next will be homosexual. (Los Angeles Times)


Christian convention on poverty:
Religious leaders ask for help with anti-poverty drive | What would Jesus do about growing poverty in America? (Associated Press)


Religious progressives meet for anti-poverty drive | Group hopes to draw attention to what leaders say is greatest moral issue in U.S. (Austin American-Statesman)


Christian convention to test right's hold on values agenda by raising poverty as moral issue | What would Jesus do about growing poverty in America? (Palm Beach Post-Cox News Service)


Chaplain bid provocative and divisive | Christian clergy have no place in public schools, writes Judith Bessant. (The Age, Australia)


Bolivia's Morales drops secular education proposal | Bolivian President Evo Morales has scrapped a proposal to drop religious education from the school curriculum because of opposition by the country's powerful Catholic Church. (Reuters)


Churches should be involved in schools | Southern Baptists for the past two years at their national convention have thankfully avoided what would be a very destructive statement of policy against public education. (David Hampton, Jackson Clarion Ledger, Miss.)


Report examines Calvary dispute | A Denver pastor contends Calvary Chapel Albuquerque founder Skip Heitzig had "buyer's remorse" after moving to California and became reluctant to turn over the reins at Calvary to his hand-picked successor. (Albuquerque Journal)


South Carolinian takes over as leader of AME Church | Bishop Preston Warren Williams II plans to strengthen ties among the African Methodist Episcopal churches and help the poor during his yearlong term as the denomination's highest-ranking leader. (Associated Press)


Church offering hikes through God's earth | Christians are charged with caring for God's world, she said, and what better way to illustrate that precept than to explore it on foot? (The State, S.C.)


We have a spiritual imperative to care for the Earth | Jesus was born, died and resurrected so that God, humanity and all of creation could be reconciled - it is God's love for all of nature that motivates this saving work. (Laurie Reynolds Rardin, Concord Monitor, N.H.)


Camping close to God | With religion on agenda, camps offer water activities, bonfires and crafts with a strong spiritual dimension (Chronicle Herald, Canada)


On the road to salvation | Several Canadian truck stops offer spiritual sustenance as well as strong coffee to long-haul drivers Prayer and sympathetic ear can help truckers resist temptation away from home (Toronto Star)


Orphan gets a second chance | Another Ga. family opens home to Russian boy (The Atlanta Journal-Constitution)


China scraps move to criminalize gender selection | China has scrapped plans to make sex-selective abortion a crime, state media said on Monday, more than a year after announcing penalties were necessary to correct gender imbalances among newborns. (Reuters)


Abortion foes focus on fall elections | Anti-abortion activists who have been a big part of the Republican coalition in recent years are working to ensure that President Bush's sagging popularity won't harm re-election prospects for incumbents who've supported their cause. (Associated Press)


High court passes on anti-abortion tags | The Supreme Court refused Monday to consider appeals from abortion rights groups wanting to block states from issuing car license plates bearing the message "Choose Life." (Associated Press)


Report: Vatican delegation in Beijing | Two senior Vatican officials were in Beijing Tuesday for talks on re-establishing diplomatic relations with China that were severed more than five decades ago, a Hong Kong newspaper said. (Associated Press)


Muslims address silence on Europe attacks | Europe's Muslims have remained largely silent in the face of terrorist attacks that have killed 254 people in Madrid, London and Amsterdam. Europeans want to know why. (Associated Press)


European Muslims resort to virginity ploys | Chastity can exact a painful price from young Muslim women, forced into lies or surgery to go to the marriage bed as virgins. (Associated Press)


Iraqi Muslims put faith in praying alone | Violence drives many from mosques (Washington Post)


Egyptian women flock to hear female preachers | Women of all ages pour into a fluorescent-lit mosque hall hours before Sherine Gouda el-Sahhar is due to deliver her weekly sermon, seeking a seat near the front so they can catch a glimpse of the preacher. (Reuters)


Mormon Church leader marks 96th birthday | Gordon B. Hinckley, president of The Church of Jesus Christ of Latter-day Saints, celebrated his 96th birthday Friday with a groundbreaking ceremony for a Brigham Young University building that will bear his name. (Associated Press)


Christian Science church aims for growth | The church was founded after a fall that left Mary Baker Eddy bedridden and turning to the Bible in her suffering. It is said that a revelation she received while reading about Christ's healings was so powerful, Eddy walked away from her bed, instantly healed. (Associated Press)


Abuser becomes church's accuser | `Deliver Us' takes on the Catholic hierarchy, with a convicted priest as its key witness. (Los Angeles Times)


Questions of family and faith in 'The Busy World Is Hushed' | With the Episcopal Church in a tizzy about homosexuality — as much of a tizzy as Episcopalians can muster, anyway — and that intriguing new gospel of Judas the subject of much speculation, Keith Bunin's new play, "The Busy World Is Hushed," arrives at a propitious moment. (The New York Times)


'The Busy World Is Hushed' looks at faith | Religion, like politics, often can be the most polarizing of subjects. (Associated Press)


'Susan and God': An up-to-date take on religion and the wealthy | The Mint Theater Company has unearthed a rare gem in its revival of the 1937 comedy "Susan and God" by Rachel Crothers, at one time one of the most respected mainstays of the Broadway stage. (The New York Times)


Moses, Christ and Clark Kent | Jewish and Christian observers draw parallels between Superman and epic figures in the Bible. (Orlando Sentinel)


'Superman Returns' to save mankind from its sins | Jesus of Nazareth spent 40 days in the desert. By comparison, Superman of Hollywood languished almost 20 years in development hell. (The New York Times)


Religious imagery surrounded Superman from beginning | Jewish roots noted; Christian-flavored scenes easy to detect (The Dallas Morning News)


Is he Christ in tights? | Many see biblical allusions in 'Superman' story (Associated Press)


Faith has reasons of which reason knows nothing | But after viewing or reading transcripts of 9 of the 13 scheduled interviews, I'm afraid I'm also an agnostic — perhaps, even atheist — about whether this group of novelists and artists can provide profound insight on such an urgent subject. (The New York Times)


Q& A with Bill Moyers | Moyers is launching his latest TV project, Faith & Reason , a seven-part PBS series that includes lively interviews with artists, writers and thinkers as diverse as Salman Rushdie and Margaret Atwood. (The Dallas Morning News)


How did Nicole Kidman re-marry in a Catholic church? | How did Nicole Kidman, one-time spouse of Tom Cruise, get re-married in a Catholic church if she didn't have an annulment? Clue: she wasn't actually married before. (BBC)


Thousands wait for a miracle from visiting televangelist | Nicole Kidman and Keith Urban weren't the only international stars attracting attention in Sydney this weekend. The 'wedding of the year' coincided with what some would call 'the spiritual event of the year' - a visit from American-based televangelist, Benny Hinn. (The World Today, Australia)


'Natural Family' resolution divides Utah city | The City Council of Kanab, Utah, resolved to promote the nuclear family unit. It ended up sowing discord in a once close-knit tourist town. (Los Angeles Times)


The birth control divide | Poor and uneducated women have higher rates of unplanned pregnancy. But why? (Los Angeles Times)


Breeder reaction | Does everybody have the right to have a baby? And who should pay when nature alone doesn't work? (Mother Jones)


Texans part of possible Noah's Ark discovery | A group of men, including several north Texans, believes it has found the remains of Noah's Ark, but it's not where most think. (CBS 11 News, Texas)


Quaker Burial Ground in Westerly opens as historic site | This is an early Quaker cemetery -- the Westerly Quaker Burial Ground, opened this month to the public as a historic site, which preservationists hope will serve as a reminder of the Quakers' history in Rhode Island. (Associated Press)


The lives of the very early Christians | An informed but breezy look at the myths surrounding Jesus' most influential followers. (The Christian Science Monitor)


New publication on Christianity to be launched | The 1585 page book titled Africa Bible Commentary, is a product of 12 years of research, conceived at a 1994 meeting of experts in Nairobi is a modern apology for Christianity comprising polemics that preserve Christian dogma. (Kenya Times, Kenya)


'Evangelism Guidebook' may frustrate some | To place the theological basis of evangelism alongside the practical methods for evangelism. (Charleston Post Courier)


Faith had role for founders | Conservative Christians believe secularists are trying to write God out of American government, and if they're successful, the nation is doomed. Extreme secularists believe Christian zealots are trying to turn the American government into a theocracy, and if they are successful, the nation is doomed. Jon Meacham says they're both wrong. (Charleston Post Courier)


A spiritual book business | Man's career change to Christian book sales saved his marriage (Journal Times, Wisc.)


Terror suspect grew up in Christian family:
Terror suspect grew up in Christian family | The father of a man accused of plotting to blow up Chicago's Sears Tower yesterday said he was at a loss to explain how his son was suspected of leading a terrorist group. (Daily Telegraph, Australia)


Sears Tower suspect no jihadist, mom says | Authorities allege that Stanley Grant Phanor had designs on catastrophic terrorism, but his mother insists he's a God-fearing Christian (Chicago Tribune)


Terror accused was a caped crusader | The leader of the seven men accused of plotting to blow up the Sears Tower in Chicago was a "Moses-like figure" who carried a crooked cane and wore a cape as he sought to recruit followers to a religious cult called the Seas of David. (The Australian, Australia)


Suspect's father can't explain | Sears Tower plot: Preacher's son now charged with being ringleader of Islamic terrorist group (Associated Press)


Dad: Sears Tower suspect under spell of man | The father of the former Chicagoan accused of plotting to blow up the Sears Tower remembers his son, Narseal Batiste, coming under the spell of a man who wore a black robe and walked with a black staff. (Chicago Sun-Times)


Terrorism's new mutation | The arrest last week of seven members of a fringe religious group in Miami has revealed what could be a new phase in al-Qaeda's grand plan for global terrorism. (Manila Times, Philippines)


'Hello, God? It's me, the footy fan' | World Cup: Some find it difficult to separate church and sport, some find it easy (Vancouver Sun)


Fervent about God and World Cup soccer | The message at yesterday's lively service at the Full Gospel New York Church in Flushing, Queens, was essentially, Know Christ through soccer — specifically, World Cup soccer. (The New York Times)


Ghana united in prayer | Muslim worshippers at Effiakuma and Christians alike rent the midday air yesterday with chants of the greatness of God, before pouring out onto the streets in one exasperating explosion of joy. (Telegraph, UK)


Scientists playing God? We should rejoice | Last week British scientists announced a revolutionary screening process for inherited diseases in embryos. It will be quicker and more accurate than the existing method and it will detect thousands more genetic defects than previously possible. (Minette Marrin, Times, London)


Church leaders say stolen chalice is priceless | Officials of the Episcopal Church of St. Paul and St. James are hoping for the return of a nearly 100-year-old chalice that was stolen sometime on Sunday. (Associated Press)


Demanding rights for great apes | Spain's parliament is to declare support for rights to life and freedom for great apes on Wednesday, apparently the first time any national legislature will have recognized such rights for non-humans. (Reuters)


Scientists take on Intelligent Design | The war (it must be so named) between science and the fundamentalist faith-driven IDM is of a deeply troubling import for science education, and for science itself - thus inevitably for contemporary culture. How serious the implications are has only recently been recognized, probably too late for a reasonable cessation of hostilities. (New York Sun)


Related Elsewhere:
Suggest links and stories by sending e-mail to weblog@christianitytoday.com
See our past Weblog updates:
June 23 | 22 | 21
June 16 | 15 | 14 | 13b | 13
June 9 | 8 | 7 | 6
June 2b | 2a | May 31
May 26 | 24
May 19 | 18 | 17
May 11 | 10 | 9 | 8
May 5 | 4 | 3
Weblog
Launched in 1999, Christianity Today's Weblog was not just one of the first religion-oriented weblogs, but one of the first published by a media organization. (Hence its rather bland title.) Mostly compiled by then-online editor Ted Olsen, Weblog rounded up religion news and opinion pieces from publications around the world. As Christianity Today's website grew, it launched other blogs. Olsen took on management responsibilities, and the Weblog feature as such was mothballed. But CT's efforts to round up important news and opinion from around the web continues, especially on our Gleanings feature.
Ted Olsen is Christianity Today's executive editor. He wrote the magazine's Weblog—a collection of news and opinion articles from mainstream news sources around the world—from 1999 to 2006. In 2004, the magazine launched Weblog in Print, which looks for unexpected connections and trends in articles appearing in the mainstream press. The column was later renamed "Tidings" and ran until 2007.
Previous Weblog Columns: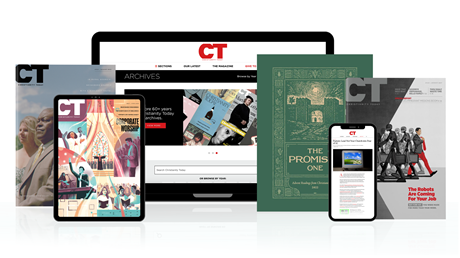 Subscribe to Christianity Today and get access to this article plus 65+ years of archives.
Home delivery of CT magazine
Complete access to articles on ChristianityToday.com
Over 120 years of magazine archives plus full access to all of CT's online archives
Subscribe Now
Marketing to Christians a Violation of Human Rights
Marketing to Christians a Violation of Human Rights