Today's Top Five
There's lots going on among Anglican churches today. Here's a summary:
2. Christian school allowed to sue University of California
Calvary Chapel Christian School of Murrieta will be allowed to proceed with its lawsuit against the University of California for admission standards the school says violate its religious beliefs. The LA Times reports:
The lawsuit charges that UC violated the students' and the school's rights by rejecting certain courses as not meeting the university's admissions standards. Last school year, for instance, UC said it would not give Calvary students admissions credit for an English class, Christianity and Morality in American Literature; a history course, Christianity's Influence in America; and a government class titled Special Providence: Christianity and the American Republic.
Perhaps they could add a course on the history of Christian litigation.
3. The mis-education of California courts
A California Christian high school is being taken to court for expelling two girls for being lesbians, the San Francisco Chronicle reports. "Any implementation of the Unruh Act [which prohibits discrimination on the basis of sexual orientation] would contradict the stated position of [the school] that homosexuality is immoral," said John McKay, the school's attorney. "In addition to freedom of religion, he said, the constitutional guarantee of freedom of association trumps any state law that 'forces the group to accept members that it does not desire.'"
The girls' attorney responded, "Nothing about accepting these young women or other perceived or actual homosexuals has any effect on anybody at the school's ability to preach their religion, to practice their religion, or to criticize lifestyle choices."
Weblog knows nothing about the way in which these girls were expelled or what action caused the principal to expel them. (They don't admit to being lesbians, and news reports don't say they were caught in the act.) But assuming they were properly informed of the rules and the school's disciplinary procedures were followed, a Christian school ought to be allowed to expect of its students certain behavior. This attorney and many others need an education on the right to practice religion.
Christian faith isn't practiced in the head and in the heart only. Faith is lived out in a like-minded community of believers, whether at a school, a social service agency, or a church. Freedom of religion means the right to hold beliefs, yes, but also the right to live according to those beliefs and to associate with others who do so as well. Unfortunately, the California courts are far from understanding this.
4. Cardinal says Catholics' beliefs could send them to court
"I fear that faced with current legislation, speaking in defense of life, of the rights of the family, is becoming in some societies a crime against the state, a form of disobedience of the government, a discrimination against women," Lopez Trujillo told Famiglia Cristiana, a Catholic Italian weekly. Reuters quotes Trujillo saying, "The Church risks being brought in front of some international court if the debate gets any more tense, if the most radical opinions are heeded."
Last week, another cardinal asked Amnesty International not to lobby for abortion rights in countries where it is illegal. The church seems a little worried it may be prohibited from speaking and acting according to its beliefs.
5. British Medical Association opposes doctor-assisted suicide
Last year, the British Medical Association voted to adopt a neutral stance on doctor-assisted suicide.
The BBC reports, "The decision has now been overturned after 65 percent of the 500 doctors at the BMA's meeting in Belfast voted against assisted dying." Dr. Andrew Davies said, "My worry is that a right to die will become a duty to die, a duty to unburden their families."
More articles
Anglican Communion | Religious freedom | Education | Homosexuality | Politics | Evangelicals & politics | War & terrorism | Catholicism | Church life | Abuse | Crime | Film | People | More articles of interest
Episcopal feud over gay bishops widens | Three conservative Episcopal dioceses that oppose consecrating gay bishops voted Wednesday to reject the authority of the denomination's presiding bishop, but stopped short of a full break with the Episcopal Church. (Associated Press)


Virginia churches plan diocese exit | Two of Northern Virginia's largest and most historic Episcopal churches — Truro and the Falls Church — informed Virginia Bishop Peter J. Lee yesterday that they plan to leave the diocese and that as many as two dozen other parishes may follow suit. (Washington Times)


3 Episcopal dioceses seek release | San Joaquin, two others ask to be placed outside U.S. church jurisdiction. (Los Angeles Times)


Three dioceses appeal to distance themselves from Episcopal Church | Signaling a widening of the fractures within the Episcopal Church over homosexuality, three theologically conservative dioceses began efforts yesterday to separate themselves from the church. (New York Times)


Anglicans select Fairfax rector as bishop | The Rev. Martyn Minns, rector of Truro Episcopal Church in Fairfax, was elected a bishop today by the Anglican province of Nigeria with the mandate to oversee a cluster of expatriate Nigerian parishes in the United States. (Washington Times)


Gay Episcopal priest named as possible Newark bishop | Propelling the Episcopal Church in the United States closer to a possible schism with the global Anglican Communion, the Episcopal Diocese of Newark nominated a gay priest on Wednesday as one of four men to be considered for bishop. (New York Times)


A battle for hearts and souls | It is official: the Anglican Church has split. It is not a divorce, says the Archbishop of Sydney, Peter Jensen - not yet, anyway. It's a separation. (Editorial, The Sydney Morning Herald)


Losing their religion | The split in the Anglican communion is a win for conservatives, but it may be costly. (The Sydney Morning Herald)


Cardinal fears Church could face court on abortion | The Catholic Church could one day be prosecuted for its right-to-life stance by some countries where abortion is considered a woman's right, a senior Vatican cardinal said in an interview published on Thursday. (Reuters)


Girls' suit allowed to proceed | Christian school believed they were lesbians, let them go (San Francisco Chronicle)


Court allows UC bias suit to proceed | A U.S. judge tentatively permits a Christian school to pursue its claim that the university discriminates in its admissions policies. (Los Angeles Times)


W.Va. school board sued over Jesus artwork | Two civil liberties groups sued in federal court Wednesday to remove a picture of Jesus that has hung in a high school for more than 30 years. (Associated Press)


Move to add pagan school advisors | The pagan community in Cornwall has asked to join an advisory body that works with local authorities on religious education. (BBC)


Pentagon says homosexuality not a mental disorder | The Pentagon no longer deems homosexuality a mental disorder, officials said on Wednesday, although the reversal has no impact on U.S. policy prohibiting openly gay people from serving in the military. (Reuters)


Lobbying intensifies on gay marriage | Romney, O'Malley press for vote on a ban (Boston Globe)


Muslim Keith Ellison seeks House seat | Keith Ellison is hoping that this city of mostly white Christians is ready to make a black Muslim its next congressman. (Associated Press)


Haircut, shave can mean life or death in Baghdad | In a country where people are killed because their names mark them as Shi'ites or Sunnis, having the wrong haircut can be lethal, too. (Washington Times)


Ugandan rebel leader calls for peace talks | The leader of a cult-like Ugandan rebel force accused of kidnapping thousands of children and mutilating civilians told British media he wants to talk peace. (Associated Press)


Jail for Denmark 'honour' killing | A court in Denmark has jailed a Pakistani man for life for ordering the murder of his 18-year-old daughter. (BBC)


Watchdog for UK mosques launches | A potentially influential body aimed at tackling extremism is being launched a year after the London bombings. (BBC)


Bethlehem monastery to be annexed by Wall | While the world's attention turns to the dramatic situation in Gaza, the Israeli Army has begun uprooting ancient olive trees in Bethlehem's Cremisan area, marking out the path of the wall to be built through one of the region's most valuable heritage sites. (Independent Catholic News)


Orthodox delegation attends papal Mass | Pope Benedict XVI pressed ahead with his appeals for a unified church Thursday as he a celebrated a Mass in St. Peter's Basilica attended by a delegation of Orthodox Christians. (Associated Press)


Delegation of 2 is Vatican's first to China in years | For the first time in more than five years, an official Vatican delegation is visiting China and meeting with government officials, signaling a warming between parties that have been locked in conflict in recent months, experts said this week. (New York Times)


From a church to a cathedral | St. Mary's Orthodox Syrian Church is to be consecrated as a Cathedral and the community couldn't be happier (Afternoon Dispatch & Courier, India)


Church cements bonds of faith | A relationship between the Chinese Church in London and the Hyde United Reformed Church, in Colindale, is to result in a special sharing agreement between the two. (Hendon & Finchley Times, UK)


Graffiti puts twist on the Word for sermons | Fortunately, the "street art" is supposed to be there. (South Bend Tribune, Ind.)


Ministry offers food at discount | $25 buys $50 to $70 worth of groceries (Pittsburgh Post-Gazette)


Pastors unite to oppose Choctaw casino plan | At least a dozen local pastors broke their silence Wednesday on the Mississippi Band of Choctaws' proposal to build a casino in Jackson County. (The Mississippi Press)


Pastor visits underground Chinese churches | They joined other Christians from different parts of the U.S. to officially enter China as tourists, and they were able to meet with Chinese people who are practicing the Christian faith in a hostile land. (Gulf Breeze News, Fla.)


Ex-deacon guilty of abusing girl | Frank W. Stima is one of four former officials of Marquette Manor Baptist Church in Downers Grove to be charged in separate, sex-related criminal cases. (Naperville Sun, Chicago suburbs)


Defrocked Springfield priest will not get a pension | A recently defrocked priest accused of sexually abusing minors will not receive a pension from the Roman Catholic Diocese of Springfield, a church official said. (Associated Press)


Pakistan hangs 4 Muslims for gang-rape of Christian | Four men were hanged in Pakistan on Thursday for gang-raping a teenaged Christian girl at gunpoint in the central city of Faisalabad seven years ago. (Reuters)


Rape case four hanged in Pakistan | Four Muslim men were hanged in Pakistan on Thursday for gang-raping a teenage Christian girl at gunpoint in the city of Faisalabad in 1999. (BBC)


Pensioner robbed of church money | Thieves have taken money from church envelopes after forcing their way into an elderly man's Londonderry home. (BBC)


Farmer caught in sting | Arlie Stutzman was arrested in a rare sting when an undercover agent bought raw milk from the Amish dairy farmer in an unlabeled container. (Associated Press)


Film:
The Kryptonian Gospel | 'Superman Returns' presents a gospel story as moving as 'The Passion of the Christ'—and possibly more affecting. (Beliefnet)


Rice will trace faith | Anne Rice's "Lestat" closed after a short Broadway run, but she still has faith. Good News Holdings, formed last fall to produce faith-based content in multimedia formats, has made its first significant movie deal by acquiring Rice bestseller "Christ the Lord: Out of Egypt." (Variety)


"Evil" delivers haunting portrait of pedophile priest | With an immediacy and intimacy that news reports can't provide, this deeply affecting documentary explores the pedophile crisis that has shaken the edifice of the Catholic Church. (Hollywood Reporter)


Falwell celebrates 50 years behind the pulpit at Thomas Road | The Rev. Jerry Falwell's conservative politics have earned him friends and enemies in a long, public career — but there's no denying he's been a successful pastor. (Associated Press)


All Saints pastor retires after 40 years of ministry | Ending 40 years in the ministry, Peterson's official retirement was May 31, ending a career that started on Ascension Day in 1966, the same year he graduated from the Lutheran School of Theology in Maywood with a master's of divinity degree. (Pioneer Press, Ill.)


Doctors change euthanasia stance | 65% of the 500 doctors at the BMA's meeting in Belfast voted against assisted dying. (BBC)


Jehovah's Witness conference to begin today | Cleveland convention expected to draw 15,000 (Beacon Journal, Ohio)


Supporting North Korean Bongsu Church is supporting the Labor Party of North Korea | Pastor Issac "At political concentration camps, 11% are Christian believers" (Daily NK, South Korea)


A ring of ignorance, hypocrisy and stupidity | A girl's public announcement of her chastity will rarely, if ever, act as a deterrent to boys with designs on it (Terence Blacker, The Independent, UK)


Christian book chain closes door Sundays | New owner opposes 'sales at all costs' (The Hamilton Spectator, Canada)


Regulation could silence Christian ministries | The United States Senate is now considering legislation that seeks to place "a la carte" or pay-per-channel regulations on subscription television providers. While it may sound like an attractive idea initially, a closer look reveals that any such regulations would have a devastating effect on religious and inspirational broadcasters. (Jerry Falwell, Roanoke Times, Va.)


Related Elsewhere:
Suggest links and stories by sending e-mail to weblog@christianitytoday.com
See our past Weblog updates:
June 29 | 28
June 23 | 22 | 21
June 16 | 15 | 14 | 13b | 13
June 9 | 8 | 7 | 6
June 2b | 2a | May 31
May 26 | 24
May 19 | 18 | 17
May 11 | 10 | 9 | 8
Weblog
Launched in 1999, Christianity Today's Weblog was not just one of the first religion-oriented weblogs, but one of the first published by a media organization. (Hence its rather bland title.) Mostly compiled by then-online editor Ted Olsen, Weblog rounded up religion news and opinion pieces from publications around the world. As Christianity Today's website grew, it launched other blogs. Olsen took on management responsibilities, and the Weblog feature as such was mothballed. But CT's efforts to round up important news and opinion from around the web continues, especially on our Gleanings feature.
Ted Olsen is Christianity Today's executive editor. He wrote the magazine's Weblog—a collection of news and opinion articles from mainstream news sources around the world—from 1999 to 2006. In 2004, the magazine launched Weblog in Print, which looks for unexpected connections and trends in articles appearing in the mainstream press. The column was later renamed "Tidings" and ran until 2007.
Previous Weblog Columns: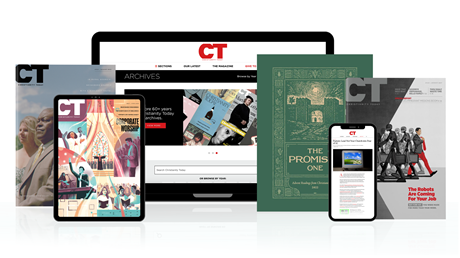 Subscribe to Christianity Today and get access to this article plus 65+ years of archives.
Home delivery of CT magazine
Complete access to articles on ChristianityToday.com
Over 120 years of magazine archives plus full access to all of CT's online archives
Subscribe Now
Anglicans Get Busy
Anglicans Get Busy