true
Sounds like … the classic dc Talk album as performed by the rock, pop, hardcore, R&B, and hip-hop artists of Gotee's roster
At a glance … Freaked is a fun tribute to one of the biggest albums in Christian rock history, but except for a few great renditions, most of it is played too safely with overly faithful arrangements
Milestone albums that have profound impact on the industry and the culture are rare, but even the relatively brief 35 years of CCM has its elite ones, representing the best of the genre. Jesus Freak marked the pinnacle of dc Talk's career, and as one of the most important Christian rock releases in the '90s, it surely influenced many of today's Christian artists.
It's understandable that many would want to honor the music, even if this project is somewhat unorthodox. Tribute albums typically cover an artist's body of work, but Freaked! A Gotee Tribute to dc Talk's Jesus Freak obviously focuses on a single album. Such tributes usually comes from the artist's label (ForeFront/EMI), but in this case, it's a Gotee project because two of the musicians responsible for the album—Gotee co-founders tobyMac and Todd Collins—both performed on Jesus Freak, alongside tobyMac's dc Talk partners Kevin Max and Michael Tait.
In other words, Gotee's current artist roster faithfully recreates the album that had a big hand in launching the label ten years ago. The album not only revisits all ten songs, twice in a couple instances, but also reuses or parodies most of the interludes of the original. There's the quick little phone message after the first track, the "Mr. Tobin" story that recalls "Mrs. Morgan," the Billy Graham excerpt during "Mind's Eye," and of course, that silly crooned reprise of "Jesus Freak," sung here by John Reuben and the Gotee staff.
Freaked, however, may be too faithful to its source material. Take Storyside:B's cover of "In the Light." It's cool to hear a band rocking out on this classic—written by Charlie Peacock, and the retro voice synthesizer effect in place of Max's vocal echo is a particularly nice touch. But otherwise, Storyside:B has done nothing to make it their own version, safely recreating the dc Talk arrangement down to the acoustic-driven bridge, tobyMac's whispers, and even the reggae breakdown.
Likewise, Fighting Instinct adds guitar oomph to "Like It, Love It, Need It," but it's ultimately a retread of the original, minus the stacked harmonies. House of Heroes infuses "Day By Day" with more bombast yet still play it safe, as does The Showdown, tempering their hardcore sound with the melodic sensibilities of "So Help Me God" while stripping out the song's hip-hop funk. 4th Avenue Jones renders the title track like an American Idol performance—good, but ultimately derivative, and the same might be said of the slightly mellower neo-soul treatment of "Colored People" as sung by Reuben and Ayiesha Woods.
What's missing from most of these tracks is a fresh spin, a unique creative stamp. That's why Family Force 5 is more successful with their trippy '80s club-rock version of "Mind's Eye"—I'm not sure if it's good, but at least they transform it to their unique style. Chasing Victory's hardcore cover of the title track is also more interesting, though they shred it so much, it was probably wise to also soothe purists with the safe 4th Avenue Jones version.
Better still is Sarah Kelly's take on "What If I Stumble," slightly altering the melody and chords with a contemplative pop/rock sound true to her style. Liquid delivers "What Have We Become" with refined musicianship and a smooth blend of R&B, jazz, and hip-hop that is equally fresh and faithful. Perhaps most impressive are the contrasting covers of "Between You and Me." Relient K strikes a nice balance between pop and rock that distinguishes it just enough from the original, though it does end rather abruptly shortly after the bridge. Meanwhile, Woods and Paul Wright team up for an excellent R&B pop vibe that's smartly suited to both their artistry and radio.
Enjoyable as many of these new renditions are, it's hard to freak out over the end results. As good as an artist's cover of a favorite song may be, it's near impossible for it to trump the original. Why bother with this if you've got Jesus Freak? A fun trip down memory lane that doesn't demonstrate quite enough imagination, Freaked does at least inspire nostalgia for fans of dc Talk's landmark recording.
Browse All Music Reviews By: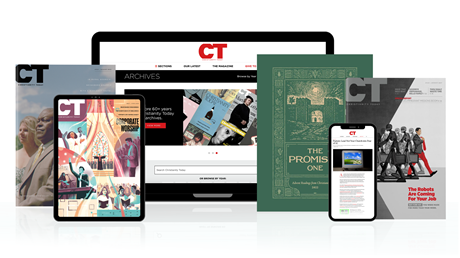 Annual & Monthly subscriptions available.
Print & Digital Issues of CT magazine
Complete access to every article on ChristianityToday.com
Unlimited access to 65+ years of CT's online archives
Member-only special issues
Subscribe
Freaked! A Gotee Tribute to dc Talk's Jesus Freak
Freaked! A Gotee Tribute to dc Talk's Jesus Freak