Today's Top Five
1. Among latest illegal immigrants: Iraqi Christians
Saturday, as immigration advocates around the country prepared for Monday's rallies, U.S. Border Patrol agents near Brownsville, Texas, arrested three men who had illegally crossed the U.S.-Mexico border. But these aren't Mexicans: They are Iraqis. What's more, they are Chaldean Christians, who told the immigration officials that they're seeking religious asylum after death threats were made against them.
"The first words out of their mouth were, 'Iraqi Christian, Iraqi Christian, Iraqi Christian,'" their lawyer, Humberto Yzaguirre, told The Brownsville Herald. "They said Baghdad was a mess. … They told me that they have seen some of the terrorists kill Christians within their sight." One of the men owned a liquor store, which was burned down by Iraqi Muslims.
The U.S. Commission on International Religious Freedom in October reported that such religious asylum seekers from Iraq "may not be receiving the protection to which they are entitled under the Refugee Convention." Assistant Secretary of State Richard Greene responded to the commission, saying that the government would work with the UN refugee agency "to ensure that vulnerable Iraqis receive appropriate protection and assistance until durable solutions can be found."
The Iraqis, who pled guilty to illegal entry, will be sentenced on Friday.
2. Appeals court backs ban on social worker's evangelism
Daniel Berry, an employee at the Tehama County (Calif.) Department of Social Services, kept a Spanish Bible on his desk and, in December 2001, put a "Happy Birthday, Jesus" sign in his cubicle. Not acceptable, said his employers. Citing a 1997 memo, they told him, "the Bible and other religious non-verbal communications cannot be visible to your clients." The department also denied his request to use a conference room for voluntary prayer group meetings. Such actions, said the department, would violate the First Amendment's prohibition on government-endorsed religion. But such bans, Berry responded, violate the First Amendment's guarantee of religious freedom.
Monday, a three-judge panel of the 9th U.S. Circuit Court of Appeals sided against Berry.
"The department's clients seek assistance from Mr. Berry in his capacity as an agent of the state. Accordingly, they may be motivated to seek ways of ingratiating themselves with Mr. Berry, or conversely, they may seek reasons to explain a perceived failure to assist them," Judge Consuelo Callahan wrote. "It follows that any discussion by Mr. Berry of his religion runs a real danger of entangling the department with religion. This danger is heightened by Mr. Berry's admission that unless restricted, he will share his faith with others and pray with them."
The court also ruled that Berry "is not deprived of his Bible. He may keep it in his desk drawer and may read it whenever he does not have a client with him in his cubicle. Displaying the Bible implicitly endorses a religious message, and it is precisely that message which the department reasonably seeks to avoid."
3. Texas Supreme Court to hear church discipline case
Peggy Penley's messy 2001 suit against Buddy Westbrook and his Ft. Worth, Texas, CrossLand Community Bible Church is about to go to the Texas Supreme Court. (Weblog gave a brief overview in June 2004.) The Legal Liberty Institute is defending the church, and says it could be a test case on church discipline. Penley's lawyer says it has less to do with Westbrook's role as pastor than with his role as a state-licensed professional counselor. It's definitely a case worth keeping an eye on.
4. PCUSA to cut 75 staff, 55 missionaries
About 15 percent of the employees at the Presbyterian Church (U.S.A.) headquarters were laid off this week. And about 18 percent of the denomination's 307 missionaries also lost their jobs. Several offices—particularly those involved in public policy matters, such as the Criminal Justice, Environmental Justice, and Corporate Witness programs—are to be closed altogether.
5. Another major American Baptist section votes to sever ties
The American Baptist Churches USA denomination continues to disintegrate. (Earlier coverage here.) In the latest development, delegates from the American Baptist Churches of the Pacific Southwest voted 1,125 to 209 to leave.
"Akinola has the strength of a lion, useful in confronting Third World fundamentalism and First World relativism."
—Rick Warren on the Anglican archbishop of Nigeria, whom Time's current issue names one of the 100 most influential people in the world.
More articles
War and terrorism | Save Darfur rally | More on Darfur | Interfaith relations | Religious liberty | Madeleine Albright on religion | China-Vatican relations | Catholicism | Vatican and condoms | Sexual ethics | Immigration | Zambia | Politics | Life ethics | Church and state | Evangelism at work case | Money and business | Film | Entertainment and media | Books | Da Vinci Code | Gnosticism and scholarship | Higher education | Education | Evolution | Study on doctors and religion | Spirituality | Church life | Abuse | Crime | Priest's murder trial | Fighting crime | Time's 100 people who shape our world | Missions and ministry | Other stories of interest
Religious leaders to continue pressure on Sudan | Rabbi David Saperstein cried "Never again." Cardinal Theodore McCarrick, archbishop of Washington, said "Now is the time." And Richard Land of the Southern Baptist Convention asked: "If not this, what? If not now, when? If not us, who?" (Religion News Service)


Clooney does Darfur | If only our politicians were as wise, discerning, and benevolent as George (Nina Shea, National Review Online)


Priests and imams to play ball in a game of two faiths | Militants acting in the name of Islam, Christianity and Judaism are at loggerheads across the world. But in Berlin at least the great religions hope to settle their differences on the football field (The Times, London)


A Syrian monastery lies at the nexus of Islam, Christianity | The monastery of Deir Mar Musa was first built by Greek monks in the sixth century as a remote retreat from the material and political world. Abandoned in the 19th century, it once again houses a small religious community. But now, under its second founder, Father Dall'Oglio, it is on the forefront of politics with a fresh approach to bridge-building with the Islamic world (The Christian Science Monitor)


At one with dual devotion | 'JuBus' blend the communal rituals of Judaism with the quiet solitude of Buddhism. Most adherents are at peace with the paradox (Los Angeles Times)


Madeleine Albright on religion:
Albright reflects on religion and world conflict | Former secretary of State argues that policymakers need to do more to understand religion and tap its power to help resolve global conflicts (USA Today)


In the mind of Albright | "Like the Islamic revolutionaries in Iran, (members of the Christian right) believe that they are being compelled to raise their children in surroundings hostile to their deepest beliefs." (USA Today)


Madeleine Albright opens up | The former Secretary of State tells Time why religion has a place in diplomacy (Time)


China installs bishop without Vatican okay | China's state-approved Catholic church on Wednesday installed a bishop without Vatican approval — the second this week — in a move that may hinder talks to re-establish ties ended after communists took control of China in 1949 (Associated Press)


China-Vatican ties tested by second bishop | A battle between Beijing and the Vatican over control of church posts flared on Wednesday as China's state-backed Catholic church installed another bishop without papal blessing (Reuters)


A shepherd church in changing times | The Catholic Church again finds itself as a shepherd of change, encouraging its parishioners to welcome Latino strangers (Richard J. Gonzales, Ft. Worth Star-Telegram, Tex.)


Govt, church conflict is unavoidable, says Zambian president | "While the church may be driven by religious considerations in its social programming, government may sometimes be informed by political considerations. The important thing when conflict arises is to ensure that we engage in open, meaningful dialogue that will minimise the extent of the differences" (The Post, Zambia)


Help us reconcile, Levy urges church | President Mwanawasa has urged the Church to play a reconciliatory role among political parties ahead of this year's elections as differences were likely to occur (The Times of Zambia)


Dialogue between Levy and Catholics | We welcome this call because the road to social peace must necessarily pass through dialogue, sincere dialogue that seeks truth and goodness (Editorial, The Post, Zambia)


Church-state wall mandates neutrality | The "unbounded" world of ideas includes religious perspectives and practices. To exclude them - and not others - is not an exercise in neutrality but in favoritism (Rick Esenberg, Milwaukee Journal-Sentinel)


Faithful following | Christian stations in Maine that have quietly grown in popularity and number in recent years (Kennebec Journal, Me.)


Moneymakers: Melanie Fahey | She's made spreading the word her business (Houston Chronicle)


Film:
Film ignites the wrath of Hindu fundamentalists | Deepa Mehta's new film, "Water," about the degradation of Hindu widows in India in the 1930's, has sparked protests from its onset (The New York Times)


Upward Christian soldier | The inspiring story of Sept. 11 hero Father Mychal Judge has been made into a stirring film (Philadelphia Weekly)


Two movies provide two chilling lessons | After you see United 93, go see Jonestown: The Life and Death of Peoples Temple (DeWayne Wickham, USA Today)


Beware the Theocons? | Despite being consistently wrong for decades, Kevin Phillips retains his image as a visionary, at least in U.S. faculty lounges, foundation offices, newsrooms, and the Nantucket Island farmers market - wherever the elite meet to tremble over the fate of their country. (Andrew Ferguson, The New York Sun)


The founding believer | How is it that we've drifted from regarding George Washington as a devout Christian? (Mark Tooley, The American Spectator)


Visit the places from Da Vinci Code | You've read the book and you're probably thinking of seeing the movie. So, why not combine a vacation in Europe with a personal visit to some of the real landmarks that figure so prominently in "The Da Vinci Code"? (Associated Press)


Decoding a global blockbuster | You've read the book, now marvel at the marketing phenomenon (The Australian)


Carroll PTO cancels movie | Few tickets sold for 'Da Vinci Code' (The Journal-Sentinel, Ft. Wayne, Ind.)


Archaeologists debate whether to ignore the pasts of relics | As scholars grapple with the reality that a growing number of important works lack a clear provenance, ethics policies are the focus of heated debate (The New York Times)


Highlighting the good in religious diversity | Unveiling the Gospel of Judas highlighted the good in religious diversity. And it is good -- to a point (Peter Steinfels, The New York Times)


The end of Gnosticism? | Lost texts of Christianity have created scholarly excitement  and news-media buzz. So why do some researchers  say we're using the wrong name for them? (Richard Byrne, The Chronicle of Higher Education)


Senate kills plan to revive vouchers | In a stinging loss for Gov. Jeb Bush's education legacy, the state Senate narrowly defeated a plan to ask voters to protect and expand his voucher program that sends public money to private schools (The Miami Herald)


School board may bring back 'Christmas' | Winter Break would become the Christmas Holidays Break if the board approves the change Thursday (St. Louis Post-Dispatch)


Home-schoolers field own teams | The Crusaders now are the second football team in Maryland made up entirely of home-school and private-school students. The Maryland Christian Saints first took the field last year in Harford County, north of Baltimore (The Washington Times)


Parents sue school over gay storybook | Two couples are suing a Boston-area public school district, claiming it usurped their parental rights by exposing their sons -- in kindergarten and second grade -- to lessons that included homosexual romance without telling the parents (The Washington Times)


Arresting free speech | High school should be a dress rehearsal for political participation and debate where disagreeable or vituperative views are regularly encountered (Bruce Fein, The Washington Times)


Oh, Lord . . . | Gene helps a Catholic school girl write a speech (Gene Weingarten, The Washington Post)


Evolution makes the grade at Christian colleges | Christian schools are teaching evolution with a method that is sensitive to Christian values (Science & Theology News)


Law may open Miss. classrooms to creationism | School officials can't prohibit teachers and students from discussing how life began under a new state law signed by Gov. Haley Barbour (Associated Press)


Evangelicals assert right to be heard | Mainstream scientists assert that "intelligent design" is not a scientific theory and therefore has no place in a science classroom. But that viewpoint, along with scientific inquiry itself is simply one perspective, and one that is structured to be racist, patriarchal, Eurocentric and imperialistic (Cecil Bohanon, The Journal Gazette, Ft. Wayne, Ind.)


Study on doctors and religion:
On holy ground, a hollow sound | Czechs' shunning of religion in part blamed on Soviets (Chicago Tribune)


Wash. pastor charged with manslaughter | A pastor who struck and killed a bicyclist in a 2003 traffic accident was charged with manslaughter after a lawsuit uncovered evidence that he knew he couldn't see well enough to drive, prosecutors said (Associated Press)


Nun's killer used occult symbols, church expert in rituals testifies | No trial today; testimony to resume tomorrow (The Toledo Blade, Oh.)


Expert: Ritual took place in nun's slaying (The Plain Dealer, Cleveland)


Cold-case detective tells why priest was suspect | There was a limited window of opportunity, police had eliminated virtually all other hospital employees who could have been suspects, and the killer appeared to be very knowledgeable of church ritual and symbolism (The Toledo Blade)


Guarding God's house | Churches want to keep 'open arms,' but times call for security measures (The Dallas Morning News)


Pastor's plan pits Bible vs. bullet holes | Tired of asking the law to clean up his southeast-side neighborhood, Pastor Paul Taylor's going to try a little Gospel instead (Kevin Leininger, The News-Sentinel, Ft. Wayne, Ind.)


Churches can help stop crime | The $3 million initative to help a coalition of church groups promote faith-based anti-violence programs is laudable (Editorial, Toronto Sun)


Time's 100 people who shape our world:
Related Elsewhere:
Suggest links and stories by sending e-mail to weblog@christianitytoday.com
See our past Weblog updates:
April 28 | 27b | 27a | 19
April 12 | 11 | 7
March 31 | 30 | 28
March 24 | 24 | 23 | 21
March 17 | 16 | 15
March 10b | 10a | 8
March 3 | 2 | 1
Weblog
Launched in 1999, Christianity Today's Weblog was not just one of the first religion-oriented weblogs, but one of the first published by a media organization. (Hence its rather bland title.) Mostly compiled by then-online editor Ted Olsen, Weblog rounded up religion news and opinion pieces from publications around the world. As Christianity Today's website grew, it launched other blogs. Olsen took on management responsibilities, and the Weblog feature as such was mothballed. But CT's efforts to round up important news and opinion from around the web continues, especially on our Gleanings feature.
Ted Olsen is Christianity Today's executive editor. He wrote the magazine's Weblog—a collection of news and opinion articles from mainstream news sources around the world—from 1999 to 2006. In 2004, the magazine launched Weblog in Print, which looks for unexpected connections and trends in articles appearing in the mainstream press. The column was later renamed "Tidings" and ran until 2007.
Previous Weblog Columns: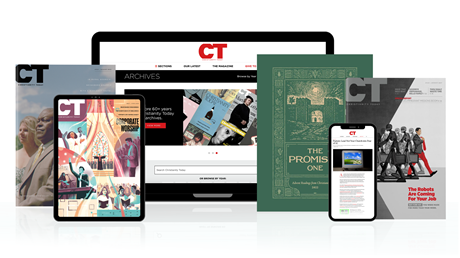 Subscribe to Christianity Today and get access to this article plus 65+ years of archives.
Home delivery of CT magazine
Complete access to articles on ChristianityToday.com
Over 120 years of magazine archives plus full access to all of CT's online archives
Subscribe Now
Iraqi Christians Enter Through Mexico, Seek Asylum
Iraqi Christians Enter Through Mexico, Seek Asylum