Today's Top Five
1. Connecticut churches face tax penalties for ministries
Sunday's The New York Times has a troubling story on how costly it can be for a church to serve the needy. Definitely worth a read.
2. 7th Heaven ends its run tonight
The Times has an interesting review, in part criticizing the show for moralizing against premarital sex, but also for being duplicitous: "As distasteful as the series might seem to liberal sensibilities, it is arguably more offensive still to conservative ones, because of the sleaziness with which it puts across the Christian values to which it halfheartedly aspires. … It revels in the illicit behavior it condemns and takes pleasure in its own creepy innuendos." Slate agrees: "For all its conservative sexual mores, 7th Heaven is one of the most sexually frank shows on television. So does The Denver Post: "Just read any '7H' plot summary and tell me it isn't as trashy as The O.C. ('Virgin Martin impregnates Hilary Duff's slutty older sister on the day he meets her.')" Not revealed in the final episode: the actual denomination that the pastor dad actually belongs to.
3. AIDS groups shunning Saddleback
The front page of today's San Francisco Chronicle reports on Saddleback Church's plan to help people with HIV and AIDS. But the plan may not come into fruition because other AIDS groups—though desperate for volunteers—are suspicious of the conservative church. Joe Garofoli reports:
[S]ome secular HIV care providers are wary of Saddleback's motives. They don't trust them. Not yet.
After decades of hearing evangelical Christian leaders demonize homosexuals for their "sinful" lifestyle or criticize the risky behavior that led people to contract HIV, some care providers are leery of exposing their clients to people who they fear will proselytize to a vulnerable audience.
The result: Without being able to connect with local service providers, Saddleback volunteers are helping only a handful of HIV-positive people.
Some gay groups say the Warrens and their church shouldn't fight HIV until they're ready to "recognize the inherent beauty in all relationships." But Garofoli notes that while Warren hasn't "gone soft on homosexuality," anyone "expecting gay-bashing" from the church's Care Training "would have left the first class disappointed."
4. Episcopal Diocese of California elects a new bishop
How do you know a church is liberal? When the headlines read "Heterosexual elected Episcopal Bishop of Calif," "Episcopalians elect straight bishop in S.F.," and  "Episcopalians reject gay candidates."
5. Iraqi Christians who crossed Mexican border get 6 month sentence
The Brownsville Herald is now putting "Christians" into scare quotes. (See last week's Weblog posting for background). That's because Judge Felix Recio says he didn't believe them:
Recio told the three men that their story did not add up for him and sentenced each of them to the maximum allowed under federal law.
The magistrate judge told the men he gave them the stiff sentence because of the ongoing war in Iraq and that he wanted to send a message to any would-be immigrants that they need to use to the proper channels to seek asylum.
FBI officials said the three men are not suspected of being terrorists, but Recio told the men in court that he found it "very difficult" to accept their story.
"You didn't have to come to Brownsville or Mexico," Recio said. "You could have gone to any other country to seek asylum. You could have gone to Christian groups. … You could have gone to a bridge and asked for asylum."
Quote of the day:
"The 'Christian' vote has become shorthand in journalism for the Republican base. … The worst response, I think, would be to construct something called the religious left."
—Andrew Sullivan, in Time
More articles
Church and state | China and Vatican | Sudan | Human rights | War and terrorism | Politics | Evolution | Education | Life ethics | Sexual ethics | Elected bishop not gay | Baptist ecclesiology | Church life | Catholicism | Abuse | Crime | Spirituality | Money and business | Entertainment and media | 7th Heaven | The Da Vinci Code | Books | Other stories of interest
Double-parking task force seen as a diversion tactic | A D.C. task force promised by Mayor Anthony A. Williams to examine the problem of illegal double-parking on Sundays remains incomplete while churchgoers and inconvenienced residents wonder whether help will ever come (The Washington Times)


Bill change lets church off tax roll | Teachers' homes would be exempted from property payment (Anchorage Daily News)


Religious tax exemptions questioned | Do religious officials have to pay payroll taxes? (Dong-A Ilbo, South Korea)


Rebel holdouts urged to sign Darfur deal | Secretary-General Kofi Annan welcomed the partial deal to end the conflict in Sudan's Darfur region and urged rebel holdouts to seize the "historic moment" and sign the peace pact (Associated Press)


6 North Korean defectors make their way to U.S. | 'We are hoping these are the first of many,' one activist says. The effort is the first sponsored by Washington to give asylum to such refugees (Los Angeles Times)


First N.Korean refugees reach U.S. | Six refugees from North Korea, including women who were trafficked in China, arrived in the United States at the weekend to become the first North Koreans to be given asylum in America, activists said (Reuters)


Watching religious freedom | A report like the U.S. Commission on International Religious Freedom's is a useful reminder of the great extent to which many of the governments with which the United States deals in the war on terror are our enemy's enemies first and our friends second -- if at all (Editorial, The Washington Times)


Madeleine Albright, the Cardinal? | Madeleine Albright, a would-be priest turned secretary of state, takes up religion's role in policy (Peter Steinfels, The New York Times)


A suicide bomb, a dead daughter, and a test of faith | Within hours of the suicide bombings in London last summer, Julie Nicholson knew, but could not at first accept, that she had lost her 24-year-old daughter (The New York Times)


New documentary makes case for "The Saint of 9/11" | A new documentary film makes a case for sainthood for Mychal Judge, a New York Fire Department chaplain who died at the World Trade Center in the September 11 attacks (Reuters)


Creationism dismissed as 'a kind of paganism' by Vatican's astronomer | Believing that God created the universe in six days is a form of superstitious paganism, the Vatican astronomer Guy Consolmagno claimed yesterday (The Scotsman)


'Darwin's evolutionary theory is a tottering nonsense, built on too many suppositions' | A charismatic Australian has materialized at the centre of national argument in Britain about the teaching of creationism (The Sydney Morning Herald)


The happy death box | We are witnessing a strange new controversy in this country over whether lethal injection is too cruel and unusual to be used to kill unusually cruel people (Dahlia Lithwick, The Washington Post)


Anti-abortion crowd sets its sights on birth control | If they want to repress their own kind, let them. It's when they try to repress the rest of us that we need to usher them back into the ward from which they emerged (Bonnie Erbe, Scripps Howard News Service)


Episcopalians avoid rift in picking bishop | Many had expected gay leader (San Francisco Chronicle)


Episcopalians elect straight bishop in S.F. | The Bay Area diocese's decision not to choose one of three gay candidates avoids an increase in tension over homosexual clergy (Los Angeles Times)


Election of Episcopal bishop avoids inflaming a crisis | f a gay candidate had been elected, the trickle of congregations that have left the Episcopal Church U.S.A. since the consecration of Bishop Robinson might have accelerated, and the strained relations between the Episcopal Church and the broader communion could have been pushed to a schism, church experts have said (The New York Times)


Bush-Clinton fund earmarks $20M for churches | The Bush-Clinton Fund has so far raised more than $120 million (The Sun-Herald, Biloxi, Miss.)


Exile Russian church mulls unity with motherland | After atheistic Communists seized power in Russia in 1917, exiles set up the Russian Orthodox church abroad, waiting for the day that worshipers could freely practice their faith back in the motherland (Reuters)


Finding spiritual world's middle ground | Whether the issue is presidential politics, war, taxation, homosexuality or immigration, we need to find ways to combine respect for obligation with an understanding of the need for liberation (Henry G. Brinton, USA Today)


Religion goes to work | As Americans speak out about spirituality, employers are divining ways to be fair to all (The Plain Dealer, Cleveland)


Divine plight | Firms emboldened as religious boycott power slips (New York Post)


In '7th Heaven,' they're still allergic to Love Potion No. 9 | "7th Heaven," which ends its run tonight, demonstrated a strange prescience about shifting agendas in American life (The New York Times)


"7th Heaven" dies just as it lived: in moral bliss | One viewer says goodbye to a show he hates to love (The Denver Post)


7th Heaven goes to heaven | Saying farewell to the longest-running family drama in TV history (Slate)


Cardinal urges legal action against Da Vinci Code | Cardinal Francis Arinze, a Nigerian who was considered a candidate for pope last year, says "some know legal means which can be taken in order to get the other person to respect the rights of others" (Reuters)


Ripping 'The Da Vinci Code' | Yes, it's fiction - but author's 'fact' claims irritate scholars (The Dallas Morning News)


To see or not see 'Da Vinci Code' | The success of the novel and imminent release of the film have prompted strong reactions from some local Christians, who don't like the way it portrays their savior (The Cincinnati Post)


An ecclesiastical meltdown | The real story of the disproportionate official Christian outrage over the Gospel of Judas and The Da Vinci Code is that religious leaders do not like it when anyone — whether a Hollywood filmmaker or an anonymous voice from Christianity's own past — challenges their particular narrative of salvation, and by doing so raises the uncomfortable question of whether any religious narrative can reasonably be classified as nonfiction (Susan Jacoby, Los Angeles Times)


'The Da Vinci Code' A positive for Christianity | The only boycott I will support is the boycotting of all other boycotts (Jonathan Morris, Fox News)


Evangelicals who 'repent' on HIV | Big Orange County church's ministry draws skepticism (San Francisco Chronicle)


Artifacts of church and state | Medieval wonders unscroll at Boston College (The Boston Globe)


Related Elsewhere:
Suggest links and stories by sending e-mail to weblog@christianitytoday.com
See our past Weblog updates:
May 5 | 4 | 3
April 28 | 27b | 27a | 19
April 12 | 11 | 7
March 31 | 30 | 28
March 24 | 24 | 23 | 21
March 17 | 16 | 15
March 10b | 10a | 8
Weblog
Launched in 1999, Christianity Today's Weblog was not just one of the first religion-oriented weblogs, but one of the first published by a media organization. (Hence its rather bland title.) Mostly compiled by then-online editor Ted Olsen, Weblog rounded up religion news and opinion pieces from publications around the world. As Christianity Today's website grew, it launched other blogs. Olsen took on management responsibilities, and the Weblog feature as such was mothballed. But CT's efforts to round up important news and opinion from around the web continues, especially on our Gleanings feature.
Ted Olsen is Christianity Today's executive editor. He wrote the magazine's Weblog—a collection of news and opinion articles from mainstream news sources around the world—from 1999 to 2006. In 2004, the magazine launched Weblog in Print, which looks for unexpected connections and trends in articles appearing in the mainstream press. The column was later renamed "Tidings" and ran until 2007.
Previous Weblog Columns: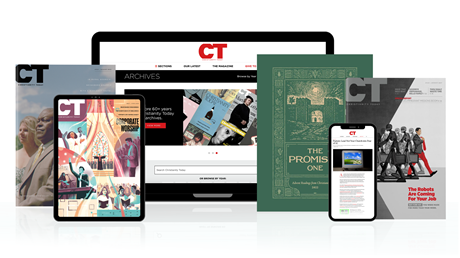 Annual & Monthly subscriptions available.
Print & Digital Issues of CT magazine
Complete access to every article on ChristianityToday.com
Unlimited access to 65+ years of CT's online archives
Member-only special issues
Subscribe
The Tax Man Taketh
The Tax Man Taketh