Today's Top Five
1. Dean to Pat Robertson's show: Democrats oppose gay marriage
Howard Dean clumsily attempted to woo religious conservatives during his 2004 presidential campaign, then vowed to reach evangelical voters when he became chairman of the Democratic Party. Now he's going so far as to appear on Pat Robertson's 700 Club television program to assure viewers that Democrats "have an enormous amount in common with the Christian community, and particularly with the evangelical Christian community."
"One of the biggest things that Democrats worry about is the materialism of our country, what's on television that our kids are seeing, and the lack of spirituality. And that's something we have in common," Dean told the show's David Brody. When asked about his party's positions on abortion and same-sex marriage, his comments put him at odds with some party activists. "Let's discuss abortion first," he said. "I think what we have in common with the evangelical community is that we ought to have a lot fewer abortions than we do. … The difference is that we don't think making criminals out of doctors and women is a good idea."
But it's Dean's comments on same-sex marriage that have him in trouble. "The Democratic Party platform from 2004 says that marriage is between a man and a woman. That's what it says. I think where we may take exception with some religious leaders is that we believe in inclusion, that everybody deserves to live with dignity and respect, and that equal rights under the law are important."
Gay media outlets, such as 365Gay.com and the Washington Blade were quick to point out that the platform doesn't actually say that marriage is between a man and a woman. Instead, it says
We support full inclusion of gay and lesbian families in the life of our nation and seek equal responsibilities, benefits, and protections for these families. In our country, marriage has been defined at the state level for 200 years, and we believe it should continue to be defined there. We repudiate President Bush's divisive effort to politicize the Constitution by pursuing a 'Federal Marriage Amendment.' Our goal is to bring Americans together, not drive them apart.
The news outlets noted that Dean has repeatedly mischaracterized the platform, and that activist groups like the National Gay & Lesbian Task Force have become increasingly frustrated with "Dean's record on lesbian, gay, bisexual and transgender issues."
Today, Dean acknowledged that he "misstated the Democratic Party's platform. … The Democratic Party remains committed to equal protection under the law for all Americans. How we achieve that goal continues to be the subject of a contentious debate, but our Party continues to oppose constitutional amendments that seek to short circuit the debate on how to achieve equality for all Americans."
365Gay.com ends its story this way: "Not only has the 'misspeak' forced Dean to acknowledge it has hurt the party with gays, he now has to face conservative Christians who have begun portraying his original remarks to be a callous attempt to get their votes by misleading them."
2. Jury finds priest guilty of 1980 nun murder
The 1980 Holy Saturday murder of Sister Margaret Ann Pahl was particular grisly and full of religious symbolism: She was stabbed 31 times through an altar cloth, with several of the wounds clearly meant to form the sign of the cross. Her dress was pulled up over her chest, and her undergarments pulled to her ankles. Then her killer anointed her forehead with the sign of the cross, using her own blood. Today, a jury found that Gerald Robinson, the priest who presided at her funeral Mass, was the murderer. His lawyers say they'll appeal the verdict. Meanwhile, the Toledo Blade says it's unclear what the Roman Catholic Church will do about his ordination:
Toledo Diocese spokesman Sally Oberski said the unprecedented murder conviction of a priest has left her and the Diocese at a loss. The Vatican will most likely get involved, she said, but she could not say exactly what the process would be for dealing with the future of Robinson in the church.
"I'm sure [the Vatican] will be involved, yes. And I can't say beyond that," she said. "As of today, his status has not changed from his current status as being barred from public ministry. He's still a priest. We don't know [what's next]. We've never had to deal with this."
3. Encourage charitable giving? No thanks, says Congress
"As members of the House and Senate worked out a compromise tax measure this week, they dropped nearly every provision that charities and lawmakers had sought to cut down on abuses of charity tax laws and encourage charitable giving," the Chronicle of Philanthropy reports today. "The tax bill now contains just a single nonprofit provision: a measure to tighten rules on corporate tax-shelter abuses that involve charities."
Among the items passed by the Senate now dropped in the joint bill was a provision allowing taxpayers who don't itemize deductions to deduct a portion of their charitable donations. That was one of the very few surviving legislative proposals in Bush's faith-based initiative.
4. Seminary's commencement speaker prompts protest
While theology professors at Boston College are protesting the school's decision to award an honorary degree to Secretary of State Condoleezza Rice, a more interesting commencement debate is occurring down at Atlanta's Interdenominational Theological Center. Theologian James H. Cone, scheduled to receive an honorary degree by the school, is now refusing to attend. So is a former chairman of the school's board. A third of the graduating class signed a letter saying they'll take their diplomas, but they're not happy about it. The reason for the hubbub? Saturday's commencement speaker: ITC alumnus Bishop Eddie Long, pastor of New Birth Missionary Baptist Church in Lithonia, Georgia.
"The controversy revolves around three emotionally charged issues: the legacy of the Rev. Martin Luther King Jr., the future of the black church, and — a deeper issue — how a Christian lives out his or her faith," The Atlanta Journal-Constitution reports. Key issues include Long's preaching of prosperity gospel messages, "Long's ethics, his remarks about women and black pastors, and a 2003 sermon that Long gave at ITC that [students] said denigrated the value of seminary training."
5. God is still speaking, and he says he doesn't like you around here
The United Church of Christ kicks out people for reasons other than advocating fidelity to biblical orthodoxy. The Sarasota Herald-Tribune reports that some UCC churches aren't too keen on those who want to see financial responsibility, too:
TV commercials and monthly tidings of the Venice United Church of Christ tout an open-door policy that welcomes everyone and declares that no one will ever be kicked out of the church's membership.
But Bill Walker … learned he was the exception.
As a member of the church's auditing committee, a position the church asked Walker to fill, he raised questions about church spending and an $80,000 deficit in its operating fund.
The result: Walker received a letter April 25 stating, "It is with regret that we inform you that a unanimous decision was made this morning by the Church Council on behalf of the Congregation to remove you from membership in the Venice United Church of Christ because of your disruptive behavior to our church." …
The TV advertisements aired by UCC headquarters and supported by the Venice church, proclaim, "No matter who you are or where you are on life's journey, you are welcome here."
And the Venice church's monthly bulletin adds, "We do not condone anyone ever being ejected from his or her church."
Walker was labeled in two letters—one the dismissal letter to Walker and a second to church members—as "disruptive" and "the cause of dissension."
But he was never given an explanation why his behavior was considered disruptive.
"Do I know to this day what I have been accused of? No," Walker said.
All Weblog knows about the particulars of the Venice controversy comes from this story, and it would have been nice to hear a bit more of the church's side (it refused comment, which is generally a good idea in church discipline cases). Still, it's interesting to see a church that so adamantly opposes discipleship make such a move.
Quote of the day:
"Early this year I realized that in decades of reporting, writing, or assigning stories on human rights, I rarely touched on one of the most important. Political human rights, legal, civil, and press rights, emphatically often; but the right to worship where and how God or conscience leads, almost never."
—Former New York Times executive editor A. M. Rosenthal, in a December 30, 1997, column. Rosenthal died yesterday at 84.
More articles
Howard Dean on 700 Club | Sexual ethics | Politics | Abortion | Abortion pill | Life ethics | War and terrorism | Ohio priest murder trial | Crime | Church and state | Immigration | China | Catholicism | Church life | Da Vinci Code | Entertainment and media | Education | Missions & ministry | Other stories of interest
Politics:
Abortion:
Abortion pill:
Scientists will gather to discuss safety of abortion pill | The first meeting in 10 years on the safety of the abortion pill RU-486 comes after a bacterial infection led to the deaths of at least five women who took it (The New York Times)


Women's deaths mystery widens | A rare germ that killed four California women who took the abortion pill RU-486 has been implicated in the deaths of even more women following childbirth or miscarriage, broadening the debate beyond abortion on the eve of a meeting to examine the bacterial mystery (Associated Press)


Life ethics:
Human embryos in Britain may be screened for cancer risk | British regulators yesterday ruled that fertility clinics may screen out human embryos carrying genes that raise the risk of cancer in adulthood -- a move the government said could prevent future suffering but that others said was proof that the age of handpicked, "designer" babies is at hand (The Washington Post)


The ethics of assisted suicide | On Friday the House of Lords will debate Lord Joffe's private member's bill, Assisted Dying for the Terminally Ill (BBC)


I'd like to die with dignity. And I don't want the medieval brigade interfering | Our churchmen preen and preach and rage about the immorality of assisted suicide. But it is their position that is immoral (Camilla Cavendish, The Times, London)


War and terrorism:
Sudan's interlocking wars | Some analysts say that unless there is a comprehensive agreement involving all warring groups across the country, including in Darfur, the agreement signed in Nigeria can't work (BBC)


A terrifying truth about terrorism | Polls find that Muslims in the Middle East who regularly attended prayer services were no more likely to back terrorism than those who did not. Nor were Muslims who agreed that religion "was an important part of your daily life" (The Washington Post, second item)


"Mighty and the Almighty" | Secretary of State Madeleine Albright discusses her new book: Mighty and the Almighty: Reflections on America, God, and World Affairs (NewsHour with Jim Lehrer, PBS)


Ohio priest murder trial:
Crime:
Theology student held in husband's death | Jee-hung Song will be charged with murder, deputy D.A. says (The Orange County Register)


AME Church relieves minister of duties after sex abuse allegations | The African Methodist Episcopal Church has relieved a Los Angeles minister of his duties after concluding that he sexually molested two underage victims, according to a spokesman for the church, even though no criminal charges have been filed and the pastor denies the allegations (Los Angeles Times)


Catholic priest put on leave after sexual misconduct allegations | The Catholic Diocese of Arlington has put a 61-year-old priest on administrative leave after receiving "credible" allegations that he touched two girls inappropriately between 1975 and 1980, a diocesan spokesman said yesterday (The Washington Post)


Religious riots: Govs, security agents blamed for high tolls | The Christian Association of Nigeria in the North Central and North East Zones of the country have blamed slow response of governors and security agents to religious riots in their regions for the high toll in deaths and destruction of properties (This Day, Nigeria)


Church and state:
Immigration:
Indigenous population 'neglected' | The Archbishop of York has blamed the rise in popularity of anti-immigration parties on a perceived failure to support the "indigenous population" (BBC)


Vatican backs protests in asylums battle | Papal nuncio supports church occupations as illegal immigrants demand residency (Expatica, Belgium)


China:
Catholicism:
Cuenin's new calling | For outspoken priest, Brandeis post is a world away from his days as cause celebre at Our Lady's in Newton (The Boston Globe)


O'Malley fights anti-Semitism | Urges Catholic, Jewish kinship (The Boston Globe)


Church life:
Da Vinci Code:
'Da Vinci Code' Now a tool to win Christian converts | Some churches think book and new film are offering a perfect chance for Bible lessons (Los Angeles Times)


Entertainment and media:
Lifetime award for Ostling | Religion Newswriters names AP'S Richard Ostling as the 2006 William A. Reed / Religion News Service Lifetime Achievement Award;Â  Ostling will retire as the Associated Press' religion reporter in July, although he will continue to write his weekly Bible column (Press release)


Christian group to appeal for right to air political ad | The Maine Christian Civic League is challenging a new federal law that prohibits targeted ads within 30 days of an election (Portland Press Herald, Me.)


Sirius to begin a Catholic channel | The Roman Catholic Archdiocese of New York is venturing into satellite radio, announcing a deal on Wednesday to work with Sirius Satellite Radio to create a 24/7 Catholic channel (The New York Times)


The divine Miss Winfrey? | After two decades of searching for her authentic self — exploring New Age theories, giving away cars, trotting out fat, recommending good books and tackling countless issues from serious to frivolous — Oprah Winfrey has risen to a new level of guru (USA Today)


Wake up, Dodos | Making light of a dry, but important, topic (Anthony Dick, National Review Online)


Education:
Missions & ministry:
Charity measures left out of a major congressional tax bill | As members of the House and Senate worked out a compromise tax measure last week, they dropped nearly every provision that charities and lawmakers had sought to cut down on abuses of charity tax laws and encourage charitable giving (The Chronicle of Philanthropy)


One less place for those unwanted | Indian officials insist fewer patients, not religion, forces closing of Leprosy Hospital run by Catholic order (Chicago Tribune)


Teens mark the passage to adulthood with grace | Church-run program ends in a cotillion (The Washington Post)


American preachers predict hope | 44 Christian missionaries from Harvest Church, Oklahoma, US, concluded their preaching crusade to the south with optimism over restored hope and unity among Rwandans (The New Times, Rwanda)


Many respond to call to read Bible nonstop | Marathon Scripture session has them speaking in tongues: French, Italian (The Cincinnati Enquirer)


Other stories of interest:
Jordan site may be biblical city of Sodom | Archaeologist has committed to seven years excavating Tall el-Hammom (El Defensor Chieftain, N.M.)


What would Jesus drive? | Church leaders are calling for more action on climate change, but how would Jesus get about if he embarked on his travels today? (BBC)


Religion news in brief | Anglican archbishop of Ireland to retire; Vatican approves revisions in bishops' disciplinary policy on abuse; Draft law on Indonesia's Aceh province to impose Islamic law on all residents; and other stories (Associated Press)


Related Elsewhere:
Suggest links and stories by sending e-mail to weblog@christianitytoday.com
See our past Weblog updates:
May 10 | 9 | 8
May 5 | 4 | 3
April 28 | 27b | 27a | 19
April 12 | 11 | 7
March 31 | 30 | 28
March 24 | 24 | 23 | 21
March 17 | 16 | 15
Weblog
Launched in 1999, Christianity Today's Weblog was not just one of the first religion-oriented weblogs, but one of the first published by a media organization. (Hence its rather bland title.) Mostly compiled by then-online editor Ted Olsen, Weblog rounded up religion news and opinion pieces from publications around the world. As Christianity Today's website grew, it launched other blogs. Olsen took on management responsibilities, and the Weblog feature as such was mothballed. But CT's efforts to round up important news and opinion from around the web continues, especially on our Gleanings feature.
Ted Olsen is Christianity Today's executive editor. He wrote the magazine's Weblog—a collection of news and opinion articles from mainstream news sources around the world—from 1999 to 2006. In 2004, the magazine launched Weblog in Print, which looks for unexpected connections and trends in articles appearing in the mainstream press. The column was later renamed "Tidings" and ran until 2007.
Previous Weblog Columns: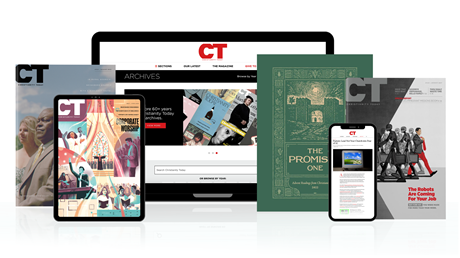 Subscribe to Christianity Today and get access to this article plus 65+ years of archives.
Home delivery of CT magazine
Complete access to articles on ChristianityToday.com
Over 120 years of magazine archives plus full access to all of CT's online archives
Subscribe Now
Howard Dean's Erroneous 700 Club Comments Outrage Gays
Howard Dean's Erroneous 700 Club Comments Outrage ...