Today's Top Five
1. What can Brown do for your faith?
The most interesting press release Weblog has seen on The Da Vinci Code comes from Carlton Pearson, the Pentecostal preacher whose megachurch went bust after he started preaching universalism. "The panic of the religious right is obvious in their knee-jerk reaction to The Da Vinci Code or to anything else that challenges their often idolatrous traditions," Pearson says. "What is the difference between the Christian response to The Da Vinci Code and the Islamic world's response to Salman Rushdie's Satanic Verses?"
Well, for one thing, "religious right" leaders seem to be telling Christians to "engage the culture" by watching the movie. Oh, and then there's the whole not calling for the death of Dan Brown thing.
Incidentally, it's in the Islamic world, not the area formerly known as Christendom, where the film is actually being banned. That doesn't stop Movieguide's Ted Baehr from telling readers that the movie is a Muslim scheme: "If Christians pay to go see Ron Howard's movie based on the book, they will be paying Mohammed to attack Jesus Christ and His Church."
What Weblog doesn't quite understand is the use of the term boycott in talking about one particular movie. Is saying "don't see this movie" or "this movie stinks" the same as calling for a boycott? If so, then why are critics described as "panning" the film but pastors and bishops are "calling for a boycott"? And is choosing not to see a film the same as taking part in a boycott? Because I'm not reading a lot about the big R.V. and Just My Luck boycotts. And if it's a boycott to refuse to see a film, what do you call Sony's refusal to let people who want to see the film (namely film critics who aren't in Cannes) do so?
Anyway, if you have no interest in sifting through hundreds of articles about Christians and The Da Vinci Code (Weblog has decided not to link to the myriad articles about local clergy reactions) and just want one non-CT article, Peter Boyer's New Yorker piece works well.
2. The other religion-and-immigration debate
Think the religious debate on immigration is contentious? Be glad you're not in Europe, where the debate over immigration isn't just taking place in the churches—it's literally taking place in the churches. Dozens of Afghan refugees have holed up in Dublin's St. Patrick's Cathedral, and begun a hunger strike. They promise to starve to death unless they're granted asylum. Church of Ireland archbishop John Neill said using the church as a place to stage such a protest is "not appropriate."
In Belgium, however, Catholic bishops have backed a similar occupation of more than two dozen churches by illegal immigrants.
Immigrants have similarly occupied Paris's Church of St. Merri, notes the National Catholic Reporter.
Paul Belien of the Brussels Journal weblog notes that the immigrants—mostly Muslims—have made interesting changes to some of the churches they're occupying. In Brussels's Our Lady of Perpetual Succour, protesters have hung a green banner reading "Allah" in Arabic, moved the altar, and covered the statue of "Our Lady" with a shroud. Meanwhile, they're holding Muslim prayer services. "The Belgian Bishops are so ignorant that they do not see what is going on," writes Belien. "Their churches are being turned into mosques before their very eyes."
3. Who attacked a Christian radio station in Nairobi?
On Friday, after Muslim prayers, Nairobi's Hope FM radio station aired a program comparing the Qur'an and the Bible. In the middle of the broadcast, five hooded gunmen attacked the station, which is housed at Nairobi Pentecostal Church, shot two guards and a mechanic, and hurled a Molotov cocktail into the studio. One of the guards died and the station had to shut down for 10 hours. Church officials blame Muslim militants, but Kenyan Security Minister John Michuki isn't helping matters—he has promised to raid further media outlets if they "demean" the government. "No body will be allowed to harm the government and if they do that we will teach them a lesson," he said. Two months ago, Michuki ordered a raid by armed, masked police against The Standard newspaper after it published cartoons mocking him. Kenyan media outlets are connecting Michuki's comments and the Hope FM raid.
4. Christian Peacemaker Teams leaving Iraq
The pacifist group tells the London Times it has too high a profile after four of its members were kidnapped, and its continued presence in the country may be putting its Iraqi partners in danger. "The kidnapping caused us to reflect on what we are doing," an unnamed spokesperson tells the paper. "Sometimes the presence of internationals will draw more attention to local individuals or organisations and perhaps put them in danger."
5. McCain goes to Falwell's university
Is the Arizona senator a sellout? Has he always been a fan of religious conservative values? The real question, says The Wall Street Journal's Naomi Schaefer Riley, is why McCain went to Liberty if he wanted to court religious conservatives: "Why doesn't Mr. McCain just go to Wheaton? Or Willow Creek Community Church near Chicago, whose 7,000 members more closely mirror mainstream evangelicals? Or Saddleback, the Southern California church led by Rick Warren, whose The Purpose Driven Life has sold more than 20 million copies? Or how about a meeting of World Vision, a Christian relief organization operating in 99 countries? … McCain may feel he has to go to Liberty because he has criticized Mr. Falwell in the past, but it's hard not to wonder whether the senator is just digging himself in deeper." The reason may be that Wheaton, Willow Creek, Saddleback, and World Vision didn't invite McCain. Falwell did.
Quote of the day
"I no longer study Kabbalah, my baby is my religion."
—Britney Spears, in a message on her official website. Spears was raised as a Southern Baptist.
More articles
Da Vinci Code reviews | Banning Da Vinci Code | Da Vinci ministry | "Controversy" | Oddness | More on Da Vinci Code | Books | Jaroslav Pelikan | Money and business | Media | Kenya Christian radio station attacked | War, terrorism, and persecution | Military | Church, state, and religious liberty | Cross displays | Politics | McCain at Liberty | Immigration | Life ethics | Abortion | U.K. assisted suicide bill killed | Sudan | China-Vatican relations | Catholicism | New Catholic leaders | Sexual ethics, family values | Homosexuality and the Church | Abuse | Priest murder verdict | Crime | Church life | Education | Patrick Henry College | Evolution | People | Other stories of interest
Da Vinci Code meets with catcalls | Film inspires protest -- and negative reviews (CNN)


The Da Vinci Code secret is out: critics hate it | Critics panned The Da Vinci Code on Wednesday ahead of the world premiere of the year's most eagerly awaited movie (Reuters)


Da Vinci Code misses the mark for critics | The Da Vinci Code drew lukewarm praise, shrugs of indifference, some jeering laughter and a few derisive jabs Tuesday from arguably the world's toughest movie crowd: critics at the Cannes Film Festival (Associated Press)


Da Vinci disaster | Critics paint ugly picture of a broken Code (New York Daily News)


Da Vinci Code an unwieldy, bloated puzzle | For those who hate Dan Brown's best-selling symbology thriller "The Da Vinci Code," the eagerly awaited and much-hyped movie version beautifully exposes all its flaws and nightmares of logic (Reuters)


Review: The Da Vinci Code | A pulpy page-turner in its original incarnation as a huge international bestseller has become a stodgy, grim thing in the exceedingly literal-minded film version (Variety)


Banning Da Vinci Code:
Da Vinci unlikely to pass Egypt censors | The Da Vinci Code, the film based on Dan Brown's best-selling book, will not be seen in Egypt when it is released worldwide Friday. Nor will the long-awaited film play in Jordan or Lebanon, which banned Arabic translations of the book (Betsy Hiel, Pittsburgh Tribune-Review)


Philippines gives Da Vinci Code adult rating | The Philippine censor gave The Da Vinci Code film an "adults only" certificate on Tuesday, banning under-18s in the Catholic country from seeing the controversial religious thriller (Reuters)


Da Vinci protests, boycotts spread | With days left until The Da Vinci Code opens in theaters worldwide, calls for boycotts and bans of the highly anticipated Vatican thriller are getting louder -- although some say such strategies are likely to backfire (Reuters)


Da Vinci ministry:
 "Controversy":
Hollywood heresy | Marketing The Da Vinci Code to Christians (Peter J. Boyer, The New Yorker)


Ron Howard answers Da Vinci critics | Director Ron Howard had a suggestion Wednesday for people riled by the way Christian history is depicted in The Da Vinci Code: If you suspect the movie will upset you, don't go see it (Reuters)


Oddness:
Bishop Carlton Pearson asks: Why all the paranoia over The Da Vinci Code? | "What is the difference between the Christian response to The Da Vinci Code and the Islamic world's response to Salman Rushdie's Satanic Verses?" (Press release)


Earlier: Too inclusive |Church loses building after members flee pastor's universalism (Christianity Today, Feb. 9, 2006)


Will Christians pay Mohammed to attack Jesus? | If Christians pay to go see Ron Howard's movie based on the book, they will be paying Mohammed to attack Jesus Christ and His Church (Ted Baehr, WorldNetDaily)


More on Da Vinci Code:
Da Vinci Code backs away from book | The Da Vinci Code movie deviates only subtly from the best-selling book on which it is based by making the lead character a man of some faith (USA Today)


Books:
Beliefwatch: Good word | What's curious is how many of the Jesus books reject or revise Bible teachings and pose radically different versions of Jesus' story (Newsweek)


What would Jesus eat? Bible tells us | New publication offers tips on healthy food based on Scriptures (The Denver Post)


The God factor | A former secretary of state argues that we dare not ignore religion's role in foreign policy. Noah Feldman reviews The Mighty and the Almighty by Madeleine Albright (The Washington Post)


A belief in Providence | Our Founding Fathers' faith was anything but simple. James D. Fairbanks  reviews The Faiths of the Founding Fathers by David L. Holmes (Houston Chronicle)


Grappling with God | The faith of a famous poet. Wilfred M. McClay reviews Auden and Christianity by Arthur Kirsch (The Weekly Standard)


Jaroslav Pelikan:
Yale theologian Pelikan dies at 82 | Yale professor Jaroslav Pelikan, one of the world's foremost scholars of the history of Christianity, has died of lung cancer, his son said Monday. He was 82 (Associated Press)


Jaroslav Pelikan, wide-ranging historian of Christian traditions, dies at 82 | Jaroslav Jan Pelikan, a Yale scholar, interpreted Christian tenets to a vast lay audience in the English-speaking world (The New York Times)


Money and business:
Preachers of profit | An emerging role for big-name church pastors: mainstream product pitchman for personal gain (The Tampa Tribune)


Deputies sue over roll call group | Ministry talks don't belong in work shift, union says (Milwaukee Journal-Sentinel)


Good book as guide | Investing based on faith (New York Daily News)


Media:
Kenya Christian radio station attacked:
War, terrorism, and persecution:
Military:
House injects prayer into defense bill | The House passed a $513 billion defense authorization bill last Thursday that includes language intended to allow chaplains to pray in the name of Jesus at public military ceremonies, undercutting new Air Force and Navy guidelines on religion (The Washington Post)


Old time religion, again | The lawmakers who introduced the prayer clause into the defense bill are not fundamentally opportunistic; they're clueless (Bruce Fleming, Military.com)


Church, state, and religious liberty:
Cross displays:
Cross-shaped ruin to stay at Ground Zero | The foundation in charge of developing ground zero's memorial and museum pledged to permanently display the two pieces of steel left standing in the shape of a cross after the World Trade Center collapsed (Associated Press)


Bush asked to help save San Diego cross | The House Armed Services Committee chairman asked President Bush to help save a 29-foot cross standing on city property from being removed by a court order (Associated Press)


Politics:
McCain at Liberty:
McCain earns goodwill with evangelicals | Sen. John McCain's address at Liberty University Saturday may help improve his standing with religious conservatives (The Christian Science Monitor)


McCain reconnects with Liberty University | Senator may have an eye toward 2008 as he reaches out to religious conservatives (The Washington Post)


Immigration:
The price of tolerance | The Dutch grapple with assimilating immigrants with radically different mores (Editorial, Los Angeles Times)


Borders & the Bible | It's not the gospel according to Hillary (David Klinghoffer, National Review Online)


Life ethics:
Abortion:
Viewing abortion as "a moral good" | Marcy Bloom left Aradia Women's Health Center on Friday as its executive director after 18 years at the abortion clinic (The Seattle Times)


U.K. assisted suicide bill killed:
Sudan:
China-Vatican relations:
China welcomes new, non-approved bishop | China's state-approved Catholic church welcomed the installation Sunday of another bishop who was not approved by the pope, exacerbating Beijing's already strained relations with the Vatican (Associated Press)


Catholicism:
Holy cards inspire collectors of 'visual faith' | Popular among Catholics for centuries, the keepsakes went out of fashion. Now some enthusiasts pay top dollar for the relics (Los Angeles Times)


Diocese: Priest's departure not related to abuse | The Joliet Diocese still will not disclose what the mysterious "stress" and "accusations" were that drove the pastor of St. Joseph Church to resign from his parish — but they insist they have nothing to do with sex (The Herald News, Joliet, Ill.)


New Catholic leaders:
Sexual ethics, family values:
Pope stresses unions between men and women | Pope Benedict XVI said Thursday there was an "urgent" need to avoid confusion over gay unions and other common-law partnerships, and stressed that only marriage between men and women could be the basis for a healthy society (Associated Press)


Soldiers pray to abstain, and to save their marriages | Visit With a Baghdad Bible study group (World News Tonight, ABC)


Court upholds Israeli spouse ban | Israel's Supreme Court has upheld a controversial law barring West Bank Palestinians from living with their spouses and children in Israel itself (BBC)


Homosexuality and the Church:
Archbishop sacked aide for being gay | The head of the Roman Catholic Church in England and Wales was last night drawn into a furious row over a senior aide sacked because of his homosexuality (The Mail on Sunday, London)


Also: Cardinal sacked gay aide | The leader of British Catholics has been accused of 'sickening hypocrisy' by homosexual rights groups (The Times, London)


Abuse:
Priest murder verdict:
Satanic aspects left out of Robinson trial | Prosecutor says priest's murder of nun had cult hallmarks (The Toledo Blade, Oh.)


Convicted priest's legal woes aren't over | Civil lawsuit accuses cleric of rape and torture from '68 to '75 (The Toledo Blade, Oh.)


Abuse scandal has changed view of priests | Murder verdict for priest may not have been possible when murder occurred, say prosecutors (Associated Press)


Crime:
Church life:
Fullerton church expansion wins crucial vote | Mayor says minor changes swayed him to back a plan neighbors have fought (The Orange County Register)


'White Church' returns to the fold | A breakaway branch of the Russian Orthodox Church has provisionally agreed to reunite with the Moscow Patriarchate more than 85 years after it was founded by fugitives from the Bolshevik Revolution (The Times, London)


Education:
Patrick Henry College:
Give me liberty or I quit | The departures of five professors raise doubts about the college's mission (The Chronicle of Higher Education, free now)


A clash of ideas at evangelical college | Five of Patrick Henry's 16 faculty members leave over its mission and curriculum (Los Angeles Times)


Where academic freedom is the freedom to quit | At Patrick Henry College in Loudoun County, five professors have quit--and one of them was summarily dismissed before he could leave of his own accord--because they concluded that the college was not interested in free-ranging inquiry (Marc Fisher, The Washington Post)


Evolution:
People:
Other stories of interest:
Montreal churches campaign to put sacred meaning back into swear words | Montreal's Catholic churches are trying to take back the tabernacle and the chalice, reminding Quebecers that the common French-language cuss words are still sacred objects to the church (Canadian Press)


Related Elsewhere:
Suggest links and stories by sending e-mail to weblog@christianitytoday.com
See our past Weblog updates:
May 11 | 10 | 9 | 8
May 5 | 4 | 3
April 28 | 27b | 27a | 19
April 12 | 11 | 7
March 31 | 30 | 28
March 24 | 24 | 23 | 21
March 17 | 16 | 15
Weblog
Launched in 1999, Christianity Today's Weblog was not just one of the first religion-oriented weblogs, but one of the first published by a media organization. (Hence its rather bland title.) Mostly compiled by then-online editor Ted Olsen, Weblog rounded up religion news and opinion pieces from publications around the world. As Christianity Today's website grew, it launched other blogs. Olsen took on management responsibilities, and the Weblog feature as such was mothballed. But CT's efforts to round up important news and opinion from around the web continues, especially on our Gleanings feature.
Ted Olsen is Christianity Today's executive editor. He wrote the magazine's Weblog—a collection of news and opinion articles from mainstream news sources around the world—from 1999 to 2006. In 2004, the magazine launched Weblog in Print, which looks for unexpected connections and trends in articles appearing in the mainstream press. The column was later renamed "Tidings" and ran until 2007.
Previous Weblog Columns: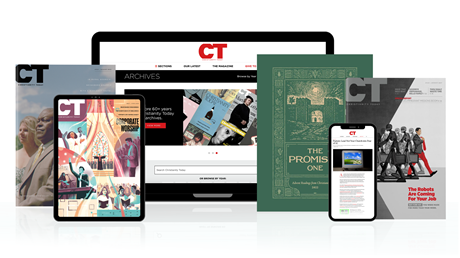 Annual & Monthly subscriptions available.
Print & Digital Issues of CT magazine
Complete access to every article on ChristianityToday.com
Unlimited access to 65+ years of CT's online archives
Member-only special issues
Subscribe
Read These Next
Trending

American Christians Should Stand with Israel under Attack

While we pray for peace, we need moral clarity about this war.

From the Magazine

I Studied Christianity with the Hope of Debunking It

A decade later, I became a Christian.

Editor's Pick

Don't Miss These African Christmas Hits

Jam out this season to highlife, Afrobeats, jazz, a cappella, R & B, rap, dance, and hip-hop artists from Nigeria, South Africa, and more.
Film Critics Call for Da Vinci Boycott
Film Critics Call for Da Vinci Boycott