Today's Top Five
1. "These high gas prices, Lord, bring them down, oh Father"
Okay, I'll admit it: I've asked God to give me gas. It was late by the time I'd decided to head home, the gas station in the small town I was visiting had closed, I was 35 miles from the next station, and the light had already been on for a bit. I didn't want to break down on the interstate, so I prayed.
Yesterday, nine members of a California group called Pray Live gathered by a Hollywood Chevron station to pray that God would make gas cheaper. "This will be a testament to all of the people who don't believe in the power of prayer," organizer Wenda Royster explained. Los Angeles Daily News reporter Brad Greenberg was there, and he followed up with some theological questions.
2. "The Christian Right is moving Left"
Amy Sullivan argues in The New Republic that (to quote the headline, which she probably didn't write) "the Christian Right is moving Left." Her case study: Pennsylvania's Casey-Santorum race, where "global warming is the deciding issue for some evangelicals" since both candidates oppose abortion. But wait: is the unusual aspect in that race that evangelicals are interested in social issues like the environment? Or is it that the Democrats are actually supporting a pro-life candidate? The reality is that the Pennsylvania race is less a test case for evangelical social concern and more an issue of whether opposing abortion will become widely acceptable in the Democratic Party. The question isn't whether evangelicals believe they can in good conscience vote for a Democrat. It's whether Democrats believe they can, in good conscience, vote for anti-abortion laws. If Democrats want to attract moderate evangelicals, the answer isn't to champion their environmental record. The answer is to treat abortion as an inhuman horror.
3. "If I heard the Lord right about 2006, the coasts of America will be lashed by storms"
Pat Robertson went out on a limb and predicted coastal storms sometime in the next seven months. Considering there are coastal storms every year, that's not a bad bet. Heck, AccuWeather chief forecaster Joe Bastardi got more specific this week when he predicted five hurricanes—three major ones—will hit the U.S. coasts this year: "Early in the season the Texas Gulf Coast faces the highest likelihood of a hurricane strike, possibly putting Gulf energy production in the line of fire," said Bastardi. "As early as July, and through much of the rest of the season, the highest level of risk shifts to the Carolinas."
There really is news in Robertson's prophecy, but it has little to do with meteorology. Robertson has made many dramatic prophecies in the past: That Russia would invade Israel in 1982, that the world economy would collapse in 1985, that he'd win the presidency in 1988, that Jay Rockefeller would win it in 1996, that terrorists would attack Detroit and San Francisco in 2002 …
Here was Robertson's prophecy for 2005:
The Lord has some very encouraging news for George Bush … What I heard is that Bush is now positioned to have victory after victory and that his second term is going to be one of triumph, which is pretty strong stuff. … He'll have Social Security reform passed. He'll have tax reform passed. He'll have conservative judges on the courts. And that basically he is positioned for a series of dramatic victories which I hope will hearten him and his advisers. They don't have to be timid in this matter because the wind is blowing at his back, and he can move forward boldly and get results.
So the news story isn't that Robertson's making prophecies—he's always done that, despite frequenty being wrong (or, in biblical language, false). What's news is that he's now being so timid.
4. George Will on "the semantic vanity of the phrase values voters"
In today's column George Will rightly notes that there is no other kind of voter than a "values voter." The only question is what values you give priority. Liberals, he notes, "may value equality indiscriminately, but they vote their values" The phrase values voter, he says "subtracts from social comity by suggesting that one group has cornered the market on moral seriousness." And, he says, those who use it to describe themselves or their movement—he mentions Vision America and the Family Research Council—are being "arrogant."
5. Sonny Sandoval sparks a revolution
In 2000, Sonny Sandoval of the Christian rapcore group P.O.D. appeared on MTV to introduce his daughter, Nevaeh. "Heaven spelled backwards," he explained. The previous year, only eight girls born in the U.S. were given that name. Now it's the 70th most popular name, The New York Times reports, making Nevaeh "the fastest climb among all names in more than a century. … It has risen most quickly among blacks but is also popular with evangelical Christians, who have helped propel other religious names like Grace (ranked 14th) up the charts, experts say." It's worth noting that the Times author has one of the most famous and unique names in journalism: Jennifer 8. Lee.
Quote of the day
"Well, I've often thought the Bible should have a disclaimer in the front saying 'This is fiction.' I mean, walking on water, it takes an act of faith. And I have faith in this movie. Not that it's true, not that it's factual, but that it's a jolly good story. And I think audiences are clever enough and bright enough to separate out fact and fiction, and discuss the thing after they've seen it."
—Da Vinci Code actor Ian McKellen, on NBC's Today show, in response to how he'd feel if the film had a disclaimer at the beginning of it. Orlando Sentinel movie critic Roger Moore called the comment "pretty gutsy, in a nation that's never been closer to a theocracy."
More articles
Spirituality | Da Vinci Code responses | Da Vinci Code reviews | More on The Da Vinci Code | Pat Robertson | Politics | Giuliani campaigns for Reed | Church, state, and religious liberty | Sudan | Abortion | Education and evolution | Sexual ethics | Catholicism | Church life | Other stories of interest
'Heaven help us' | Christians pray for lower gas prices (Los Angeles Daily News)


And if it's a boy, will it be Lleh? | Nevaeh, which is Heaven spelled backward, is now a more popular name for baby girls than Sara and Vanessa (The New York Times)


Are you praying on my team, or not? | Since I converted to Islam, some Christians react as if I lost faith completely (Patricia Dunn, The Christian Science Monitor)


Paranoia on Main Street | The Da Vinci Code befuddles the culture warriors (Jesse Walker, Reason)


The passion about the 'Code' may be misplaced | If a powerful movie such as The Passion of the Christ doesn't lead to conversions, there's no reason to expect the opposite from The Da Vinci Code (Paul K. Harral, Ft. Worth Star-Telegram, Tex.)


Boycotting Da Vinci is an own goal | Christians and Jews must show they are robust enough to take a bit of ill-informed criticism (Tony Bayfield, The Guardian, London)


God warns of coastal storms, possible tsunami, Robertson says | Religious broadcaster Pat Robertson is warning that, according to God, storms and possibly a tidal wave will pound America this year (The Virginian-Pilot, Virginia Beach)


Robertson says God told him about storms | In another in a series of notable pronouncements, religious broadcaster Pat Robertson says God told him storms and possibly a tsunami will hit America's coastline this year (Associated Press)


Giuliani visit puts Reed's campaign in the spotlight | Until last week, the only appearance advertised on Ralph Reed's campaign Web site was a November 2005 fund-raiser featuring Atlanta Braves pitcher John Smoltz (The Atlanta Journal-Constitution)


Rudy makes right turn | They make for an odd couple: Rudy Giuliani, the pro-choice, pro-gay-rights former mayor of New York, and Ralph Reed, the ex-head of the Christian Coalition (New York Daily News)


Giuliani headlines Ralph Reed fundraiser | The two politicians were effusive in their praise for one another as they entered the Atlanta fundraiser just before noon (Associated Press)


Church, state, and religious liberty:
Mayor says pastor should apologize for words on gays | Mayor Anthony A. Williams threatened yesterday to remove a prominent minister from his interfaith council if the minister does not issue a public apology for derogatory remarks he made about gay men during a Palm Sunday sermon last month (The Washington Post)


Also: Bishop Owens responds | It was not my purpose to wound anyone or discriminate against any group, and I apologize for any offense. … However, I will not submit my sermons through political filters for fear of recrimination by political or social groups. (Bishop Alfred A. Owens Jr., The Washington Post)


Utah couple claim peyote a religious right | The leader of an American Indian church and his wife claim in a lawsuit that authorities tried to prevent them from practicing their religion by prosecuting the couple for consuming and distributing peyote (Associated Press)


Helping Darfur from afar | Local and national groups must persist in lobbying our government not to slacken on the pressure it applies over Sudan's rulers (Pius Kamau, The Denver Post)


Action, not symbolism, on Darfur | This would certainly be worth getting arrested over if getting arrested offered even the most remote prospect of throwing the smallest wrench into the gyro of death. But it doesn't (Rick Esenberg, Milwaukee Journal-Sentinel)


FDA unclear on abortion pill risk | Federal regulators don't know if the abortion pill increases the likelihood of infection by a rare but deadly bacterium that killed four California women, a health official said Wednesday at a congressional hearing convened by RU-486 opponents (Associated Press)


FDA defends handling of RU-486 abortion pill | A top U.S. Food and Drug Administration official on Wednesday defended its handling of the RU-486 abortion pill despite recent reports of deaths from rare infections in a handful of women who took the drug (Reuters)


Students who pray may have to do so at school | Policy would affect observant Muslims (The Washington Post)


Dover trial witnesses treated 'like royalty' | A movie about the intelligent design issue nearly sold out at Tribeca Film Festival (York Daily Record, Pa.)


Creationism debate moves to Britain | The debate over creationism in schools was an American problem. But now the controversy is taking root in Britain (The Independent, London)


Tactics honed as debate nears on banning gay marriage | On both sides, activists prepare (The Boston Globe)


Bush urged to push marriage amendment | Social conservatives say President Bush must work harder before next month's scheduled Senate vote to pass the Federal Marriage Amendment that would define marriage as between a man and a woman, and some even say the White House is sending all the wrong signals on the issue (The Washington Times)


Church borrows for child-sex payout | South Australia's Anglican Church would have to borrow money to pay $4 million in compensation to sexual abuse victims of a former youth worker, it said today (AAP, Australia)


Related Elsewhere:
Suggest links and stories by sending e-mail to weblog@christianitytoday.com
See our past Weblog updates:
May 17
May 11 | 10 | 9 | 8
May 5 | 4 | 3
April 28 | 27b | 27a | 19
April 12 | 11 | 7
March 31 | 30 | 28
March 24 | 24 | 23 | 21
Weblog
Launched in 1999, Christianity Today's Weblog was not just one of the first religion-oriented weblogs, but one of the first published by a media organization. (Hence its rather bland title.) Mostly compiled by then-online editor Ted Olsen, Weblog rounded up religion news and opinion pieces from publications around the world. As Christianity Today's website grew, it launched other blogs. Olsen took on management responsibilities, and the Weblog feature as such was mothballed. But CT's efforts to round up important news and opinion from around the web continues, especially on our Gleanings feature.
Ted Olsen is Christianity Today's executive editor. He wrote the magazine's Weblog—a collection of news and opinion articles from mainstream news sources around the world—from 1999 to 2006. In 2004, the magazine launched Weblog in Print, which looks for unexpected connections and trends in articles appearing in the mainstream press. The column was later renamed "Tidings" and ran until 2007.
Previous Weblog Columns: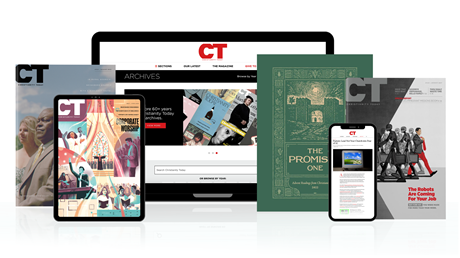 Annual & Monthly subscriptions available.
Print & Digital Issues of CT magazine
Complete access to every article on ChristianityToday.com
Unlimited access to 65+ years of CT's online archives
Member-only special issues
Subscribe
Praying for Lower Gas Prices
Praying for Lower Gas Prices