Today's Top Five
1. Church: "We want people to enjoy the movie, no strings attached"
When The Last Temptation of Christ was due out, Campus Crusade for Christ head Bill Bright offered to buy the movie so he could destroy it. When The Passion of the Christ came out, churches rented theaters and gobbled up tickets and offered free admission to any who wanted to see it.
Tonight, Discovery Christian Church in Cranberry, Pa., is taking the latter action for the release of The Da Vinci Code. Spending about $4,500, the Pittsburgh Post-Gazette reports, the church bought all the seats for two evening shows at the local theater. Those interested in going will get a card saying the church already paid for their ticket. And that's it. "We want people to enjoy the movie, no strings attached," pastor Toney Salva explained.
Meanwhile, as India, Thailand, and other countries have rejected possible bans on the movie, Canada's largest theater chain, Cineplex, has banned a Code-related ad it had earlier approved from Campus Crusade. After hearing that there could be some Campus Crusade missionaries outside some theaters, the chain issued a press release: "With the knowledge that this organization plans to 'stalk' our moviegoers outside of our theatres handing out unapproved material concerning a film we are presenting, we cannot lend support to this activity by running this campaign."
Interesting view of free speech up north.
2. Vatican and WCC offices say evangelism is fine, but don't "obsess"
Remember the evangelism document from the World Council of Churches and the Vatican's Pontifical Council for Interreligious Dialogue we previewed last week? They're out, and they're opaque. On one hand, the guidelines reaffirm freedom of religion—including the "freedom to propagate the teachings of one's faith to people of one's own and other faiths" as a "fundamental, inviolable and non-negotiable right of every human being." But "freedom of religion enjoins upon all of us the equally non-negotiable responsibility to respect faiths other than our own, and never to denigrate, vilify, or misrepresent them for the purpose of affirming superiority of our faith," the document says. Denigration isn't defined—is "affirming superiority of our faith" itself denigrating?
Religious freedom, the document says, "should not be exercised by violating others' rights and religious sensibilities." Particularly notable: "All should heal themselves from the obsession of converting others." (The Great Commission as All Well and Good Commission). While we're at it, let's heal ourselves from the obsession of converting others through reams and reams of documents. This document also calls for "a 'code of conduct' on conversion, which all faiths should follow." Oh joy.
3. Religious Left still has no agenda
The New York Times reports from the latest conference designed to coalesce a movement against the Religious Right: "Turnout at the Spiritual Activism Conference is high, but if the gathering is any indication, the biggest barrier for liberals may be their regard for pluralism: for letting people say what they want, how they want to, and for trying to include everyone's priorities, rather than choosing two or three issues that could inspire a movement." Sounds tiresomely familiar.
4. The difference between a vaccine and mandatory vaccinations
Religious conservatives are happy to see the FDA approve a new vaccine against human papilloma virus strains, which are responsible for the majority of cervical cancer cases. What's that? You thought religious conservatives oppose the vaccine? No. What groups like Focus on the Family and Family Research Council oppose are mandatory HPV vaccinations and making the vaccination a requisite to attending public schools. But Focus on the Family is happy to see the vaccine itself. "It's a huge medical breakthrough," Focus's Linda Klepacki told the Chicago Tribune.
5. Slate blogs the Bible
If you haven't yet checked out David Plotz's Blogging the Bible feature on Slate, do so. It's really quite interesting to read the non-observant Jew's reactions as he goes through the first few chapters of Genesis. He's a wonderful writer, if not the world's most trained exegete. For example:
Gen 9:9-17. God announces His first covenant with man, that He will never again destroy the earth with a flood. He doesn't rule out other catastrophes. (God, apparently, is the opposite of an insurance company. He offers flood protection, but no other coverage.) …
[Gen 18]: Jews had the three wise men before Jesus! Three strangers visit Abraham, and he welcomes them hospitably. One of the strangers—who are messengers of God—announces, "I will return to you next year, and your wife Sarah shall have a son." The Christ story is a clear rip-off. In the Christmas tale, it's impossible for Mary to have a child because she's a virgin, but she does, and three supernatural visitors herald the child's birth. Here it's impossible for Sarah to have a child because she's post-menopausal (as we are told very directly: "Sarah had stopped having the periods of women")—but she does, and three supernatural visitors herald it. The big difference: We Jews do not have any good songs about this incident. …
[Gen. 23] Real estate, again! It is the strangely dominant theme of Abraham's life. Practically every chapter about him is crammed with details about land—who owns it, who can buy it, whether God is giving it, whether it's a temporary deal or a permanent one. There's more about real estate than there is about the Lord.
It's fun and refreshing stuff, especially for us Protestants who have a long history of believing that all the answers to Scripture's mysteries are self-evident if we'd only read it for ourselves. For now, Plotz is only up to Genesis 25—we'll be even more impressed if he gets beyond Leviticus, the bane of many a "read through the Bible" project.
Quote of the day
"Pledgers promise to control intense bodily desires simply by exercising their wills. But Christian ethics recognizes that the broken, twisted will can do nothing without rehabilitation by God's grace. Perhaps the centrality of grace is recognized best not in a pledge but in a prayer that names chastity as a gift and beseeches God for the grace to receive it."
—Lauren F. Winner on teen virginity pledges in a Friday New York Times op-ed.
More articles
Sex and The Da Vinci Code | Banning The Da Vinci Code—and a response | More Da Vinci Code reviews | So dark the conspiracy theories | More on The Da Vinci Code | Religious freedom | Missions & ministry | Politics | Conservative groups back HPV vaccine | Sexual ethics | Life ethics | Immigration | Church and state | Education | Crime | Church life | Catholicism | Books | Other stories of interest
Banning The Da Vinci Code—and a response:
So dark the conspiracy theories:
Church offers free tickets to 'Da Vinci Code' at Cranberry theater tonight | In a move that is costing roughly $4,500, the church has bought all of the tickets for today's 7 and 8:45 p.m. shows. "We want people to enjoy the movie, no strings attached," Toney Salva, the church's senior pastor, says (Pittsburgh Post-Gazette)


Da Vinci Code film softens novel | While it will still offend some Christians, it turns out that the movie version of The Da Vinci Code subtly softens some of the religiously disputed aspects of Dan Brown's novel (Associated Press)


Bono promotes work to aid Africa | Rock star Bono has a more personal stake in Lesotho than in any other African country. In the remote mountain town of Butha-Buthe his wife Ali Hewson is sourcing t-shirts for a new fair trade line being sold in the U.S. (BBC)


Why 'Jews for Jesus' is evil | Proselytizing is persecution (Bradley Burston, Haaretz, Tel Aviv)


Religious Left struggles to find unifying message | Liberals of various faiths are talking about taking back the mantle of moral authority from conservative Christians, but attendees at a conference are having trouble choosing priorities (The New York Times)


Conservative groups back HPV vaccine:
FDA panel backs key STD vaccine | Medical community hails "breakthrough" in cervical cancer fight (Chicago Tribune)


Cervical cancer vaccine one step from approval | Gardasil is shown to be highly effective in blocking the virus that causes 70% of cases (Los Angeles Times)


Conservative church group steps up anti-gay attacks | IRD shifts focus away from Cold War to gays (Washington Blade, gay newspaper)


US urged to allow wider emergency contraception | A leading international medical journal has called on the U.S. Food and Drug Administration to dismiss political pressure and allow emergency contraception to be sold without a prescription (Reuters)


Clinic shut after stillbirth | State health officials on Wednesday shut down a Birmingham abortion clinic after investigating a complaint that a woman was told she was six weeks pregnant and was given an abortion-inducing drug, then delivered a 6-pound, 4-ounce stillborn child at a hospital (The Birmingham News, Ala.)


Cut-off genes | Our gentle descent toward eugenics (William Saletan, Slate)


Evangelicals tightlipped on immigration | While the Roman Catholic Church, mainline Protestants, Jews and Muslims have backed the emerging immigrants' rights movement, the situation has proved more complex for some conservative Protestants (Associated Press)


Judge denies motion by Iraqi Christians | Asylum seekers still have to serve six months in jail (The Brownsville Herald, Tex.)


Bible has lots to say about immigration | If there were a scripture-to-sermon ratio test, one would expect to hear about 50 sermons on immigrants for every one sermon on homosexuality (Anthony B. Robinson, Seattle Post-Intelligencer)


Judge blocks Ky. schools graduation prayer | A federal judge on Friday blocked a southern Kentucky high school from including prayers in its graduation ceremony Friday evening (Associated Press)


Also: Munford High School's graduation speech controversy settled, but some things don't change | Students will be allowed to include religion in their speeches but prayer at the graduation ceremony is still out (WREG, Memphis)


Priest's troubles stun Connecticut church | When Father Fay could not pay for his lifestyle on his priest's salary, investigators said, he dipped into the collection plate and ran up the church credit card for more than $200,000 (The New York Times)


Archdiocese faces new charge | Director of personnel fired employee who now claims sex abuse (The Cincinnati Enquirer)


School scandal trial finally under way after much delay | Four defendants are accused of swindling $200,000 from state and federal programs (The Ledger, Lakeland, Fla.)


Priest is suspended at Holy Trinity church | Gay Silver, arch deacon of the diocese, told The Sun last week that Tremaine, 51, admitted to having an affair for several years with a married parishioner in New Jersey (The Gainesville Sun, Fla.)


Archbishop to make way for 'youthful energy' in 2008 | Archbishop Njongonkulu Ndungane (65), leader of about four million Anglicans in Southern Africa, has given notice that he intends to step down from the "extremely demanding" post in 2008 (SAPA, South Africa)


Vatican punishes a leader after abuse charges | The Vatican asked the founder of one of the fastest growing Catholic communities to give up his public ministry after sexual abuse charges (The New York Times)


Also: Vatican disciplines Legionaries' founder | The Vatican said Friday it had asked the Mexican founder of the conservative order Legionaries of Christ to renounce celebrating public Masses and live a life of "prayer and repentance" following its investigation into allegations he sexually abused seminarians (Associated Press)


Spokane diocese sex abuse deal rejected | The judge, noting that bankruptcy law calls for settlements to be "fair and equitable" to all parties, decided the deal favored the 75 people over other alleged victims, lawyers for both sides said (Associated Press)


Divided church awaits Benedict in Catholic Poland | When John Paul died in April last year, the Polish church was left something of an orphan. When Pope Benedict visits next week, he will find a traditional church struggling to find a place in an increasingly modern society (Reuters)


Heard the one about the vicar who was allergic to wafers? | Doctors finally get to the root of a mystery illness (Yorkshire Evening Post, U.K.)


The US in peril? | Jeff Madrick reviews American Theocracy by Kevin Phillips (The New York Review of Books)


The betrayer's gospel | Eduard Iricinschi, Lance Jenott, and Philippa Townsend review The Gospel of Judas (The New York Review of Books)


Government condition barred on AIDS funds | A federal judge on Thursday barred the Bush administration from requiring nonprofit AIDS groups to sign a pledge opposing prostitution and sex trafficking in exchange for federal dollars (Associated Press)


Spirituality may help lower blood pressure | Religion and spirituality may have a positive effect on blood pressure, according to a study of more than 5,300 black Americans (Health Day)


Debate on little human fossil enters major scientific forum | Researchers presented evidence against the conclusion that 18,000-year-old "little people" fossils found on the island of Flores represent a newfound species. (The New York Times)


Networks fight rising number of FCC fines | The FCC's effort to get tough on indecency may be backfiring as broadcasters get more brazen in their efforts to fight back (The Wall Street Journal)


Night life suits the clean crowd | Christians find fun without bar scene drawbacks (The Sun News, Myrtle Beach, S.C.)


Holy subdivision! | Is the rise of Christian fundamentalism tied to birth of the suburbs? (Jan Frel, Alternet)


Related Elsewhere:
Suggest links and stories by sending e-mail to weblog@christianitytoday.com
See our past Weblog updates:
May 18 | 17
May 11 | 10 | 9 | 8
May 5 | 4 | 3
April 28 | 27b | 27a | 19
April 12 | 11 | 7
March 31 | 30 | 28
March 24 | 24 | 23 | 21
Weblog
Launched in 1999, Christianity Today's Weblog was not just one of the first religion-oriented weblogs, but one of the first published by a media organization. (Hence its rather bland title.) Mostly compiled by then-online editor Ted Olsen, Weblog rounded up religion news and opinion pieces from publications around the world. As Christianity Today's website grew, it launched other blogs. Olsen took on management responsibilities, and the Weblog feature as such was mothballed. But CT's efforts to round up important news and opinion from around the web continues, especially on our Gleanings feature.
Ted Olsen is Christianity Today's executive editor. He wrote the magazine's Weblog—a collection of news and opinion articles from mainstream news sources around the world—from 1999 to 2006. In 2004, the magazine launched Weblog in Print, which looks for unexpected connections and trends in articles appearing in the mainstream press. The column was later renamed "Tidings" and ran until 2007.
Previous Weblog Columns: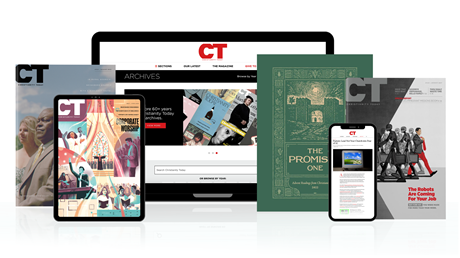 Annual & Monthly subscriptions available.
Print & Digital Issues of CT magazine
Complete access to every article on ChristianityToday.com
Unlimited access to 65+ years of CT's online archives
Member-only special issues
Subscribe
Church Offers Free Da Vinci Code
Church Offers Free Da Vinci Code