Today's Top Five
1. It's out. It's done. Can we stop talking about it now?
Thankfully, Da Vinci Code stories are down to a trickle. Some of the remaining stories are worth reading if only because they're ridiculous. For example, check out the Associated Press dispatch, " 'Da Vinci' Theater Projector Lenses Stolen":
GRAND FORKS, N.D. - A movie theater was forced to close on the opening night of The Da Vinci Code after 20 projector lenses were stolen, but the manager said he did not think the theft was related to protests of the film.
A sign on the door of the Carmike 10 Theaters Friday night told moviegoers that The Da Vinci Code would be shown at another Carmike-owned theater in the city. Showings of nine other movies were canceled.
Some Christian groups have decried The Da Vinci Code — based on Dan Brown's best selling novel — as sacrilegious, and Christian leaders in China, Singapore, India, South Korea, Thailand and elsewhere have tried to get the film censored or banned.
Protesters — some holding signs that said "Boycott Hollywood" and "Pray for Dan Brown" — said the theft was not connected to their demonstration.
Manager Richard Melby also said he did not think the protest and theft were related.
"It's their right to do what they're doing, and I don't have a problem with it," he said.
Investigators made no immediate connection between the theft and the movie.
One supposes the article could just as easily have been written thus:
GRAND FORKS, N.D. - A movie theater was forced to close on the opening night of Over the Hedge after 20 projector lenses were stolen, but the manager said he did not think the theft was perpetrated by Dan Brown fans or anti-Christian fanatics attempting to thwart a proposed "other-cott" in the American heartland. Police made no immediate connection between the theft and the animated film.
2. Iran isn't Nazi Germany after all
You might hear reports, based on a now-removedNational Post article last Thursday, that Iran passed a law requiring Christians, Jews, and other minorities to wear colored badges identifying them as non-Muslims. The article incited the prime ministers of Canada and Australia, along with numerous others, to condemn the law. But it turns out the law doesn't exist. False alarm.
3. Israel considers anti-conversion law
It has worked so well in a few Indian states, several Muslim nations, and other repressive societies that some Israelis think that anti-evangelism laws are just what the country needs. "MK Haim Oron (Meretz) was set to propose a bill against those who pressured minors to adopt an orthodox or secular lifestyle. According to the proposal, such actions would be punishable by imprisonment," the Jerusalem Post reported. Doesn't look like the bill is going anywhere, thankfully, so don't freak out yet.
4. Judge says no prayer at graduation; students pray anyway
On Friday, U.S. District Court Judge Joseph H. McKinley specifically ordered the Russell County [Ky.] High School not to include a prayer in the graduating ceremony. So during the principal's opening remarks, about 200 students stood and recited the Lord's Prayer. "Thunderous applause drowned out the last part of the prayer," the Courier-Journal reports. Huh, all those letter-writers touting the "rule of law" on immigration don't seem to be as agitated about this. It must be one of those better-to-obey-God-than-man things.
5. Dover case judge: When religion was science
U.S. District Judge John E. Jones, recently named one of Time magazine's most influential people in the world because he "ruled for Darwin" in the Dover, Pennsylvania, school board case, spoke about religion at Dickinson College, his alma mater, over the weekend.
"The founders believed that true religion was not something handed down by a church or contained in a Bible, but was to be found through free, rational inquiry," he told the class of 500. In other words, he said the founders believed that science was the highest form of religion. "They possessed a great confidence in an individual's ability to understand the world and its most fundamental laws through the exercise of his or her reason. … This core set of beliefs led the founders, who constantly engaged and questioned things, to secure their idea of religious freedom by barring any alliance between church and state."
Ah yes, the founders and their barring of any alliance between church and state. Jones read a bit of Jefferson and claimed his views represented "the founders." His alma mater's namesake, John Dickinson, might have disagreed, especially on his view of "true religion."  "Not the least intimation in history or tradition that religion was discovered by reason. But the contrary—that is— by revelation," he wrote. "The great question as to reason is this—whether reason since the introduction of sin into the world is sufficient to discover our duty and incline us to enforce its performance. Denied." He had some nice things to say about the Bible, too, but we'll let you grab James Hutson's The Founders on Religion (where we grabbed the above quote) to see for yourself.
Quote of the day
"The only alternative to tradition is bad tradition."
—Jaroslav Pelikan in a 2003 interview with Speaking of Faith's Krista Tippett, rebroadcast this month after Pelikan's death.
More articles
Da Vinci Code money | Da Vinci Code "controversy" | More on The Da Vinci Code | Da Vinci Code bans | Iraq | No dress code for Iran | Israel | India | Sudan | Christianity and Islam | Ireland cathedral hunger strike ended | Church of England on asylum seekers | Church of England on rich-poor gap | Pope vs. Europe | Catholicism | Eastern Orthodox | Baptism | Church life | Crime | Illicit church property sales | Abuse | More trouble in Boston | Church of Scotland | Homosexuality and churches | Homosexuality | Marriage | Sexual ethics | Life ethics | Politics | Church and state | Religious displays | Graduation prayer | Patrick Henry College | Higher education | Education | Evolution | Science and medicine | Books | History | Jaroslav Pelikan | People | Music | Money and business | Entertainment and media | Missions & ministry | Other stories of interest
Most Christians know it's just a movie | Preceding the release of The Passion of the Christ some Jewish and Christian leaders predicted a sharp increase in anti-Semitism directly linked to watching the movie. They were wrong. And those who think that thoughtful Catholics and Protestants will abandon their respective churches or ask that the Gospels be revised after seeing The Da Vinci Code are also wrong (Saul Rosenthal, The Rocky Mountain News, Denver)


Code turkey | The Da Vinci Code is not liberal enough, the National Council of Churches complains (Mark Tooley, The American Spectator)


This Code could open doors | At the heart of Dan Brown's book is a truth to unite Christians and Muslims—Jesus wasn't divine (Inayat Bunglawala, The Guardian, London)


Samoa bans Da Vinci Code film | The Pacific island nation of Samoa has banned The Da Vinci Code after church leaders frowned on the film about a fictional Catholic conspiracy (AAP, Australia)


Church calls for ban of Da Vinci Code | Kenyan churches are calling for the ban of the Da Vinci Code, terming it an affront to tenets of the Christian faith (The East African Standard, Kenya)


Belarus stops screening Da Vinci Code after protest | The Da Vinci Code has been pulled from cinemas in the Belarus capital after only four days because Christian groups in the ex-Soviet state complained the film was offensive, the state film distributor said on Tuesday (Reuters)


Pakistani Islamists get ready to bash Da Vinci Code | Pakistan's Islamist parties will hold nationwide demonstrations against The Da Vinci Code later this week, to protest the film's "offensive" alternative take on the story of Jesus Christ, an opposition lawmaker said on Monday (Reuters)


Iraq:
'Good news' from northern Iraq | Retired Iraqi Gen. Georges Sada, a former fighter pilot-turned-Christian evangelist, says Kurds are converting to Christianity "by the hundreds" in northern Iraq (The Washington Times)


Kirkuk Christians fear rising violence | Sectarianism and growing Islamic power concerns Christians in this ethnically mixed city (Iraqi Crisis Report/Institute for War & Peace Reporting)


No distinctive attire for non-Muslims | Iran expert Menashe Amir on Sunday traced incorrect reports about a proposed Iranian uniform law to earlier debate on the measure (Jerusalem Post)


Harper says Iran 'capable' of introducing Nazi-like clothing labels | Prime Minister Stephen Harper was quick to condemn Iran on Friday for an anti-Semitic law that appears not to exist (Canadian Press)


Iran religion plan appalling, says PM | Prime Minister John Howard has reacted with horror to a new Iranian law forcing Jews and Christians to wear coloured badges (The Sydney Morning Herald)


Bill proposed against religious coercion of minors | MK Haim Oron (Meretz) was set to propose a bill against those who pressured minors to adopt an orthodox or secular lifestyle. According to the proposal, such actions would be punishable by imprisonment (The Jerusalem Post)


World Council of Churches slams Israel | Israel bears the burden of responsibility for the present crisis in the Middle East, the World Council of Churches has announced, following a meeting of its Executive Committee in Geneva from May 16-19 (The Jerusalem Post)


Jews & evangelicals together | Why some Christians are so pro-Israel (David Brog, National Review Online)


A flight from genocide | Israel debates its moral obligation to the victims of Darfur. (Newsweek)


What next for Darfur? | The peace treaty raises hopes, but for now, it's still just talk (U.S. News & World Report)


Rescued—the Pakistan children seized by Islamist slave traders | Hoax saves boys held for months (The Times, London)


Extremism isn't Islamic law | Does Islam truly require the death penalty for apostasy, and, if not, why is there so little freedom of religion in the so-called Muslim world? (Kyai Haji Abdurrahman Wahid, The Washington Post)


This is a Saudi textbook (After the intolerance was removed) | First grade text: "Every religion other than Islam is false. Whoever dies outside of Islam enters hellfire." (Nina Shea, The Washington Post)


Ireland cathedral hunger strike ended:
Afghan hunger strike ends in Ireland | Police removed Afghan hunger-strikers Saturday night from a Dublin cathedral, where protesters spent a week demanding asylum and warning they would kill themselves if officers came near (Associated Press)


'Beyond ridiculous' | The occupation of St Patrick's Cathedral by asylum seekers has posed a moral problem (The Times, London)


St Patrick's to re-open after hunger strike | Authorities at St Patrick's Cathedral in Dublin are making preparations for the re-opening of the cathedral after a six-day hunger strike by 41 Afghan men came to an end (RTE, Ireland)


Our cause was just, say teenage hunger strikers | Nine Afghan teenage boys who were part of the failed hunger strike in St Patrick's Cathedral in Dublin insisted they did not intend to dishonour the church through their protest (Irish Examiner)


Church of England on asylum seekers:
Church anger over asylum poverty | Asylum seekers are suffering "unacceptable" destitution because of government policies, a report published by the Church of England has said (BBC)


Government accused of draconian treatment of asylum seekers | Church inquiry says wealth gap widening (The Guardian, London)


Anglicans angered over destitute asylum-seekers | Anglican church leaders said on Monday asylum seekers faced destitution in Britain, where the gap between rich and poor is as wide as ever (Reuters)


Church of England on rich-poor gap:
Southern Europe seeing a breakup boom | Divorce rates are rising across the continent, but the three most Roman Catholic countries are exceeding the pace (Los Angeles Times)


Orthodox church is consecrated in Rome | The first Orthodox church to be built in Rome since 1054 was consecrated yesterday in another sign of improved relations between the Vatican and the Patriarchate of Moscow (The Telegraph, London)


From diaspora, an overture to Russian church | A special council seeks eventual unity with the motherland's Orthodox body, but dissenters cite the Moscow patriarch's KGB cooperation (Los Angeles Times)


Russian Orthodox sect rejoins Moscow base | The Russian Orthodox Church Outside Russia said Friday it would move toward reconciling with the Moscow-based parent church from which it split after the 1917 Bolshevik Revolution (Associated Press)


Down by the poolside | Amid lap lanes, posted rules, faith finds a way for baptisms (The Boston Globe)


Sewer plan to displace baptisms | Oak Grove Christian Church is just a stone's throw away from Rattlesnake Creek and only a few miles downstream from where the Twin Lakes Regional Sewer District plans to build its new waste treatment plant (Journal and Courier, Lafayette, Ind.)


Illicit church property sales:
Who took land from churches? | 20 properties were sold. The owners didn't know. Trail leads to ex-lawyer (Chicago Tribune)


Also: Lawyer's address is firms' focal point | Phillip Radmer's mailbox at an unassuming Berwyn fourplex serves as the corporate headquarters for nearly 90 businesses and churches that the disbarred attorney has formed in recent years (Chicago Tribune)


Update: Probe targets church lots' sale | Devine's office announces inquiry (Chicago Tribune)


Witchcraft and the 'missing' report | Last year, stories emerged that African preachers were sacrificing children in secret church ceremonies in the UK. Today, we still don't know the full truth behind those claims—and African churches say the government isn't doing more to help them root out child abusers posing as Christian leaders (BBC)


Daycare janitor arrested for rape of six-year-old | A janitor at a church-run daycare center was arrested Saturday on charges of raping a six-year-old girl (Northwest Arkansas Times)


Also: Daycare, church staff meet with parents after alleged rape | Senior Pastor Craig Russell spent much of Monday meeting privately with concerned parents (Northwest Arkansas Times)


Former youth minister gets 20-year term | Former church youth minister Paul H. Valentine will serve 20 years in prison after pleading guilty Monday to two counts of sexual battery and touching a teenager for lustful purposes by a person in a position of trust (The Mississippi Press, Pascagoula)


Also: Ex-minister gets 10 years | He admits sex crimes against 15-year-old church member (The Sun Herald, Biloxi, Miss.)


Same-sex ceasefire ends for Anglican Church | Ottawa at centre of possible international schism (The Ottawa Sun)


Issue of gay treasurer causing a rift in ministerial association | The recent election of a lesbian pastor as treasurer of a local ministers group has some members threatening to quit and others calling for an overhaul of the organization (The News-Press, Ft. Meyers, Fla.)


Students are given lessons on how to keep their virginity | An evangelical group, worried that Christian students are under enormous pressure to lose their virginity, has devised a six-week course to give them the moral strength to resist (The Telegraph, London)


Harrison's parents chose his name when he was a 35-week fetus—then they were offered a termination | Many pregnant women whose babies are diagnosed with Down Syndrome are being actively encouraged to have late abortions (The Telegraph, London)


Planned Parenthood opens quick-service clinic | Shoppers come to this upscale brick strip mall to pick up bouquets of cookies decorated like soccer players, or $39.99 bottles of Chateauneuf du Pape. Soon, they'll be able to get emergency contraception, too (Associated Press)


The rise and fall of Judge Roy Moore | Controversial Ten Commandments judge polling poorly in governor race (NBC News)


Group battles toll road with prayer | The state attorney general and environmental groups have sued to stop a toll road that would run through a wilderness preserve in south Orange County, but activists on Saturday invoked a higher power: God (Los Angeles Times)


A minister-in-the-making chose to serve the mayor | Last summer, Karen Sisson had an unusual decision to make: focus on her schooling to become a Lutheran minister or join the administration of workaholic Los Angeles Mayor Antonio Villaraigosa (Los Angeles Times)


D.C. mayor hopefuls make pricey promises | Faith group demands millions to help poor (The Washington Post)


The new temptation of Democrats | Democrats' discussion with evangelicals has to get beyond linguistic "reframing" to substantive areas where the Democrats and evangelicals can find common ground: poverty, the environment, Darfur (Ruth Marcus, The Washington Post)


Our values, ourselves | Are "values voters" important? (Frank Cannon, The Weekly Standard)


U.S. deal on cross is termed difficult | Sanders reports on White House talks (San Diego Union-Tribune)


Cross, booties removed from memorial | "I removed them because I'm an atheist and I do not want any Catholic symbols on my property," says atheist Bill Brodmerkle (Sentinel & Enterprise, Fitchburg, Mass.)


People of the Book (and the university) | Presidents, rabbis, activists and students gather to consider matters of faith and headline-grabbing controversies (Inside Higher Ed)


Scanning for transcendence: Religion on the brain | The hard science of neurobiology is taking a closer look at the ethereal world of the spirit (The Chronicle of Higher Education, sub. req'd.)


What prayer looks like | Researchers hope that brain scans will help them identify neurological responses shared by practitioners of various religions (The Chronicle of Higher Education, sub. req'd.)


AIDS vaccine testing goes overseas | U.S. funds $120 million trial despite misgivings of some researchers (The Washington Post)


Merck cancer vaccine faces Christian-right scrutiny | No Christian groups quoted in this story actually opposing vaccine, which isn't a cancer vaccine but a vaccine for an STD that can cause cancer (Reuters)


Some of Columbus' bones buried in Spain | Scientists said Friday they have confirmed that at least some of Christopher Columbus' remains were buried inside a Spanish cathedral, a discovery that could help end a century-old debate over the explorer's final resting place (Associated Press)


First freedom | Thomas Helwys's plea for religious liberty in the 17th century provided a sound foundation for other kinds of freedom (Alec Gilmore, The Guardian, London)


The need for creeds | Remembering Jaroslav Pelikan and his book Credo (Speaking of Faith)


Obituary: Jaroslav Pelikan | Versatile historian noted for his magisterial studies of Luther and for the broad sweep of his interests (The Times, London)


Crouch marks four decades of gospel career | Andrae Crouch is celebrating his 40th anniversary in gospel music by releasing his first new studio album in eight years (Reuters)


Viewers' prayers answered as religion enjoys a dramatic television comeback | From martyrs to monks, the appetite for spiritual topics is ravenous and the BBC aims to go on feeding it (The Observer, London)


'God slots' embrace the spirit of the age | Attracting audiences to religious programs has always been a challenge. But an injection of reality television seems to be providing the answer (The Independent, London)


Lawmakers battle over charity measures | The odds that Congress will pass any major legislation this year to change rules affecting donors and nonprofit groups are growing slimmer (The Chronicle of Philanthropy)


A church, a wheelie and a blessing | In the name of safe travel, pastor provides religious ceremony fit for motorcyclists (The Washington Post)


Bankrupt Dallas travel agency keeps church funds | Group planned mission trip to Cambodia (The Morning News, Springdale, Ark.)


Chaplains answer the call to form circle of protection | Police chaplains voluntarily respond to emergencies and tragedy alongside local law enforcement to render support to victims and families (La Crosse Tribune, Wis.)


Related Elsewhere:
Suggest links and stories by sending e-mail to weblog@christianitytoday.com
See our past Weblog updates:
May 19 | 18 | 17
May 11 | 10 | 9 | 8
May 5 | 4 | 3
April 28 | 27b | 27a | 19
April 12 | 11 | 7
March 31 | 30 | 28
March 24 | 24 | 23 | 21
Weblog
Launched in 1999, Christianity Today's Weblog was not just one of the first religion-oriented weblogs, but one of the first published by a media organization. (Hence its rather bland title.) Mostly compiled by then-online editor Ted Olsen, Weblog rounded up religion news and opinion pieces from publications around the world. As Christianity Today's website grew, it launched other blogs. Olsen took on management responsibilities, and the Weblog feature as such was mothballed. But CT's efforts to round up important news and opinion from around the web continues, especially on our Gleanings feature.
Ted Olsen is Christianity Today's executive editor. He wrote the magazine's Weblog—a collection of news and opinion articles from mainstream news sources around the world—from 1999 to 2006. In 2004, the magazine launched Weblog in Print, which looks for unexpected connections and trends in articles appearing in the mainstream press. The column was later renamed "Tidings" and ran until 2007.
Previous Weblog Columns: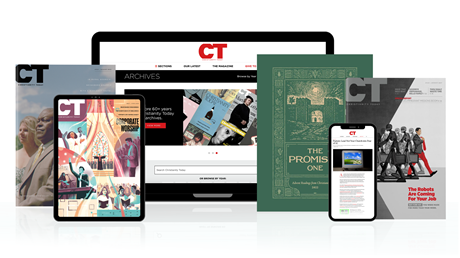 Annual & Monthly subscriptions available.
Print & Digital Issues of CT magazine
Complete access to every article on ChristianityToday.com
Unlimited access to 65+ years of CT's online archives
Member-only special issues
Subscribe
Da Vinci Coda
Da Vinci Coda