As the Rev. Ted Haggard expresses sorrow for being a "deceiver and a liar," leaders of the National Association of Evangelicals are distancing their organization from the man who led it for three years.
"Most people—I'm not sure everyone—separate this tragedy from NAE; they consider it a tragedy of a man, a pastor and not an NAE scandal — that's the good news," said the Rev. Richard Cizik, vice president for governmental relations of the Washington-based NAE.
"The bad news is it surely impacts the evangelical world, and that includes the NAE."
As evangelicals across the country recoil from one of their own being caught in a sex and drug scandal, the organization that represents them has chosen an interim president and is pressing on. Both Haggard's 14,000-member church in Colorado Springs, Colo., and the NAE have cut ties with Haggard after he admitted to "sexual immorality" with a male escort.
The NAE's executive committee has chosen the Rev. Leith Anderson, pastor of a Minnesota megachurch, to serve as interim president while a permanent replacement for Haggard is sought.
"Internally, I think most evangelicals will not tie what happened with Ted Haggard to NAE," said Anderson, senior pastor of Wooddale Church in Eden Prairie, Minn. "They will understand that if there are 45,000 churches [affiliated with NAE], that 44,999 of them have leaders that did not misbehave and that one person misbehaved and that that is an anomaly."
Externally, he said, people looking from the outside at evangelicals may attempt to paint them all with one brush.
"There will be those that will think the worst of evangelicals because of this and I'm sorry about that," Anderson said. "This is not who we are. This is not what we do. This is an exception."
The immediate steps taken by the NAE indicate that the scandal is individual, not institutional, said the Rev. Luder Whitlock, executive director of Trinity Forum in Orlando, Fla. — a faith-based nonprofit that aids business and professional leaders. Whitlock compared it with the scandal involving former Rep. Mark Foley, R-Fla., who resigned from Congress after allegations surfaced of inappropriate e-mail exchanges with congressional pages.
"In this instance, no one [in NAE] knew … in so far as I know," said Whitlock, former president of Reformed Theological Seminary in Jackson, Miss. "Once they did know, they were duty-bound to deal with (Haggard) or else then it became an NAE scandal. As long as it's the person, and the organization dealt with it appropriately, it's just the realization anybody can sin."
Kevin Mannoia, a former NAE president, said Haggard's statement seeking forgiveness will open a process that can help him heal.
"There's always going to be a scar, but he's going to become whole again," said Mannoia, now the graduate and faculty chaplain at Azusa Pacific University in California.
The NAE, too, will move past this eventually, he predicts.
"I think it will hurt the organization," he said. "I'm not ready to say that it's unrecoverable. By God's grace, anything can be redeemed, and that's why I extend grace to Ted personally as well."
Related Elsewhere:
Our full coverage of the scandal includes:
'I am Guilty of Sexual Immorality … a Deceiver and a Liar,' Haggard Confesses | Also: Leith Anderson again named NAE interim president (Nov 5)
Update: Haggard Says He Bought Meth But Didn't Use It | Admits hiring Jones as masseuse, but says they didn't have sex. (Nov. 3)
NAE Board Chairman Shocked by Haggard Resignation | Roy Taylor says NAE hopes to name interim president next week. (Nov. 3)
Haggard Resigns as NAE President | Pastor also steps aside at New Life Church after allegations by male prostitute (Nov. 2)
Other related CT articles include
CT Classic: Good Morning Evangelicals | Meet Ted Haggard the NAE's optimistic champion of ecumenical evangelism and free-market faith. (Cover story, November 2005)
CT Classic: Evangelicals in a Secular Society | Ted Haggard says Galatians bars us from using the law to create a Christian nation. (Nov. 4, 2005)
CT Classic: Ted Haggard: 'This Is Evangelicalism's Finest Hour' | The new president of the National Association of Evangelicals talks about the current state and future goals of the association and evangelicalism. (June 3, 2003)
NAE Rights Its Ship | Outgoing president put the association back in the black (June 3, 2003)
Decalogue Debacle | What we can learn from a monument now locked in an Alabama closet. By Ted Haggard (April 12, 2004)
Articles from our sister publication Leadership Journal include:
The Haggard Truth | Gordon MacDonald on the lies all-too-easily believed (Out of Ur, Nov. 5)
Life vs. Law | Your preaching can inspire graceful or grudging obedience. by Ted Haggard (Leadership Journal, Fall 2002)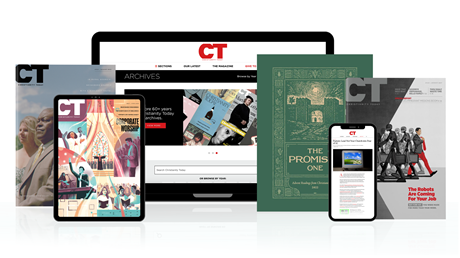 Subscribe to Christianity Today and get access to this article plus 65+ years of archives.
Home delivery of CT magazine
Complete access to articles on ChristianityToday.com
Over 120 years of magazine archives plus full access to all of CT's online archives
Subscribe Now
National Association of Evangelicals Sifts Through Ashes of Haggard Scandal
National Association of Evangelicals Sifts Through ...