Not since Bill Clinton's first run for President has there been so much talk among Democrats about fielding candidates viewed as more socially and religiously moderate than the standard-bearers of their party. In several important races—in Tennessee and Pennsylvania, for example—conservative Republicans found themselves up against Democrats who spoke the language of faith. "I just can't help it," said U.S. Rep. Harold Ford, the Democratic candidate for Senate in Tennessee. "I love Jesus."
We dare not speculate about how many Democratic victors might share that affection. Nor can we know what difference this strategy made on the election outcome; discontent over the war in Iraq and disgust over political scandals evidently drove lots of voters into Democratic arms. But we can ask what it might mean for the future of the Democratic Party and American politics.
In a hopeful vein, the political cost to Democrats over their perception as the "godless party" may have forced political leaders to do a little soul searching. Senator Barack Obama has impressed many with his ability to speak affirmingly and fluently about the importance of morality and faith to democratic life. "To say that men and women should not inject their 'personal morality' into public policy debates is a practical absurdity," he said. "Our law is by definition a codification of morality, much of it grounded in the Judeo-Christian tradition." Lines like that, when uttered by Republican leaders, send many liberals intoa fear-mongering frenzy of theocracy talk.
Nevertheless, consider a few Democratic victories yesterday: In Pennsylvania, pro-life Democrat Bob Casey Jr. beat out Republican Sen. Rick Santorum, a conservative Catholic known for his social conscience. Casey was actively recruited by the Party leadership—more or less the same political elite that once banned his pro-life father from addressing the Democratic National Convention. In North Carolina, Democratic contender Heath Shuler, a pro-life, evangelical Baptist, defeated GOP Rep. Charles Taylor. In Indiana, Rep. John Hostettler, a conservative Christian, lost to Brad Ellsworth, who opposes abortion and favors a constitutional amendment banning same-sex marriage. And Rep. Ted Strickland, an ordained United Methodist minister, became the first Democrat to win as governor in Ohio in 16 years. A Democratic Party website "Faithful Democrats: An Online Christian Community," featured a Strickland speech explaining how faith shapes his political activism. "According to my personal understanding of the Christian faith, it means to follow the example of Jesus into a life of service to others," he said. "It is a moral necessity for me to make this teaching the central organizing principle of what I do."
It is important that the Democratic Party fielded winning candidates whose views on social and religious issues ignore the party line. As various political scientists have noted, the Democratic social agenda has increasingly been influenced by its growing ranks of secular-minded voters and party operatives. Abortion, embryonic stem-cell research, AIDS, traditional marriage, fatherhood, poverty—on these and other issues, secular assumptions about the human condition appear to animate Democratic political dogma.
The presence of more centrist and conservative voices could help moderate the party: They could push for parental notification laws on abortion, for example, or AIDS programs that emphasize abstinence and marital fidelity. Equally important, the triumph of Democratic candidates candid about their faith commitments makes it harder for liberals to vilify religious believers in general or to rule religion out of bounds in the field of politics.
Dose of caution
Having said all that, there are reasons to view the surge of faith-based politics among Democrats with a heavy dose of sobriety and caution. For one thing, Democratic politicians grounded in traditional religious ideals still represent a small, embattled minority in the party. Their ability to move their party to the right on social issues will be extremely limited—especially with arch liberal Nancy Pelosi as the Speaker of the House.
More ominously, it's easy to imagine how party leaders will increasingly use religious talk to help justify an essentially left-wing agenda. In this sense, the rhetoric and policies of the Reverend Al Sharpton, a religious liberal, sound a lot like those of Jim Wallis, the evangelical activist and popular Democratic adviser on religion. The appearance of "Golden Rule Democrats," their thin appeals to the Sermon on the Mount or the Book of Isaiah, the many references to "the common good"—it all threatens to become a sanctimonious seal of approval for business as usual.
That problem, of course, is not confined to the Democratic Party. Religious voices in both parties face constant temptation, it seems, to idolize politics. Despite good intentions, they're too ready to conflate the roles of church and state—and, in the end, compromise their ideals and their institutions. "If we regard our political structures as kingdoms of God, and expect through papacies and kingdoms to come closer to him, we cannot hear his word or see his Christ," Richard Niebuhr wrote in Christ and Culture. "Neither can we conduct our political affairs in the right spirit."
Every election, no matter what the outcome, gives Christians another opportunity to conduct their political affairs in this spirit.
Joseph Loconte is a distinguished visiting professor at Pepperdine University's School of Public Policy and a senior fellow at the Ethics and Public Policy. This article, as with all "Speaking Out" pieces, does not necessarily represent the views of Christianity Today.
Related Elsewhere:
See today's other commentary on the election, "Good News for Democrats, Good News for Evangelicals | And Good News for the world." by George G. Hunter III.
Christianity Today editors liveblogged the election results.
More on politics is available in our full coverage area.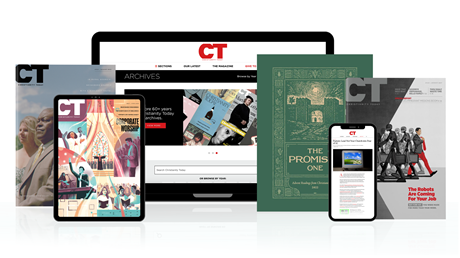 Annual & Monthly subscriptions available.
Print & Digital Issues of CT magazine
Complete access to every article on ChristianityToday.com
Unlimited access to 65+ years of CT's online archives
Member-only special issues
Subscribe
Faith-Based Triangulation
Faith-Based Triangulation