Today's Top Five
1. "I would accept schism"
For a century, the fight between liberals and conservatives in the mainline denominations has usually meant that conservatives have broken away to create new denominations while asserting that it's the liberals who have truly departed from the church and its teachings. It has been difficult to convince the liberals that they're the ones who are schismatic. But while that story looked to be happening again in the fight between orthodox Anglicans and liberal Episcopalians, it now appears that something different may indeed occur. Faced with a unanimous ultimatum from the world's Anglican leaders to bar gay bishops and same-sex union blessings by September 30, Episcopalian liberals seem to be realizing that church unity is incompatible with their promotion of a new sexual ethic and rejection of biblical authority.
"I would accept schism," Bishop Steven Charleston, president of the Episcopal Divinity School, told The Washington Post. "I would be willing to accept being told I'm not in communion with places like Nigeria if it meant I could continue to be in a position of justice and morality. If the price I pay is that I'm not considered to be part of a flawed communion, then so be it."
Mark Sisk, the bishop of New York, is one of the most-quoted voices of rebellion this week. "Being part of the Anglican Communion is very important to me," he told The New York Times. "But if the price of that is I have to turn my back on the gay and lesbian people who are part of this church and part of me, I won't do that."
Notably, the gay and lesbian people who are part of Sisk's church say the choice is stark. Both the current and former heads of Integrity, the denomination's main gay organization, say there's no middle ground between approving homosexual behavior and staying in the Anglican Communion.
"The American church has been very skillfully and strategically painted into a corner where we really need to face a 'Sophie's Choice' of staying true to our understanding of the inclusive gospel or staying true to our commitment to being a constituent member of the Anglican Communion," Integrity president Susan Russell told the Post.
Even the debate is a problem, former Integrity president Michael Hopkins told The New York Times. Gays and lesbians are already leaving the Episcopal Church, he said. "People like me can only convince other people to hang in there for so long."
Boy, does that sound familiar.
2. Bones discovered at Christian hospital in India
In India, where gender-based abortion and infanticide are problems even in the Christian community, hundreds of bones and other human remains have been discovered on the grounds of Ratlam Christian Hospital, a mission hospital in Madhya Pradesh. The Church of North India's Bhopal diocese runs the hospital, and Catholic officials say there's a conspiracy at work. Diocesan spokesman Suresh Carleton says the hospital "was framed" and that the remains belong to stillborn babies.
"It seems to be conspiracy by some quarters like the Bajrang Dal to damage the reputation of the hospital and the Christians in the state," Bhopal bishop Laxman Maida told the Indian Catholic newspaper. "It is a ploy to defame us. I was inside the hospital when the Bajrang Dal activists were on a rampage, shouting slogans against Christians, that we convert and alleging feticide. We don't do abortions, and we don't even have the machine."
3. New Life Church issues report on Haggard
Last week, overseers at New Life Church disclosed some of their findings from their investigation of Ted Haggard and the congregation's current leadership. "Numerous individuals … reported to us firsthand knowledge of everything from sordid conversation to overt suggestions to improper activities to improper relationships," Larry Stockstill, who pastors a church in Baton Rouge, told New Life during Sunday morning services. "These findings established a pattern of behavior that culminated in the final relationship in which Ted was, as a matter of grace, caught."
The overseers also corrected widespread reports that Haggard had been "cured."
"There should be no confusion that deliverance from habitual, life-controlling problems is a journey and not an event," Stockstill said. "Ted will need years of accountability to demonstrate his victory over both actions and tendencies."
Another overseer, Tim Ralph, earlier said Haggard was "completely heterosexual." What he had meant to say, Ralph explained, was that Haggard "received a lot of good tools and wisdom to embrace completely the heterosexual man he is. We all know he has some problems. He's on the road to recovery."
As for the current church leadership, the overseers said, "We have found a few staff members struggling with unrelated sin issues. Each such person has been confronted and has submitted to discipline. To our relief, we are finding no culture of immorality among the staff here as we might have initially expected."
If you haven't read it, be sure to read Patton Dodd's Beliefnet essay, "We Are Completely Sexual," which rightly corrects a lot of the "reactionary and unfair" punditry regarding Haggard's orientation.
4. What's "surprising" about it?
One of the worst headlines of the week appeared in The Washington Post: "Surprising Unity on Va. Hospital Visit Bill: Conservatives Support Right That Includes Gays."
The bill lets hospital patients choose their visitors—even those of the same sex. And it's surprising that conservatives would back this? Only for those who think that conservatives are heartless bigots. The Post writer assumes that support for Virginia's marriage amendment would mean opposition to this bill. But religious conservatives have long supported hospital visitation rights (and bereavement leave) and have said that bills precisely like this are a much better solution than redefining marriage. Has anyone been paying attention?
5. "Darwinists" against Darwin
"Was Darwin Wrong?" asked the cover of the November 2004 National Geographic. Inside, David Quammen's article began with a word in massive type: "No."
That word is omitted in the online version of the story, and with good reason. Darwin was wrong. And it's evolutionists who say so. Among them: Ulrich Kutschera, one of Germany's preeminent evolutionary biologists and a widely quoted critic of Intelligent Design. "It must be made clear that the modern theory of evolution is in part anti-Darwin," he said in an American Association for the Advancement of Science speech earlier this month. "Darwin did not, for instance, take into account the principle of evolution by cooperation."
Scientists, he said, should "no longer talk about Darwinism. You could say that Darwinism is one man's outdated ideology of the 19th century. And Darwinism sounds like Marxism, Leninism, Stalinism. That's a problem."
Eugenie Scott, executive director of the National Center for Science Education, agrees, telling MSNBC, "Geologists don't refer to themselves as Lyellists. Physicists don't refer to themselves as Kelvinists. We don't refer to ourselves by our 19th-century representative. The science has grown up."
Meanwhile, University of Pittsburgh's Jeffrey H. Schwartz, another critic of Intelligent Design, says Darwin got it really wrong. Evolutionary change happens rapidly, not gradually, he says. But the scientific community too dogmatically defends Darwin, he told the Pittsburgh Tribune-Review, which followed up on a paper he published in Biological Theory. "Really I'm just saying, 'Look, nobody's saying that evolution is not happening, is not real. I'm just trying to figure out how change happens,'" he says.
Quote of the day
"What's this we hear about the end of the world?"
—Archbishop of Canterbury Rowan Williams, in an uncharacteristically sarcastic response when asked, "What's this we hear about you guys joining up with the Roman Catholic Church?" Williams went on to dismiss the widely circulated report of Catholic-Anglican union as overblown and garbled.
More articles
Anglican primates' meeting (late news) | Anglican primates' meeting (early news) | Anglican primates' meeting (responses) | Anglican primates' meeting (opinion) | Other Anglican news | Anglicans and Catholics really together? | Catholicism | Ash Wednesday and Lent | Church life | Ted Haggard | Homosexuality | Pornography | Parenting | Family planning | NYC condoms | Vaccines | Health | Life ethics | Abortion | John McCain | Mitt Romney and Mormonism | Republican candidates | Democratic candidates | Edwards bloggers | Politics | Voting rights | Immigration | Iranian refugee in B.C. | Environmentalism | Religion bills die in Co. and Ut. | DOJ religious discrimination project | Church and state | Czechs, Romanians fight over cathedrals | Religious freedom | Military | Indonesia | Lebanon | Iraq | Israel | New Zealand | Bones at Christian hospital in India | More on India | Amazing Grace and William Wilberforce | Film | Music | Art and entertainment | Sports | Media | Books | "Blood libel" book | History | Evolution | Education | N.J. taped teacher case | Higher education | Missions and ministry | Money and business | San Diego diocese may declare bankruptcy | Criminal justice | Abuse | Crime | Theft | The pastor who sold his church | People | Margaret Wanjiru | Spirituality | Other stories of interest
Anglican primates' meeting (late news):
Anglican primates' meeting (early news):
Anglican primates' meeting (responses):
Anglican primates' meeting (opinion):
Anglicans and Catholics really together?:
Religion bills die in Co. and Ut.:
DOJ religious discrimination project:
Czechs, Romanians fight over cathedrals:
Bones at Christian hospital in India:
Amazing Grace and William Wilberforce:
San Diego diocese may declare bankruptcy:
The pastor who sold his church:
Related Elsewhere:
Suggest links and stories by sending e-mail to weblog@christianitytoday.com
See our past Weblog updates:
February 14 | 2
January 24 | 19 | 17 | 12 | 9
January 5 | 4 | 2
December 29 | 22
December 18 | 15 | 12
December 8 | 6 | 1
November 21 | 17 | 16 | 15 | 13
November 6 | 3 | 2
Weblog
Launched in 1999, Christianity Today's Weblog was not just one of the first religion-oriented weblogs, but one of the first published by a media organization. (Hence its rather bland title.) Mostly compiled by then-online editor Ted Olsen, Weblog rounded up religion news and opinion pieces from publications around the world. As Christianity Today's website grew, it launched other blogs. Olsen took on management responsibilities, and the Weblog feature as such was mothballed. But CT's efforts to round up important news and opinion from around the web continues, especially on our Gleanings feature.
Ted Olsen is Christianity Today's executive editor. He wrote the magazine's Weblog—a collection of news and opinion articles from mainstream news sources around the world—from 1999 to 2006. In 2004, the magazine launched Weblog in Print, which looks for unexpected connections and trends in articles appearing in the mainstream press. The column was later renamed "Tidings" and ran until 2007.
Previous Weblog Columns: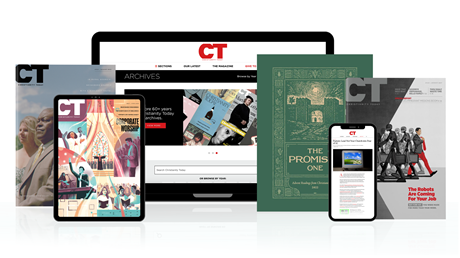 Annual & Monthly subscriptions available.
Print & Digital Issues of CT magazine
Complete access to every article on ChristianityToday.com
Unlimited access to 65+ years of CT's online archives
Member-only special issues
Subscribe
Episcopal Bishops Balk at Anglican Leaders' Demands
Episcopal Bishops Balk at Anglican Leaders' Demands