Today's Top Five
1. Lots of Jesus, but not all of Jesus' words, at National Cathedral
The state funeral for Gerald Ford at the National Cathedral was "a resounding repudiation" to Supreme Court Justice John Paul Stevens's "radically secularist misreading of the establishment clause," Ed Whelan wrote at National Review Online. Explicitly Christian language permeated the ceremony, "from its opening words — 'With faith in Jesus Christ, we receive the body of our brother Gerald for burial' — through the many prayers, readings from Scripture, and homily, to the dismissal 'in the name of Christ,' " And that's not all, Whelan noted:
The United States Marine Orchestra and the Armed Forces Chorus not only performed; they sang explicitly Christian hymns. During the prelude, for example, the Marines sang "When Jesus Wept." During the service itself, the Marine Orchestra provided the musical accompaniment for Denyce Graves's singing of the Lord's Prayer, and the Armed Forces Chorus sang "Eternal Father, strong to save" — a prayer to the trinitarian God. The closing hymn, "For All the Saints," was sung by all and included lyrics like "thy Name, O Jesus, be for ever blessed."
However, complaints about the religious content in the Ford funeral is coming not from secularists, but from evangelicals. Kendall Harmon, one of the country's most prominent evangelical Episcopalians, noted that Robert Certain, the presiding Episcopalian priest truncated the gospel reading, John 14:1-6. In Certain's reading, verse six ended: "Jesus said to him, 'I am the way, and the truth, and the life.'" But verse six continues: "No one comes to the Father, but by me." "This seems to be another gesture of a church that cannot deal with Holy Scripture on its own terms," Harmon complained.
Other conservative Anglicans are frustrated that Certain's homily dragged Ford into the denomination's current fights. "Early this past summer, as I prepared to leave for the General Convention of the Episcopal Church, President Ford's concern was for the church he loved," Certain said. "He asked me if we would face schism. After we discussed the various issues we would consider, particularly concerns about human sexuality and the leadership of women, he said he did not think they should be divisive for anyone who lived by the Great Commandments to love God and neighbor."
Wonderful. By all means, let's start having our governmental leaders weigh in by proxy on denominational disputes. Why aren't Clinton and Carter leading the debate on whether Southern Baptists should speak in tongues? If memory serves, Certain's church divided from its parent body in 1789 over whether a head of state gets to decide church disputes.
2. Conservative Anglican scandal? Or politics?
Evangelical Episcopal priest Don Armstrong, executive director of the Anglican Communion Institute and a Colorado Springs pastor, has been put on paid leave from the Colorado Episcopal Diocese during an investigation into an accusation that he misused church funds. That's about all the news so far. No one is talking about the details of the allegation except to say that police have not been contacted. The Colorado Springs Gazette frames the story as similar to the resignations of New Life Church ministers Ted Haggard and Christopher Beard, but the connection is problematic. If the allegation against Armstrong had been about sexual immorality, the Episcopal diocese probably would not have put him on leave. More likely, they would have made him a bishop. Speaking of which: Armstrong is one of the chief internal critics of the Episcopal Church's recent leadership and direction, and he encouraged a protest of withholding funds from the diocese and the national Episcopal Church. Some bishops in the Episcopal Church have made comments suggesting they think such a protest would be a form of misuse of church funds. But if that's the basis of the allegations here, the Colorado Diocese is going to look awfully petty.
3. More Christian leaders criticize Saddam Hussein execution
You can skim the links below for the most-recent Christian remarks on the hanging. Most are pretty similar to those we noted in our last Weblog. Most focus on the death penalty in general rather than on the specifics of the Hussein case. Brian McLaren, for example, writes, "Taking the human life of a person in the name of human life brings no sense of justice or satisfaction to me. Rather, it brings the opposite. … Whether executions are justified or not, I feel dirty and ashamed whenever I hear of an execution, and Saddam's was no different. I hope I don't ever stop feeling that way."
Jim Wallis suggests that Iraq's executing of Saddam was as bad as the genocide he was executed for. "By taking his life, we sink to his level," he wrote. "If we truly believe that all human life is created in God's image, then no matter how distorted that life may become, we do not have the right to take it."
And here's Shane Claiborne: "For those who believe in hell, executing someone who may not yet know of the love and grace of Christ is doubly offensive. … Grace is hard to communicate with a noose."
Then there are the ongoing condemnations from Catholic leaders. Following remarks from the President of the Pontifical Council for Justice and Peace that the execution was "a crime," Cardinal Varkey Vithayathil, head of the Syro-Malabar Church, has labeled the hanging "a denial of natural justice and a sin." What's more, Vithayathil argued that Hussein "was not given an opportunity to be heard."
That Catholic leaders are using the news to reiterate their opposition to capital punishment is about as predictable as Southern Baptist leaders using the news to reiterate their support of it—or at least of the government's right to use it when necessary. But Richard Land, president of the Southern Baptist Ethics & Religious Liberty Commission, is far more critical of Hussein's execution than, say, Mark Tooley or Marty Peretz. "Simple justice demanded Saddam Hussein be found guilty by his countrymen and executed in the manner that befits such a war criminal, by hanging rather than a firing squad," Land told Baptist Press. "The justice that demanded his execution, however, was cheapened by the less-than-dignified manner in which the execution was carried out."
Baptist Press also got a statement from Leith Anderson, interim president of the National Association of Evangelicals. Noting that he's personally against the death penalty, Anderson said, "Governments and people need to make judgments; they need to make decisions. I hope capital punishment is used only in the clearest cases and with the most careful of applications. The execution of Saddam Hussein was done by a government other than the United States. It was, therefore, beyond our jurisdiction politically. I have no doubt he committed crimes worthy of this punishment. However, being pro-life I am always reluctant to see the use of capital punishment."
4. Elizabeth Fox-Genovese dies at 65
Elizabeth Fox-Genovese, American history professor at Emory University, convert to Catholicism, and public intellectual, died January 2. She sat on the editorial board of Christianity Today sister publication Books & Culture, to which she contributed several articles over the years.
5. Parking rule violated religious freedom, judge says
When the City of Southfield, Michigan told Lighthouse Community Church of God that it couldn't hold services at a building it had purchased because it had too few parking spaces, it violated the Religious Land Use and Institutionalized Persons Act (RLUIPA), U.S. District Judge Paul Gadola ruled Wednesday. The church says the city just wants to see tax-generating residences on the property instead of a church and notes that two other churches had previously used the space. The city argued RLUIPA is unconstitutional and shouldn't be able to trump local zoning regulations. City officials say they plan to continue their fight.
Quote of the day
"It doesn't seem like something normal that religious people would do."
—Susan Heying, whose delivery trucks were vandalized with spraypainted messages "Jesus died for sinners," "Jesus loves you!" and "Jesus saves! Are you saved?" She was quoted by the Riverside, California, Press-Enterprise.
More articles
Iraq | Life ethics | Politics | Oaths of office | Mitt Romney | Gay marriage | Anglicanism | Church life | Abuse | Crime | China | Religious freedom | Church and state | Education | History | Theology | Missions & ministry | Money & business | Entertainment | Video games | People | Deaths | Other stories of interest
Related Elsewhere:
Suggest links and stories by sending e-mail to weblog@christianitytoday.com
See our past Weblog updates:
January 2 | December 29 | 22
December 18 | 15 | 12
December 8 | 6 | 1
November 21 | 17 | 16 | 15 | 13
November 6 | 3 | 2
October 11 | 6 | 5 | 4
September 21 | 15b | 15a | 14
Weblog
Launched in 1999, Christianity Today's Weblog was not just one of the first religion-oriented weblogs, but one of the first published by a media organization. (Hence its rather bland title.) Mostly compiled by then-online editor Ted Olsen, Weblog rounded up religion news and opinion pieces from publications around the world. As Christianity Today's website grew, it launched other blogs. Olsen took on management responsibilities, and the Weblog feature as such was mothballed. But CT's efforts to round up important news and opinion from around the web continues, especially on our Gleanings feature.
Ted Olsen is Christianity Today's executive editor. He wrote the magazine's Weblog—a collection of news and opinion articles from mainstream news sources around the world—from 1999 to 2006. In 2004, the magazine launched Weblog in Print, which looks for unexpected connections and trends in articles appearing in the mainstream press. The column was later renamed "Tidings" and ran until 2007.
Previous Weblog Columns: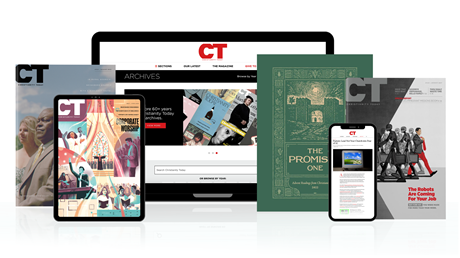 Annual & Monthly subscriptions available.
Print & Digital Issues of CT magazine
Complete access to every article on ChristianityToday.com
Unlimited access to 65+ years of CT's online archives
Member-only special issues
Subscribe
Finding and Missing Jesus at Ford's Funeral
Finding and Missing Jesus at Ford's Funeral