Obama | Romney and Mormonism | Brownback | Politics | Indonesia | Lebanon protests | Burma | Mideast | Darfur | Kenya | Vatican and East Asia | Euthanasia | Marriage and homosexuality | Abortion | Gay adoption | Abuse | Episcopal Church | Church life—international | Church Life—U.S. | Detroit Orthodoxy | Environmentalism and science | People | Superbowl coaches | John Paul II | Lawsuits and crime | Legislation and rulings | Brazilian smugglers | Freed | Diet and health | Entertainment | "Friends of God" | Tom Cruise | Education | Other
• CNN debunks false report about Obama | Allegations that Sen. Barack Obama was educated in a radical Muslim school known as a "madrassa" are not accurate, according to CNN reporting (CNN)
• Obama school allegations said false | We don't focus on religion," said Hardi Priyono, deputy headmaster of the Basuki school, where Obama was educated as a child. "In our daily lives, we try to respect religion but we don't give preferential treatment." (The Washington Times)
• Rivals CNN and Fox News spar over Obama report | A disputed report on the Web site of a conservative magazine about Senator Barack Obama's childhood schooling kicked off an exchange between the news networks CNN and Fox News. (The New York Times)
• Campaign allegation a source of vexation | Conservative magazine raised questions about whether the Illinois senator had been schooled in Islamic radicalism when he was all of 6 years old (The Washington Post)
Romney and Mormonism
• Can voters picture good Mormons as good leaders? | On a national level, the question has never been more politically important: Does being Mormon matter? (The Salt Lake Tribune)
• Activist rains on Romney's parade | Says the candidate is not conservative (The Boston Globe)
• The religious test | The Constitution forbids it, but political reality is another thing. John F. Kennedy, a Catholic, passed it. Mitt Romney, who is Mormon, will have to as well. Polls show that even today, a candidate's faith matters. How the prospective presidential contender handles it, however, is what counts (David E. Campbell and J. Quin Monson, USA Today)
Brownback
• Brownback announces presidential bid | Republican Senator from Kansas to make appeal to social conservatives (The Washington Post)
• Despite 1% poll standing, Brownback is a winner among antiabortion Right | Sen. Sam Brownback of Kansas, also a candidate for the Republican presidential nomination, entered the same room to noisy applause, a standing-room-only crowd and camera flashes. (The Washington Post)
• Brownback joins GOP presidential field | Favorite of the religious right is now in an uphill battle against better known rivals for the GOP nomination (Associated Press)
• Defend innocent life | Whether Republicans are returned to power by the voters will in large part depend upon whether Republicans embrace a Culture of Life both philosophically and in practice. The voters are watching. (Sam Brownback, The Washington Times)
Politics
• GOP hopefuls vow to overturn Roe v. Wade | Two of the Republicans' most conservative presidential hopefuls promised anti-abortion activists on Monday that if elected, they would work to overturn the Supreme Court decision legalizing the procedure. (Associated Press)
• The state of social conservatism | So what is one to make of the State of the Union address last night? (First Things)
• Democrats seek to avert abortion clashes | Leaders back bills to increase aid for family planning, pregnancy support (The Washington Post)
• Conservative core seeks a contender | The right is despairing over its picks so far for a 2008 presidential run (Los Angeles Times)
• European churches revive drive for EU "God clause" | Germany's efforts to revive the stalled European constitution have encouraged church leaders to resurrect their failed campaign to have the EU document include a reference to the continent's Christian heritage (Reuters)
• Indonesia police kill nine militants in Poso | Police capture 22 and confiscate bombs during confrontation at Islamic militant base (Reuters)
• Police say Poso victims involved in criminal acts | Dead victims of a gunbattle between police and suspected militants in Poso, Central Sulawesi on Monday had been involved in a criminal activities in Poso and Palu, police said Wednesday. (Jakarta Post)
• Indonesia beefs up security in Poso | deployed an additional 200 paramilitary police reinforcements yesterday in the restive town of Poso after a shootout during a hunt for suspected militants left 11 people dead. (The Brunei Times)
• Indonesia boosts security | Poso has been tense since the execution of three Christian militants in September over their role in Muslim-Christian violence in the region from 1998 to 2001. (The West Australian)
• Indonesia boosts security in Poso, defends tactics | Poso has been tense since the execution of three Christian militants in September over their role in Muslim-Christian violence in the region from 1998 to 2001. (The Boston Globe)
Lebanon protests
• Protests paralyze Lebanon, 3 killed | Protesters bent on toppling Lebanon's cabinet blocked roads with blazing tiers on Tuesday, sparking clashes with government loyalists in which police said three people were killed and 133 people hurt. (The Boston Globe)
• Old Christian rivalry moves into Lebanon streets | Lebanon's power struggle has resurrected an old rivalry between Christian leaders whose followers clashed on Tuesday during some of the worst unrest since a 1975-1990 civil war. (Reuters)
Burma
• Burma 'orders Christians to be wiped out' | The military regime in Burma is intent on wiping out Christianity in the country, according to claims in a secret document believed to have been leaked from a government ministry (The Telegraph, London)
Mideast
• Christians, Muslims flee Baghdad for Kurdistan | As refugee numbers grow, authorities in Arbil, the Kurdish capital with a population of about a million, are beginning to feel the strain (Reuters)
• How America met the Mideast | Centuries before the Iraq War, missionaries and mercenaries shaped the U.S. encounter with the Mideast. Robert Kagan reviews Power, Faith, and Fantasy by Michael B. Oren (The Washington Post)
• America and the Mideast: from the evangelism of Christianity to the evangelism of Americanism | Book addresses topic of ambivalent U.S. attitudes about the Middle East (Book review Shmuel Rosner, Haaretz)
Darfur
• Genocide continues in Darfur | President Bush, who clearly cares about the genocide in Darfur, sent a message last month to its chief perpetrator, Sudan's leader, General Omar Bashir, that if he didn't accept -- by Jan. 1 -- the United Nations' plan to stop the killing, the Bush administration would set in motion "Plan B." But, because "Plan B" is classified, we don't know its details. That deadline has passed (Nat Hentoff, The Washington Times)
• War on the rescuers | The newest targets in Darfur's widening violence are the aid workers keeping its people alive (Newsweek)
Kenya
• Kenya: heed Tutu's advice on church-state role | Kenyans would be wise to remember what Tutu said—men and women of the cloth should not run for government office (Editorial, The Nation)
• Kenya: no end to Wanjiru's saga | Organization will go to court to prevent televangelist's marriage to South African cleric Samuel Matjeke (The East African Standard)
Vatican and East Asia
• Vietnamese visit to Vatican eases tension | The Vatican and Vietnam will aim to put decades of often troubled relations behind them on Thursday when Nguyen Tan Dung becomes the first Vietnamese prime minister to pay an official visit to the Holy See. (Financial Times)
• China welcomes Vatican initiative | China has welcomed the Vatican's new move to resolve their differences, calling it "a step forward".(BBC)
• Vatican working on relations with China | An olive branch extended by the Vatican to the Chinese government over the weekend opens the door for rapprochement between church leaders in Rome and their fractured following in the world's most populous country. (The Los Angeles Times)
• Vatican extends diplomatic olive branch to Beijing | The Vatican urged China's communist government on Saturday to engage in constructive dialogue to ease tension and achieve full diplomatic relations and a normal life for the Roman Catholic Church there (Reuters)
• Vatican urges 'dialogue' with China to rebuild ties | The Vatican said it wanted a "respectful and constructive dialogue" after two days of high-level talks at the Vatican on rebuilding relations with China (The New York Times)
• Saturday: Vatican and China open talks on improving ties | A dispute over the right to appoint bishops has soured relations between the church and China (The New York Times)
• Pope seeks to improve ties with China | Pope Benedict XVI has decided to write a letter to Catholics in China, and the Church will pursue diplomatic ties with Beijing as it tries to help its suffering faithful there, the Holy See said Saturday after two days of talks here about China (Associated Press)
Euthanasia
• Cardinal urges Vatican to think again on right to die | The Vatican's rigid opposition to euthanasia has come under fire from within its own ranks after it denied a religious funeral to a paralysed man who had asked to be removed from a life-saving respirator. (The Sydney Morning Herald)
• Italy: cardinal says patients should have right to die | In a letter in an Italian newspaper on Sunday, Cardinal Carlo Maria Martini urged the Vatican to allow terminally ill patients the right to withdraw life-sustaining medical treatment. (The New York Times)
Marriage and Homosexuality
• N.H. bill seeks to change marriage law | Critics say move targets gay unions (Associated Press)
• Pennsylvania: protesters' suit dismissed | A federal judge dismissed a freedom-of-speech lawsuit by members of a conservative Christian group who were arrested while picketing a street festival for gay men and lesbians. (Associated Press)
• Gay minister's church trial begins | Lutheran congregation in Atlanta strongly supports its embattled pastor (The Washington Post)
• Marriage activist proposes legislation | One of the Legislature's most ardent marriage activists says his latest bill on the issue is meant to strengthen the separation between church and state, but critics say it would potentially threaten liberal denominations that perform ceremonies for same-sex couples. (Associated Press)
• Critics mock Rep.'s marriage law proposal | Critics mocked a proposed change to New Hampshire's marriage law Tuesday, calling the bill ludicrous, homophobic and silly as they urged legislators to toss it out. (The Boston Globe)
Abortion
• Rights case over foetus pictures | An anti-abortion campaigner is claiming her human rights were breached when she was convicted for sending pictures of aborted fetuses to chemists. (BBC News)
• Thousands of abortion opponents rally on mall | President Bush delivered a telephone message from Camp David to the thousands of abortion opponents at the March for Life saying "we're making progress." (The New York Times)
• Abortion foes to renew efforts | Activists rally on mall, vow to keep pressure on Congress (The Washington Post)
• Roe's 34th year sees a new Washington | With Democrats in charge of the House and Senate, some pro-choice leaders see an opportunity to affirm and protect the landmark 1973 ruling that made abortion a constitutional right (The Washington Times)
• Is there a post-abortion syndrome? | A growing number of anti-abortion activists, despite social-science research, claim that women are traumatized by their abortions — and are trying to use this to reframe the abortion debate (Emily Bazelon, The New York Times Magazine, new url)
• Ill. wants federal OK on abortion law | The Illinois attorney general asked a federal court Friday to allow the state to enforce a dormant law requiring parents to be notified before a minor can obtain an abortion (Associated Press)
• New landscape for abortion debate | In contrast to recent years, when participants at the March for Life in Washington urged the Republican-controlled Congress to expand fetal rights and restrict abortions, activists are now discussing defensive strategies in the face of the Democratic takeover (Associated Press)
Gay adoption
• Anglicans back right to deny gay adoption | The Church of England put pressure on the Prime Minister last night over the gay adoptions row with a letter giving warning that "rights of conscience cannot be made subject to legislation." (The Times)
• Archbishop: we won't help gay couples to adopt | Archbishop Vincent Nichols champions Catholic adoption agencies' right to turn down gays' requests (The Birmingham Post)
• Catholic threat on gay rights law | The head of the Catholic Church in England and Wales has said adoption agencies will close if they cannot opt out of new gay rights laws. (BBC News)
• Church gay rights opt-out opposed | Catholic adoption agencies should not be able to opt out of new gay rights laws, say Constitutional Affairs Secretary Lord Falconer and environment minister Ben Bradshaw (BBC)
• Churches unite over adoption row | The Church of England has backed the Catholic Church in its bid to be exempt from laws on adoption by gay couples. (BBC News)
• Fury at Kelly threat to gay adoptions | English cabinet member advocates letting church-based adoption agencies turn down gays (Scotland on Sunday)
• Kelly must face her tragic end - to resign on principle | The dilemma that confronts Tony Blair and Ruth Kelly over the Roman Catholic Church and its stand on homosexuality has the making of grand tragedy. (The Times)
• Ministers reject gay law opt-out | Falconer and Bradshaw insist that government will not bow to pressure from conservative Catholics (The Times)
• No 10 mulls Catholic opt-out from gay rights law | Downing Street appeared to be wavering today on allowing Catholic adoption agencies exemption from gay rights legislation, after a warning from the leader of Catholics in England and Wales that agencies may close rather than comply with the regulations. (The Guardian)
Abuse
• 2 men sue Mormons, Scouts over abuse | $6.5 million - The brothers claim a Scout and church leader molested them from 1983 to 1985 (The Oregonian)
• Baptist churches more vulnerable to clergy sex abuse, experts say | A recent sex scandal involving two North Texas pastors and the women who accused them of molestation is unusual because the victims -- by now beyond the statute of limitations for sex-abuse cases -- urged authorities and media to publish their names in conjunction with the case. (Associated Baptist Press)
• Guilty plea in child porn case: Former church music director to enter treatment | The former music director at Christ Church Greenwich pleaded guilty to possession of child pornography yesterday in federal court, admitting to possessing more than 150 sexually explicit photos of minors, some depicting them in sex acts. (The Stamford Advocate)
• Bridgeport: choir director admits possession of pornography | The former music director of Christ Church in Greenwich pleaded guilty yesterday in Federal District Court to possession of child pornography, a charge that carries a maximum penalty of 10 years. (The New York Times)
• Ex-church official guilty in porn case | Music minister of George H.W.'s childhood church guilty of purchasing child porn (The Mercury News)
• Church investigation clears Greene county priest of abuse | Charges dropped against Rev. Jeremiah Nunan, accused of molesting a child 30 years ago (Times Union)
• Church settles molestation suit for $2M | Catholic church compensates altar boy molested by a priest (The Day)
• Settlement reported in sex-abuse case | Church pays $700,000 for failing to prevent boy from being molested by Sunday school teacher (The Seattle Times)
Episcopal Church
• Breakaway Episcopal priests face defrocking | Virginia Bishop Peter James Lee mailed a letter Monday to 21 priests with the departing churches, notifying them that, according to church law. (The Washington Times)
• Episcopal Church bars 21 clergy from duties | The clergy in the 15 Virginia churches that split from the Episcopal Church have six months to reverse their decision or they will be removed from the ordained ministry. (Richmond Times-Dispatch)
• Episcopal diocese in Va. moves to discipline clergy from breakaway churches | Episcopal leaders are moving to strip clergy members at breakaway conservative churches of their licenses to practice in the Diocese of Virginia. (The Boston Globe)
• Episcopal parish in sad unrest | Their pastor is banned, the diocese seized their financial records and their bishop won't answer questions. How much more unsettling can it get for Colorado's largest Episcopal parish? (The Rocky Mountain News)
• Episcopalians warn dissident clerics | Episcopal leaders are moving to strip clergy members at breakaway conservative churches of their licenses to practice in the Diocese of Virginia. (Associated Press)
• Breakaway churches urge bishop back to talks | The leadership of two Northern Virginia churches urged Virginia Bishop Peter James Lee to return to the negotiating table Friday, one day after the Episcopal leader renewed threats to sue (The Washington Times)
• Congregations give warning on property | In a letter Tuesday, attorneys for the breakaway churches warned diocese officials that they would be exposed to "substantial legal risk—including liability for trespass and unlawful entry" -- if they attempted to take possession of the property (The Washington Post)
Church life—international
• Dalit Christians create forum to affirm identity in Bihar | Dalit Christians in Bihar have set up a forum to promote their distinct identity and interests. (Indian Catholic)
• Day II: Devotees Throng Attur Church | The St. Lawrence Church itself is more than two centuries old and is a devout place of pilgrimage not only for Christians but people of other faiths too. (Mangalorean, India)
• African church leader warns of 'disease' of Pentecostalism | The president of the All Africa Council of Churches, a fellowship of mainline Protestant, Orthodox and indigenous Christians, said Pentecostalism is a "disease" spreading across Africa, according to an AACC news release. (Religion News Service)
• Pope notes difficult road toward Christian unity, also sees progress | The search for Christian unity is a long and difficult journey because it is a process of repentance and humility, Pope Benedict XVI said. (Catholic News Service)
• Pope says road to Christian unity is uphill, but important | Pope Benedict XVI said Wednesday that efforts to promote Christian unity must be intensified, despite difficulties and moments of discouragement. (International Herald Tribune)
• Poland makes witch hunting easier | What may look like an effort to reconcile with the Communist past is an assault on reconciliation and a generational bid for power (Wiktor Osiatynski, The New York Times)
• Alan Harper's long and winding road to Armagh | New primate-elect of the Church of Ireland plans to promote peace, resolve differences (Belfast Telegraph)
• Kenyan bishop's conservative message | Bishop Benjamin Nzimbi not shy about proclaiming his stance on homosexuality. (Providence Journal)
Church Life– U.S.
• Groundbreaking conference gathers transgender Christian advocates | In an event organizers billed as the first of its kind, about 40 transgender Christian leaders and their allies joined counterparts from other faiths for a "Transgender Religious Summit" Jan. 19-21 in California. (Associated Baptist Press)
• Frontline ministry draws young adults with music | McLean Bible Church is the place to be Sunday nights for many young Christians in the region (The Washington Times)
• Protest plans puzzle six county churches | The Kansas-based church accuses local parishes of preaching "lies" about God's love to their flocks, promoting moral decay and supporting homosexuality, said Shirley Phelps-Roper, a church member and daughter of the pastor. They picked the largest churches in York County for their protests, she said. (The York Daily Record)
• Gospel singers join for resounding 'Hallelujah!' | Choir members, musicians and dancers from throughout the region lift audience to its feet (The Washington Post)
• The spirit keeps moving them | Interim pastors step in to fix churches that are in transition or having trouble with finances or governance. 'We're surgeons,' says one (Los Angeles Times)
• We can't do megachurch anymore | Megachurch approach abandoned in order to give spiritually demoralized congregation the lift it needs (Editorial, Hodges and Taylor, Leadership Journal)
• Diocese catches holy hell | Parishioners upset over closing of New York City church (New York Post)
• Carter, Clinton seek to bring together moderate Baptists | Exiles from conservative group targeted (The Washington Post)
• Old Saybrook church joins national effort to heal 'sexual brokenness' | Connecticut church joins national movement to fight sexual sin in America's churches (Hartford Courant)
• Bush library not a pulpit topic at many Methodist churches | Bush's home church more concerned about congregation's spiritual health than focusing on university library controversy (Dallas Morning News)
• Evangelicals and immigration | As evangelicalism encompasses more political diversity, views on immigration shift left (Editorial, The Anniston Star)
• Church sees to the cowboys | Cowboy church lets cowboys ride their broncos and listen to a sermon too, all in one convenient location (Star-Telegram)
• Faith Forward meeting aims to bridge generations | Crystal Cathedral conference seeks to help pastors reconnect with their congregations (Orange County Register)
• Scottsdale man links Christian singles | Divorced Christian's website for Christian singles has grown from 40 to 3000 members in six years (East Valley Tribune)
• Centre for mission's 'birthplace' | A redundant church in an area famous for its religious connections to the founding of the Bible Society is to be converted into a heritage centre (BBC)
• Who cares about the poor? | Are conservatives naïve, or are liberals unjustifiably dour? (Arthur C. Brooks, The Wall Street Journal)
• In church restructuring, some suspect hand of developers | Though church leaders deny it, some New York City parishioners think churches are being moved so property can be sold to developers for millions (The New York Sun)
Detroit Orthodoxy
• Detroit becomes hub for Orthodox religion | Immigration and conversion turns Detroit into major center of Eastern Orthodoxy (Lansing State Journal)
• Ancient ways entice Detroit Christians | City is emerging as a national center for the rebirth of Orthodox churches (Detroit Free Press)
Environmentalism and Science
• Calls to act on global warming precede Bush speech | Environmentalists, evangelical Christians and congressional and corporate leaders have called for action on global warming in the days leading up to President George W. Bush's State of the Union speech (Reuters)
• Higher ground | Alliance of evangelicals and scientists shows that climate change isn't political (Editorial, Houston Chronicle)
• NPR: Evangelists and environmentalists join forces | Evangelicals and scientists prove to be unlikely allies in the fight against global warming (National Public Radio)
• An unlikely alliance | Elite scientists and evangelicals put aside their differences to save the Earth (Newsweek)
• Finding my religion | Author and former doctor J. Matthew Sleeth explains why the unlikely alliance between evangelicals and scientists makes sense (Interview, Dallas Morning News)
• Stem cell policy hampering research, NIH official says | The National Institutes of Health official overseeing the implementation of President Bush's embryonic stem cell policy yesterday suggested that the controversial program is delaying cures, an unusually blunt assessment for an executive branch official (The Washington Post)
People
• Abbé Pierre, 94, French Priest Who Aided the Homeless, Dies | A priest who became known as the country's moral compass died Monday in Paris (The New York Times)
• Nation to honour French activist | France is to pay tribute on Friday to the priest and homeless campaigner, Abbe Pierre, who has died at the age of 94, President Jacques Chirac has said. (BBC News)
• One woman's heroic journey | Kelly Rowan felt it was time to bring the often ugly truths of polygamy to prime time (The Globe and Mail)
• Tens of thousands mourn Turkish-Armenian editor | As many as 100,000 people filed silently through Istanbul on Tuesday to pay their last respects to Turkish Armenian editor Hrant Dink, whose murder has stirred debate about the influence of hardline nationalism in Turkey. (Reuters)
• Manning the 'Church of the Presidents' | The Rev. Luis Leon may be one of the few people President Bush routinely looks up to (Associated Press)
• Benedict seen as isolated at Vatican | The forced resignation of Pope Benedict XVI's handpicked choice for archbishop of Warsaw, Stanislaw Wielgus, has exposed divisions within the Vatican, which insiders say have left the pontiff increasingly isolated (The Washington Times)
Superbowl coaches
• He did it his way | "I think even more important than that to me, I know the type of person he is, and Lovie has the same Christian conviction that I have," Dungy said. (The Boston Globe)
• Super coaches share deep bond | Christian men, both operate without regarding football as the most important aspect of their lives. They don't yell and curse at players; instead they are known for the calm demeanor that Dungy suspects cost him a chance to become a head coach earlier. (USA Today)
John Paul II
• Book: Pope John Paul II mulled retiring | The late Pope John Paul II considered retiring at 80 — almost five years before his death — but decided to leave it to God's will to determine how long he should stay on, his closest aide said in a new book (Associated Press)
• Late Pope 'thought of retiring' | Pope John Paul II seriously thought about resigning due to ill health in 2000, five years before he died, his private secretary has revealed. (BBC News)
• John Paul sainthood process progressing | Church officials were nearly finished documenting the late Pope John Paul II's life as part of the beatification process toward making him a saint, the pontiff's personal secretary said in an interview broadcast on Sunday. (Associated Press)
Lawsuits & Crime
• Bay Area pastor sentenced for catching, selling leopard sharks | The pastor of a Bay Area church was sentenced to one year in prison for illegally catching and selling hundreds of juvenile leopard sharks in the United States and abroad, authorities said. (Associated Press)
• U.S. pastor gets prison for shark smuggling | A San Francisco-area pastor who pleaded guilty to helping smuggle young leopard sharks from California to aquariums in Europe and the United States has been sentenced to a year and a day in prison, the Justice Department said on Tuesday. (Reuters)
• Man gets life for robbing Fort Lauderdale church | A man has been sentenced to life in prison for taking part in an armed robbery at a church during an early-morning Mass. (Bradenton Herald)
• Prosecutors add four more charges against church leader | 50-year-old Peter Barton was the leader of New Life Fellowship Church until he resigned on New Years Day. (The Boston Globe)
• Amid accounting inquiry, a Greenwich pastor resigns | The pastor at St. Michael the Archangel Church in Greenwich, Conn., resigned after an investigation found that he had maintained secret bank accounts with church funds and could not document how he spent more than $500,000 from those accounts (The New York Times)
• Shooting outside N. Georgia church leaves 1 dead | Police searching for gunman who shot and killed a man outside a Gwinett County Catholic church (News4Georgia)
• Embezzler must forfeit home, repay church | Part-time church secretary sentenced to eight years' probation after admitting to embezzling more than $97,000 from Baptist church (The Tennessean)
• Woman wounded as church meeting turns bloody | Police searching for man who shot and injured his ex-wife in a church parking lot (Cape Times)
• Shots fired at Palmetto church; no injuries | Police searching for suspects in shooting at Pentacostal church in Southwest Florida (Herald Tribune)
• Migration officials arrest 11 Iraqis | None of the Iraqi citizens appear on terrorist watch lists, and they told authorities they were Chaldean Christians trying to get to California where they would request asylum, the official said. (Associated Press)
• 11 Iraqis with fake ID are arrested in Monterrey | Detainees claim to be Christians fleeing the Iraq war (Express-Mexico)
• Financial controls tightened | Catholic church enforces new measures to prevent further embezzlement of funds (The Free Lance-Star)
• Former exec in Irvine says he was fired over religion | Discrimination suit alleges car wax manufacturer had expected him to be 'on fire for Jesus.' (The Los Angeles Times)
• Muslim man claims religious conspiracy | Dad sues Department of Human Services, says ex-wife was told to keep teen daughter from him. (The Detroit News)
• Opus Dei accuses BBC of defamation | The controversial religious sect, Opus Dei has accused the BBC of portraying its members as "murderers, thieves and adulterers" in a furious row over a popular fictional drama.(Evening Standard, UK)
• Supreme intervention sought | Former Gannon chaplain wants top court to hear her sex-discrimination case (Erie Times-News, Pa.)
• 2 Bajrang Dal men held in missionary attack case | Authorities arrest Hindu men for interrupting prayer meeting and manhandling missionaries (Press Trust of India)
Legislation & rulings
• Bill would block tax money from benefiting illegal immigrants | Groups that help illegal immigrants would be forbidden from using taxpayer money under legislation endorsed today by a House committee. (Associated Press)
• Lawyers: Case may be moot now that courthouse that had Bible is closed | It may be unconstitutional for Harris County to display a Bible on courthouse property, but it may not be a federal case now that the courthouse is vacant and the Bible is gone, appellate judges suggested Tuesday. (Houston Chronicle)
• Polygamy: Should towns be put under county control? | A judge wants to end a 'revolving door of noncooperation' (The Salt Lake Tribune)
• Pastor to defy city's order to evict homeless from church grounds | Long Beach cleric says allowing people to sleep on the steps is a 'religious act.' Officials cite safety, sanitation concerns (Los Angeles Times)
• Kentucky judge permits Christians-only healthplan to continue | Judge says Medi-Share program isn't insurance and therefore doesn't violate the state's insurance laws. (Insurance Journal)
• Seymour church hopes circuit court will uphold county values | Church applauds beer board's decision to bar alcohol at new convenience store located close to church. (WATE6)
• New tax law could hurt churches | Federal income tax law requires taxpayers to produce proof of charitable donations, including tithes (The Naperville Sun)
• Muslim dispute: religious intolerance? | Airport commission commended for penalizing cabbies who refuse to drive customers carrying alcohol (Editorial Leonard Pitts Jr., Houston Chronicle)
• The religious side of swearing | Muslim woman's desire to swear oaths with a hand on the Qur'an may be legitimate (Editorial John Hood, Lincoln Tribune)
Brazilian smugglers
• Brazil wants church leaders extradited | Brazil has requested the United States extradite two leaders of an evangelical church who allegedly used their followers' donations to buy mansions, a horse farm and apartments in Brazil and the U.S., the Foreign Ministry said Tuesday. (Associated Press)
• Feds: Brazilian couple smuggled cash | Two evangelical church leaders accused in Brazil of using their followers' donations to buy mansions, a horse farm and apartments will face a grand jury on money-smuggling allegations in the U.S., federal prosecutors said. (Associated Press)
• Indictment deadline for Brazilian evangelical couple is Monday | Federal prosecutors said they expect to know by Monday whether a U.S. indictment on money smuggling charges will be brought against a Brazilian couple who founded a prominent evangelical church. (The Miami Herald)
Freed
• Wrongly convicted man celebrates freedom at church | Man back in church after wrongly serving 25 years in prison for sexual assault (NBC5i)
• Christian charged with blasphemy freed after two years | Shahbaz Masih Kaka is mentally disabled, but a court in Faisalabad sentenced him to 25 years. Pressures from Islamic extremists are to blame (AsiaNews.it)
Diet and Health
• A diet to please a deity | Hallelujah Diet is a vegan eating plan that centers on the consumption of raw foods and Christianity (St. Petersburg Times, Fla.)
• Calling the flock to God, away from the fridge | N.Va. pastor joins ranks of faithful eyeing scales (The Washington Post)
• Church leads members on fitness quest | Carol City church starts the new year by hosting day of fun and fitness to encourage members to get in shape (The Miami Herald)
• Religious athletes | Youths must choose between church and sports (The Courier Journal)
Entertainment
• Film's child rape scene causes stir | At a festival that features several films with sexual content, including full male nudity and a documentary about bestiality, a southern Gothic tale that includes the rape of a young girl is causing the biggest stir. (The Baltimore Sun)
• Dropping the curtain on 'Vagina Monologues' | St. John's University, one of the country's largest Roman Catholic universities, has decided not to allow Eve Ensler's "Vagina Monologues" to be performed on campus (The New York Times)
• Lauren Green leaves Fox & Friends to become FNC's religion correspondent (TV Newser, Mediabistro.com)
• Church-owned PBS station skips program on sex scandals | PBS refutes church's claims that program was not provided to the station in time (Associated Press)
• HOT, YES running Jews for Jesus ads | Major Christian TV network offered on Israeli cable and satellite television is broadcasting missionary advertisements directed at Jews (The Jerusalem Post)
• Boost from big stores has religion books rising | Writers responding to big retailers' expansion of their religious sections (National Public Radio)
• Karate and Christianity makes for an unusual pair | More than 400,000 people have converted to Christ through Karate for Christ's ministry, its web site says (The Roanoke Times)
• A friend in Hollywood? | After years of cursing the darkness about profanity, nudity and violence coming out of what collectively is called "Hollywood" -- whether the films are produced there or elsewhere -- evangelicals and others who like quality films are beginning to develop and produce their own. Two of the better ones will be released next month (Cal Thomas, The Washington Times)
"Friends of God"
• Born-again crowd a scary bunch of "Friends" | Alexandra Pelosi, speaking about her documentary on red state evangelicals, said it's possible for everyone to get along if we can get past the hot-button issues of abortion and gay marriage. She may be overly optimistic. (Reuters)
• 'Friends of God' goes into the belly of Evangelical America | Lots of people between New York and Los Angeles really like God, Alexandra Pelosi discovers in the one-hour documentary "Friends of God: A Road Trip With Alexandra Pelosi," premiering Thursday on HBO. (CalendarLive.com)
• Speaker Pelosi's daughter documents Christian right | "I think the evangelicals will pre-judge the project. I hope they won't, but I assume they will," she said (Reuters)
• Of God and camera | Alexandra Pelosi shifts her unblinking approach to filmmaking from one hot-button topic (politics) to another (religion) (The Washington Post)
• God's House | Speaker's daughter turns camera on evangelicals for third HBO documentary (New York Post)
• Filmaker Pelosi puts focus on evangelicals | Liberal filmmaker's documentary will reveal diverse aspects of evangelical world (Contra Costa Times)
Tom Cruise
• Tom Cruise likened to Jesus | Actor chosen to spread the word of the church. (Entertainment Wise)
• Cruise 'is Christ' of Scientology | Tom Cruise is the new "Christ" of Scientology, according to leaders of the cult-like religion. (The Sun)
Education
• Asbury seminary gets $10 million donation | A duck quacking "Aflac!" could be a sweet sound right now at Asbury Theological Seminary in Wilmore (Lexington Herald-Leader, Ky.)
• Baptists at odds over removal of female professor | FW: Seminary case fuels debate on women's role in theology programs (The Dallas Morning News)
• Religion sunflashes | New chief rabbi, new Rocky Mountain prez, and other religion news (Toronto Sun)
• Intelligent design to feature in school RE lessons | Teenagers will be asked to debate intelligent design (ID) in their religious education classes and read texts by evolutionary biologist Richard Dawkins under new government guidelines. (The Guardian)
Other
• Evangelical: Can the 'E-word' be saved? | Who's an evangelical? Until last year the answer seemed clear: Evangelical was the label of choice of Christians with conservative views on politics, economics and Biblical morality. (USA Today)
• Ancient spell may be oldest Semitic text | A magic spell to keep snakes away from the tombs of Egyptian kings, adopted from the Canaanites almost 5,000 years ago, could be the oldest Semitic text yet discovered, experts said Tuesday. (Associated Press)
• 'Narco-saint' Jesus Malverde gets shrine in Mexico City | Prison cells are decorated with his image. Drug traffickers carry symbols of him. Now, he has a shrine in Mexico City. (Associated Press)
• Fair housing, free speech and choosy roommates | Fair housing is important, but so is free speech and so is the right to choose who is puttering around in your living room (The New York Times)
• Sex and the single-minded | How to get a job in Washington: Direct an organization that opposes contraception on the grounds that it is "demeaning to women." (Stacy Schiff, The New York Times)
• Lessons for living found in views of the last judgment | For four decades Jürgen Moltmann has been influencing Christian theology with his conviction that eschatology is central to understanding God, humanity and all the basic teaching of his faith (Peter Steinfels, The New York Times)
• Where religion meets real estate, a developer and a town face off | A proposed rabbi college could hold more residents than the town's current population (The New York Times)
• Golly, what did Jon do? | The attack on kids with Down Syndrome (George F. Will, Newsweek)
• Continued discovery within 'secret gospels' | An interview with Elaine Pagels (Los Angeles Times)
Weblog
Launched in 1999, Christianity Today's Weblog was not just one of the first religion-oriented weblogs, but one of the first published by a media organization. (Hence its rather bland title.) Mostly compiled by then-online editor Ted Olsen, Weblog rounded up religion news and opinion pieces from publications around the world. As Christianity Today's website grew, it launched other blogs. Olsen took on management responsibilities, and the Weblog feature as such was mothballed. But CT's efforts to round up important news and opinion from around the web continues, especially on our Gleanings feature.
Ted Olsen is Christianity Today's executive editor. He wrote the magazine's Weblog—a collection of news and opinion articles from mainstream news sources around the world—from 1999 to 2006. In 2004, the magazine launched Weblog in Print, which looks for unexpected connections and trends in articles appearing in the mainstream press. The column was later renamed "Tidings" and ran until 2007.
Previous Weblog Columns: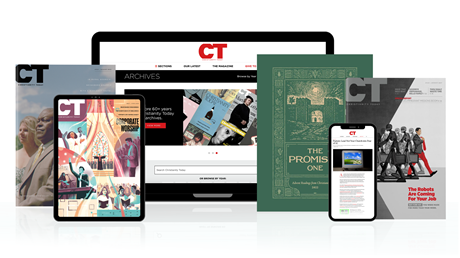 Annual & Monthly subscriptions available.
Print & Digital Issues of CT magazine
Complete access to every article on ChristianityToday.com
Unlimited access to 65+ years of CT's online archives
Member-only special issues
Subscribe
Obama's Grade School Not a Madrassa After All
Obama's Grade School Not a Madrassa After All