true
There's a sense among this year's panel that 2007 will go down as one of our most interesting lists of top Christian albums (released between December 2006 and November 2007). It could be because there was no obvious front-runner going in, and though we generally agreed on the same initial nominations, the finalists all placed within mere points of each other. The list also reflects the way Christian music has splintered from its established industry into the mainstream as well as independent music circles—hence why you'll find some unfamiliar breakout artists alongside the bigger names. But above all, this year's list truly reveals our painstaking efforts to recognize the best of the best, both inside and outside the gospel music scene. Christian or mainstream, signed or independent, these are the projects that impressed us most over the past year through their creative expressions of faith.

NeedToBreathe
Is this really the same band that made their debut just 18 months ago? We liked enough of what we heard on the first album to name NeedToBreathe one of the best new artists of 2006, but The Heat shows considerable improvement in every way—they already sound like seasoned pros. Taking a more hands-on approach with their music, the band has shifted from generalized Brit pop/rock to a more organic Southern pop/rock style. It's as if NeedToBreathe stepped from a cramped cell and found freedom to make music that's true to their artistic roots, rather than what they thought they needed to sound like. The result is an album that's more varied ("The Heat," "Second Chances"), more hook-filled ("Movin' On," "More Time"), more thoughtfully written ("Streets of Gold," "Return"), and more spiritually expressive ("Signature of Divine (Yahweh)," "Washed by the Water")—all enough to leave us eagerly wanting more.
Click here for the original review

Derek Webb
Now that he's 4 for 4, it might seem a foregone conclusion that Derek Webb will make our list every year he releases a new album; he's already planning one for 2008. But this masterful singer/songwriter earns his place once again with the most challenging (though not condemning) lyrics you'll find since Keith Green and Rich Mullins. There's simply no one else in today's Christian music scene so bravely willing to address issues of politics, ethics, and social justice through a biblical perspective—just enough to make listeners consider what they truly believe and turn to scripture for guidance. The Ringing Bell is also arguably Webb's most accessible album to date, offering a classic pop/rock style that touches on The Beatles, Del Amitri, Bob Dylan, and The Byrds. If only it wasn't so short, yet it goes to show that Webb can say so much more in 30 minutes than most artists would say in 30 years.
Click here for the original review

Relient K
We know this will sound like hyperbole, but Relient K has to be the best punk-pop band in the land. Five Score and Seven Years Ago finds them doing more of what they've been doing so well since 2000, though continually improving with age, creating the bridge between Jimmy Eat World and the Beach Boys that you didn't know could exist. Driving beats and catchy melodies make this irresistible ear candy, yet the songs rise above lesser fluff thanks to frontman Matt Thiessen's thoughtful writing, which still communicates faith-based truths ("Forgive," "Devastation and Reform") to a broader music culture alongside all the silly love songs. And "Deathbed" is strong enough on its own merits to warrant inclusion among the best of 2007—a varied 11-minute magnus opus recounting a dying man's last thoughts before passing to heaven.  It's a creative indication of the future greatness that we can expect from Relient K, hands down, the best progressive-punk-rock-power-pop band in the land.
Click here for the original review.

Mavis Staples
With more than 50 years of music experience, the legendary Mavis Staples has yielded plenty of classic recordings in her time, but We'll Never Turn Back is sure to become a highlight in her storied career. The album brings her full circle with her past, offering new interpretations of songs that were influential during the civil rights movement of the '50s and '60s ("We Shall Not Be Moved," "Eyes on the Prize"), along with other traditional favorites ("This Little Light of Mine," "Jesus Is on the Main Line") and some new songs written in the same spirit ("My Own Eyes," "I'll Be Rested"). This is not traditional gospel in the purest sense (like her albums with the Staple Singers), but breaking from the norm is part of its charm. And thanks to brilliant production from guitarist Ry Cooder (Captain Beefheart, Rolling Stones), it's a near perfect gospel-rock hybrid reminiscent of Spirit of the Century by The Blind Boys of Alabama: thick bass, textured percussion, and shimmering guitars. By connecting the songs and events of her past with the present, Staples sincerely hopes to inspire change in the future through faith and understanding. To which we can only offer a resounding Amen!
Click here for the original review.

David Crowder Band
No, Remedy doesn't build on the over-the-top brilliance and creativity captured on David Crowder Band's 2005 masterpiece A Collision. Nor does it try to. And you know something? That's perfectly okay. The album is still interesting enough and relatively unpredictable in its sonic delivery to remain an example of alternative worship music at its finest. It's no less meaningful or heartfelt than its predecessor, yet perhaps more accessible because of its straightforwardness, like a pause to catch a breath and absorb all that David Crowder Band has to offer. The simplistic lyricism is still inventive in driving home the message that God is the balm for hurting hearts, and we are his instruments of healing to a hurting world. All set to a distinctive sound and style that grows more confident with each album, blending organic and electronic elements into a beautiful tapestry of worship for the iPod generation. And besides, the future is bright enough for the world's most unconventional worship band to later devise another crazy album with which to glorify our Creator. This one will do just fine in the meantime.
Click here for the original review.

Adam Watts
Adam Watts is best known for co-writing and producing on Jeremy Camp's first three projects. He's also gained exposure writing for Jesse McCartney, Miley Cyrus, and the smash hit High School Musical. But this is a terrific artist in his own right who sounds nothing like any of those projects, starting strong in 2004 with his sadly underappreciated debut The Noise Inside on BEC Recordings. The fact that Sleeping Fire surpasses that effort—with no record label support—is all the more impressive. Watts does everything right here: writing, producing, and even performing most of the instruments himself. It's a sophisticated sound that leans toward PFR's Beatle-esque pop for "Something Better," only to switch to modern rock a la Switchfoot on "My Prayer," and then later letting loose with bluesy grunge resembling Soundgarden for "Storm Is Gone." But Watts earns highest marks for relating themes of grace, redemption, and renewal in ways that are both subtle and refreshing in today's Christian music climate. Brimming with conviction and a sense of purpose, Sleeping Fire is proof that Christian rock can be artful without compromising the message or catering to a single trend.
Click here for the original review.

Switchfoot
This is admittedly not our favorite Switchfoot record—and the fact that the band is still favoring their Beautiful Letdown material in concert clearly indicates which album still reigns supreme. Yet even when they aren't at their best, Switchfoot is still brilliant at packing each album with lyrical substance and soaring hooks. "Awakening," "Head Over Heels (In This Life)," and the title song rank with the band's strongest material, while "Circles" and "Let Your Love Be Strong" recall their earlier albums from the late '90s. And how do you begin to explain the experimental alternative-country-rock departure that is "Dirty Second Hands?" It's truly one of their most inventive tracks to date. Oh! Gravity has more of an indie garage-rock feel than recent efforts, yet Switchfoot still excels at catchy anthems that make you reconsider what makes life worth living for. They remain a band that will pique our curiosity with each album they release. Hey, they can't all be perfect like The Beautiful Letdown.
Click here for the original review.

Jeff Caylor
It's rare for a relatively unknown artist to crack this list without promotion, recording budget, and such to garner attention. But with creative songwriting and professional musicianship, Jeff Caylor has both talent and word-of-mouth on his side. Stylistically, his jazzy folk-pop closely resembles early John Mayer and Bebo Norman ("Almost Flew," "Maybe Tomorrow"), yet there are plenty of slick piano solos, upright bass, and funky drumming to set Caylor apart from similar artists. Recalling the bluesy piano pop of early Elton John or Billy Joel, "Pain Is a Megaphone" marks a clear highlight with insightful lyrics about God getting our attention through hard times. There are also themes about making sense of hurt ("Perspective"), feeling trapped ("Moving Backwards") and praying for restoration ("Equilibrium"), amidst songs of lovelorn regret—all of it phrased so that it's conversational and relatable, not depressing. We'd love to see Caylor signed to a label someday, so long as it provides greater exposure, bigger production, and keeping his artistic sensibilities intact. Why? Because this debut, if you'll forgive the wordplay, far surpasses its title in every way.
Click here for the original review.

Jeremy Casella
Caedmon's Call fans may recognize independent artist Jeremy Casella from back when he used to open for the band on tour, though his sound has evolved considerably since those simpler acoustic days. Take the voice of Paul McCartney (or his mentor, Phil Keaggy), and then combine it with the earthy alternative pop of Wilco or Jars of Clay and the modern folk of David Gray or Andrew Osenga. That's an approximation of Recovery, a richly textured stunner that combines acoustic guitar, atmospheric keyboards, and drum programming with warm strings and horns. To say there's nothing quite like Casella in the Christian music landscape is an understatement, and that's part of why we find the album so captivating. Naturally, the other component is the poetic writing, which explores the tension between despair ("Distress Signal," "Hypocrisy #785") and hope ("Daylight," "Recovery") while wrestling with the role of faith in this everyday tug-of-war; not too unlike the Psalms, which "The Curse" clearly takes inspiration from. It's a hauntingly beautiful album to say the least—one that's sure to attract the attention of more progressive record labels mindful of the deeper artistic wells to be found in contemporary Christian music.
Click here for the original review.

Sara Groves
With a track record of 5 for 5, Sara Groves is doing one better than Derek Webb on our best-of lists (though she's also released one more album). And like Webb, Groves isn't content with merely offering more of the same from album to album, which is what keeps her returning to our best-of list year after year. She finds new ways to challenge herself, continuously plumbing deeper depths of insight with her songcraft. Where 2005's Add to the Beauty was simply about challenging believers to become active in the world around them, Tell Me What You Know gets the hands dirtier by exploring what that looks like in response to tragedy and social injustice—opportunities to be Jesus to others. This new focus has given Groves the freedom to push beyond songs of personal experience and to explore larger issues—yet still in her relatable and personable style. Moreover, her writing is matched to some of her most upbeat pop to date; still earthy, but at times more energized and soulful. To see what we mean, check out "In the Girl There's a Room" and "When the Saints". It all adds up to her most broadly appealing album to date, but is it her best? Maybe … until next album, anyway.
Click here for the original review.

Caedmon's Call
It was to the point where some people were murmuring that the best days of Caedmon's Call were behind them. It seems a change of record label was just what this band needed to set them back on track. Overdressed reminds us why we fell in love with this band in the first place. And no, it's not the return of Derek Webb to the fold—though it's interesting that he's found a way to make it on our list twice in one year, he's not the only reason this album recaptures the glory days of Caedmon's Call. With four lead vocalists now, not to mention a revolving door of contributing songwriters inside and outside the group, it only further drives home the point that this isn't as much a set-in-stone band as it is a fluid acoustic pop collective. The album itself strikes the perfect blend of the band's high points—melodic hooks (40 Acres), eclecticism (Long Line of Leavers), and social consciousness (Share the Well)—without repeating them. Familiar as it all may seem, few Christian bands are this consistently engaging in song topics and sound. They seem only stronger now that they've regained their artistic focus. Hey, Caedmon's Call, we didn't know you left, but welcome back all the same.
Click here for the original review.

Mike Farris
Who's Mike Farris? You mean you don't remember The Screamin' Cheetah Wheelies and their 1994 bluesy rock single "Shakin' the Blues?" That's okay, neither do most people. But time spent fronting that band led Farris down a path of addiction that he only recently overcame by the grace of God. Salvation in Lights represents his praise response, fervently tackling classic gospel standards with time-tested blues, soul, and New Orleans gospel stomp—while offering some similar styled originals that sound just as classic. Both the blues and gospel music are meant to be sung with the conviction of someone who's "been there," and that's exactly what you'll find here. It's a joyful noise in the tradition of Johnny Cash, Buddy Miller, and Marty Stuart. And through modern recording techniques, it's produced with enough freshness to make you want to experience the spirit of Southern-styled worship in person by catching Farris in concert with full band, including backup singers and horn section. This is an album that has proved consistently popular with most everyone who's heard it, including our entire panel, and it probably has something to do with the way it builds bridges: young and old, black and white, gospel and rock, saved and unsaved. Those are good enough reasons for any album to earn its place as best of the year, even if the name's unfamiliar (for now).
Click here for the original review.
The Ones That Got Away
Our six panelists each choose one CD they wish made the final list.
Andy Argyrakis
Freelance writer and critic, Christian Music Today

Anberlin
It seems as if with every album released, Anberlin come a little closer to discussing the spiritual convictions that anchors the mainstream-friendly band. Though Christians can see shades of faith on tracks like "Fin" (about life's greater purpose) and "A Whisper and a Clamor" (apparently inspired by Psalms), the lyricism is still a little too vague for the Best Christian Albums umbrella. But the disc undeniably provides a wealth of positive reflections, such as their identifiable assessment of relationships in "There Is No Mathematics to Love and Loss." Regardless of theme and subject matter, the band has a contagious '80s-influenced modern rock style that's second to none. Consider Cities a stylistic merger of The Smiths, Joy Division, The Killers, and even The Fray at times, wrapped around Anberlin's continuously evolving poetic expressions. Having signed with Universal, the band will remain one to watch for years to come.
Click here for the original review.
Christa Banister
Freelance writer and critic, Christian Music Today

Tree63
Spend any time talking to Tree63 frontman John Ellis, and you'll discover that he also has a love/hate relationship with the worship covers (e.g "Blessed Be Your Name") that put Tree63 on the map. After all, their 2000 debut and 2002's The Life and Times of Absolute Truth proved the band was much more in its element when addressing the complexities of faith through raw stadium rock. This is something Tree63 returns to with aplomb on Sunday! Not only do songs like "World Undone" and "There is a Kingdom That Cannot Be Shaken" provide thoughtful commentary on comfortable Christianity, and their musical return to form reminds listeners just how strong a band Tree63 is. They've never sounded better, and they're doing it with songs that carry enough lyrical weight to reach both inside and outside the church. What a concept!
Click here for the original review.
Russ Breimeier
Managing Editor, Christian Music Today

Demon Hunter
Solid State/Tooth & Nail Records

It's not that I've ever had anything against the thunderous rhythms, ear-splitting guitars, and guttural screams of hardcore metal. I've just been waiting for the right band to come along to make it musical and eclectic, rather than cater to the same formula for one mind-numbing track after another. Storm the Gates of Hell infuses hardcore with a sense of melody (gasp!) and reveals a genuine knack for memorable hooks. More importantly, Ryan Clark's vocals are actually intelligible as he sings/screams about meaningful themes like waiting on the Lord ("Fading Away"), following a higher calling ("Follow the Wolves"), rejecting false idols ("Fiction Kingdom"), and the bittersweet farewell of death ("Carry Me Down"). Based on their name and album title, you might assume Demon Hunter to be a Christian metal cliché bordering on parody. But this band has quickly established itself as the standard by which others will be measured.
Click here for the original review.
Andree Farias
Freelance writer and critic, Christian Music Today

Danny Flowers
Coincidence or not, the last three albums from mainstream indie label Brash Music have been Christian music releases. One of them is Tools for the Soul, a stunning long-in-the-waiting second album from acclaimed Nashville guitarist/songwriter Danny Flowers, and what a gem it is. Far removed from inspirational country-pop, Flowers instead offers a knockout roots album in which he allows his unadorned, growing faith to resonate with the sounds of Americana, blues, alt-country, and gospel. It's an unassuming, almost childlike confessional, made all the more poignant in light of Flowers' rocky past. Tools truly is an album for the soul—one where raw conviction and musicianship are worn on its author's sleeve.
Click here for the original review.
Todd Hertz
Associate Editor, Ignite Your Faith

John Reuben
Now this is the John Rueben I've been waiting for. Since his 2000 debut, Reuben's albums have flashed lyrical brilliance through playfully poppy rap, but I never felt he ever quite found his own distinctive sound and voice. However, Word of Mouth feels like he's finally found his place, fitting his clever rhymes with a slightly off-kilter, experimental, and eclectic pop-rap style resembling Beck and Gorillaz. The album is cohesive, accessible, and immensely fun as the rapper shares his characteristically witty thoughts on artistry ("Trying to Hard"), the loss of imagination and innocence of adulthood ("Word of Mouth"), and countering the world's standards and motivations ("Universal," "Curiosity"). Lyrically, it's not a huge departure from his past efforts, but coupled with this new sound, it feels like John Reuben has polished and perfected his craft.
Click here for the original review.
To see our picks for Best Albums from previous years, be sure to check out our Best Of archives.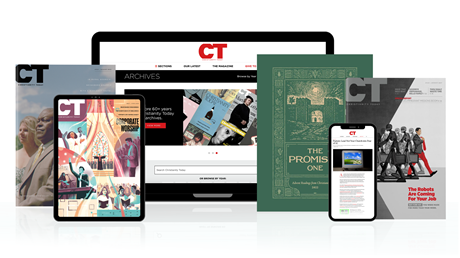 Subscribe to Christianity Today and get access to this article plus 65+ years of archives.
Home delivery of CT magazine
Complete access to articles on ChristianityToday.com
Over 120 years of magazine archives plus full access to all of CT's online archives
Subscribe Now
The Best Christian Albums of 2007
The Best Christian Albums of 2007