Charlene Cothran, publisher and editor-in-chief of Venus Magazine, a national publication for African-American gays and lesbians she launched 13 years ago, made a startling announcement: After 29 years as a gay activist, she's become a Christian, renounced her homosexuality, and changed the format of her magazine to spread the gospel to the gay community. Amy Tracy, whose own similar conversion story was told in an earlier Christianity Today article, interviewed Cothran about her new direction.
You were raised in the church. At what point did you walk away from your faith?
I was raised in a family of believers and accepted Jesus into my heart at age 11. I walked away from the Lord at age 15. I became very promiscuous with boys. I went off to college at Georgia Tech and did not practice my faith at all.
The revolving door kind of thing with boys disturbed my soul. I thought if this is what boys were all about, I didn't want anything to do with them. So at the age of 19, I decided that I was only going to date women. They were kind and gentle with me. They wanted to explore my personality. I had never felt this before. My relationships with women felt safe and wonderful.
When did you first feel the winds of change stirring in your heart?
I always knew that homosexuality was wrong. The seed of truth was planted long ago. But the sin in my life squashed it. I'd go to church if it was Christmas, but I never allowed myself to get to the point where I felt conviction. I hardened my heart over and over against the Word.
As you get older, life begins to unfold in a real way. Loved ones die, and you end up dealing with your own mortality. I first felt something change during Black Gay Pride in Chicago in 2001. It was a beautiful day, and I could see men with men and women with women as far as the eye could see. But instead of feeling pride, I looked out and felt sadness. These were individuals that grew up in the church, but now they were worshipping idols. And I was part of leading them down the wide road of destruction.
It took me several years to come to terms with this vision. Mostly, I kept thinking that I was damaged goods, that my leadership skills were damaged goods. That God couldn't save me. Those lies kept me down.
What finally led to your conversion?
I also publish a publication called the Kitchen Table News. In June 2006, I was getting set to run an article on a local gospel group. A pastor in the group called to add something to the piece. She asked me a question, and from my response she knew I wasn't "unchurched." But I felt like pushing it. I told her I was a proud, card-carrying lesbian. She let me go on and on. Then she said, "I can tell that you want to come back to God, but you feel unworthy. That is a lie. Many souls will be saved by your saying yes to Jesus." I could not speak for several moments. She continued to minister to me. She didn't back down. I lived in silence for 48 hours. The Lord was dealing with me in my soul. I told him that I'd give back everything He gave me.
How did your family react?
My sister and mother prayed for me for years. It was a wonderful reunion with my family. My mother had prayed for God to deliver me. She knew the devil had his hold. She always knew that somehow I'd make it back. My mother was stubborn that way. She died before she could see me come back. I regret so much. She expected much from me, but I became a lesbian and an "out lesbian" at that. Now when I hear from parents of gay children, I use my voice to apologize … to apologize for their sons and daughters.
I imagine that your friends, colleagues, and the readers of Venus had intense reactions to your conversion — and your decision to change the focus of your magazine.
It's been hard. My ex-girlfriend became physically ill. My friends have tried intervention. And there's even chatter at my local church along the lines of "let's just wait and see if it sticks."
As for Venus, the reaction has been predictably extreme. Most of the response has been negative. My magazine is distributed at pride events, gay groups, bars, and through my mailing list. In the issue after my conversion, I put myself on the cover and gave my testimony. People will either respond to the Word as either shoutin' glad or fightin' mad — and most were angry. I would have responded the same way. I understand the darkness they're trapped in.
Yet I've also received a slew of letters thanking me for speaking out.
How about the activist community? I imagine they weren't too pleased by your public statement of faith, particularly your new stand on homosexuality.
Following the issue featuring my testimony, the gay political machine pressured my ad agency to drop us. In response, I told the agency that my mission had changed. They urged me to take a week and think about it. When they called back a week later, I told them my mission stands. By Monday afternoon, several thousand dollars worth of advertising were cancelled. My business pretty much died that week.
For three days, the devil laughed in my face. He told me that I had no income, no friends, and that I was standing by myself. I said, "Lord, I still trust you. I will use this publication that killed people to help them turn their lives around."
And then it happened. My story ended up on an evangelical website. I was flooded with 200 emails from saints all over the world. People sent love and hugs. God sent me loving encouragement. I continue to hear from people in Nigeria, Iceland, Hong Kong, Argentina, South America. They're asking me to come speak. They're interviewing me.
Before I published, I sold real estate. I'm going back to keep the presses going. Many, many people need the Word. They won't admit they need it, but they do. And the Word won't return void.
I realize the church, particularly African-American churches, can be reticent to openly discuss issues of sexuality. How have you been received?
In black churches, gays are often the butt of jokes. It's hurtful. And it's okay, so long as someone doesn't admit they're gay. I'd say that 90 percent of the positive responses have been from the white evangelical side. I'm hopeful, however. I'm beginning to see fruit. I have two interviews coming up — one in London and one in Louisiana—with African-American radio stations.
What was most difficult about leaving your old life?
I guess the friendships I've developed over the years. They'll never be the same. We went to each other's parents' funerals; we buried gay community members together. They were people I licked a thousand envelopes with. I grieved the other day when I went through a box of letters. I've lost these friends.
What is something positive you've taken away from your 29 years as an activist?
The fact that while I was in the gay life, I worked. God will still use my gifts in ministry. I'm proud of being a hard worker then and now.
How do you view the gay community now?
I view them with love in my heart. I was suddenly rescued from a sinking ship, but my family is still on that ship. And they're going down.
I believe we're planting a seed at Venus Magazine. We're playing a small part in someone's salvation. They're not all ready to hear the Word, but God's love and kindness will draw them. I want them to know that they're still wonderful people. That God loves them. I love them.
How do you view your sexuality now?
I view myself as celibate. Every sinner is saved, but Satan will test you. I know in my spirit what God has done for me. Anything with two legs could not be more wonderful than God.
What do you believe God has planned for you in the future?
I believe he has a global ministry for me. I'm ready to stand through persecution. They can't shut me up. I won't lose my job. I'm unafraid and unashamed. I've been in the black church and the gay community. The same message is needed all around the world.
Related Elsewhere:
An opinion piece in the New York Blade, a gay newspaper, says Cothran's decision was financial, a charge she denies in the publisher's note in the Venus Magazine letters to the editor section. Ex-Gay Watch blog commented on the accusations made in the Blade's article.
The Windy City Times and The Washington Blade, two other gay newspapers, also posted articles on Venus Magazine's new mission.
LifeSite, Anglican Mainstream, and The Florida Baptist Witness reported on Cothran's conversion. Baptist Press and Get Religion questioned the mainstream media's surprising silence.
Christianity Today's special section on sexuality and gender includes:
My Dirty Little Former Secret | God used a movie about gay cowboys to release me from the burden of my past. (April 1, 2006)
Therapeutically Incorrect | Atheist psychiatrist argues that gays can change. (April 2005)
My Path to Lesbianism | It was hatred of women that drove me there, and Christ in community that led me out. February 2005)
Cheated by the Affirming Church | Contrary to what some churches teach, it is homosexuality—and not its suppression—that enslaves people like me. (December 1, 2004)
No Easy Victory | A plea from a Christian husband and father who, day by day, resists his homosexual desires. (March 11, 2002)
Ex-Gay Leader Disciplined for Gay Bar Visit | Exodus removes John Paulk as board chairman, places him on probationary status as member. (October 1, 2000)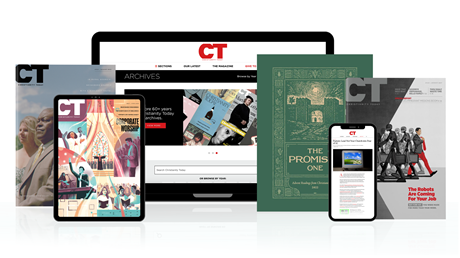 Subscribe to Christianity Today and get access to this article plus 65+ years of archives.
Home delivery of CT magazine
Complete access to articles on ChristianityToday.com
Over 120 years of magazine archives plus full access to all of CT's online archives
Subscribe Now
The Rebirth of Venus
The Rebirth of Venus