true
For Ali Hillis, shooting The Ultimate Gift—which opens in limited release on Friday—was quite a gift in itself.
She'd spent almost two months bobbing in the ocean while making her last film, the straight-to-video Open Water 2: Adrift, a try-not-to-get-eaten-by-sharks B-movie thriller that critics are, shall we say, chewing up and spitting out.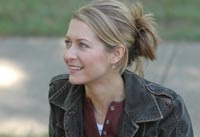 So Hillis welcomed the chance to move on to something as wholesome and uplifting as The Ultimate Gift, the latest movie from FoxFaith. The film was not only shot on dry land, but on location in Hillis' hometown of Charlotte, North Carolina, where she got to stay at her parents' house while making the movie. As a bonus, she was also surprised to learn that the screenwriter, Cheryl McKay, was an old friend from Charlotte with whom she'd acted in a local teen theatre group.
The film, based on a popular Jim Stovall book of the same title, is about a twenty-something spoiled rich kid, Jason Stevens, who has an opportunity to inherit a fortune from his just-deceased grandfather. But before he can pocket the cash, Jason must first pass a series of tests—as stipulated by his grandfather's will. Each test presents an opportunity for Jason to learn a valuable life lesson.
Along the way, he meets Alexia (played by Hillis), an attractive single mom who is facing a test of her own: Her young daughter, Emily (the sensational Abigail Breslin), has just been diagnosed with a terminal illness. Alexia's and Jason's worlds couldn't be further apart, but Emily's condition somehow pulls them together and … Well, to say any more would be to say too much.
Joining Hillis (Must Love Dogs; Kiss Kiss Bang Bang) and Breslin (a recent Oscar nominee for Little Miss Sunshine) in the terrific cast are James Garner as the grandfather, Brian Dennehy as a Texas rancher, Drew Fuller as Jason, and Lee Meriwether and Bill Cobbs as trustees of the estate. The film was directed by Michael O. Sajbel, who also directed last year's One Night With the King.
We caught up with the 29-year-old Hillis on her cell phone last week in LA—while she was shopping for a dress for tonight's premiere in Charlotte.
How would you describe this movie?
Ali Hillis: It's a story about real people in real situations. We're subjected to trials throughout life, and we have to check in with our hearts and souls and try to make the right decisions. The movie is all about choices and gifts, and if indeed you follow the right path, then I do believe that we receive an abundance of gifts.
Whether you've got a billionaire grandfather or not?
Hillis: Exactly! But I do believe that if you make the right choices, good things will come, whether they are of monetary value or simply measured in love and happiness.
What do you think was Jason's main problem as this story begins?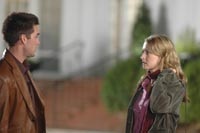 Hillis: I think he was sheltered in a world where he didn't have many trials. Life was easy. No one ever challenged him, and therefore he never had to come up with his own thoughts and ideas. He was almost like "programmed" to be a certain individual, and I think that happens a lot today. People are sheltered and they and they don't see the blessings that they've been given.
What about Alexia, the character you play? How would you describe her?
Hillis: When we first meet her, she is really struggling. She's just finding out that her daughter is terminal, and it's not going to get better. Alexia has never had it easy in her life; she's never had a whole lot of money. But she's been happy. And then this beautiful life, Emily, came into her world, and things were pretty good for a while—till the disease took over.
I have a feeling that Alexia's situation would have been similar to what I found in my in my research of similar situations: Everyone is there to support you in the beginning of the process of dealing with a terminal illness; everyone wants to help, to do whatever they can. But what Alexia found is that slowly but surely, people fell away. They didn't really know how to help her anymore, and maybe got tired of dealing with it. So she was left alone to deal with her daughter, and the inevitable idea that her daughter was going to pass.
And then she meets Jason, a selfish jerk who nonetheless still has some charm?
Hillis: Yeah, and when he comes into her life, it's a bit confusing at first. I think she really wanted to know what his motives were: Why would he want to be friends with her? Why would he want to befriend her daughter? What is the true motive here? And slowly but surely, I think she starts to see a change in him that starts to win her over. And I think she starts to understand that even she herself has lessons to learn.
What lessons did Alexia learn?
Hillis: I think she learned to trust again. And that even though she was going to be losing something that was very, very dear to her, her life wasn't over. I think she kind of saw a new beginning in Jason, as we progress toward the end of the film.
What about you personally? Did you walk away from this experience thinking more deeply about some of these things?
Hillis: The main thing I walked away with was all the research I had done. I'd never been in a children's ward at a hospital before—smelling the air in the hospital, seeing the way it feels to really lose a child. I walked away with a whole new respect for parents of children with terminal illness. I'm absolutely in awe of the strength and the kindness that it takes to give all of yourself to your child.
Any days that you walked out of those children's wards and just broke down?
Hillis: Definitely. You fall in love with the children that you meet almost immediately, because you know that they're wounded. You know that there's something wrong and no one can do anything about it.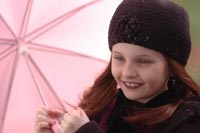 Did Abigail Breslin capture what it's like to be a terminally ill child?
Hillis: Yes, I believe she did. She's amazing. The beauty of Abby is she is such a sincere little girl and also a very sincere actress. She's so truthful; emotion erupts out of that child. She can be speaking directly to you, not a tear in her eye, and then it just starts to erupt, and it's so real and it's so truthful. I think we all have a lot to learn from this little actress. She is going to have very long and successful career.
What was it like working with her?
Hillis: She and I had so much fun. I had never met her before, and immediately we were shooting a film as mother and daughter. So I took it upon myself to create the relationship as best I could. She's a city kid who grew up in Manhattan, so I decided to take her out to the country. We went out to a pumpkin patch, and we came back with a car full of big pumpkins. I took her to a farm, and we milked a cow; she was pretty excited about that! Then we did things a little more "Abby style"—we went to the mall and looked at expensive handbags. It was all part of the quick bonding experience—because it's kind of odd to arrive on set and be introduced to your child who will be falling away in your arms. That's just heart wrenching, and you have to very quickly make that very real.
Did you stay at your parents' house the whole time?
Hillis: Yes. And every single day, my sweet mother would call me and say, "Do you think you'll make it home for dinner?" And every day I would call her back and say, "Mom, I'm sorry, but I'm going to be on set really late." I barely saw my parents. I mean, I got up every morning around 4:30, had a long day on the set, and I wouldn't get home until pretty late. Then I'd have to study my lines for the next day, so it was a matter of grabbing a sandwich and going up to my old bedroom. It was very surreal.
Have you wanted to be a performer since you were a kid?
Hillis: I grew up in the theatre, but my very first performance was at the United Methodist Church in Sheboygan Falls, Wisconsin, and I sang, "I'd like to teach the world to sing." My father made me do it, and I was petrified. But when I was done, everybody clapped—and I was hooked.
Went to your head, eh?
Hillis: It certainly did! How could it not? You put a kid up in front of a whole bunch of people tell them to do something, and they clap for the kid, you're probably going to encourage that kid to do it for the rest of their life. There's not a lot of clapping on a movie set, but nonetheless, I fell in love with performing.
And you gave a fine performance in The Ultimate Gift. It's a charming film?
Hillis: Thank you. I feel good about it too. It has a good message, and I like that I can tell all my family and friends to go see it, and I don't have to give any disclaimers. It's just a quality film with a wonderful message, reminding us all to take the time to slow down, put down the phone, look up at the sky, and be thankful for all the gifts we've been given.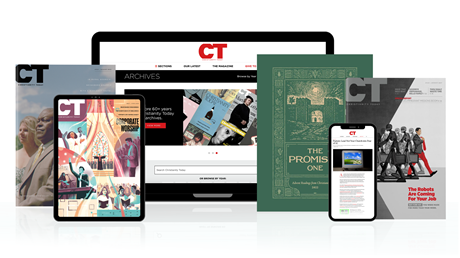 Annual & Monthly subscriptions available.
Print & Digital Issues of CT magazine
Complete access to every article on ChristianityToday.com
Unlimited access to 65+ years of CT's online archives
Member-only special issues
Subscribe
Counting Her Blessings
Counting Her Blessings