true
Swimming can be a beautiful activity, especially when it is filmed from below. There is something marvelous, almost supernatural, about the way the bodies seem to hang in the air, or the way the water churns around and above them, as though we were down on the ground and watching someone make waves across the sky. It doesn't necessarily make for the most exciting sport, though, and that is one of a few problems that affect Pride, a by-the-numbers inspirational sports movie.
Pride is not as good as, say, Glory Road, which was slicker, but it is probably better than, say, Gridiron Gang, which got so corny in places that it became downright laughable. At any rate, like those films—and many others that one could name—Pride tells the familiar but true story of a coach who bucked the odds, overcame the obstacles, and motivated some disenfranchised young men from the inner city to prove that social class and skin color didn't have to hold them back forever.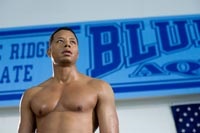 The coach in this case is Jim Ellis (Terrence Howard), who assumes the role almost by accident. In the 1960s, he was one of many black athletes who were denied a chance to compete against their white counterparts, and his frustration over the injustice of it all led to a brawl with some racist North Carolina cops which, in turn, led to his arrest. Now it is 1974, and he just wants a job. He finds one with the Philadelphia Department of Recreation; they are planning to tear down a recreation center in the next few months because nobody uses it, so they send Jim to start packing it up, much to the annoyance of its custodian, Elston (Bernie Mac).
But the place is pretty isolated, and even Elston doesn't seem to care all that much what happens there. So Jim begins to treat the place like his own private space, taking naps and—eventually—filling the pool with water. Before long he invites some teenage boys from the neighborhood inside for a swim, and one thing leads to another, until one day he's training them and looking for opportunities to compete again against teams that are wealthier, more established, and more white.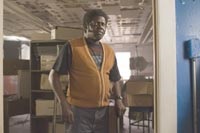 The film's greatest strength is Howard, ironically because the character he plays is weaker, more vulnerable, than we might expect. Jim does have his moments—notably when he accepts a challenge to a race from one of the local boys—but when he punishes the entire swim team because one of its members shows up late, he does not quite have the authority that, say, Samuel L. Jackson's Coach Carter had in similar situations. There is the very real sense that Jim's team might not overcome its own weaknesses, partly because it has no support from the outside, but also because Jim himself is still trying to find his own strength, and his efforts to discipline the swimmers under his command could shatter their fragile alliance.
One of the film's more inspired touches, in fact, is the way that Jim gives in to his own pent-up emotions at one particularly embarrassing point, and then holds himself accountable for his actions. This, too, becomes a learning opportunity for the swimmers—discipline and commitment to the highest ideals starts at the top—and it gives the inevitable moment of triumph a bittersweet dash of humility.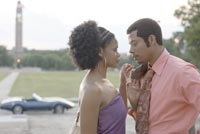 A few of the supporting cast members play things just off-beat enough to keep their scenes interesting, too. Bernie Mac gets a couple good one-liners in there—his line about swimming "nekkid" is delivered with just the right mix of embarrassment, indignation and bravado—and Tom Arnold, as the racist coach of the best team in the state, gives his two-dimensional character just a hint of hidden, awkward humanity. Unlike all the other sneering white bigots, he doesn't seem all that proud of his actions, and he leaves you wondering if he might be redeemed, some day.
That said, there is still much in this film that plays like a rehash of other people's cliché s—which may not be surprising, given that director Sunu Gonera and two of the four credited screenwriters have never made a feature film before, at least according to IMDb. Perhaps everything was so new to them, they didn't realize the rest of us had seen it all before. Several other story elements seem a bit too convenient, or a bit too underdeveloped, too. For example, one of the swimmers just happens to be brother to a councilwoman (Kimberly Elise) who becomes a possible romantic interest for Jim—as well as the recreation center's possible savior.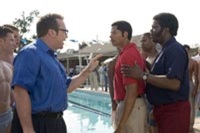 Also, a girl from the neighborhood joins the swim team—and is accepted as a competitor against all the guys—with surprising ease. Has swimming always been so much more gender-blind than all the other competitive sports?
Pride has its heart in the right place, but it is so eager to conform to the demands of its genre that it misses the opportunity to explore the more unique aspects of swimming, and to follow the metaphorical potential of swimming wherever it might have led. I keep going back to those underwater shots. I wish that there had been more of them, and that the film had known what to do with them.
Talk About It
Discussion starters
Jim Ellis takes the initials of the Philadelphia Department of Recreation and turns them into the slogan "Pride - Determination—Resilience." How are these three qualities modeled by Jim and/or the members of his swimming team?
Jim's coach tells him at the beginning that "it's easier to ask forgiveness than permission." Does Jim's experience bear this out? Do you agree with the statement?
How does Jim's weakness—and the weakness of others, such as Reggie or the team as a whole—become a source of strength? How does this compare to what the Bible says about God's strength being made known in our own weaknesses?
Jim chastises the black swimmers on his team for thinking they are better than the white swimmers, just as the white swimmers think they are better than the black swimmers. How does prejudice on both sides prevent both sides from becoming better people? How does it become a substitute for true empowerment?
What example does Jim set by his actions? By taking responsibility for his actions?
The Family Corner
For parents to consider
Pride is rated PG for thematic material (including racial discrimination; we also see some hookers in the recreation center's neighborhood), language including some racial epithets (as well as about a dozen three- or four-letter words), and violence (a couple of punching matches, one involving police, another involving a pimp).
Copyright © 2007 Christianity Today. Click for reprint information.
What other Christian critics are saying: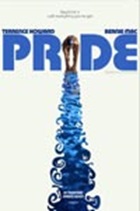 Browse All Movie Reviews By: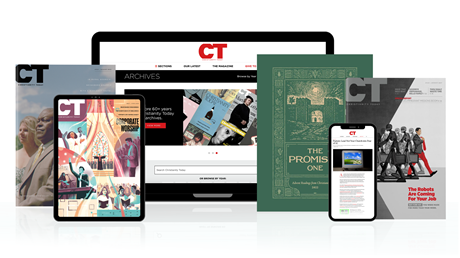 Subscribe to Christianity Today and get access to this article plus 65+ years of archives.
Home delivery of CT magazine
Complete access to articles on ChristianityToday.com
Over 120 years of magazine archives plus full access to all of CT's online archives
Subscribe Now
Pride
Pride