true
Sounds like … strongly performed alternative worship that draws from the best qualities of Delirious, Robbie Seay Band, Aaron Shust, Tim Hughes, David Crowder Band, Hillsong United, and Desperation Band.
At a glance … in spite of a few routine-sounding worship expressions, this debut from The Michael Gungor Band still shines thanks to some imaginative music and fresh lyrical ideas.
The Christian music scene is already overflowing with worship artists, so do we really need more when so many merely offer more of the same rather than singing a new song to the Lord? Why can't more worship artists be as artful as they are worshipful? Well, suppose a new artist dropped onto the scene that wasn't necessarily unique, but still distinctive in drawing on the best qualities of the best in modern worship music. Frankly, that would be good enough for me.
Meet The Michael Gungor Band, whose namesake you may recall from 2003 after releasing his impressive solo debut Bigger Than My Imagination, while others may recognize his name from co-writing "Friend of God" with Israel Houghton. For the last six years, Gungor has served as a worship leader at the mega-church Resurrection Life in Grand Rapids, Michigan—a position he took at the age of 20. He's since relocated to Denver, forming a band with his wife, brother, and a few friends, the goal being to make worship more than just a personal experience. Having already performed at a number of Teen Mania's Acquire the Fire events, Gungor's band has also developed outreach events in Denver called "Bloom," which combine the efforts of local churches to become more effective in the community around them.
All I Need Is Here represents the first fruits of this new season in Gungor's worship ministry, and a fine example of alternative worship music. Some of it is congregational, some of it isn't. But the goal here isn't necessarily to offer 12 songs for the church as it is to offer an excellent album that leads people to worship, if not a deeper understanding of what worship is all about.
The first few songs sound familiar enough. "Be Praised" is one of those driving worship anthems like "Hold You High" and "Beautiful One," similar in style to Tim Hughes and Aaron Shust, though it benefits from a strong Brit-rock feel. Though "Giving It All" has an interesting story behind it, inspired by a conversation with an ex-homeless man, the song itself is another routine rock-worship anthem of surrender. Likewise, rowdy rocker "Never Stop," about freedom found in God's love, sounds like the sort of thing created for Acquire the Fire—energetic but kind of inane. Though certainly not bad songs, they feel patterned after typical modern worship.
Things improve as the album progresses, though with mixed results. "Ancient Skies" pulls imaginative text from Psalm 68, but devolves into a routine "You are amazing" praise chorus without advancing the poetry. Conversely, "Prodigal" is yet another worship song inspired by the familiar parable from Luke, but elevated by strongly contemplative lyrics about nothing separating us from God, plus tremendous dynamic range that stirs the emotions. Many of the other songs work the same way, most of the time covering hackneyed lyrics with impressive musicianship or interesting chord changes.
But then come the truly special moments. "Spotless" is mesmerizing with its artful melody and stirring lyrics about Christ's sacrificial death. The acoustic "Grace for Me" provides a nice stylistic change of pace, a poignant expression of faith through the valley times. And then there's "Fly," a song about the nature of faith—letting go of doubt and simply embracing belief. Though it's easily one of the least congregational-sounding songs on the album, it's sure a fun romp, beginning with an acoustic two-step and a killer mandolin solo before exploding into crazy classical-rock bombast worthy of Queen. Some might call it pretentious, but I hear it more as an inspired expression of worship through music.
"Glory Is Here" closes the album with a terrific ballad about coming to understand how God dwelled among us through Jesus and continues to do so through his Spirit—it's an impressive ballad with enough range to develop over five minutes. It's followed by "Song for My Family," an acoustic epilogue that's less a worship song than it is a response to worship, challenging the church to serve while repenting to the world for failing to live up to the love demonstrated by Christ.
The Michael Gungor Band falters only when they resort to worshipful cliché s, even though those are the songs that probably translate best to youth worship settings. Even so, the band offsets the occasionally unimaginative songwriting with inspired performances—not to mention some of the most thoughtful art design seen in Christian music for some time. Though they don't sound all that much like David Crowder Band, they do share one key characteristic: both build music around ideas that ultimately try to drive the listener to worship. In that way, All I Need Is Here succeeds, progressing from a time of worship to a point where the service truly begins.
Browse All Music Reviews By: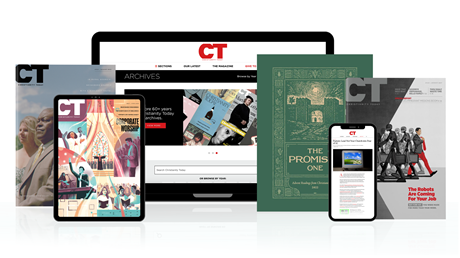 Annual & Monthly subscriptions available.
Print & Digital Issues of CT magazine
Complete access to every article on ChristianityToday.com
Unlimited access to 65+ years of CT's online archives
Member-only special issues
Subscribe
All I Need Is Here
All I Need Is Here