Richard Cizik resigned Wednesday night as vice president for governmental affairs of the National Association of Evangelicals (NAE) during a week of growing uproar over his comments that he is shifting his views on same-sex unions.
"Although he has subsequently expressed regret, apologized, and affirmed our values, there is a loss of trust in his credibility as a spokesperson among leaders and constituencies," Leith Anderson, president of the NAE wrote to board members today. Cizik did not return calls for comment.
Last year, more than two dozen evangelical leaders sought to oust Cizik, who worked at the NAE for 28 years, because of his "relentless campaign" on global warming.
"For better or for worse, Rich became a great, polarizing figure," said Charles Colson of Prison Fellowship. "He was gradually, over a period of time, separating himself from the mainstream of evangelical belief and conviction. So I'm not surprised. I'm sorry for him, but I'm not disappointed for the evangelical movement."
Cizik spoke mostly on the environment in a December 2 interview with Terry Gross on National Public Radio's Fresh Air, but he made brief remarks about same-sex civil unions, gay marriage, and his early support of President-elect Barack Obama.
In a short portion of the program, Gross asked him, "A couple of years ago when you were on our show, I asked you if you were changing your mind on that. And two years ago, you said you were still opposed to gay marriage. But now as you identify more with younger voters, would you say you have changed on gay marriage?"
Cizik responded, "I'm shifting, I have to admit. In other words, I would willingly say that I believe in civil unions. I don't officially support redefining marriage from its traditional definition, I don't think."
"I was stunned when I heard it. I was momentarily speechless, and for me, that's quite a feat," said Richard Land, president of the Southern Baptist Convention's (SBC) Ethics and Religious Liberty Commission. The SBC is not a member of the NAE, but Land and Cizik share similar roles as spokesmen for organizations in Washington, D.C.
"[As spokesmen], we're not hired to express our personal opinions," Land said. "Clearly, under Rich's leadership in Washington, the NAE has increasingly taken positions that have been nontraditional positions for the NAE."
Anderson said the NAE is not an advocate for civil unions.
"The role of an NAE spokesperson is primarily on behalf of what we have said, not on behalf of what we have not said," Anderson told Christanity Today. "It's also to represent our constituency, and our constituency does not favor civil unions."
Cizik told Gross that he voted for Obama in the primaries, but stopped short of saying whom he voted for in the general election.
News of the interview initially traveled slowly, but Anderson said the NAE received a large number of e-mail complaints from members of the organization.
Some critics also complained about Cizik's remarks on abortion, though Cizik did not express any personal shift on the issue as he had on gay unions.
"Two-thirds of younger evangelicals say they would still vote for a candidate even if the candidate disagreed with them on the issue of abortion, and that's in spite of the fact that younger evangelicals . . . are decidedly pro-life," Cizik said. "In fact, health care is just as important to younger evangelicals as is abortion."
Cizik also spoke in favor of the government supplying contraceptives in response to Obama's campaign promises to reduce unintended pregnancies.
"I think finding those who are in trouble, in crisis, helping them through this and if need be, even supplying what government presently doesn't do, namely contraception, is an answer to reducing unintended pregnancies," Cizik said.
"Wait, wait. I think I heard you say government supplying contraception. That's got to be controversial," Gross asked.
"Among some it may be, but I don't think so," Cizik responded. "We are not, as I have said previously, we are not Catholics who oppose contraception per se."
Anderson told CT that although the NAE supports abortion reduction, it has not laid out specific plans, such as the government's provision of contraception.
Anderson wrote a letter to the NAE board of directors last week that said Cizik's remarks "did not appropriately reflect the positions of the National Association of Evangelicals and its constituencies." He also said that Cizik had apologized for the remark and that "our NAE stand on marriage, abortion, and other biblical values is long, clear, and unchanged."
NAE executive director W. T. Bassett also sent an e-mail reply to concerned constituencies that quoted remarks from Cizik following the Fresh Air interview. "I categorically oppose 'gay marriage' and see now that my thoughts about 'civil unions' were misunderstood and misplaced," Cizik said, according to the message. "I am now and always have been committed to work to pass laws that protect and foster family life, and to work against government attempts to interfere with the integrity of the family, including same-sex 'marriage' and civil unions."
Cizik also affirmed his opposition to abortion and described himself as an unfailing "advocate for pro-life policies without exception."
The NAE's public policy priorities and many of its positions are outlined in its 2004 document, "For the Health of the Nation: An Evangelical Call to Public Engagement." The document defines marriage as between a man and a woman. It also states, "Good family life is so important to healthy human functioning that we oppose government efforts to trespass on its territory: whether by encroaching on parental responsibilities to educate their children, by treating other kinds of households as the family's social and legal equivalent, or by creating economic disincentives to marriage."
"For the Health of the Nation" also makes two mentions of same-sex marriage: "We also oppose innovations such as same-sex 'marriage,' " and, "We also oppose the expansion of 'rights talk' to encompass so-called rights such as 'same-sex marriage' or 'the right to die.'"
Cizik has received more attention since he began to support environmental causes and was named one of Time magazine's top 100 most influential people earlier this year.
"There's a sense in which he has raised the profile of the NAE, the NAE has raised the profile of Richard Cizik," Anderson said.
Anderson strongly supported Cizik after Focus on the Family founder James Dobson, Family Research Council president Tony Perkins, and 23 other politically conservative evangelicals called for Cizik's resignation in a March 2007 open letter.
"The event two years ago was not from NAE members or constituencies. This time, there has been concern expressed from those who are from member constituencies that have made clear that they are not comfortable with him representing NAE values and positions," Anderson said. "We're not concerned about the agenda of those who are not members of the NAE."
Land of the SBC did not sign the open letter, declining to say whether Cizik should have resigned earlier. "That's above my pay grade," he said.
Calvin Beisner, a frequent critic of Cizik's environmental positions and spokesman for the Cornwall Alliance for the Stewardship of Creation, said that Cizik does not fairly represent evangelicals when he argues that global warming was manmade.
"If he speaks on abortion or homosexuality — which he rarely does anymore — no one knows if he's accurately standing for evangelicals as a whole," Beisner said. "As a spokesman for evangelicals, he has undercut his ability with decision makers."
Anderson said the NAE's support for environmental initiatives has not changed.
"'For the Health of the Nation' does state that creation care is one of our priorities. It does not state in that document that we have a specific position, because we don't, on global warming or emissions. So he has spoken as an individual on that," Anderson said. "However, to most of our constituencies, marriage and related moral issues are of greater importance and significance than specific stances on the climate."
In the past 10 years, Cizik has brought more attention to the NAE by becoming somewhat of an evangelical maverick, said Michael Cromartie, vice president of the Ethics and Public Policy Center.
"He has taken more progressive positions on global warming and the environment, and this has brought him much attention from the mainstream media," Cromartie said. "But it has also brought on more than a little controversy in the larger evangelical movement. The arguments in the past several years have been extremely heated and emotional."
Over its 66-year history, the NAE has launched several of the evangelical movement's largest parachurch organizations, including National Religious Broadcasters and World Relief (the latter is still officially the relief arm of the NAE, but has its own governing board). While those former branches have become independent ministries, the NAE has notably maintained its public affairs presence, said Joel Carpenter, director of Calvin College's Nagel Institute for the Study of World Christianity. At the NAE's 1983 convention in Orlando, President Ronald Reagan delivered one of his most famous speeches, referring to Soviet Communism as "the Evil Empire."
"I think the public affairs office has been the most vital and important thing that the NAE has been doing in recent years," said Carpenter, who wrote a chapter about the NAE in Revive Us Again, a history of the fundamentalist and evangelical movements. "Cizik has made that office a lively conversation partner in Washington. He's made it matter, and I don't think it did before."
Coincidentally, while Cizik was criticized by conservatives for his statements on NPR, he was attacked by advocates of gay marriage for endorsing a New York Times ad headlined, "No Mob Violence." The ad condemned any attacks on people of faith, especially members of the Church of Jesus Christ of Latter-day Saints.
A pro-gay-rights organization in New York placed a full-page advertisement in today's Salt Lake Tribune with the headline, "Lies in the name of the Lord." According to the Tribune, the ad features a cartoonish figure of Pinocchio and a Bible inscribed with the words, "King Colson, Donohue, and Cizik Version," referring to three signers of the earlier ad, Colson, William Donohue of the Catholic League, and Cizik.
Unlike Focus on the Family, Christian Broadcasting Network, Prison Fellowship, and many other evangelical organizations, the NAE has had a more fractured constituency but has played an important role in Washington, D.C., said Michael Lindsay, a sociologist at Rice University.
"Because there's no central hierarchy in evangelicalism, the NAE has provided a convenient reference point for those outside of the community for a pulse on what evangelicals are thinking," said Lindsay, author of Faith in the Halls of Power: How Evangelicals Joined the American Elite. "In many ways, Rich Cizik has played that role. I think that has been fundamental for how evangelicals have been able to gain attention."
The organization has been under Anderson's leadership since Ted Haggard resigned as president in late 2006 following allegations of hiring a male prostitute and using methamphetamine.
The NAE is now associated with more than 50 denominations with about 45,000 churches. However, Larry Eskridge, associate director of the Institute for the Study of American Evangelicals, said that the rise of the Religious Right since the 1980s has made it harder for the NAE to speak for a whole subculture.
"The NAE's role for this diverse, Jell-O-like constituency was a lot easier 30 years ago when they could speak in Washington on bland 'religious' issues," Eskridge said. "But with the onset of the 'culture wars' as Falwell, Dobson, and the rest emerged, the whole ballgame changed, and the ambiguous role of the NAE as being some overarching evangelical spokes-organization began to unravel."
Note: Christianity Today editor-in-chief David Neff is on the executive committee of the NAE board. Reporting of this story was conducted independently of his involvement.
Related Elsewhere:
Earlier Christianity Today articles about the NAE include:
Q&A: Leith Anderson | The new president of the National Association of Evangelicals speaks about galvanizing evangelicals, immigration, and the challenges ahead. (Oct. 29, 2007)
Article continues below
Climate Change Is Here to Stay | Debate over global warming has only intensified since conservatives targeted Cizik. (March 30, 2007)
NAE Endorses Statement Against Torture | Declaration calls for churches and individuals to act on "non-negotiable" issue. (March 16, 2007)
Dobson, Others Seek Ouster of NAE Vice President | Interim president Leith Anderson says he supports Richard Cizik's work on creation care. (March 2, 2007)
Life After Haggard | Leaders praise new NAE chief, debate direction. (November 17, 2006)
National Association of Evangelicals Sifts Through Ashes of Haggard Scandal | Leaders are distancing group from its former president. (November 7, 2006)
'I Am Guilty of Sexual Immorality … a Deceiver and a Liar,' Haggard Confesses | Also: Leith Anderson again named NAE interim president. (November 5, 2006)
NAE Rights Its Ship | Outgoing president put the association back in the black (June 1, 2003)
NAE Plans Move to Washington, D.C. | "We are increasingly convinced that we can do a better job having everything here as it once was." (May 3, 2002)
NAE President Resigns in Wake of Financial Woes | "In the process of change, you also create friction," says Kevin Mannoia. (June 15, 2001)
What Are We For?| The president of the NAE argues that a new day has arrived for the movement. (May, 21, 2001)
Breaking Up Isn't Hard to Do | Religious broadcasters quietly cut historic link to National Association of Evangelicals. (Mar. 21, 2001)
NAE Mulls Move to Azusa (September 6, 1999)
NAE Selects New President (April 5, 1999)
NAE Rethinks Mission (April 27, 1998)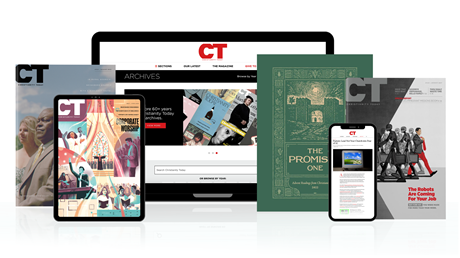 Annual & Monthly subscriptions available.
Print & Digital Issues of CT magazine
Complete access to every article on ChristianityToday.com
Unlimited access to 65+ years of CT's online archives
Member-only special issues
Subscribe
Richard Cizik Resigns from the National Association of Evangelicals
Richard Cizik Resigns from the National ...