Sunday Agang's earlier article on the election-related violence in Jos, Nigeria
Heaven is no respecter of persons. The apostle John tells us that he "saw the dead, great and small, standing before the throne … . The dead were judged according to what they had done … " (Rev. 20:12).
I am comforted knowing that there will finally be justice. But we who are alive know we will not see justice yet. How can there be peace in Nigeria, when we are led by those who have succumbed to the twin evils of negligence and corruption?
Families continue to search for their loved ones — many of our promising young men and women—whose whereabouts are not yet known. So far, the officially reported number of those who lost their lives in the Jos mayhem has reached 500, but that figure is still being debated. The Pentecostal Fellowship of Nigeria (PFN) Plateau State chapter reported that over 40 places of Christian worship were burned down.
The federal government has been pressured to handle the matter with all the seriousness it deserves. The senate decided to put together a committee to investigate.
President Musa Yar'adua is being bombarded with suggestions on how to handle the situation. Nigerian dailies and websites are saturated with a catalog of what people are suggesting to be the causes and solutions to present and future crises.
There are those who are calling on Yar'adua's administration to arrest the governor for failure to protect the lives and properties of innocent citizens. Some urge that he be prosecuted for crimes against humanity if he does not resign. Some, like the secretary of the Northern Christian Association of Nigeria are "sick and tired of these crises that keep happening in Jos . . . and a host of other places in Nigeria"; some lament that every political crisis has a religious aspect.
The Nigeria Inter-Religious Council (NIREC) called on the federal government to institute a Judicial Commission of Inquiry to look into the crisis in Jos and punish those behind it, no matter how influential the persons may be. The council attributed the consistent occurrence of crisis, which people have tended to color as religious crisis, to tribalism, political instability, intolerance, poverty, and indigenous matters.
Representative Yusuf Maitama Tuggar, who visited Jos with the House speaker, grieved over the wanton destruction. He wrote about how he was particularly struck by the realization of "the anonymity of mass death in Nigeria."
No names are attached to the uncertain figures — we cannot even authoritatively confirm the number of casualties. Was it 300, 400 or 500? Life in our country often seems to have little value such that death goes unrecorded. We are simply expected to bury the dead and wait for the next episode.
In a similar reaction, another Representative, Alhaji Yusuf Galambi, said the causes of crises in Nigeria include a "lack of political integration, manipulation of votes, injustice, lack of moral upbringing and religious hatred."
Human Rights Watch (HRW) urged the Nigerian government to, as a matter of urgency, establish an independent inquiry to find out who sponsored and carried out the killings. It further suggested that the cause of the crisis was that certain people are considered second-class citizens. Thus, HRW said, "The government should also take concrete steps to end the discriminatory policies that treat certain groups as second-class citizens and that lie at the root of this violence."
The above reactions leave much to be desired. I do not think that the resignation of the governor will do the miracle of restoring love, justice, and peace. Some of the reactions have tended to avoid the real issues involved: "self-interest and the will to power," to use Reinhold Niebuhr's diagnosis.
Politics has become a lucrative business in Nigeria, resulting in our politicians using ethnicity, tribalism, and religious sentiments to pit the poor against each other. As long as our people continue to see politics as employment, a business that gives you the wherewithal to amass wealth and control others, we will continue to face destructive crises of this magnitude.
As long as our politicians corrupt the beauty of democracy by giving in to self-interest, we will continue to face repetitions of the Jos crisis.
Sunday Agang is dean of the School of Theology and Ethics, JETS Theological Seminary in Jos, Nigeria, and a John Stott Ministries-Langham scholar.
Related Elsewhere:
Sunday Agang also wrote an earlier article on the election-related violence in Jos, Nigeria.
Jos suffered similar violence in 2004 and 2001, with thousands of casualties.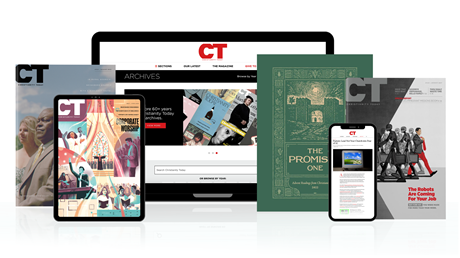 Annual & Monthly subscriptions available.
Print & Digital Issues of CT magazine
Complete access to every article on ChristianityToday.com
Unlimited access to 65+ years of CT's online archives
Member-only special issues
Subscribe
Diagnosing Jos
Diagnosing Jos