true
What do you do when your spouse is downsized, placing your upper-middle-class lifestyle and your very home in jeopardy? Some people might get depressed, get a job, or get a new paradigm along with the new tax bracket. But if you're Bridget Cardigan (Diane Keaton), you decide to rob the Federal Reserve Bank.
This isn't her initial plan, mind you. She does try to find a job, discovering the hard way that her long-ago degree in comparative lit and her non-existent typing skills make her qualified for just about nothing. When she discovers that the janitor job at the Federal Reserve Bank in nearby Kansas City comes with benefits, Bridget begrudgingly dons a jumpsuit and some rubber gloves and dives in to save the family medical coverage—inexplicably leaving her unemployed and perfectly capable husband Don (Ted Danson) at home all day to hang out on the couch.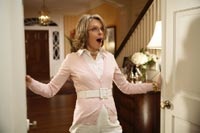 When Bridget spies the bags of worn-out bucks being destroyed each day, she begins to devise a plan. (It seems her employment agency counselor underestimated Bridget's educational background. Apparently her degree in comparative lit—or perhaps all those years of watching Law & Order—honed her skills at planning a high-stakes heist.) Of course, Bridget can't pull off the scam single-handedly, so she sets out to find some accomplices. Through her keen observation skills and a few carefully devised tests (like seeing if a coworker would pocket or report a wayward bill), Bridget sets her sights on Nina (Queen Latifah), a conscientious single mom whose job involves feeding the retired bills into the shredder, and Jackie (Katie Holmes), a flighty walking dance party, who transports the bins of retired bills.
After some arm-twisting, both women decide to sign on—and the three begin ironing out their roles and picking the all-important go-signal while hanging out at the local pool hall and constantly congregating in the women's restroom at work. (Because this trio in those locations isn't at all suspicious-looking.) They have unlikely successes, obligatory glitches, and sporadic conversations about how long to keep stealing the money and whether or not taking retired bills is actually stealing.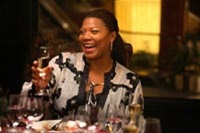 Occasionally the flow of plotting the pilfering is interrupted by police interrogation room interviews with Nina, Jackie, or one of their lay-about significant others. Obviously this is the future, they've all been caught and are spilling the beans on how and why they stole the money. This device creates the only real bit of suspense in the film, since we all know likable movie crooks never wind up in jail—at least not to stay.
Perhaps likable is a bit of a strong word here. Keaton is her usual cute mom-type with a dash of comic neurosis. It's a little bit like watching Carol Brady plot to knock over Sam's Butcher Shop. However, I don't believe for a minute that she's cleaning any of the toilets at the Federal Reserve—or that she's a woman in debt trying to save her family. Her highlights remain perfect, her jumpsuit pristine, and she keeps touching her face with her rubber-gloved hands. If those things had actually been wrapped around a toilet brush, there's no way she'd put them anywhere near her perfectly made-up face.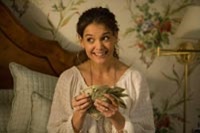 Queen Latifah brings a bit more believability to Nina, but then I've often marveled at her ability to save mediocre dialog or plot from being laughable. I actually buy her Nina, and the movie benefits from the needed conscience her character provides—though I do get annoyed at the way her seven-year run of celibacy is handled. Her partners in crime are aghast at her ability to go without, pushing her on an adoring security guard before she implodes. This is such a tired side-plot (and seriously, people, it won't kill you).
Holmes' Jackie is just embarrassing. To be fair, Holmes isn't given much to work with—her character's main personality trait is the fact that she's constantly grooving to her headphones, even while doing mundane tasks at work. Still, she comes off as a silly caricature—especially next to more seasoned actresses like Keaton and Latifah.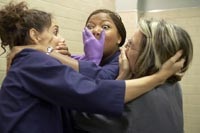 There's a hint of a running commentary throughout the film about greed and money and how both affect us. Bridget tells us "crime is contagious." Jackie's lazy lout of a husband asserts that "wanting is the root of all needing stuff." Another character voice-overs that there's "something about stuff on display, the way they lay it out" in various stores that prompts greed and materialism. In the end, the characters display a startling lack of morality, offering little if any justification for their illegal deeds (and they don't even give us a fun ride while they perform them). It's difficult to believe that normal folk like these would find it so easy to rob the government.
But then, it's difficult to believe a lot of what's in Mad Money. A middle-aged housewife who spots the one loophole in the Federal Reserve security system? Diane Keaton as a janitor? But this isn't the kind of film you watch for believability. This is a fluff film you rent on a rainy day when you want some cute, mindless entertainment. If that's all you're looking for, this is right on the money.
>Talk About It
Discussion starters
If you were stuck in Bridget's situation—with an unemployed husband and your house in jeopardy—what would you do?
Why did each character want the money they stole? What were they going to use it for? What needs or desires make you more vulnerable to greed, materialism, or deception?
What do you think of the commentary that retail stores "feed our greed"—that there's "something about stuff on display, the way they lay it out"? Do you agree or disagree with the thought that nicely arranged products have some sort of power over us? How has or hasn't that been true in your life?
Especially in light of the ending, what do you think is the ultimate message of Mad Money? Do you agree or disagree with that the movie is communicating?
The Family Corner
For parents to consider
Mad Money is rated PG-13 for sexual material and language—both mild—as well as brief drug references. What's probably most troubling here for younger audiences is the sweeping lack of remorse over stealing. A few characters offer us bits of a conscience, but by the end, greed seems to win the day—and goes unpunished.
Copyright © 2008 Christianity Today. Click for reprint information.
What other Christian critics are saying: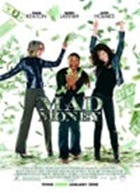 Browse All Movie Reviews By: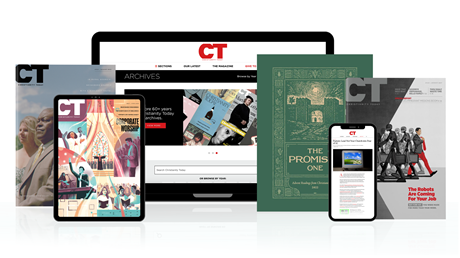 Annual & Monthly subscriptions available.
Print & Digital Issues of CT magazine
Complete access to every article on ChristianityToday.com
Unlimited access to 65+ years of CT's online archives
Member-only special issues
Subscribe
Mad Money
Mad Money