true
"Round here everybody is bleeding or everybody's filled with doubt/ Then out on the horizon, they say the truth is reveled/ Say the word, say the word, say the word/ And I shall be healed … Then I stood at an altar, the weight had caused me to kneel/Say the word, say the word, say the word/And I shall be healed" —from "I Shall Be Healed"
When Michael McDermott debuted on Giant Records in 1990, his yearning acoustic anthems earned comparisons to Bob Dylan, with some heralding him as the next Bruce Springsteen. Yet in spite of the critical acclaim, sales for 620 W. Surf never took off as expected. As a result, the troubadour began a streak of record label limbo, dropping 1993's Gethsemane on SBK, followed by a self-titled record on Capitol in 1996.
In addition to sound, McDermott's songs also resemble Springsteen and Dylan in that they sometimes bear a strong spiritual influence. It reflects his upbringing in the church, as well as his consideration of the priesthood.
"I grew up an Irish Catholic on the south side of Chicago and faith was instilled pretty early in my life," the singer/songwriter told Christian Music Today. "After high school, I thought about becoming a priest because I was pretty directionless, so I'd spend every day split between going to church and working in a record store. I began writing songs, singing, and performing, and that's where my cat and mouse game with God started. I began to 'tear down the temple' so to speak and lived out excess on the road."
Caught between the temptations of newfound stardom and the red tape of the record label, McDermott soon slipped into a cycle of alcohol and drugs. As he continued switching record companies with every album released from the late 1990s into the 2000s, the stress load continued, leading his music into darker territory, yet still spiritually influenced. "[Religious symbolism] has always been part of my vernacular," he adds. "Growing up with the Bible, those images have been burned through my mind and psyche. I don't try to do it—the language just kind of happens that way."
Today, McDermott depicts that roller coaster of uncertainty through his 2008 release Noise From Words. But for the first time in his life—personally and professionally—he appears to be cleansed from the demons that used to haunt him, using faith to overcome the occasional temptation that comes along the current path. There's an almost worshipful fervency to the piano ballad "I Shall Be Healed" (excerpted above), which vividly describes a personally confusing period for the singer/songwriter, alluding not only to forgiveness, but also finding spiritual peace.
"I wrote that song after a two day bender where I found bottom again—which I've found so many times that I've almost dug myself to China!" he admits. "I was at St. Michael's church out here and had an epiphany moment just before communion. I was in the chapel crying my eyes out and [wrote it in the context] of always feeling so close to spiritual peace, but not quite being able to grasp it. I feel closer to it now more than ever before."
McDermott bares his soul further with the Celtic-flavored "A Long Way from Heaven," which comes wrapped heavily around Tom Waits-styled lyricism: "Hey Lazarus where have you been boy?/ Is death something you still enjoy?/You're a long, long, long way from heaven/The Lord He giveth and the Lord He take/ I've broken laws that I couldn't face."
McDermott's candor and imagery is admittedly unconventional by Christian music standards. But he insists that honesty is the best policy. "I'm not embarrassed of [the times I've fallen]," he says, "and writing about them almost seems therapeutic. I'm scared, lonely, desperate, struggling, hurting and wounded. My songs aren't musically complex, but they come from challenging places and I won't be afraid to show off that side in concert, even though they may not be that sunny."
McDermott adapts biblical imagery again in the harmonica-doused "Tread Lightly," pointing a finger of caution at anyone wallowing in self-pity: "This water ain't holy/That bird ain't a dove/When the road gets darkest/Tread lightly my love/When your heart gets heavy/With what you've been in fear of/When you need some surrender/Tread lightly my love." The simple acoustic ballad "Broken" is also loaded with clear-cut expressions of faith, pleading to "say a prayer tonight for the broken."
Noise For Words has drawn a variety of listeners from varying spiritual backgrounds, ranging from seekers to the devout. But despite the spiritual conversations he's shared with fans after concerts, don't expect him to make the leap to the Christian music market anytime soon.
"EMI almost pushed to have me try the Christian thing or at least distribute my music [to those stores]," shares McDermott. "But it just didn't seem to be Christian enough, even though [mainstream] rock fans sometimes think it's too Christian! I always felt in between without a home. I'd be curious to try it, but I just don't know if I could [really fit]."
McDermott's most recent tour isn't only about the music. He also works some speaking dates into his schedule, going into greater depth explaining the new songs and the personal stories that shaped them—including many of the aforementioned temptations and personal demons. He warns that his story comes from a vulnerable place that doesn't sugarcoat the truth, and that it's a much more forward presentation than the average Christian industry speaker.
"So many times [you'll see a speaker] and they'll give their testimony and then say 'everything's great,'" notices McDermott. "Sometimes when you hear those, they can make you feel worse and emptier because your heart is still broken in a million little pieces. Everything is not great with me [because temptation is will always be there]. But it's great to be able to share my story and hopefully help others."
That story has been an essential component of McDermott's songwriting that helps meet listeners where they're at, offering a personal example of hope in the midst of a gradual and continual process. Though he'll be the first to admit the walk isn't always easy, Noise For Words is a tangible example of the troubadour turning over a new leaf and letting each future step be dictated by faith.
Unless specified clearly, we are not implying whether this artist is or is not a Christian. The views expressed are simply the author's. For a more complete description of our Glimpses of God articles, click here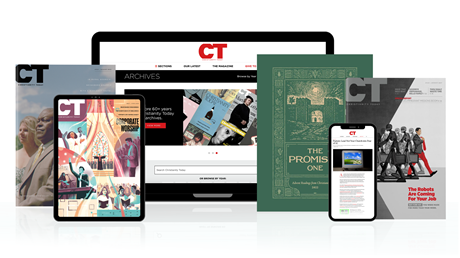 Annual & Monthly subscriptions available.
Print & Digital Issues of CT magazine
Complete access to every article on ChristianityToday.com
Unlimited access to 65+ years of CT's online archives
Member-only special issues
Subscribe
Noise From Words
Noise From Words