true
Thomas Kinkade has become a very rich man selling his paintings, many of them to Christians. But many believers also dismiss the work of the "Painter of Light" as commercial kitsch, and anything but real art. So when I was assigned Thomas Kinkade's Christmas Cottage, a straight-to-DVD film releasing today, some of my friends and co-workers reacted as if I was reviewing the bottom of the film barrel.
Throw out your preconceptions, because the movie's actually not bad. Christmas Cottage has its charm, and certainly isn't the mess many would expect.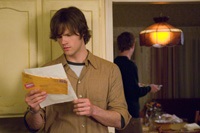 Produced by Kinkade and his wife Nanette, the film is "inspired by true events," depicting a pivotal story from the painter's college years. It's Christmas break at Berkley in 1977, and a young Thom (Jared Padalecki of TV's Supernatural and Gilmore Girls) heads home to Placerville with younger brother Pat (Aaron Ashmore of TV's Smallville) to visit their mother, Maryann (Marcia Gay Harden).
Unfortunately, times have been hard on the small town's tourist industry, and Maryann faces potential foreclosure on her home. So the Kinkade brothers decide to help out by getting jobs for the season, in hopes of raising enough to save the family cottage. Pat finds work stringing up Christmas lights with Big Jim (Richard Moll of TV's Night Court), while Thom accepts a job from smarmy town mayor Ernie Trevor (Chris Elliot) to paint a mural of Placerville.
It's the sort of story that we already know the ending to (or at least we think we do). Maryann must come to terms with her pride and feelings of helplessness, even though she's clearly beloved by the town as the volunteer church choir director, responsible for staging the annual Christmas pageant. Bickering neighbors who seem intent on ruining Christmas over their petty disagreements will somehow rediscover the spirit of Christmas. Even Thom will discover his calling and inspiration as an artist, thanks to the tutelage and support of his neighbor Glen Wessler (Peter O'Toole in a role inspired by real-life artist and mentor Glen Wessels).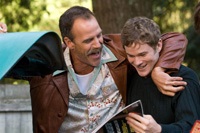 Whether or not you're a fan of Kinkade's work is really beside the point. This is more a story about the artist's youth and the people in his life than the details of his career or his specific paintings. His mural says more about the town than it does his skills as an artist. The only significant nod to Kinkade's destiny as the Painter of Light comes through an inspirational explanation from Glen, focusing on the beauty and light of life instead of the sorrow and darkness of death.
As a Christmas story, yes, it's a bit hokey and predictable. But it's also funny, oftentimes surprisingly so since the humor is so hit and miss. One scene may feel forced, but then the next can be laugh-out-loud. For example, Big Jim is regularly shown squabbling with his neighbors, trying to outdo their front lawn Christmas decorations—just when you think their competition is too goofy or over the top, the film manages a funny reaction or aside that makes it work.
You could say the tone of this movie is a direct reflection of writer Ken LaZebnik's résumé—he's best known as a regular writer for Touched by an Angel and developing the story to A Prairie Home Companion. Similarly, Christmas Cottage juggles between inspirational schmaltz and small town humor not unlike Garrison Keillor. (Director Michael Campus' career is spotty at best.)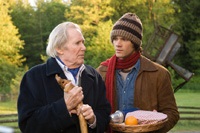 Despite Kinkade's faith background and his marketability to Christians, this is not a "Christian" movie. The film was made by secular studio Lionsgate, with a bigger production budget than most Christian films. It's on par with the average made-for-TV movie. Plus, there's something to be said for the fun cast of classic character actors from film and television, including Geoffrey Lewis, Richard Burgi, and Ed Asner, in addition to those already mentioned.
There's also the issue of the content—lots of PG-grade profanity, though not nearly as bad as your average PG-13 film. The film also contains some sensuality and light innuendo, most of it by two other key characters: Mayor Trevor's bombshell girlfriend Tanya (Kiersten Warren) and Thom's deadbeat dad Bill (Burgi).
Yet despite the movie's mildly crass moments, the characters are redemptive—some more believably so than others, but there are some touching resolutions to the various conflicts in the film. And yes, some of those resolutions do reference the true meaning of Christmas and the importance of faith.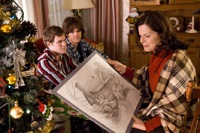 The filmmakers would love to believe that Christmas Cottage has the potential to become a holiday classic like Miracle on 34th Street, It's a Wonderful Life, and A Christmas Story. There isn't a snowball's chance of that happening—it's simply not as good as any of those in any way. But I am, oddly enough, reminded of an oft forgotten 1998 film called Simon Birch. It was cute, it was a little crass, it depicted small town life years ago, it featured a failed Christmas pageant, and like any good parable, it carried some solid Christian messages.
Christmas Cottage isn't as weighty or memorable, but it strikes a similar tone. At times, it feels authentic and real, even when the characterizations are unbelievable and the story clichéd. What could have been very trite carries a lot of heart, and overcomes its shortcomings with its message. It won't become a classic, but it's charming enough for me to reconsider Kinkade's paintings in a whole new way.
Talk About It
Discussion starters
Why does Glen ask Thom, "Do you think that because they're not as sophisticated they can't appreciate your art?" How might Thom have felt his job was too menial or beneath him? How did he overcome such preconceptions? Does the Bible have anything to say about our approach to work and giving our best effort?
Explain why Maryann tells Thom that "the last thing of mine that's still mine is my pride." What is it that keeps her from asking for help? Does anything or anyone help change her mind in this? Does she ask for help in her own way, or do people help her anyway? What can we learn from this about helping others?
What are your thoughts on the Christmas pageant? Is it a failure, or is it honorable? Are people blessed by their evening at church?
Why does Thom's mural affect the town the way it does? What does it bring to the community that wasn't there before?
Thom opens the movie by noting that "Sometimes God moves in mysterious ways, and sometimes there's no mystery at all." Give examples of how both are represented in this movie.
Does the movie honor the true meaning of Christmas or mock it? Explain.
The Family Corner
For parents to consider
Thomas Kinkade's Christmas Cottage is rated PG for language, some suggestive content and smoking. Profanity is plentiful, most of it is of the "hell" and "damn" variety. The suggestive content includes a portrayal of a flirtatious bombshell, a mildly sensual scene involving Thom's girlfriend posing for a portrait, some references to porn magazines, and light innuendo. Kinkade's father is depicted as a boozer and a heavy smoker, and responsible for most of the objectionable material. Though appropriately PG, the film still offers good Christian messages about the meaning of Christmas and loving others.
Copyright © 2008 Christianity Today. Click for reprint information.
What other Christian critics are saying: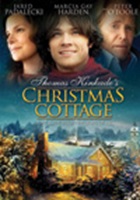 Browse All Movie Reviews By: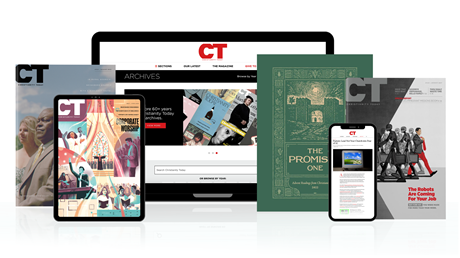 Annual & Monthly subscriptions available.
Print & Digital Issues of CT magazine
Complete access to every article on ChristianityToday.com
Unlimited access to 65+ years of CT's online archives
Member-only special issues
Subscribe
Thomas Kinkade's Christmas Cottage
Thomas Kinkade's Christmas Cottage