A long-awaited draft statement by the Evangelical Lutheran Church in America shies from taking a position on homosexuality, saying the church has yet to reach consensus on the matter.
Current ELCA policies, which bar non-celibate homosexual clergy, are not discussed in the draft released Thursday, March 13.
And while the church "recognizes the historic origin of the term `marriage' as … between a man and a woman," the statement also notes that some ELCA pastors and congregations support same-sex unions.
"After many years of study and conversation, this church does not have consensus regarding loving and committed same-gender relationships," the statement reads.
Nearly seven years in the making, "Journey Together Faithfully" is intended as a framework for future ELCA debates on sexuality.
Compiled by a 15-member committee of bishops, pastors, psychologists, professors and a homemaker, the draft now begins an eight-month comment period within the ELCA, the nation's largest Lutheran body. A second draft will be produced after the comment period.
If approved by a two-thirds majority at the ELCA's Churchwide Assembly next year, the statement will be used to guide church policy for its 4.8 million members.
Like other mainline Protestant denominations, the ELCA has been torn by how open the church should be to gay and lesbian clergy and laity.
But efforts to liberalize the church's gay policies have stalled.
At last year's Churchwide Assembly, delegates voted to uphold a ban on sexually active gay and lesbian clergy but cautioned bishops against applying the ban too strictly.
"Although this church lacks consensus, it encourages all people to live out their faith in the community of the baptized," the draft says.
"We call on congregations to welcome, care for and support same-gender-oriented people and their families, and to advocate for their legal protection."
That care, says the draft, may look very different depending on the ELCA congregation: "In their pastoral response, some pastors and congregations will advocate repentance and celibacy. Other pastors and congregations will call our same-gender-oriented brothers and sisters in Christ to establish relationships that are chaste, mutual, monogamous, and lifelong."
The statement concerned both liberal and conservative groups, and both sides pledged to try to make changes. A revised statement will be issued after the comment period, and then be sent on to the 2009 assembly.
Emily Eastwood, executive director of Lutherans Concerned/North America, a gay and lesbian advocacy group, called the draft "inconsistent and insufficient."
"It calls for an end to discrimination," she said. "Yet the church continues to discriminate against same-gender couples and families by relegating them to second-class status."
But the statement also "opens the door to supporting same-gender committed relationships," by defining marriage as a "relationship of love and trust between two people," said Paull Spring of the conservative group Lutheran CORE.
The draft says ELCA does not wish to alter the "the historic origin of the term 'marriage' as a life-long and committed relationship between a woman and man," but does says that "dissolution of a committed same-gender relationship be treated with the same gravity as the dissolution of a marriage."
Jaynan Clark Egland, president of the WordAlone Network, said, "We can draft statements and we can take votes and we can even change rites and ceremonies, but we still have no authority to change what God first ordered."
Related Elsewhere:
The draft statement is available at the ELCA website.
WordAlone's website has a statement saying its leaders are disappointed in the draft.
"There is a lot in the statement that can be affirmed, but there are some glaring theological errors here," Lutheran CORE's Spring said on the group's blog.
Christianity Today's earlier coverage includes:
Moving to 'Acceptance' | Mainline Lutheran assembly urges bishops not to discipline gay ministers. (Sept. 12, 2007)
Compromise' Settles Nothing | ELCA assembly opens door to same-sex blessings (Sept. 14, 2005)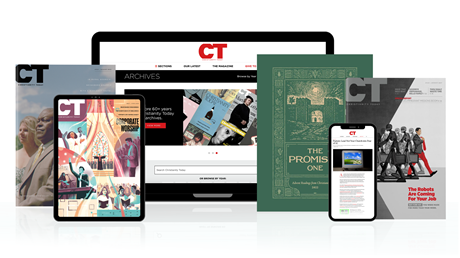 Subscribe to Christianity Today and get access to this article plus 65+ years of archives.
Home delivery of CT magazine
Complete access to articles on ChristianityToday.com
Over 120 years of magazine archives plus full access to all of CT's online archives
Subscribe Now
Seven Years in the Making, Draft ELCA Statement on Sexuality Punts
Seven Years in the Making, Draft ELCA Statement on ...