Since he published Orthodoxy in 1908, G.K. Chesterton has inspired Christians and challenged skeptics with his unique wit and wisdom. He delivered biting analysis still relevant today: "A man was meant to be doubtful about himself, but undoubting about the truth; this has been exactly reversed." And he composed poignant prose that still touches the heart: "Love is not blind; that is the last thing that it is. Love is bound; and the more it is bound the less it is blind." CT editor at large Collin Hansen spoke about Chesterton's legacy with Lyle Dorsett, the Billy Graham Professor of Evangelism at Beeson Divinity School.
Chesterton was quite witty, and Orthodoxy is packed with pithy quotes. Which is your favorite?
My favorite is Chesterton's understanding of why "I could feel homesick at home." It appears at the end of chapter five, "The Flag of the World." Chesterton wrote, "Christian optimism is based on the fact that we do not fit in to the world. I had tried to be happy by telling myself that man is an animal, like any other which sought its meat from God. But now I really was happy, for I had learnt that man is a monstrosity. I had been right in feeling all things as odd, for I myself was at once worse and better than all things."
It was this chapter that spoke so clearly to me when I read Orthodoxy at the urging of one of my students at the University of Denver. I was an agnostic, and he was keen on pointing me to Jesus Christ. Although I was quite taken by Chesterton's section on the madness of self-reliance, this "homesick at home" argument absolutely shook the foundation of philosophic materialism I stood on. Materialism was my foundation, but it was never comfortable. Indeed, I never rested there. When Chesterton said that after he became a Christian he finally knew why he always felt he had been homesick at home, the light went on. I recognized that this "longing" for home had driven me to continually seek a more comfortable place to live and companions who could bring me happiness and fulfillment. In fact, the University of Denver was my fifth professional move in seven years. Prior to reading Chesterton, I had begun to assume that I would never find contentment and therefore must settle for a degree of inner desperation. Chesterton, and eventually C. S. Lewis, who admirably addressed the same theme, helped me see that heaven is my home, and Jesus Christ has prepared a place for me there. Oh what blessed hope and peace.
As an apologetic, how does Orthodoxy hold up 100 years later, and where does it feel dated?
Overall it holds up well as an apologetic, but the audience will be limited to people who have a solid grounding in the liberal arts. His frequent allusions to George Bernard Shaw, Herbert Spencer, H. G. Wells, John Henry Newman and others, alas, will be lost on many people today. At least this is the feedback that I get from many people who have read Orthodoxy at my urging.
How has Orthodoxy influenced Christian thinking over the last 100 years?
C. S. Lewis was strikingly influenced by Chesterton's writings. Indeed, Lewis readily acknowledged his indebtedness to Chesterton, and you see that in lines from Mere Christianity such as, "If I find in myself a desire which no experience in this world can satisfy, the most probable explanation is that I was made for another world." This theme of longing, which permeates much of Lewis's writing, was influenced by George MacDonald, to be sure, but Chesterton contributed to his thinking as well.
Chesterton appeals to many evangelicals even though he was a Roman Catholic. Why is that? Is there anything Catholic about Orthodoxy that may frustrate evangelicals?
Chesterton had not converted to Roman Catholicism when he wrote Orthodoxy, but his attraction to that tradition is apparent in several places. Most evangelicals will not be frustrated by this, because he so brilliantly and logically celebrates the Apostles' Creed. On the other hand, his disdain for Calvinism and Puritans is not subtle, and this offends many readers, especially those who recognize that he often distorts these traditions.
If Chesterton were writing today, what might attract his ire?
If he were writing today, he would not have to change much of what he wrote a century ago. He would still attack the lack of logic and tough-mindedness so rampant among so-called intellectuals in the academic world. But I am confident that he would place most of his emphasis on the truth that Jesus Christ is the Way, the Truth, and the Life. Chesterton celebrated life and the One who is the Life. Although he did attack abortion and infanticide during the early 20th century — especially in places such as China — he would be enraged by the wholesale slaughter of the unborn in the United States, the UK, and Western Europe. He would, I think, go on the offensive against the silence of most Protestants in the face of this carnage.
Do any contemporary Christian writers remind you of Chesterton?
There are some excellent apologists writing today who communicate well with an intelligent public. Among them are Ravi Zacharias and Dinesh D'Souza, just to mention two. But Chesterton was different in one respect. He interjected humor into his writing in a way that few apologists — except Malcolm Muggeridge — have done.
Collin Hansen is a CT editor at large and author of Young, Restless, Reformed: A Journalist's Journey with the New Calvinists.
Related Elsewhere:
Previous Theology in the News columns are available on our site.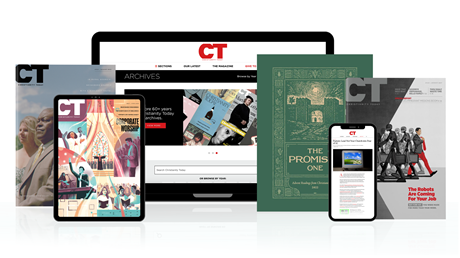 Annual & Monthly subscriptions available.
Print & Digital Issues of CT magazine
Complete access to every article on ChristianityToday.com
Unlimited access to 65+ years of CT's online archives
Member-only special issues
Subscribe
One Hundred Years of Wit and Wisdom
One Hundred Years of Wit and Wisdom