true
As a teenager, Chad Allen used to lie awake at night convinced that God hated him and that he was going to hell.
At 20, addicted to drugs and alcohol, he paced alone in his Malibu condo, gun in hand, agonizing over whether or not to pull the trigger.
And for years, he thought all Christians loathed people like him—because he was gay.
Today, at 34, the veteran actor says he's gotten over all that. Allen is now convinced of God's love, has been sober for eight years, and no longer thinks of taking his own life. And he counts among his good friends a number of evangelicals who object to his lifestyle but have reached out to him in love and compassion.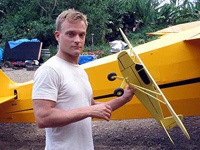 Many of those were Christians he met on the set of End of the Spear, a film about missionaries Nate Saint, Jim Elliot and others martyred in Ecuador in 1956. Allen played the role of Saint, but it wasn't till the production started that the filmmakers realized they had hired a gay man for the part. But rather than breach a contract and ask Allen to step down, they deemed him the best actor for the role and kept him onboard. They decided they would later deal with whatever controversy came their way. (And it did.)
The filmmakers' kindness—especially from producer Mart Green, director Jim Hanon, and consultant Steve Saint (Nate's son)—convinced Allen that there could be more productive conversation between the evangelical and gay communities.
In an effort to advance that conversation, Allen and some colleagues—some gay, some straight—have made Save Me, an indie film opening in limited release this week. The movie concerns a homosexual young man named Mark who, addicted to sex and drugs, hits rock bottom and ends up at Genesis House, a Christian "ex-gay" ministry, where he finds compassion, hope, sobriety, self-respect, and God.
What Mark (played by Allen) does not find at Genesis—an apparent reference to Exodus International—is a "cure" for his gayness. At the end of the film, Mark has changed for the better in many ways. But he's still gay.
"I think the premise of gay conversion is a false one," says Allen.
But the actor very much believes that ex-gay ministries can and do bring hope and healing to the lives of hurting men like Mark, the main character in Save Me.
"I don't think there's any question that Mark was helped by his stay at Genesis House," Allen says. "He's transformed by it."
Allen notes that in the film, "We don't empty Genesis House of all the characters at the end; Mark leaves, but everyone else stays. It wasn't our intention to bash ex-gay ministries. We've seen that done before, but we wanted to achieve something different. We made this film for anybody who wants to have the conversation about God and gay."
'Promoting genuine reconciliation'
Craig Detweiler, professor of theology and culture at Fuller Theological Seminary, says the film accomplishes that goal. He was one of the first to see Save Me at Sundance Film Festival in early 2007, when he brought some of his students for the annual WindRider Forum, which encourages discussion between Christians and indie filmmakers.
"We've seen a steady progression in films about the relationship between the conservative Christian community and the gay community," says Detweiler, noting For the Bible Tells Me So and Forgiving the Franklins. "And we've seen things moving from divisive and contentious to much more bridge-building on both sides. Save Me represents another step forward in conciliatory efforts between artists, filmmakers, the gay community, and the conservative Christian community."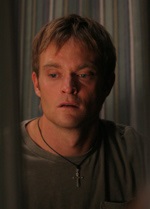 Detweiler says he admires the filmmakers of Save Me for "their courage to upend stereotypes on both sides. It's this rare film that is completely faith affirming and embracing the gay community at the same time. Therefore, it's also destined to make people angry on all sides. I salute Chad Allen and the filmmakers for wading into the middle of such a hotly debated topic, and be willing to be criticized by all sides in the debate, for the sake of promoting genuine reconciliation."
Allen says he was stunned—but pleasantly so—at Sundance to find an audience that included so many seminary students.
"It was extraordinary," he says, "because we went into this thinking, Can we even have this conversation? Can we get people 'on the other side of the aisle' to even come see the film? But Craig and his students were there, and we had an amazing time getting to know them. I realized at that point that we were on to something. If this movie can in some small way encourage that conversation, then I've done my job."
Allen's job with Save Me has been much more than filling the lead role. He's one of the film's five producers—it was made through the now defunct production company Mythgarden—and says it's been his "passion project" since discovering the original script about five years ago. Much of the delay has been finding the money for the $1.2 million project; Allen says they found it in James Garbus, listed in the credits as executive producer.
Treating the subject fairly
Still, money wasn't the only obstacle to making this film. Allen says the original script was "an over the top comedy about life in an ex-gay ministry. We had no interest in making an over-the-top comedy, but we wanted to tell the truth of the story [of ex-gay ministries] and figure out a way to advance the conversation.
"We were determined not to patronize—that is, to play to the choir by making a film that said it was going to treat the subject fairly, and then not do that. We've watched films that do that, but they've come out so lopsided, and that isn't what we wanted to do. We could have made Save Me for gay people, and we could've laughed at the Christians and had a grand old time—and we would have achieved nothing."
He says they had trouble finding a distributor: "A lot of people in New York and LA thought the ex-gay thing was a joke. They laughed at us when we said we wanted to make a film about ex-gay ministries and have a conversation about God and gay. That was a shock for us, because you don't have to go far in the gay community to find people who have been touched by the phenomenon of ex-gay ministries."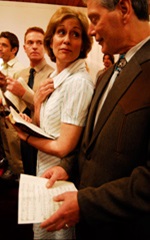 Allen says they went through three or four different gay writers in search of the right tone for the script, but finally found it in veteran TV actor Robert Desiderio, a married straight man whose wife, Judith Light, also stars in the film as Gayle, one of the directors of Genesis House. Gayle is a devout Christian who clearly wants the best for the men in the home, but carries some personal baggage into her role that affects her interactions with Mark. (To say much more would be a spoiler.)
Allen says his own personal journey mirrors Mark's. While Allen experienced a degree of fame as a teen idol (on shows like St. Elsewhere and, later, Dr. Quinn, Medicine Woman), with his face on the covers of teen zines, he also wrestled with his sexuality: "I was this teenage kid who just wanted to scream, 'I'm not OK! I don't know who that kid is in the magazines, but I'm just a scared, confused teenager!'"
Having grown up in a conservative Catholic home with older brothers "who were very sure about what it meant to be a man," Allen ended up hating himself—and convinced that God hated him too. "It's horrible," he says, "to be a young person alone in your room at night, firmly believing that God hates you and you will go to hell because of the feelings going on your heart."
When Allen came out about his homosexuality at the age of 25, his father initially rejected him. "It was a long time before my dad could look me square in the eyes again," Allen says. "I wanted his acceptance so desperately, and I was afraid I was never going to get it. Now, looking back, I realize that same relationship [father-son] is often how we define our relationship with God. I used my relationship with Dad to identify God. I believed God was this big, mean, scary guy who could never love me and I could never earn his acceptance, so why even try?"
Allen says his father eventually came to accept him again. "When I realized he still loved me, that changed my relationship with God. Now I have a great relationship with my dad, and with God."
Interpreting Scripture
As for reconciling his lifestyle choices with the Bible's condemnation of homosexuality (Lev. 18:22, 1 Cor. 6:9-10, et al.), Allen says part of his interpretation is contextual, part cultural, and part gleaned from his own understanding of God.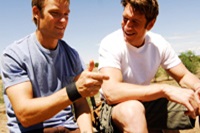 "I don't think you can discern the Word of God unless you're holding the love of God in your heart," he says. "I can take any piece of written material, and if I'm holding fear and anger in my heart, I will get fear and anger as a result. And if I'm holding love in my heart, I will get love as a result.
"I don't pretend to say that Scripture doesn't say what it says [about homosexuality]. And I don't have the intellectual and theological background to enter into a debate. But I know there's lots in Scripture that I can read and come up with fear. And there's lots that I can read and know those aren't aspects in my life. Certainly today we know that slavery isn't something we can condone, but it seems to be condoned in Scripture. And today we know that women have a role in society that wasn't there in Scripture. When I'm reading Scripture, it's about the experience of a loving God."
Some Christians say that sexual orientation alone isn't necessarily sinful, but acting on it is. Allen disagrees.
"In the three and a half years I've been loving and committed to my partner, the fruit born of that and of my sexuality is beauty and love and goodness, not fear and destruction," he says. "The fruit that was born of my alcoholism was fear and destruction."
Which brings Allen back to Save Me and his hopes for the film.
"I want viewers to walk away from it knowing that God is participatory in all of our lives and all of our experience," he says. "Maybe I don't have all the answers, but I can choose to love my brother. Period."
Save Me opens September 5 in New York and goes wider in the coming months. (Click here for screenings.) The film is unrated by the MPAA, but would likely earn an R rating for a steamy sex scene (between two men) in the opening minutes. After that, it's pretty much PG-13 territory, with mature themes and some foul language.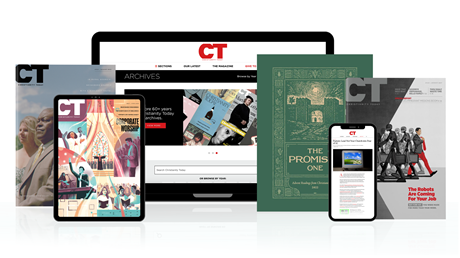 Subscribe to Christianity Today and get access to this article plus 65+ years of archives.
Home delivery of CT magazine
Complete access to articles on ChristianityToday.com
Over 120 years of magazine archives plus full access to all of CT's online archives
Subscribe Now
Salvation Not Needed
Salvation Not Needed