true
Earth, the first release from Disneynature films, is 85 minutes of jaw-droppingly beautiful clouds, waterfalls, icebergs, and savannahs; of graceful animals, scary animals, funny animals, and excruciatingly cute baby animals. James Earl Jones delivers a narration that is mild and accessible to children. (A typical line: after a shot of a penguin sliding on his belly, Jones says, "You might not know this, but penguins are one of the few creatures born with a built-in toboggan.") It reopens the tradition of Disney nature documentaries, as in the "True Life Adventures" films of 1948-1960, and a better family-friendly nature film can't be found.
I know how enrapturing travel documentaries can be; after viewing one in fifth grade, I came home and told my mother that I really, really wanted to go see New Jersey, the Garden State. What makes Earth different from all previous documentaries, however, is the advances in technology which enable never-before-possible footage. A Cineflex mount that holds a camera steady underneath a helicopter (collectors of odd words will be delighted to learn that it's called a "heligimbal") made it possible to film sequences that would be otherwise inaccessible to, or unsafe for, humans. A scene of wolves hunting caribou, for instance, was filmed from above, one kilometer away. The heligimbal also enables a dizzying shot in which the audience is carried over the edge of a waterfall and then looks back at it, head-downward. That kind of thing, I have to admit, puts New Jersey in the shade.
The film is the work of Alistair Fothergill and Mark Linfield, both of whom have worked in the BBC's Natural History Unit (Fothergill was its head from 1992-1998). Some filmgoers have noticed that they've seen some ...
1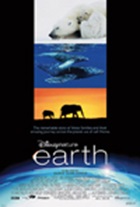 Browse All Movie Reviews By:
Earth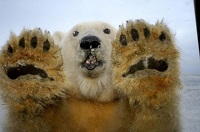 This slideshow is only available for subscribers.
Please log in or subscribe to view the slideshow.